Who doesn't love a good iced lemon tea? It is cold, sweet, tart and tangy with a good jolt of caffeine from the black tea. A thoroughly refreshing drink to sip on while you read a good book on a warm day or a great lemon hit to ward off the winter blues!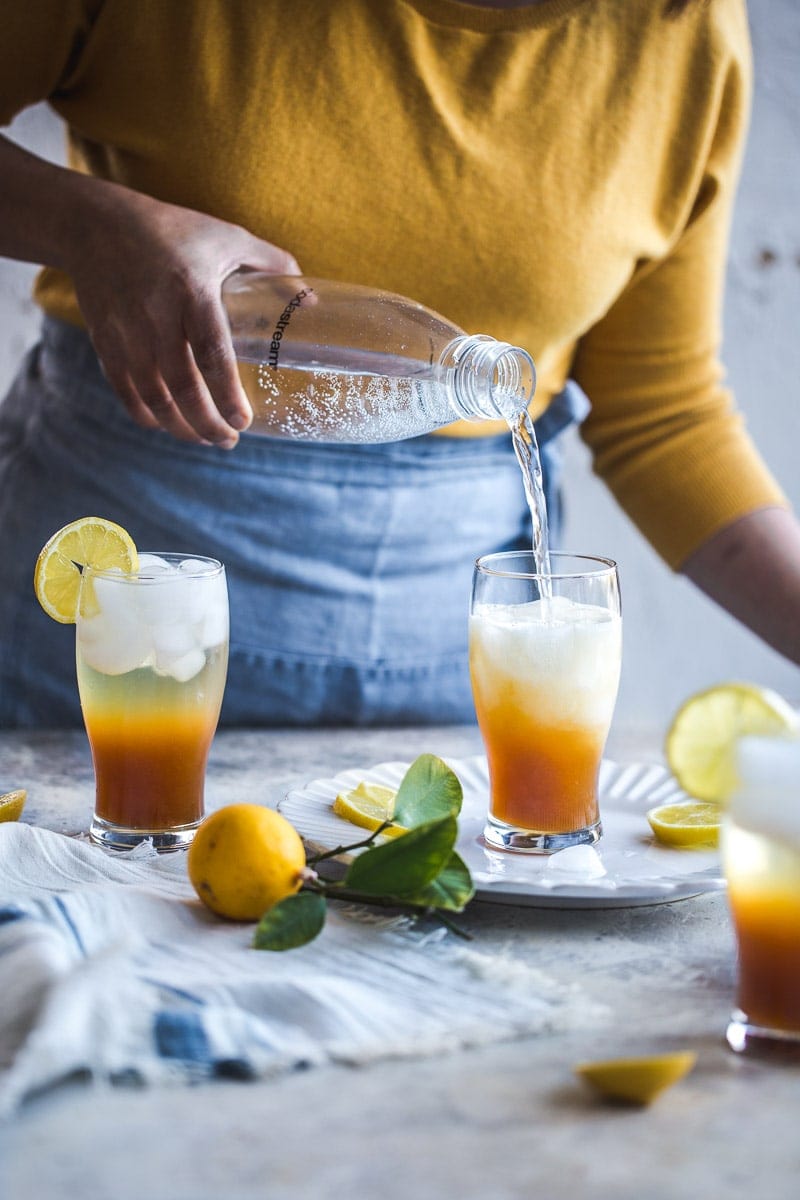 I still remember my first taste of iced lemon tea. Nick and I were on our honeymoon in Bhutan. It was a magical time in our lives and Bhutan was absolutely gorgeous. Remote, pure and untouched. Every day, we would walk along the Paro river and meander on to wonderful places, sometimes to Buddhist monasteries up in the mountains and other times through magical cluster of wooden houses perched rolling hills.
This one day, we bought cans of lemon tea from the lone convenience store in the main village for our hike along the Paro river. The Paro river was about ankle deep with crystal clear water flowing over a bed of perfectly rounded white, gray and beige rocks. The water was from a glacier melting further up in the Himalayas and was ice cold. So, when we stopped to rest our tired feet and have a snack, we held our lemon tea cans in the cold running water of the Paro river and within a minute or so, the cans were frosty and chilled as if they had come from the depths of a refrigerator.  It was the most satisfying drink ever and to date is one of my fondest food memories.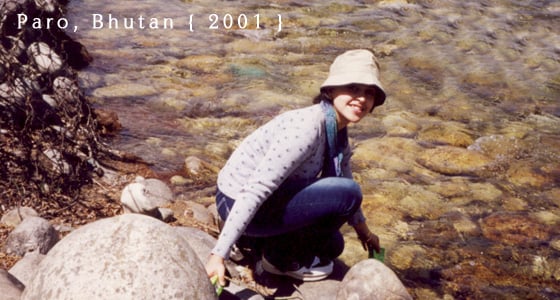 Over the years, I started making iced lemon tea at home. One would always find a small jar of my lemon tea concentrate sitting on a shelf in my fridge. But it wasn't until I got my Soda Stream machine that I tried making sparkling iced lemon tea. It was insanely refreshing and took my lemon tea to new heights. It was also so simple, I couldn't believe I hadn't tried that before.
I love this version of iced lemon tea made with fresh ingredients. It is healthier and has no additives. You could top it up with just chilled water, but I urge you to try it with sparkling water. I promise you will love it! A golden sunny lemony drink is life's greatest pleasures. And having a jar of lemon tea concentrate in your fridge is literally like finding gold on a particularly warm day. Make it today and drink up! x
Recipe
Hungry For More Recipes? Subscribe to my newsletter. Check out Facebook, Instagram and Pinterest to see everything I share! And if you love cooking and new cookbooks, join my free Cooking Club on Facebook!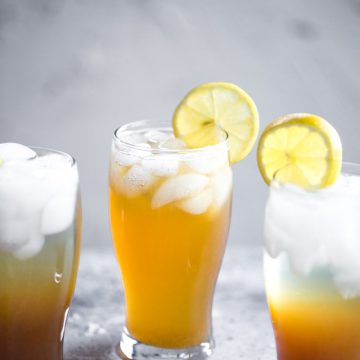 Ingredients
6

black tea bags

½

cup

(

120

g

)

raw sugar

500

ml

boiling water

150

ml

lemon juice

500

ml

sparkling water

Ice cubes and lemon slices

,

to serve
Instructions
Add tea bags, sugar and boiling water to a 1 litre mason jar. Steep for 3-5 minutes.

Remove tea bags and add lemon juice. Mix well. Cover and refrigerate the lemon tea concentrate until ready to use.

To serve, add chilled sparkling water to the lemon tea concentrate. Mix well.

Place a handful of ice cubes in 4 tall drinking glasses. Pour over the sparkling lemon tea and garnish with lemon slices.

(Alternatively, pour lemon tea concentrate in 4 tall drinking glasses filled with ice cubes. Top up with sparkling water and garnish with lemon slices)
Did you make my recipe?
I'd love to hear how you went! Tag me on Instagram @cookrepublic
Note – This post is sponsored by Sodastream. The recipe and video were specially created for Sodastream's Spirit machines. It is a brand/product that I love and have been using for almost a decade. I believe that using Sodastream is not only fun but helps reduce plastic bottle usage and waste. All opinions and musings are my own.