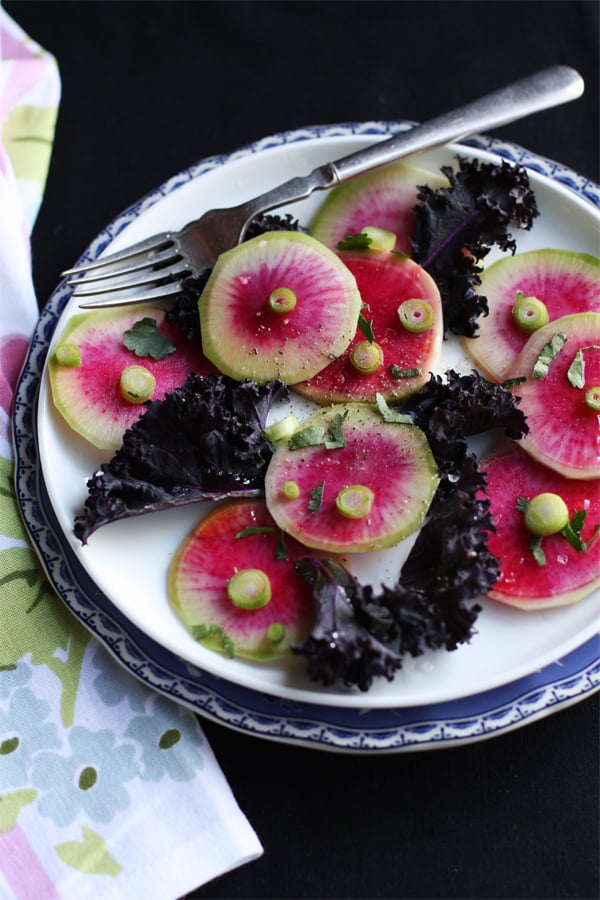 On Saturday it was supposed to be the last of the cold and rainy days we have been seeing in Sydney of late. As a result our weekly soccer games were canceled. I had to take my Shun knife for re sharpening. We loaded the boys in the car and set out. As we were driving, listening to the Rio soundtrack and trying to make ourselves heard over the constant loud chatter coming from the backseat, we saw a sign that read "Grower's Market Today!"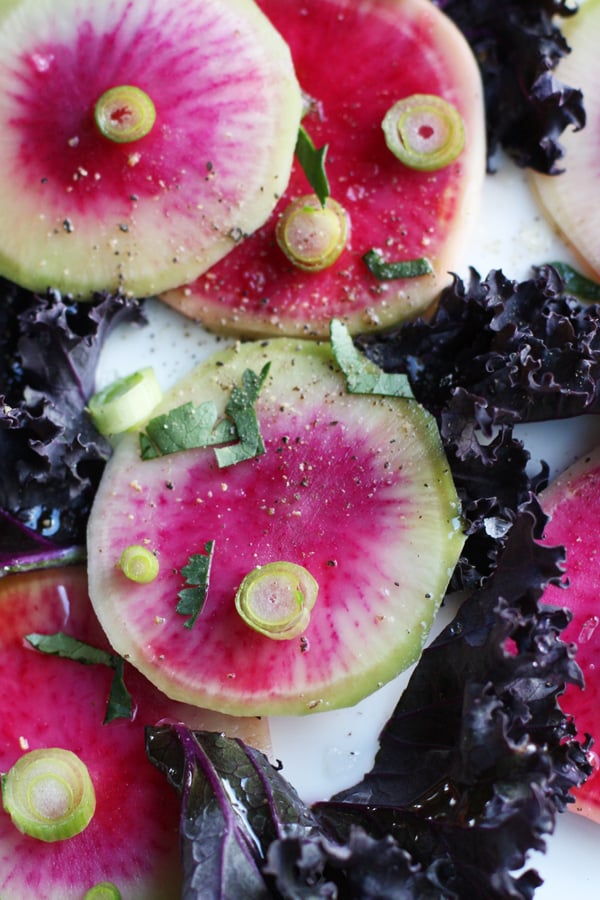 "Here, Here .. turn here!!" I screamed like a banshee.
"Relax, we won't miss the turn!" replied Nick without batting an eyelid in his usual calm manner.
"Do you think, it is still on? I don't see any cars!" I said, my brow furrowed (It is unbelievable how my anxiety levels go from zero through the roof in a matter of seconds).
"Relax ..." came the very muted reply. (Does nothing ever faze my other half????)
"Oh, I see cars, I see cars .. oh oh I see the stalls! Yayy, the Grower's market is on!" I chanted to no one in particular.
On cue, "Yayyyy!" chimed in my boys from the backseat, followed by "Mum, What's a Grower's Market?"
Awesome! I had two sets of egar ears to educate. "You remember the Farmer's markets we often go to? Well, this is exactly the same ......."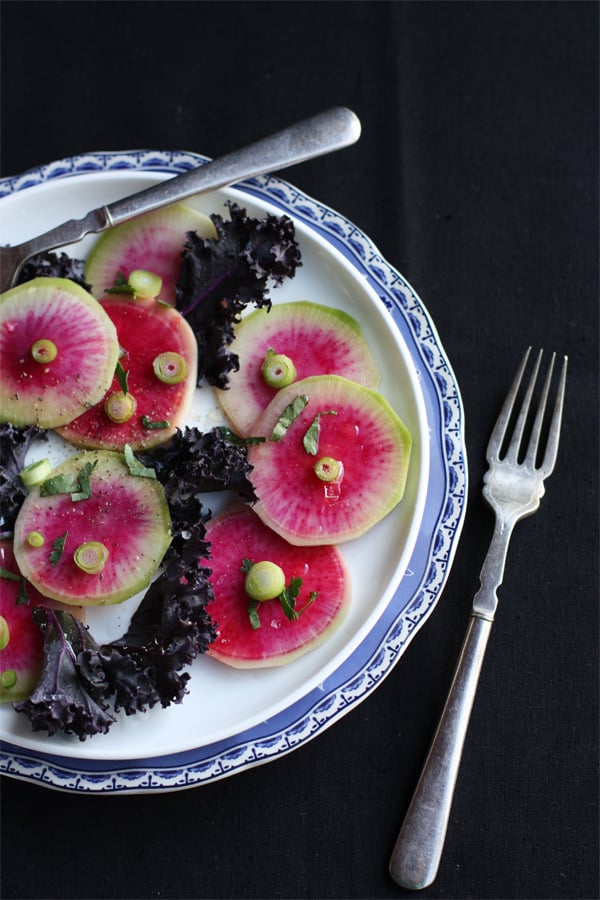 It was my first time at the Castle Hill Grower's Market and at 11:00am with a light drizzle spraying our faces and the wind making its bite felt, we had the most amazing honey and port cured bacon and soft centered egg rolls before we explored the gorgeous fresh produce. An hour later, we walked back to the car with a bag of exotic mushrooms, a tray of free range eggs, an apple pie, a lamb pie, a roasted eggplant and pumpkin pie, rainbow radishes, tuscan cabbage, purple kale, jerusalem artichokes, red anjour pears, zucchini flowers, baby truss tomatoes, mandarins, cupcakes, elderflower cordial, croissants and some beautiful home made date pudding. Now you see why I was so excited!!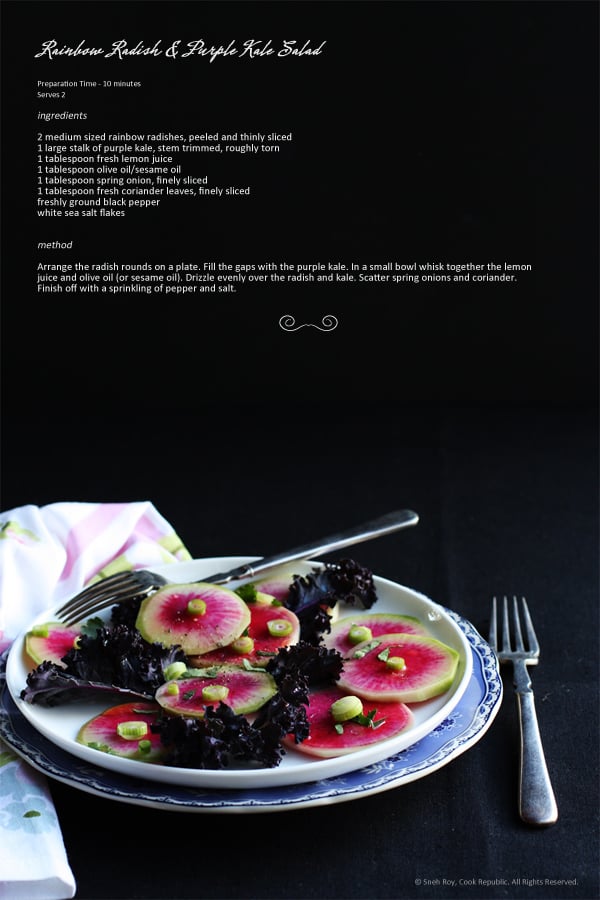 Click For Full Resolution Recipe Card
The rainbow radishes were just gorgeous little things. With rings of bright pink, white and green they were mild and full of flavour. I made a simple purple kale and rainbow radish salad with an Asian dressing for our lunch the following day. They were a delight to photograph. Here is the recipe.
[print_this]
RAINBOW RADISH AND PURPLE KALE SALAD
Preparation Time - 10 minutes
Serves 2
Ingredients
2 medium sized rainbow radishes, peeled and thinly sliced
1 large stalk of purple kale, stem trimmed, roughly torn
1 tablespoon fresh lemon juice
1 tablespoon olive oil/sesame oil
1 tablespoon spring onion, finely sliced
1 tablespoon fresh coriander leaves, finely sliced
freshly ground black pepper
white sea salt flakes
Method
Arrange the radish rounds on a plate. Fill the gaps with the purple kale. In a small bowl whisk together the lemon juice and olive oil (or sesame oil). Drizzle evenly over the radish and kale. Scatter spring onions and coriander. Finish off with a sprinkling of pepper and salt.
[/print_this]