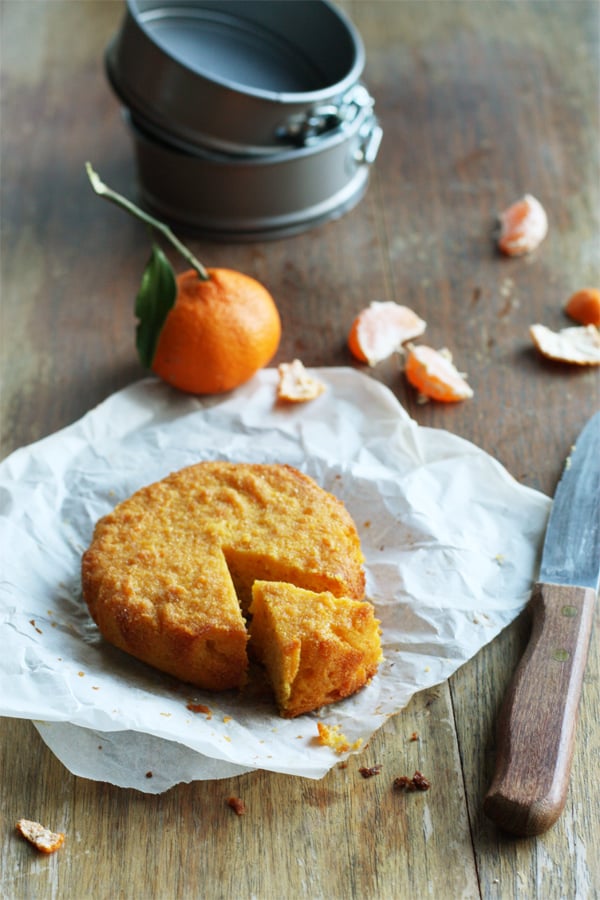 It has been an absolute mandarin fest in our home this month. After our very exciting mandarin picking adventure at a local farm here in Sydney and traipsing home with 11 kilos of mandarins, I have tried to use them in every recipe imaginable. I have been toying with the idea of doing a whole orange cake for a while now. So in staying true to my resolution of trying out new techniques and recipes that I have never experienced before, I baked a beautiful whole mandarin cake.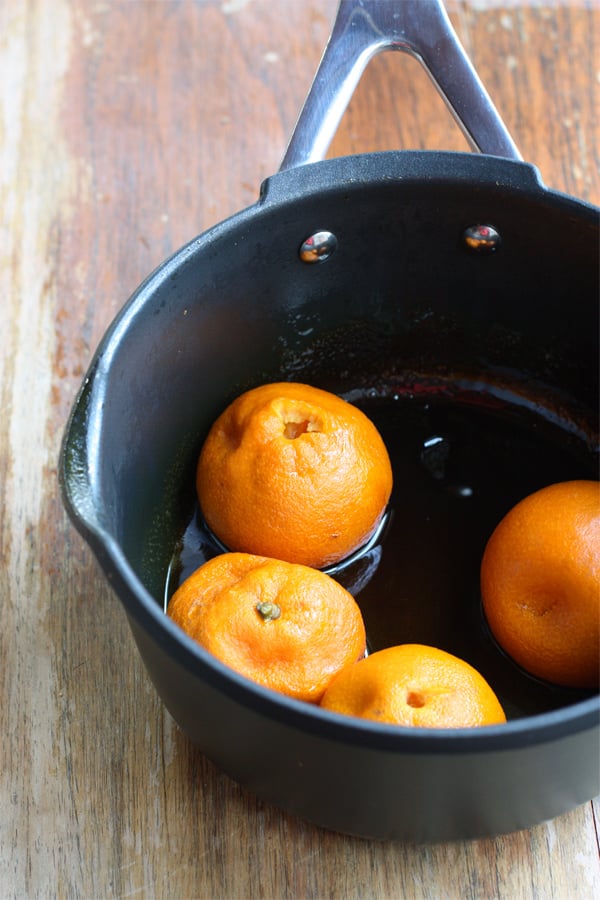 The cake has no flour and uses a generous amount of butter along with macadamia meal. The nut meal gives it that beautiful texture that stays with you after the last moist bit of cake is gone. The mandarins impart a delightful color to the cake and the toasted polenta adds that surprise crunch in the crusty golden exterior of the cake.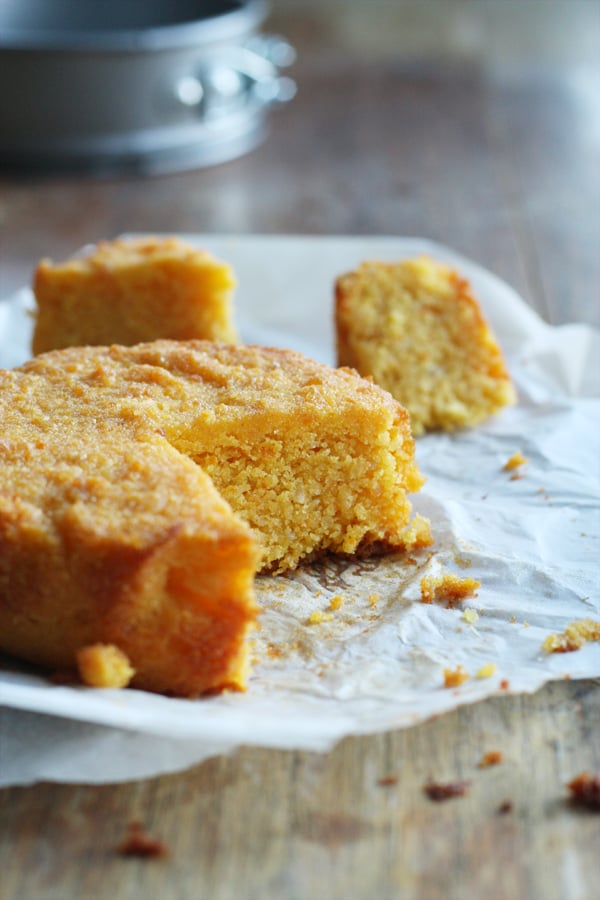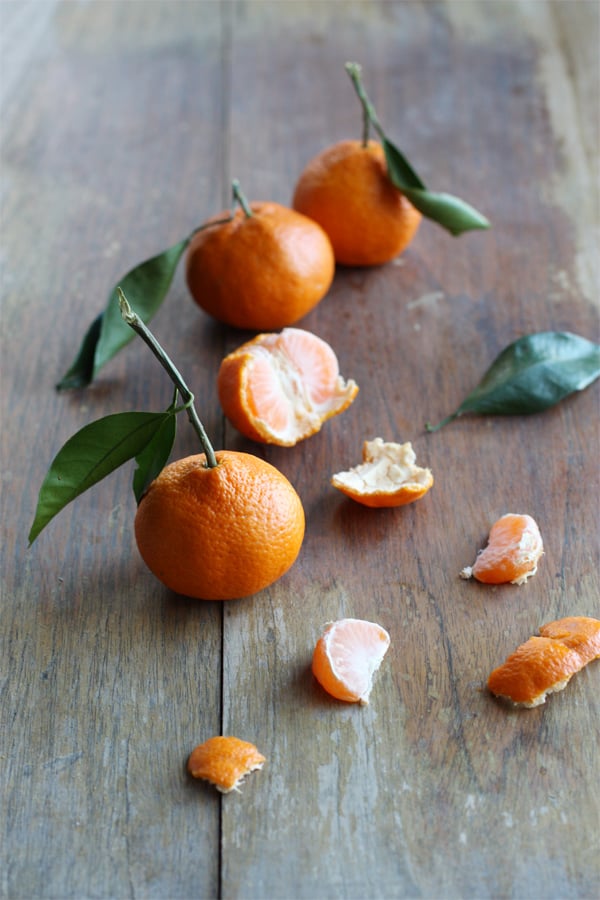 I consider peeling a mandarin as one of those unspeakable little joys of life. The whole exercise is a celebration of senses. Poking your finger in to break the peel, then slowly unraveling the mandarin while marveling at the smooth glossy exterior and fibrous inner texture. Then if your thumb happens to puncture a delicate fruit segment, the juice popping out and streaming down your palm as you catch that drop with a quick flick of your tongue and the citrus smell hitting your nostrils, is truly a complete sensory experience. This cake showcases the smell, texture and colour of the beautiful mandarin to perfection.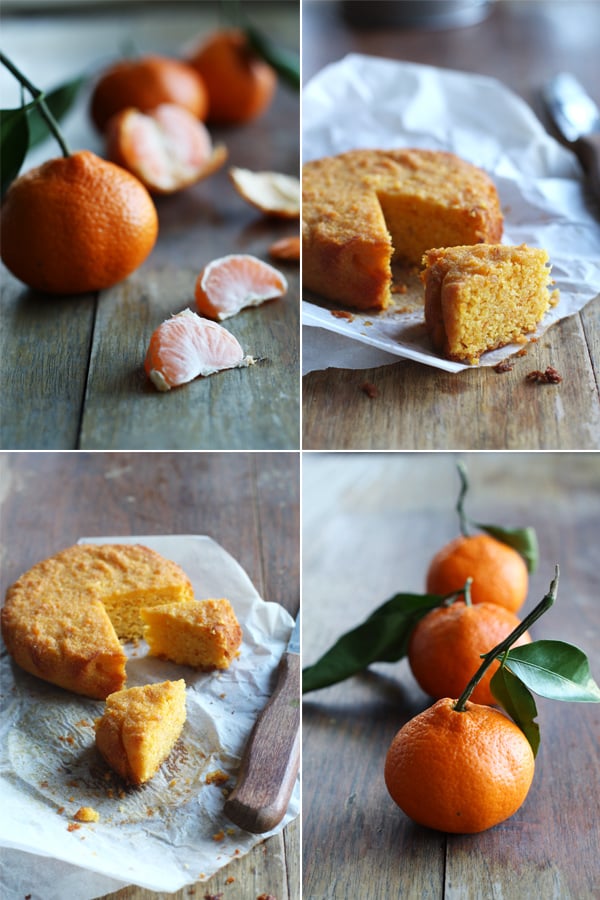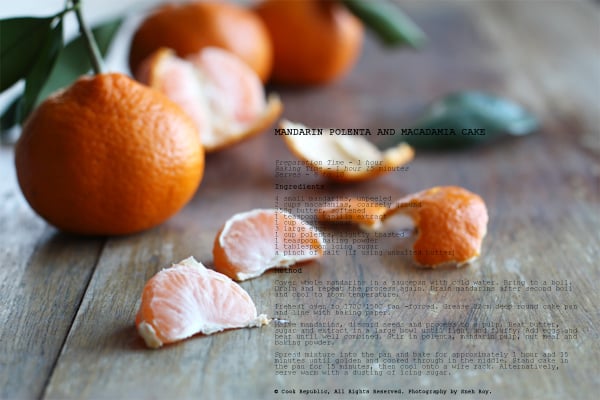 Click On Recipe Card For Full Resolution
[print_this]
recipe
MANDARIN POLENTA AND MACADAMIA CAKE
Preparation Time - 1 hour

Baking Time - 1 hour 15 minutes

Serves - 8 to 10
Ingredients
4 small mandarins, unpeeled
2 cups macadamias, coarsely ground
250g butter, softened
1 teaspoon vanilla extract
1 cup caster sugar
3 large eggs
1 cup polenta, lightly toasted
1 teaspoon baking powder
1 tablespoon icing sugar
a pinch of salt (if using unsalted butter)
Method
Cover whole mandarins in a saucepan with cold water. Bring to a boil. Drain and repeat the process again. Drain mandarins after second boil and cool to room temperature.
Preheat oven to 170C/150C fan -forced. Grease 22cm deep round cake pan and line with baking paper.
Halve mandarins, discard seeds and process to a pulp. Beat butter, sugar and extract in a large bowl until light and fluffy. Add eggs and beat until well combined. Stir in polenta, mandarin pulp, nut meal and baking powder.
Spread mixture into the pan and bake for approximately 1 hour and 15 minutes until golden and cooked through in the middle. Stand cake in the pan for 15 minutes, then cool onto a wire rack. Alternatively, serve warm with a dusting of icing sugar.
[/print_this]