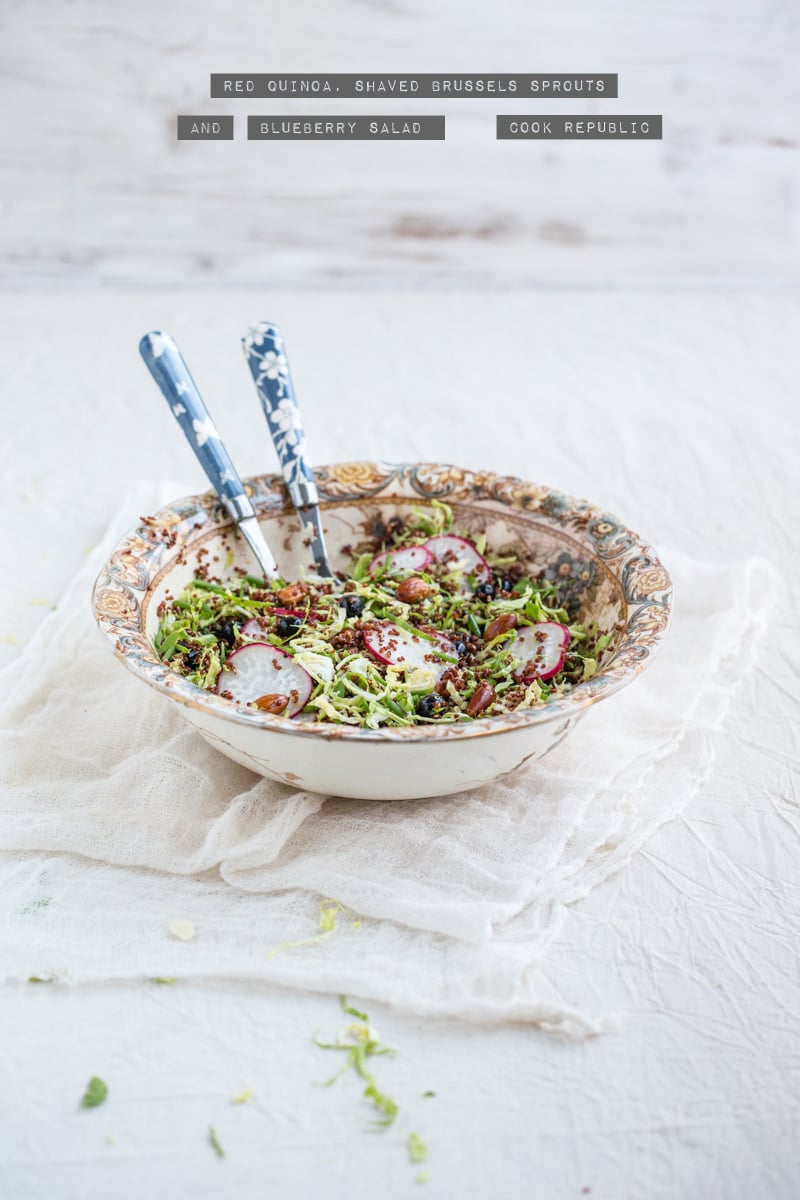 The past two weeks have been an exercise in trying to get assimilated to a new routine. One that involves a lot of physical activity and clean eating. I suppose when you have been literally surrounded by food for a long period of time and have been cooking in excess, you crave simplicity. Along with daily runs, bike rides and yoga; my day also involves experimenting with new ingredients to create recipes that adhere to the principles of clean eating. Finding the right balance of textures and flavours is one of my favourite parts of the process. This week, I have been getting hands on with red quinoa. After over two years of cooking quinoa regularly, the first time I cooked red quinoa was not so great. I instantly realised that red and black quinoa need more liquid and possibly a longer cooking time than plain old white quinoa. Something that was easily rectified in the net batch that I cooked. I put together this beautiful salad of irresistible crunch. It is great to take to work and would sit happily in the fridge for up to 3 days. I am happy to have found yet another way to enjoy brussels sprouts after cooking them in my favourite style for a long time.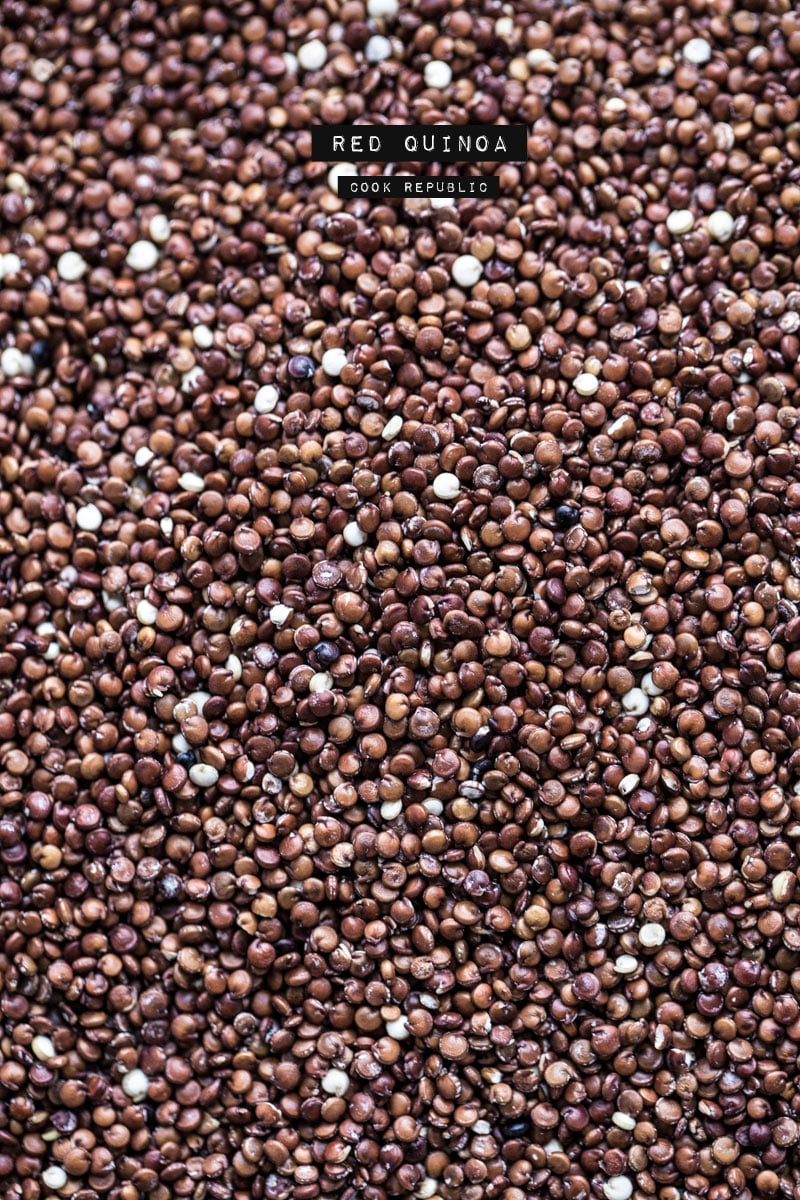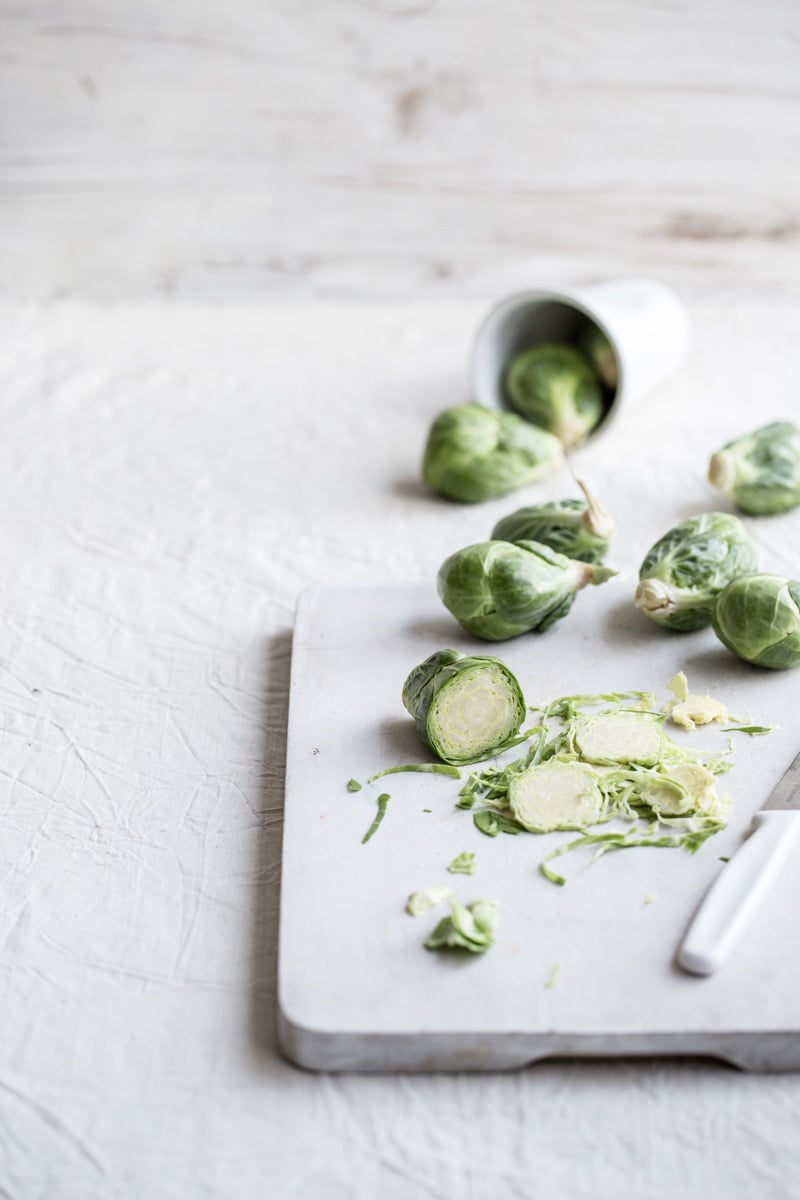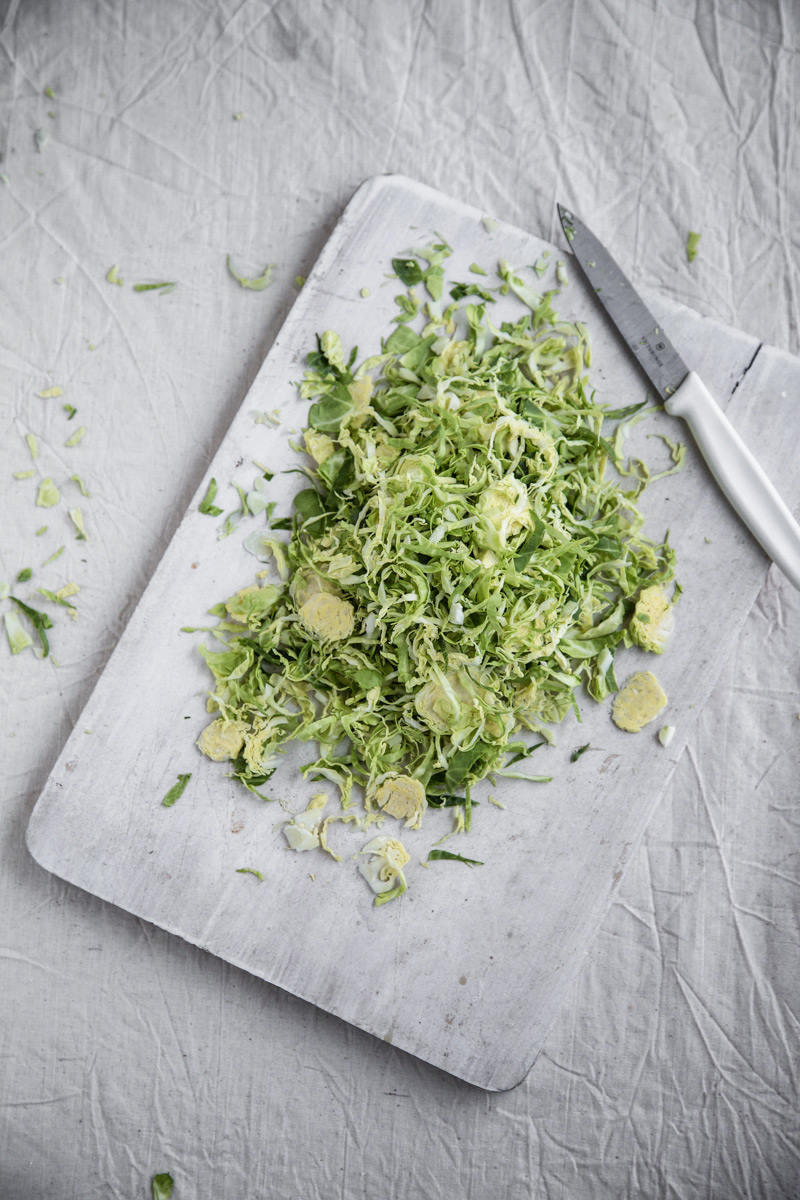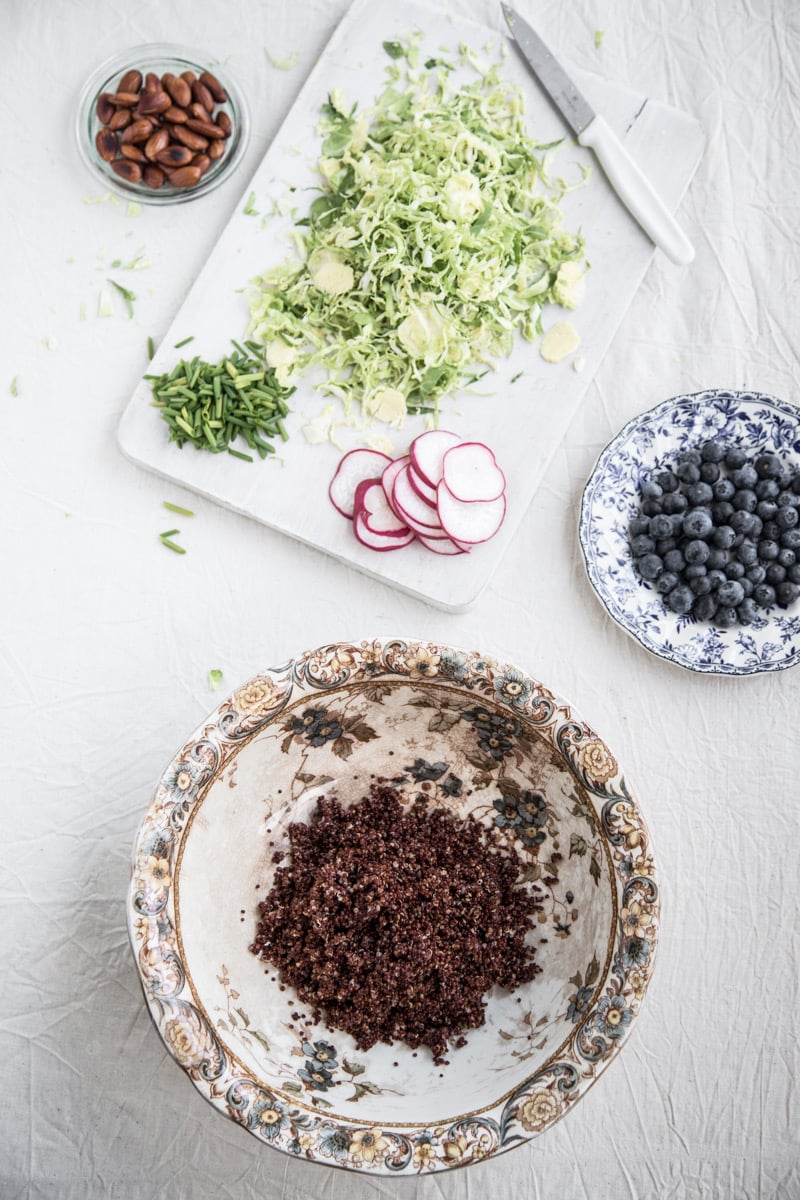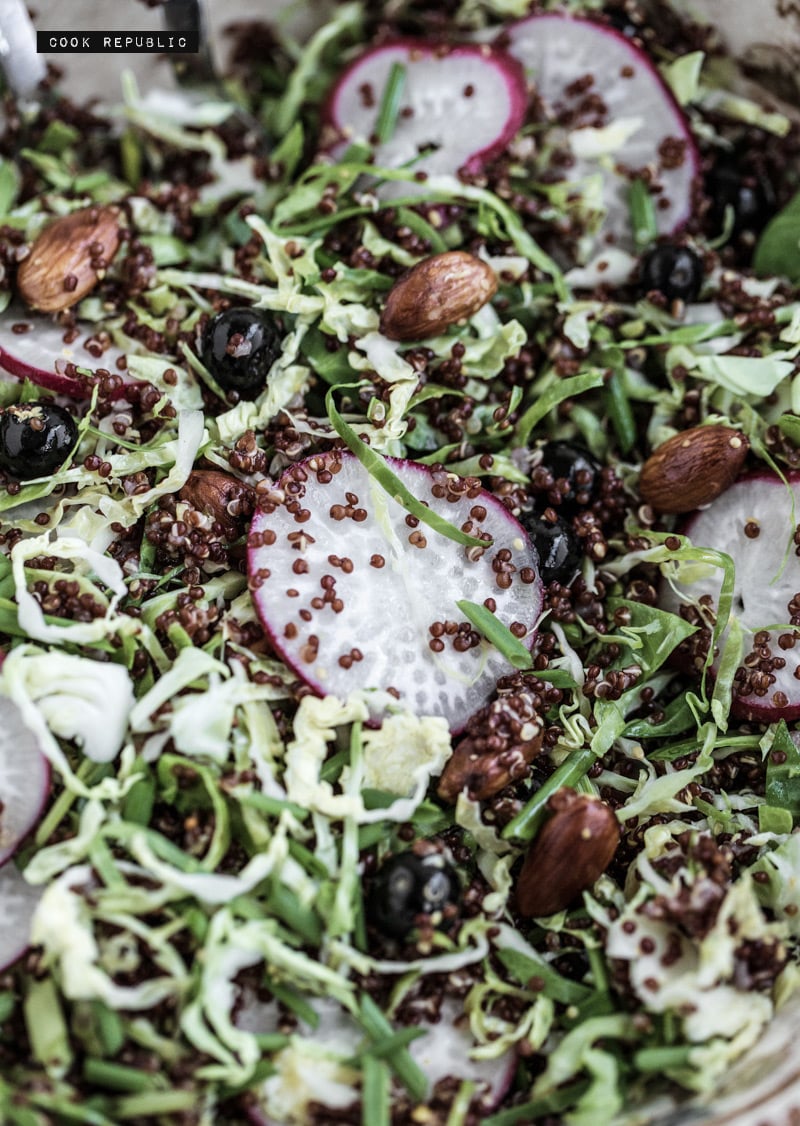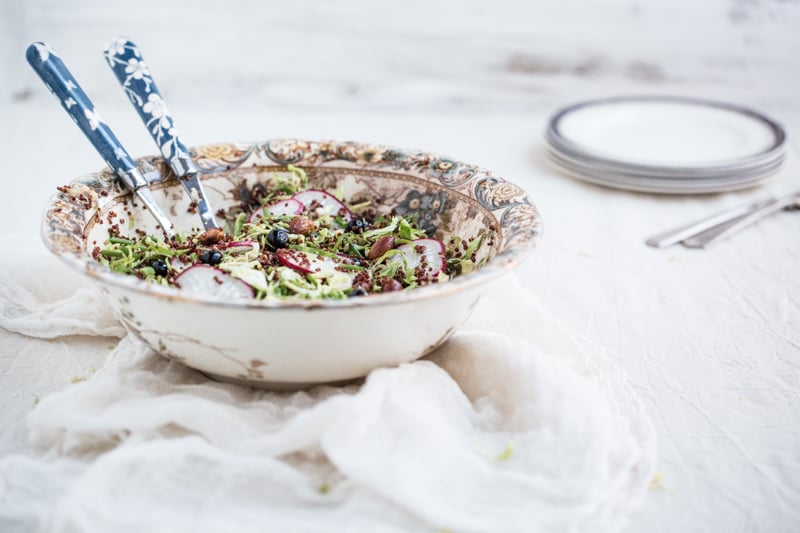 [print_this]
RED QUINOA, SHAVED BRUSSELS SPROUTS AND BLUEBERRY SALAD
A light, quick to make crunchy salad with raw shaved brussels sprouts, red quinoa and sweet blueberries.
Serves - 4
Ingredients
5 brussels sprouts, shaved or thinly sliced
1 cup cooked red quinoa (see below)
1/2 cup fresh blueberries
1 red radish, trimmed and thinly sliced
1 tablespoon chopped chives
handful of almonds
1/2 teaspoon olive oil
2 tablespoons fresh orange juice
1 tablespoon olive oil
2 teaspoons grain mustard
Method
Place shaved brussels sprouts, cooked quinoa, blueberries, radish and chives in a large bowl.
Heat 1/2 teaspoon olive oil in a frying pan on medium. Add the almonds and toast tossing constantly for a few minutes until glossy and a shade darker. Remove from heat and cool.
Place orange juice, 1 tablespoon olive oil and grain mustard in a small jar. Cover tightly with a lid and shake until combined. Pour the dressing over the ingredients in the bowl.
Add the toasted almonds to the bowl and gently toss the salad to mix and coat everything well.
[/print_this]
[print_this]
HOW TO COOK RED QUINOA
Makes - 1 cup
Ingredients
1/2 cup red quinoa, rinsed and drained
1 cup cold water
1/4 teaspoon salt
Method
Place all ingredients in a small heavy bottomed saucepan on high heat. Bring to a rolling boil. Reduce heat to low, cover and simmer until water evaporates (approximately 20 minutes). Remove from heat and cool.
[/print_this]