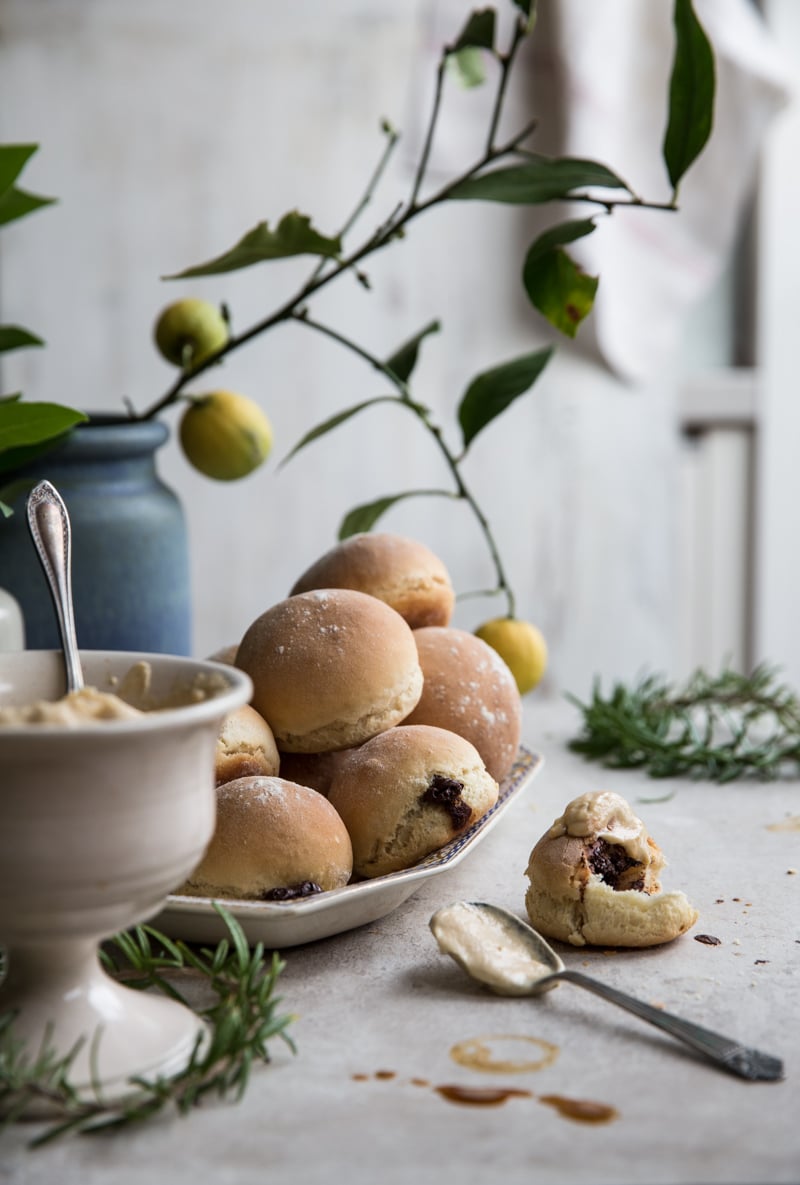 I am an Italophile (except when it comes to soccer!). Somewhere along the way I also became a Francophile but - Italy! Day dreaming ensues at the mere mention of that word. I have wanted to go to Tuscany forever and although I have never set foot in the country, I have my own impressions of what I can expect when I am there (thanks to the Internet!). Italy embodies good food, a simple rustic lifestyle, Jamie Oliver, giant tomatoes, broken cobbled lanes, big floppy pizza slices, fresh olive branches grouped in giant beige olive jars, old men with adoring accents, dark haired beauties with deep black eyes, pasta drying instead of clothes, bright coloured brick walls with large cracks, rustic old pottery with crackle texture, statues, gardens, bay wreaths, luscious tiramisu, columns and pillars and charming trattorias with wrought iron tables and wonky chairs under cascading vines, deep blue sea, gondolas, rendered walls, cheese, handsome baristas and coffee. Yes, I am an Italophile.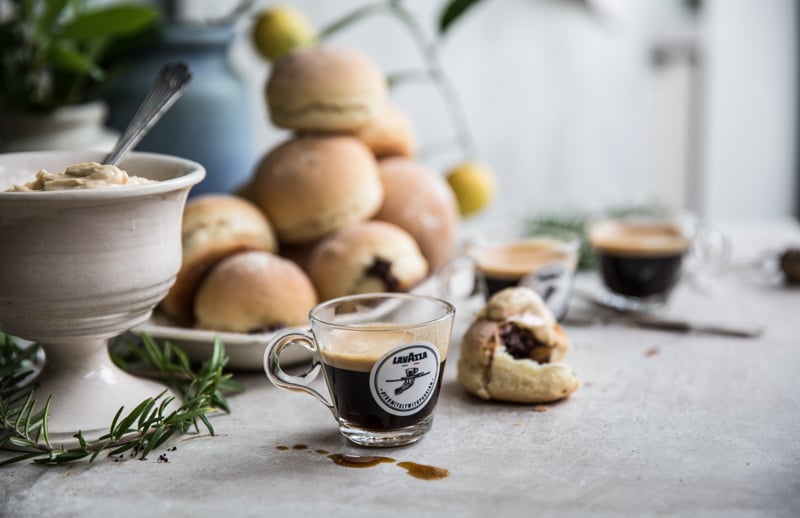 When Lavazza asked me to come on board to introduce their cute little Minu machines that would put good Italian coffee in Australian households, how could I say no? Especially with their lovely barista journeying across four Italian regions before landing at our doorstep. And because it would give each and every one of you a shot at winning a Trip For Two To Italy!!!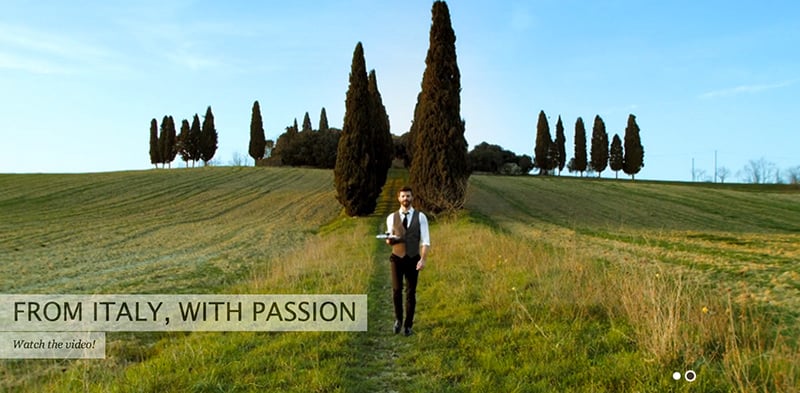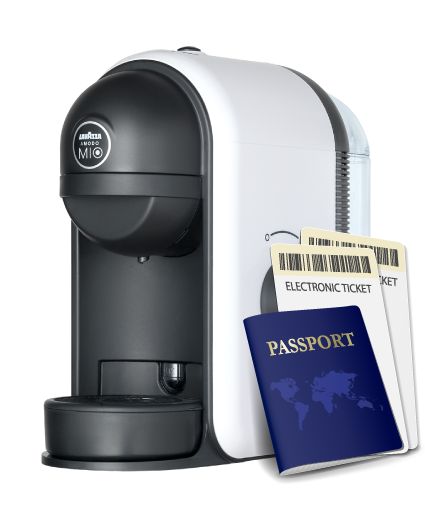 From Italy With Passion comes this delightful compact coffee machine which makes espresso-making a breeze. It is available in most supermarkets and electrical stores and offers the famous Lavazza coffees in a variety of capsules and intensities. Over the next couple of weeks you can win one of these Lavazza Minu machines instantly by watching this video and answering a question here. If you don't win, your entry gets automatically entered into a draw for the Trip To Italy grand prize. Plus, you can try your luck every single day!! So hop on to it. I know I would love that trip to Italy.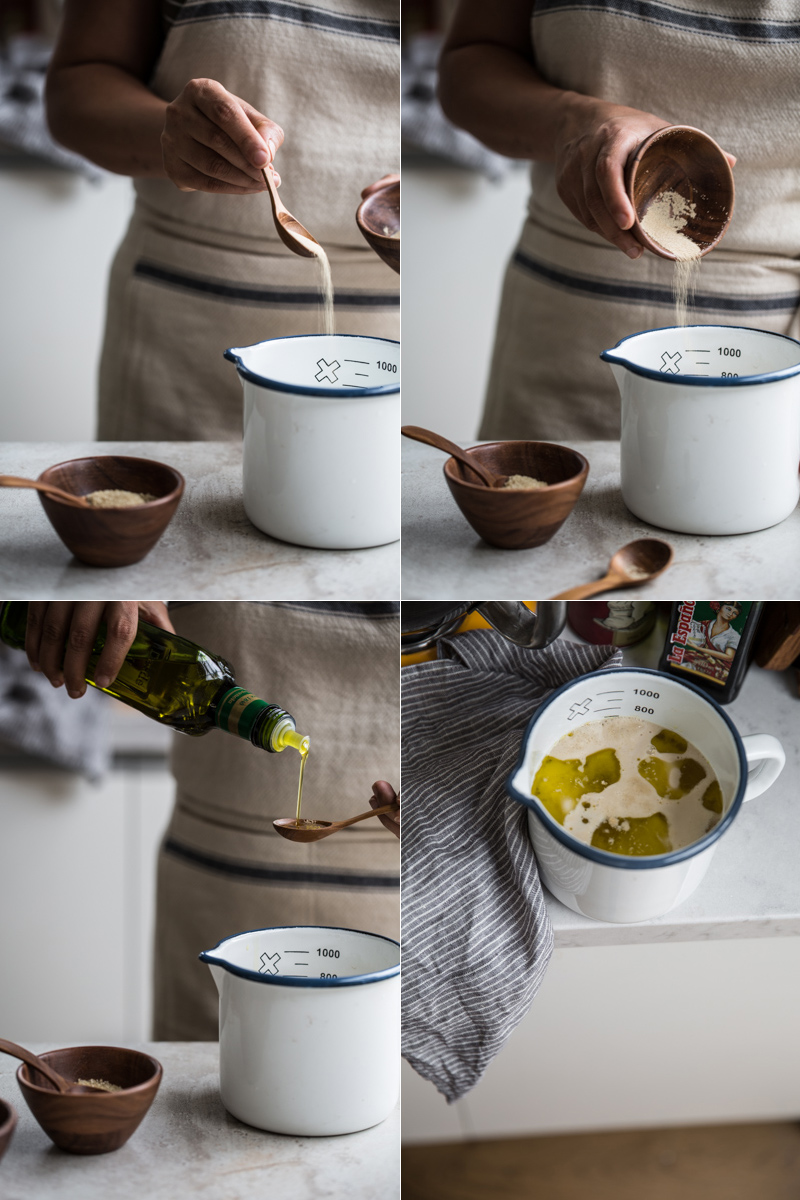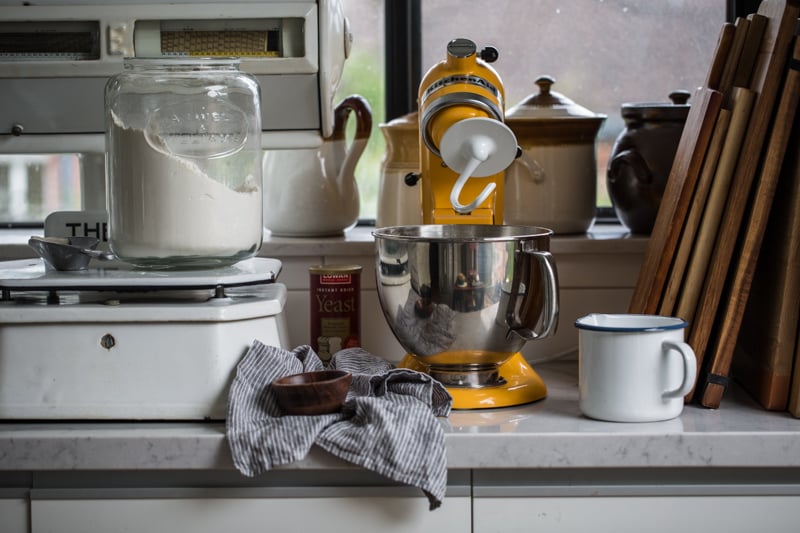 To further my devotion towards this beautiful country and the gorgeous coffee I was talking about earlier, I created a simple dessert recipe. A rustic pizza bun stuffed with chocolate and served with a boozy cream - Chocolate Bomba With Tiramisu Cream. I hope you enjoy it. The cream is really to die for. I could just eat it with a spoon. I hope you also enjoy all the photos of my baking session. I have tried to inject a bit of Italy in them.
Food Photography & Prop Alert - Tea towel by Fog Linen Work / Measuring cup by The Lost & Found Department / Wooden bowls by West Elm / Wooden Spoons by The Assembly Home / Apron by Williams Sonoma / Noah Bells from Father Rabbit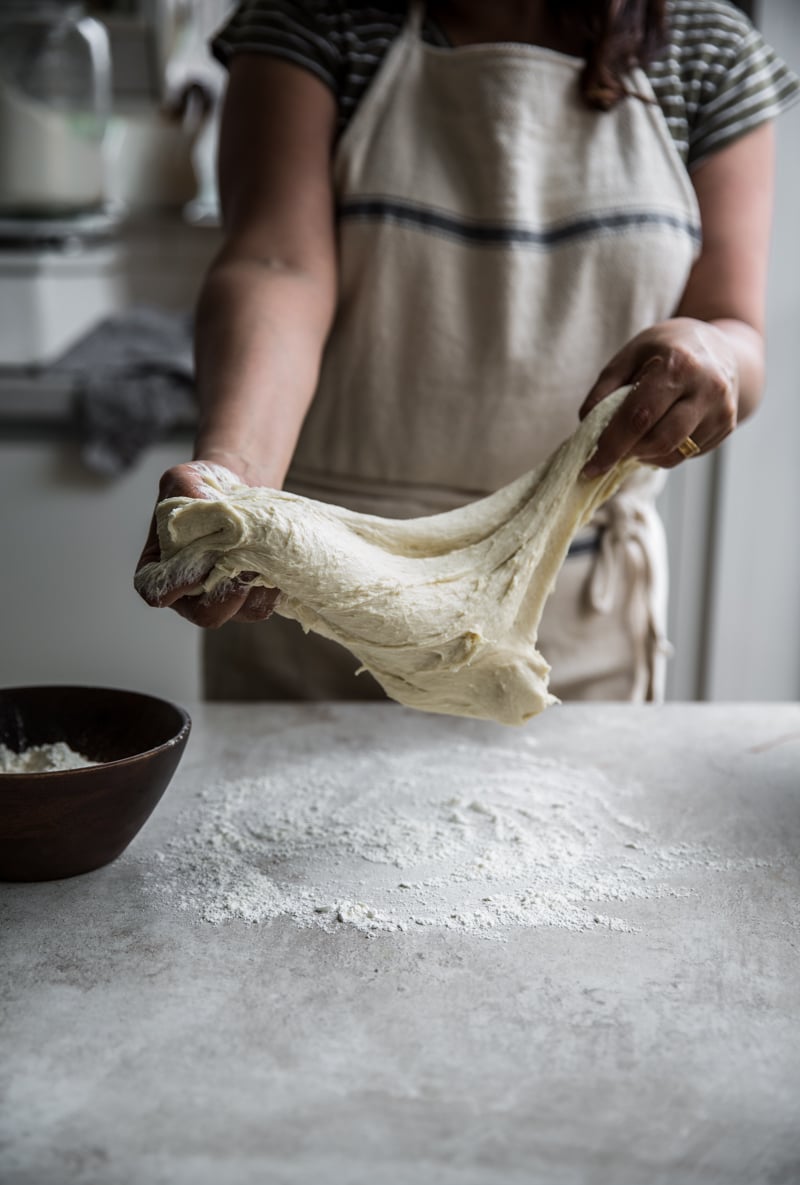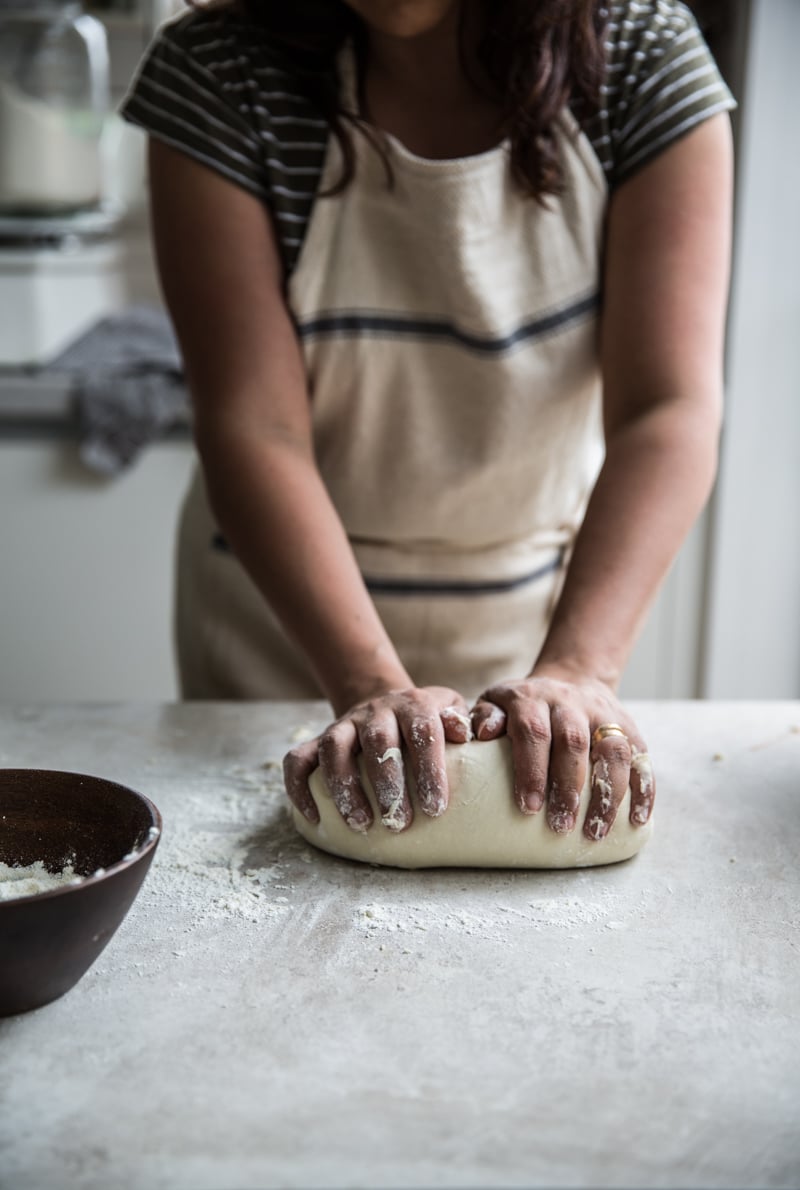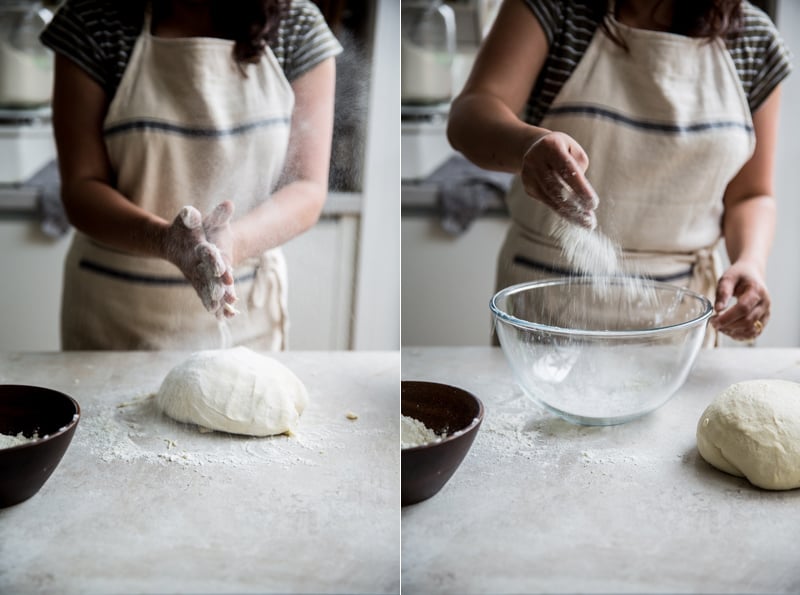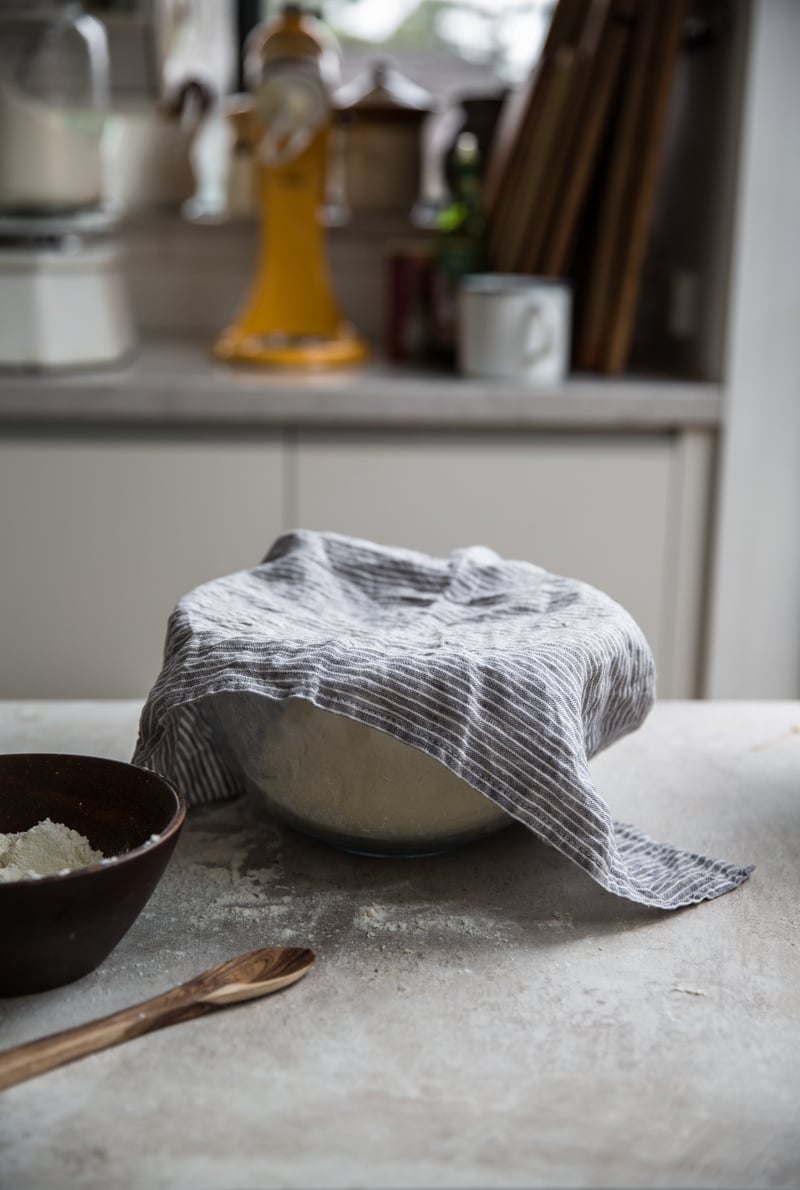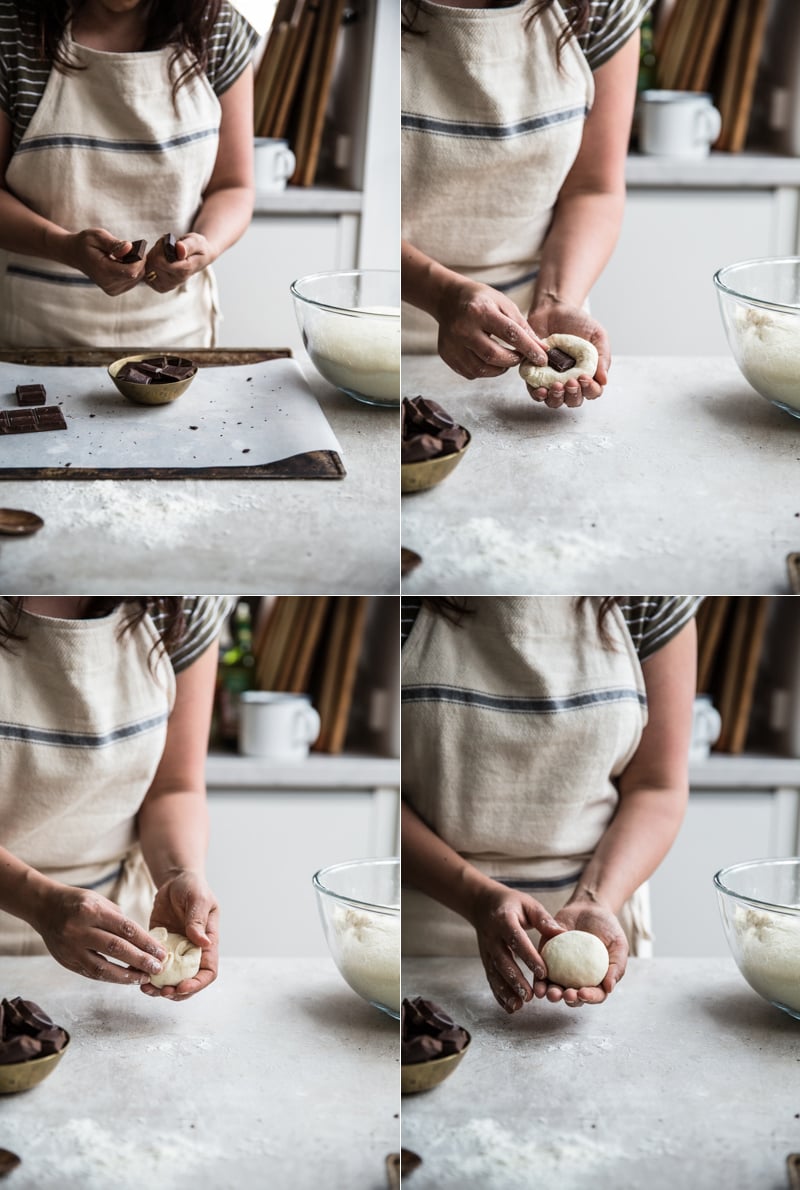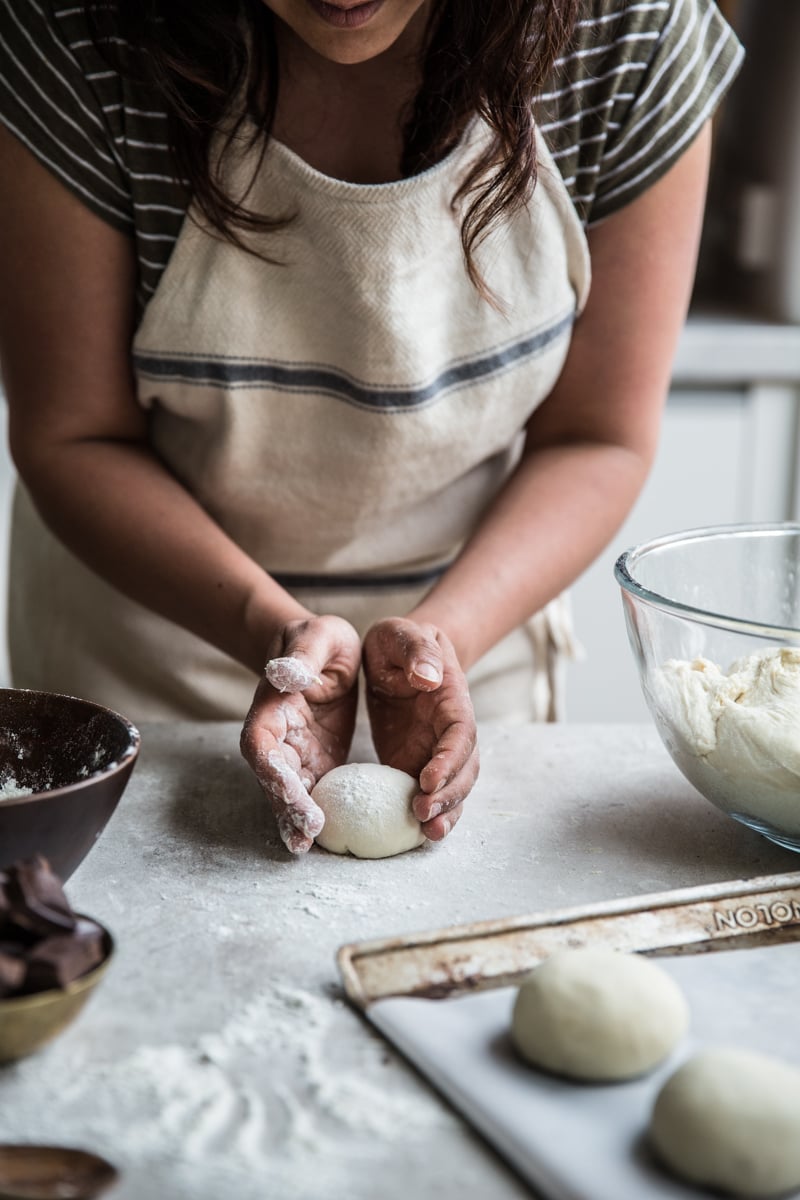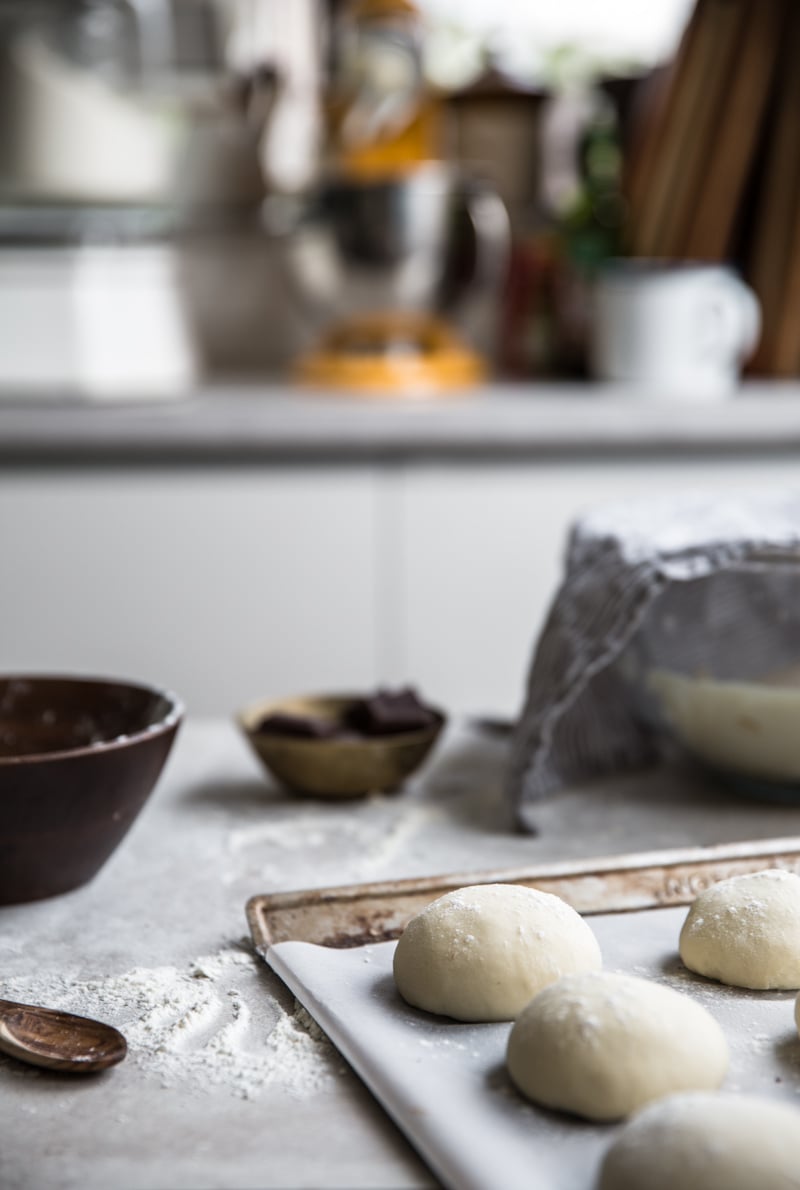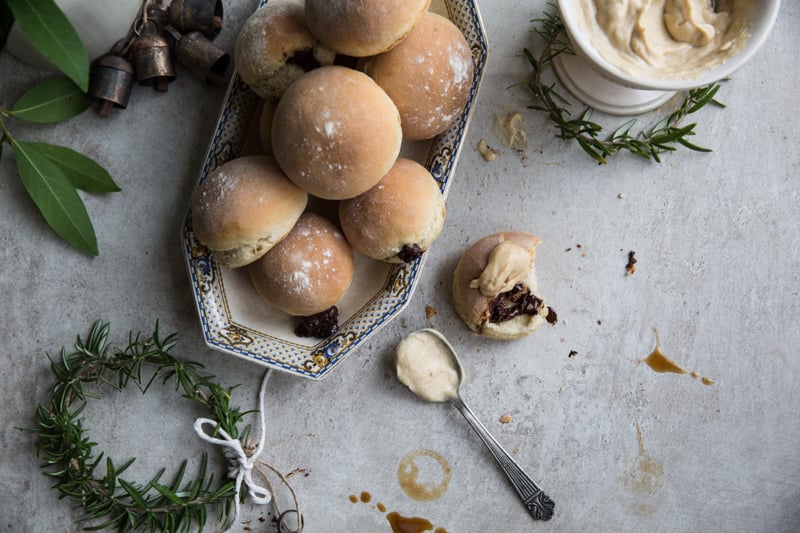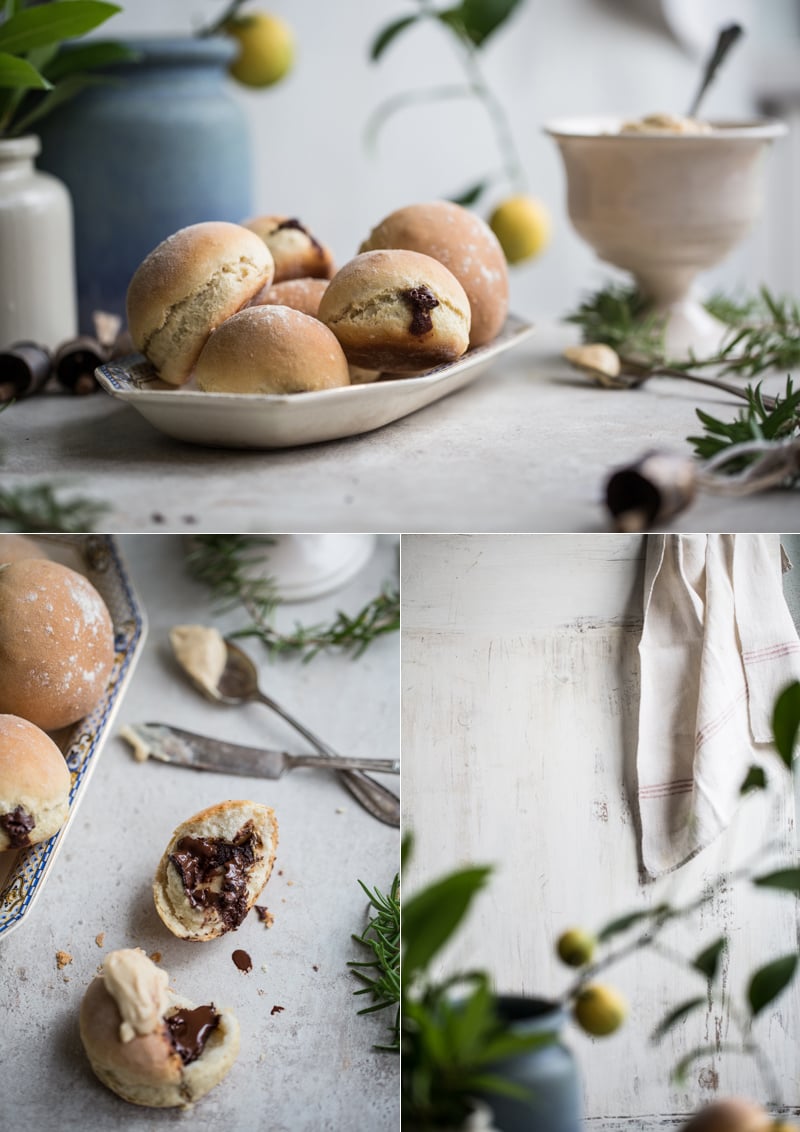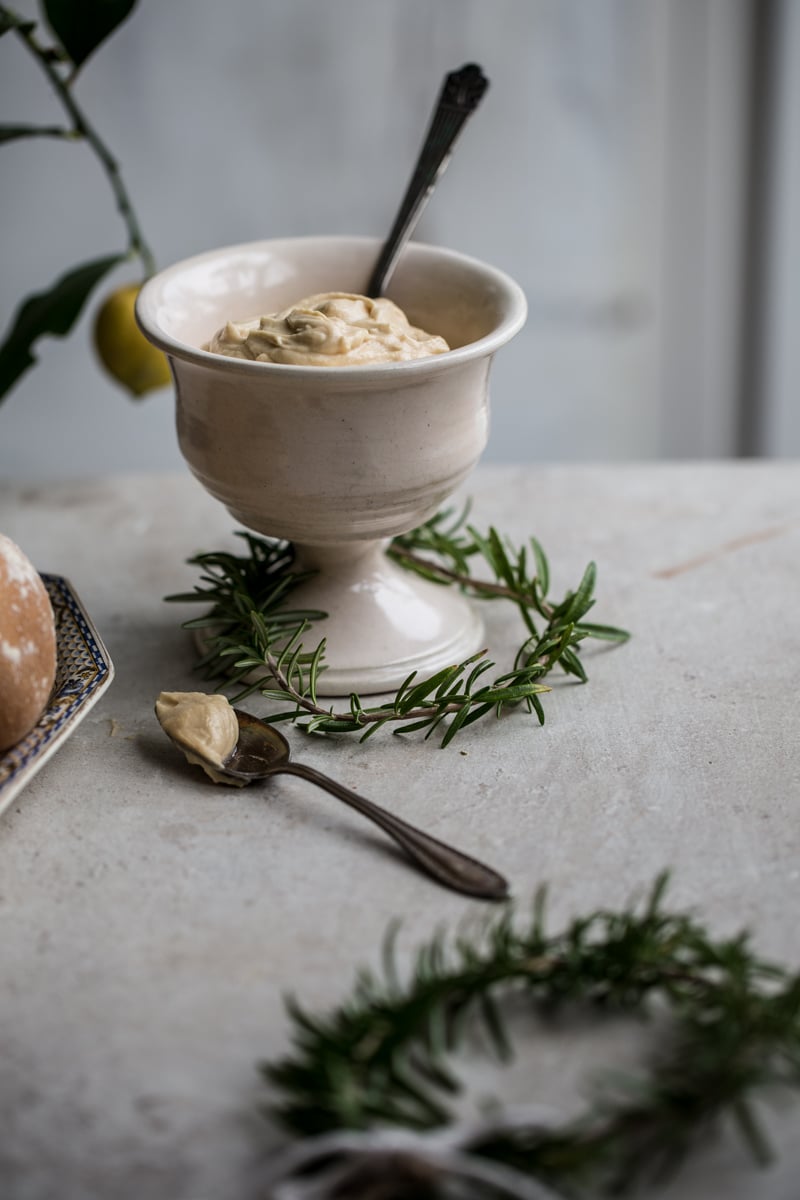 [print_this]
CHOCOLATE BOMBA WITH TIRAMISU CREAM
A fun dessert of pizza dough stuffed with chocolate, baked as round buns and served with a boozy Tiramisu inspired cream. Amen!
Makes 24
Ingredients
750g strong bread flour + extra for dusting
1 teaspoon salt
600ml lukewarm water
7g dry yeast
1 tablespoon raw sugar
4 tablespoons olive oil
24 pieces of dark chocolate
For The Tiramisu Cream
250g mascarpone cheese
1/4 strong espresso coffee
2 tablespoons marsala wine
2 tablespoons brown sugar
Method
To make the Tiramisu cream, place all ingredients in a large bowl and beat with an electric mixer until soft and fluffy. Cover and refrigerate until ready to use.
Place flour and salt in a large bowl. Mix. Pour water in a small jug. Add sugar, yeast and olive oil. Stir once and place in a warm corner of your kitchen for 10 minutes until bubbles and froth appear. Pour this in the centre of the flour in the bowl. Knead into a semblance of a dough for a few minutes. Dust a work surface with flour. Place the dough on the dusted surface and knead until smooth. Flour a large bowl and place the dough inside the bowl to rise. Cover with a tea towel.
After the dough has risen (approximately 45 minutes), break dough into 24 small portions. Working with flour to dust, roll each portion into a tight ball by folding the external edge of the dough towards the centre and rolling it on the surface. Flatten the dough ball and place a chocolate piece in the centre. Start folding the dough over the chocolate piece from outside to the centre until the piece is sealed. Turn the chocolate encased dough over and form a round shape with the palm of your hands. Place on a baking paper lined tray. Repeat with remaining dough portions.
Pre-heat oven to 180C. Bake the bombas in the pre-heated oven for 15 minutes or until golden brown. Remove and serve immediately with Tiramisu cream.
Notes
The buns are crusty (like pizza) and are best eaten warm. If storing in the fridge, microwave them when ready to eat.
You may try placing a shallow tray filled with a little bit of water on the bottom rack of the oven while baking these to make them a bit softer.
[/print_this]