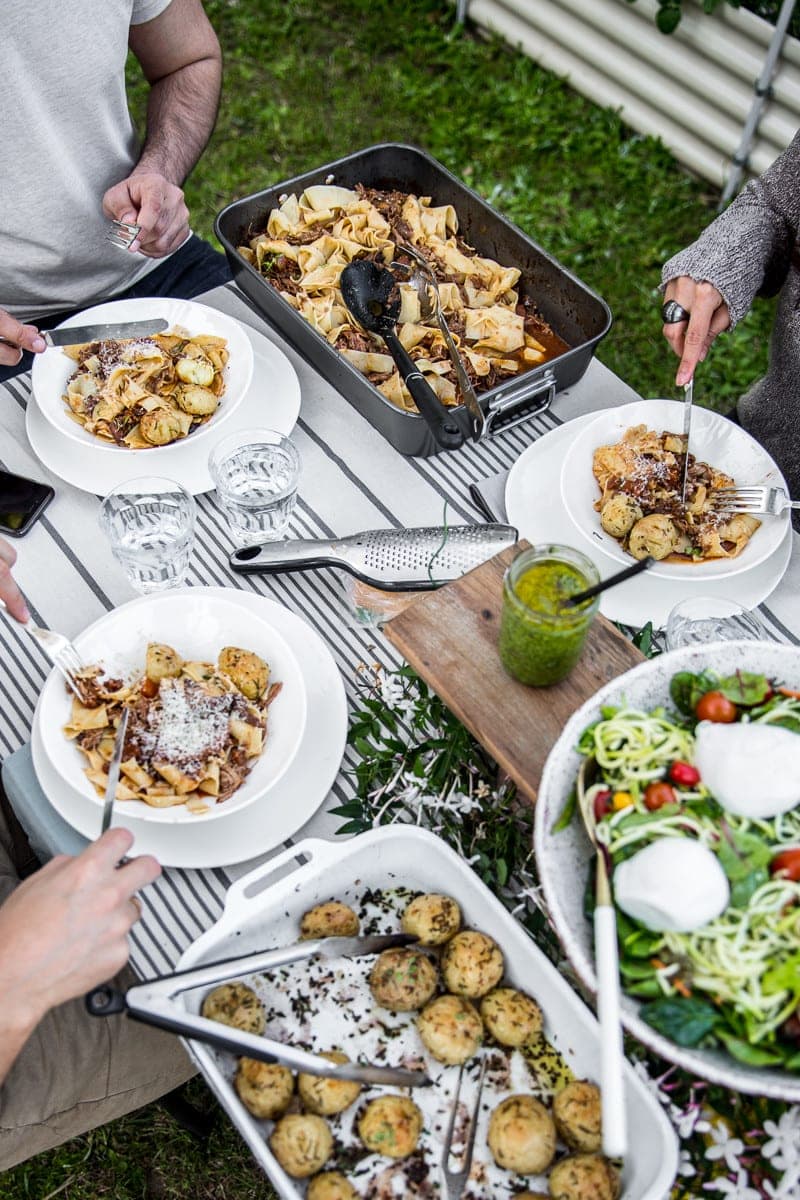 A slowly unravelling spring is a magical awakening of the senses. When the soft at first but heavy with fragrance air turns warm and balmy, out comes the patio furniture and fairy lights. Salad recipe cuttings are brought out from the trusty old recipe folder and a trip to the local butcher is almost a rite of passage as most of Australia heads there to bring back some beautiful lamb to cook and share at leisurely Spring barbecues and garden parties. We have the occasional lamb throughout the year and surprisingly, most of it manages to take centre stage at gatherings with friends and loved ones.
I was very excited to recently collaborate with Australian Lamb and Feed Up to celebrate and showcase the tradition of sharing lamb in Spring. Feed Up is an amazing website where people like you and me can instantly and easily hold their own supper clubs (I have always dreamed of running a supper club of my own!). I was eager to try it out and was pleasantly surprised when after signing up, was able to create my event listing in a matter of minutes! My Spring Lamb event was a family affair but you could create a ticketed public event, put up menus and even charge your guests.
We usually end up barbecuing a rack of lamb, but I wanted to do something different. I settled on an all Italian menu of a Slow Cooked Sticky Leg Of Lamb Ragu served with hand cut pappardelle pasta, Italian roast potatoes, Spring Zucchini And Buffalo Mozzarella Salad With Pesto, Charcuterie And Cheese Boards to share and a Vanilla Bean And Passionfruit Curd Pana cotta to finish with Italian coffees. Bellissimo!
A trip to my favourite local butcher Tender Gourmet Butchery in Hornsby resulted in a good old chat with my butcher and a beautiful 2kg leg of lamb. I slow cooked the lamb the night before the event and finished off the ragu on the cooktop just before our lunch gathering. The tart and sweet fruit jam is key to the texture of the dish and instantly adds that extra bit of yumminess to the ragu. I had some frozen hand cut pappardelle prepped but if you are pressed for time, store bought fresh or dried pasta works a treat too.
It was an absolutely gorgeous spring day with the sun filtering through the flame tree in our backyard. We set up a table amidst our veggie patches, dressed it up with linen and fragrant trailing jasmine vines off the fence and sat down to a delightful lamb meal to the calls of lorikeets and lyre birds. I also managed to get some lovely pictures while everyone got busy serving. Hope you enjoy them. It is amazing what a little bit of effort setting the table and taking your food outdoors makes. Especially with family and friends to do it with. Afternoon lunch quickly stretched late into the evening. Hearts and bellies full with delicious food, we eventually said our goodbyes to our guests and reflected on a day well spent with the best of everything this gorgeous land has to offer.
Recipe
Hungry For More Recipes? Subscribe to my newsletter. Check out Facebook, Instagram and Pinterest to see everything I share! And if you love cooking and new cookbooks, join my free Cooking Club on Facebook!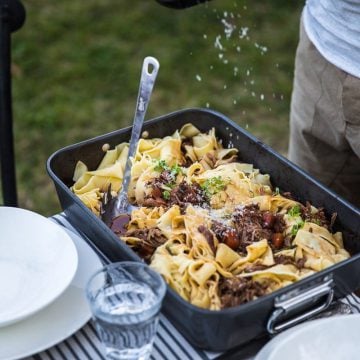 Ingredients
2

kg

leg of lamb

2

tablespoons

sea salt flakes

freshly ground black pepper

¼

cup

olive oil

100

g

butter

12

garlic cloves

3

bay leaves

2

leeks

,

trimmed and sliced

2

carrots

,

diced

20

g

dried porcini mushroom

3

sprigs of rosemary

300

ml

port wine

500

ml

vegetable stock

400

g

tomato passata

2

tablespoons

thyme

,

roughly chopped

1

teaspoon

red chilli flakes

,

optional

3

tablespoons

blackberry or sour cherry jam

8

serves of cooked pappardelle pasta

grated parmesan

,

to serve
Instructions
Place leg of lamb in a large Dutch oven or cooktop safe roasting dish. Add salt, pepper and olive oil. Rub it in thoroughly. Brown the lamb on both sides over medium-high heat on the cooktop. Remove from heat.

Heat butter in a large saucepan. Add garlic cloves, bay leaves, leek, carrot and mushroom. Sauté on high heat for a minute. Add port wine to deglaze the pan. Remove from heat.

Add the vegetable mix to the lamb. Gently pour the vegetable stock around the leg of lamb in the pan. Add rosemary. Cover the pan tightly with foil.

Place lamb in the oven and bake for 4 hours.

Remove lamb from the oven. It should be tender and falling apart. Use a fork to pull the meat off the bones and gently mash the vegetables into the sauce. Discard the bones, bay leaves and rosemary sprigs.

Heat the saucepan on medium. Add the shredded lamb and sauce to the pan. Add the passata, thyme and chilli flakes. Season with salt and pepper as required. Stir through the jam and reduce heat. Simmer until heated through.

Toss pappardelle pasta through the lamb ragu.

Serve topped with freshly grated parmesan.
Did you make my recipe?
I'd love to hear how you went! Tag me on Instagram @cookrepublic
Disclaimer - This post was sponsored by Australian Lamb. Recipes, musings and opinions are my own.