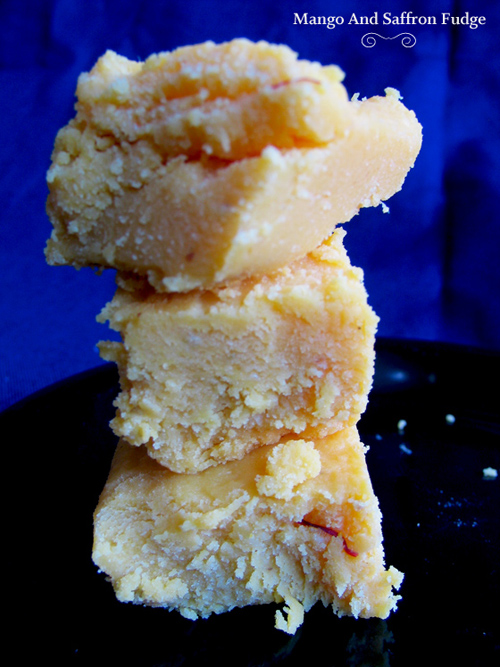 I am slowly and laboriously undertaking the task of transfering over 300 recipes from my site to the blog. The 300 recipes were cooked, tried and tested over a period of 3 years. I have realized that it is getting increasingly hard to maintain my recipes on two different platforms. My wordpress blog wins even though Nick made a fantastic system of recipe filing and tags on the website. I hope to bring some of that wonderful functionality to this blog in due course. I am going to start by blogging about my more popular recipes.
Today I am going to share with you a gem of a recipe that is cooked in just under 8 minutes in the microwave and the result is a gorgeous mango fudge slice with flecks of saffron. This one was an experiment that was a huge success and I might even make it to bring to this Sunday's Sydney Food Blogger Kris-Kringle at Hyde Park.
[print_this]
recipe
8 MINUTE MICROWAVE MANGO AND SAFFRON FUDGE
Preparation And Cooking Time - 8 mins | Makes 18 pieces

Ingredients
4 cups milk powder
1 1/2 cups sugar
1 cup mango pulp [alphonso]
300 ml double cream
1 tbsp milk masala
a few strands of saffron

Method
Combine all ingredients except the mango pulp in a microwave safe bowl and microwave on high [uncovered] for 4 minutes. Remove, add mango pulp, stir well to combine and microwave on high [uncovered] for another 4 minutes. Remove, mix well and spread out in a greased slice pan or thali . Cover with cling wrap and chill in the refrigerator for 2 hours.

Notes
Using 'double cream' ensures that it will have a proper fudge consistency. You can cut squares after chilling.

'Thickened Cream' can be used instead of double cream, but the fudge wont set well.

Grease pan/thali with ghee or butter.

Alphonso Mango Pulp brings out the most exotic, beautiful mango flavour.
[/print_this]