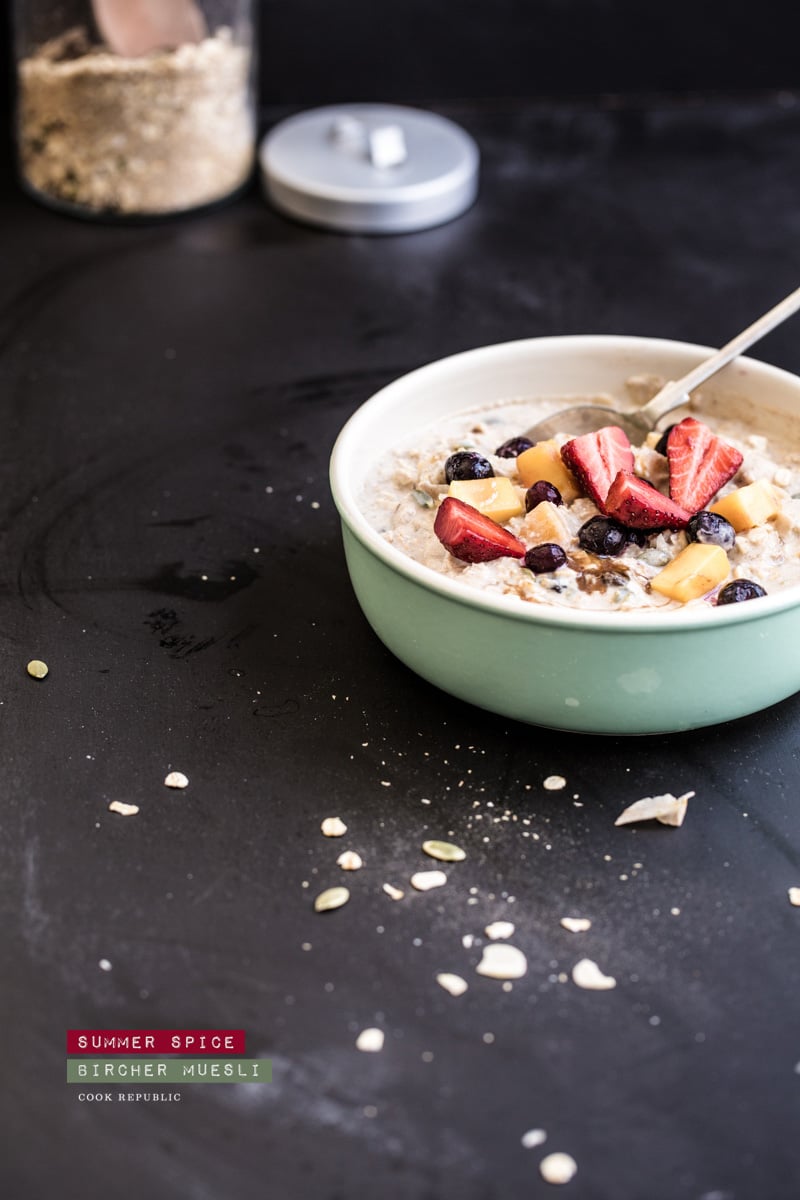 Bircher muesli was a very recent discovery for me. On this trip to the Hunter Valley, I was hovering over the breakfast buffet laid out with a million choices. When there is too much food, I am indecisive and I hover.  Like a kid in the candy store. Not being able to pick. Hovering. Often making the worst possible choice. Like picking up a mini carton of Kelloggs All Bran when there was all this fresh breakfast at my disposal. Blasphemy! The lovely plump woman who had come to replenish the gigantic bowl of soaked cereal nearly had a stroke when she saw me with the mini carton.
"Oh no no no!" she exclaimed with a look of utter agony on her pleasant face. "You must not have that. You must have this!" she continued as she shoved the big bowl right under my nose.
As my eyes widened, she swooped around and switched the big empty bowl with the one filled to the brim with the cold cereal.
"You must try this. This is our chef's special overnight soaked muesli. He makes it with apple and honey and yoghurt ...". I was sold and just like that I had the first bowl of Bircher in my life and was instantly taken by the simplicity of the recipe and the complexity of flavour possibilities at my fingertips. When I got back from wine country, I had nothing but delicious cold muesli for breakfast over the next couple of weeks, a trait of mine that allows me to listen to the same song hundred times or perform the same series of yoga stretches for three months (I am obsessive compulsive in the nicest possible way!). I made all kinds of muesli mixes. A gorgeous coconut and rose version made it into Tasty Express, a chocolate and dried fruit version became a bit of an obsession whereas this special summer version studded with mango and spices graced my inaugural article in The Hornsby Advocate's Lifestyle section.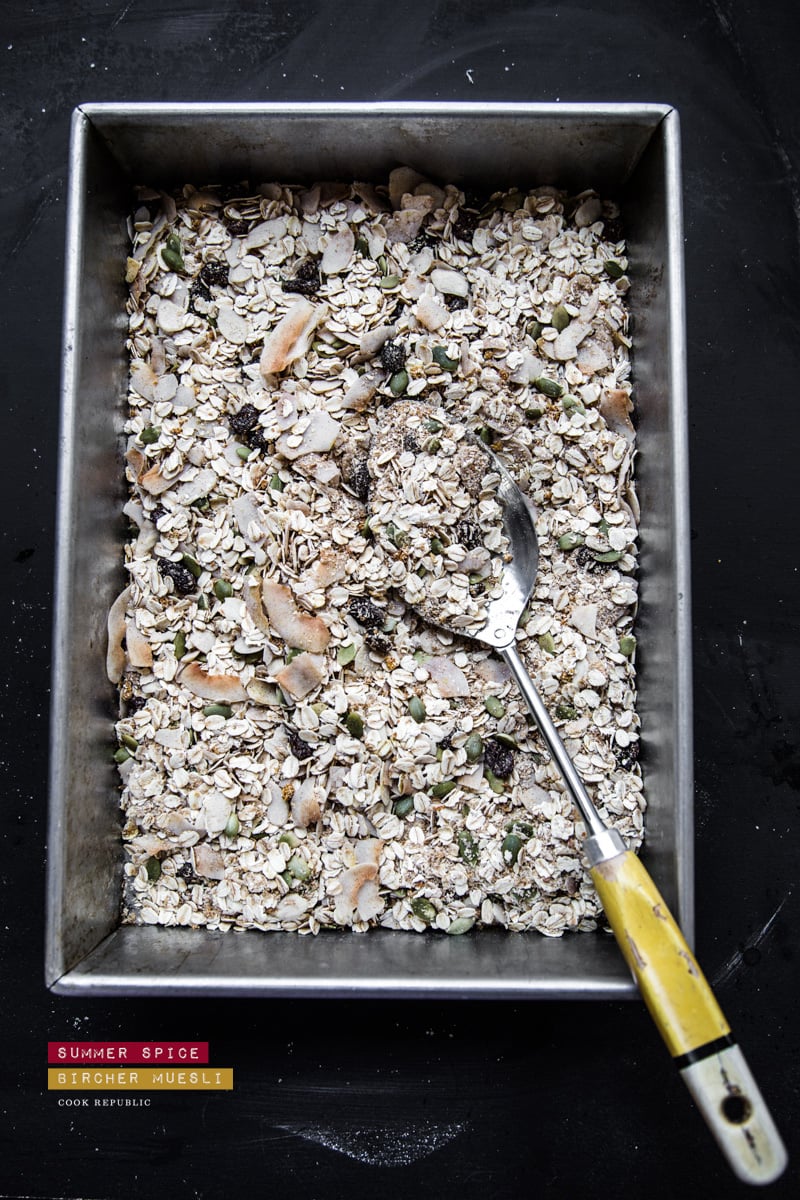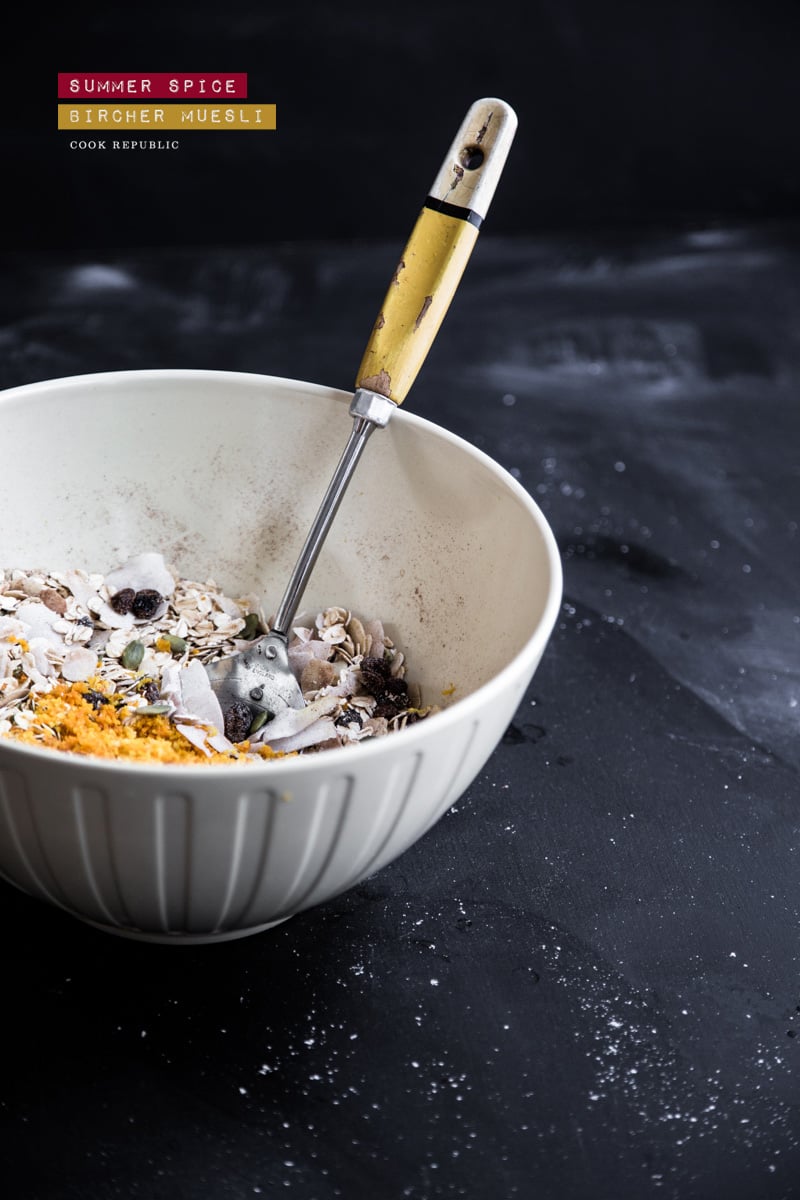 Introduced by Swiss physician Max Bircher-Brenner around 1900, the breakfast dish of oats soaked in lemon juice and condensed milk topped with grated apple and nuts was meant for his patients at the hospital. Over the years, the original Bircher muesli evolved and became utterly adventurous and delicious. I think of Bircher Muesli as a breakfast pudding. On busy days, which are most days; having a big bowl of delicious over night soaked Bircher muesli waiting to nourish you in the morning is priceless. This is a summer spice version made beautiful with lots of coconut and cinnamon. What is your most favourite Bircher muesli concoction?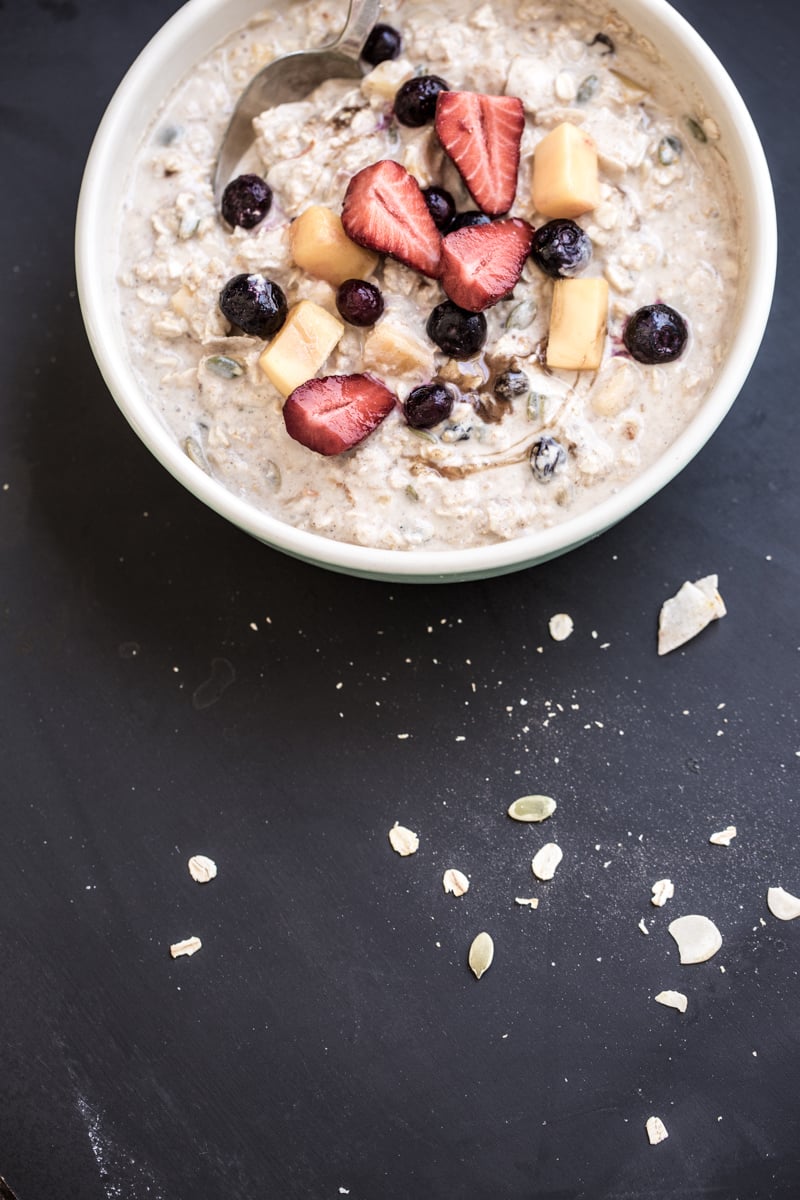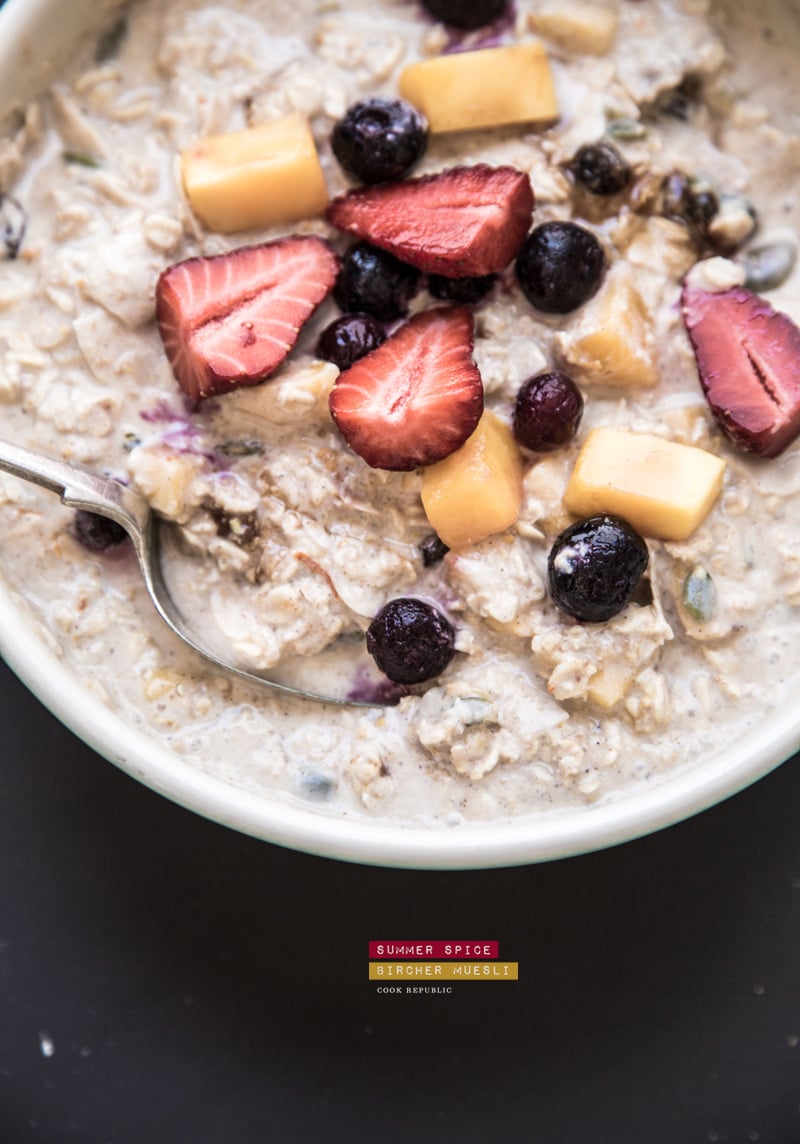 Recipe
Hungry For More Recipes? Subscribe to my newsletter. Check out Facebook, Instagram and Pinterest to see everything I share! And if you love cooking and new cookbooks, join my free Cooking Club on Facebook!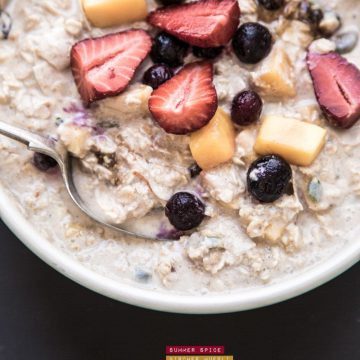 SUMMER SPICE BIRCHER MUESLI
A stunning chilled breakfast made healthy with stone fruit, coconut water, crunchy nuts and heaps of gorgeous spices. The best Bircher Muesli ever!
Print Recipe
Rate / Comment
Ingredients
muesli mix
2

cups

rolled oats

½

cup

wheatgerm

½

cup

shredded or flaked coconut

½

cup

almond flakes

1/3

cup

sultanas

1/3

cup

pepitas

1

teaspoon

mixed spice

1

teaspoon

ground cinnamon

¼

teaspoon

salt

zest of 1 blood orange/ orange
overnight Bircher muesli
2

cups

muesli mix

,

see above

1

cup

diced mango

,

fresh or frozen

1

cup

Greek yoghurt

½

cup

coconut water

½

cup

apple juice

1

tablespoon

honey

fresh fruit to serve
Instructions
Place oats, wheat germ, coconut flakes, almond flakes, sultanas, pepitas, spices, salt and zest in a large bowl. Toss to combine thoroughly. Store this muesli mix in an airtight container in a cool part of your pantry for up to 2 weeks.

To make the overnight soaked Bircher Muesli combine 2 cups of the muesli mix, mango, yoghurt, coconut water, apple juice and honey in a large bowl. Mix well to combine evenly. Cover and soak in the fridge overnight. Enjoy chilled with fresh seasonal fruit and extra yoghurt.
Did you make my recipe?
I'd love to hear how you went! Tag me on Instagram @cookrepublic