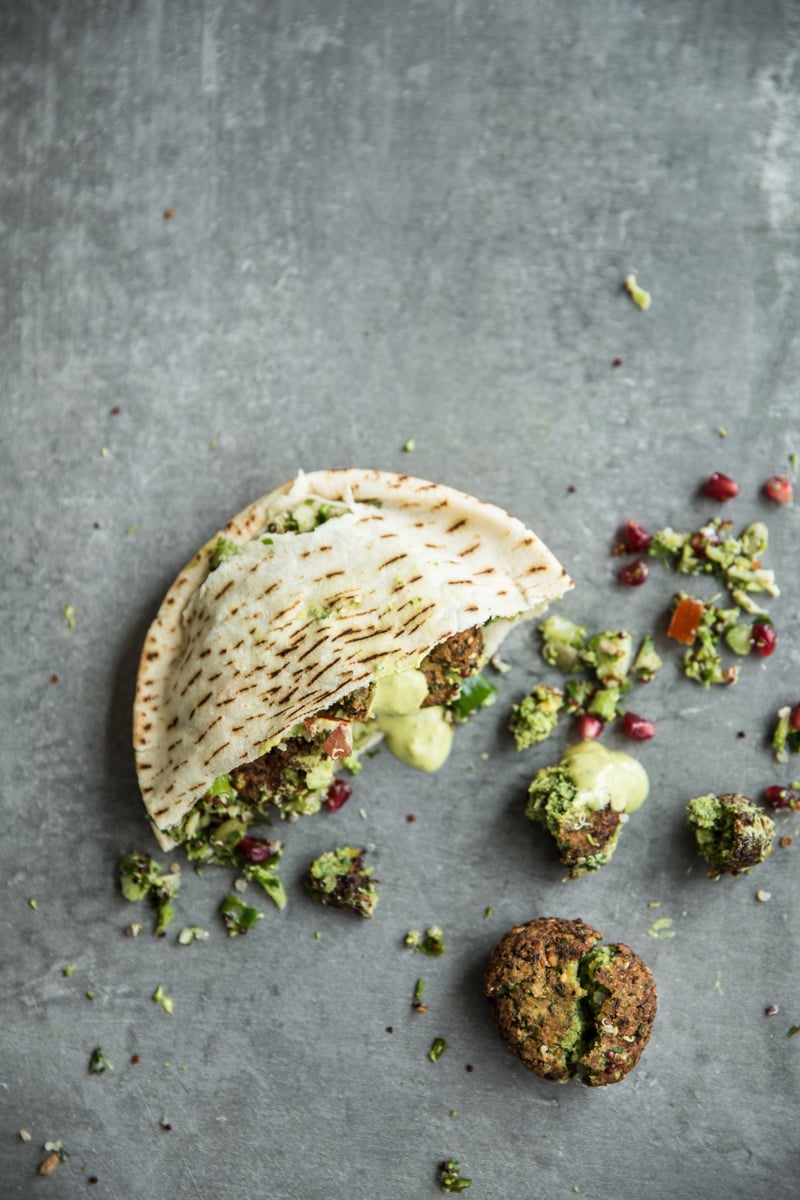 I have been baking falafels for a very long time. But every time I have a "real" falafel at a Middle Eastern eatery, you know the authentic fried version, I am overcome with an urge to try it at home. Frying is a fine art, just like baking. There are a lot of variables involved, the right heat and maintaining it a true challenge for many. I developed this recipe over several weeks, frying batch after batch, adjusting the mix so it won't fall apart in the oil (one of the most common problems of cooking falafel), adding big green vibrant ingredients to amp up the nutritional value and chasing the right taste and texture.
After several meals of falafel that included quick pita wraps and bowls laden with tabbouli, I present you with a bulletproof recipe to make the most perfect batch of falafels you will ever make. This falafel is vegan and gluten-free, freezes well (cooked and uncooked), is quite quick to make and will never fall apart when you are frying it. Scout's honour! It of course also renders well to shallow pan-frying and baking in the oven. There is nothing this falafel mix can't do. Read through the process and the notes at the end to get the frying down pat. You might have to sacrifice a falafel or two till you get into the rhythm of frying the perfect golden falafel. My tahini sauce is full of immunity-boosting fresh turmeric root. Together with the raw broccoli tabbouli that I posted earlier this week, they form the trifecta of delicious lip-smacking good street food.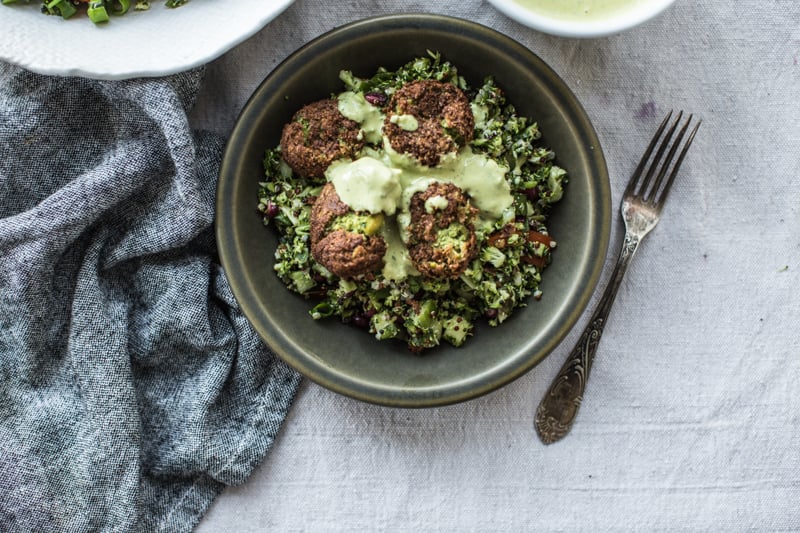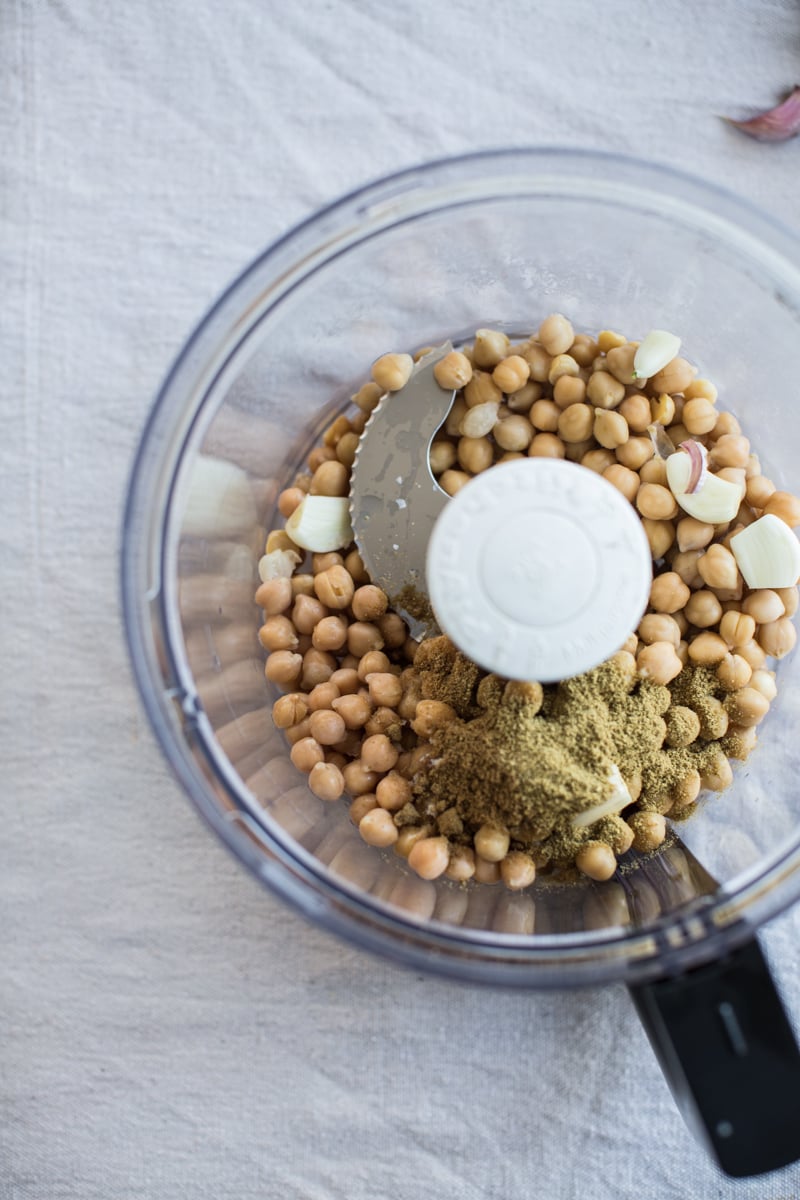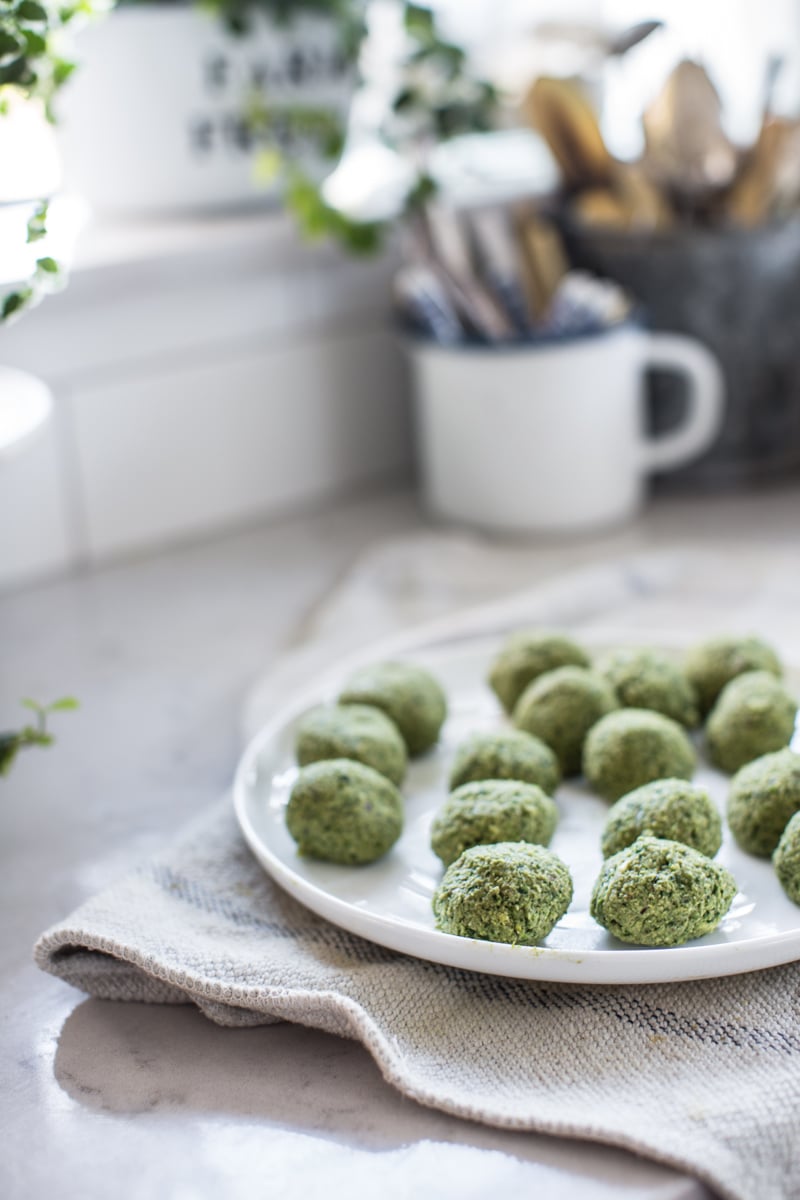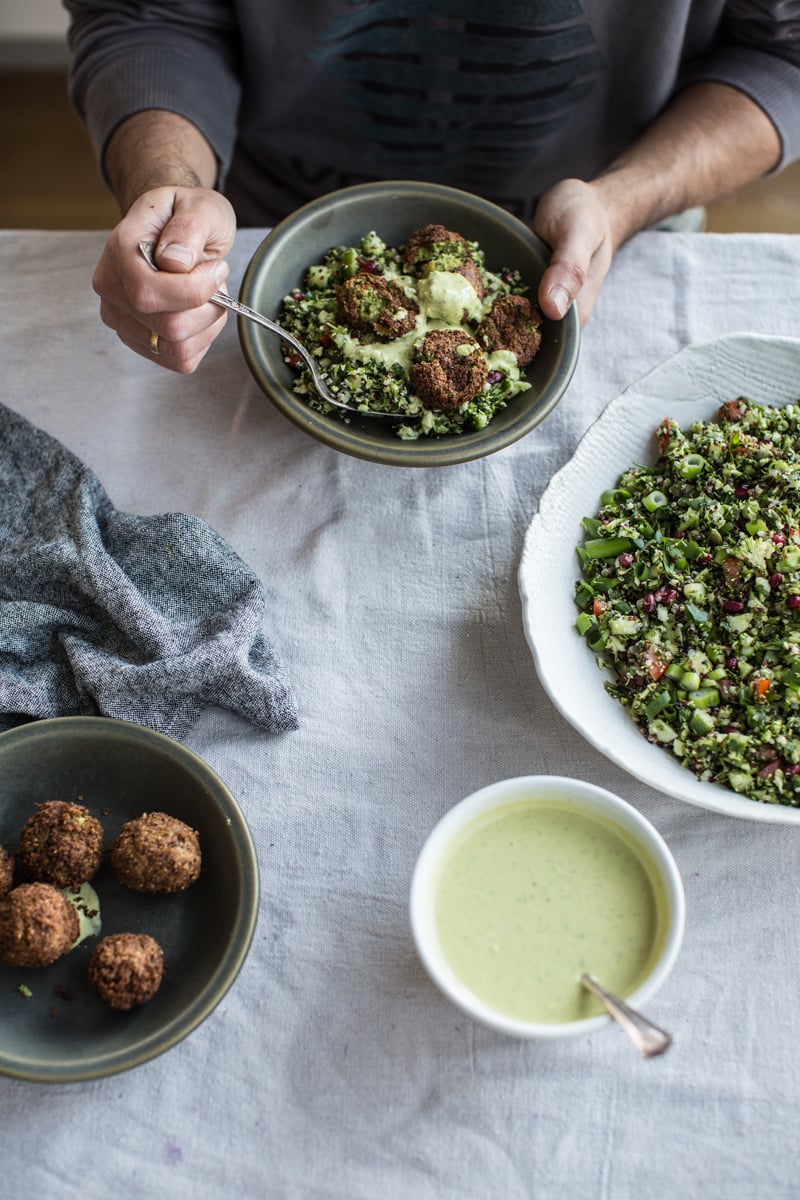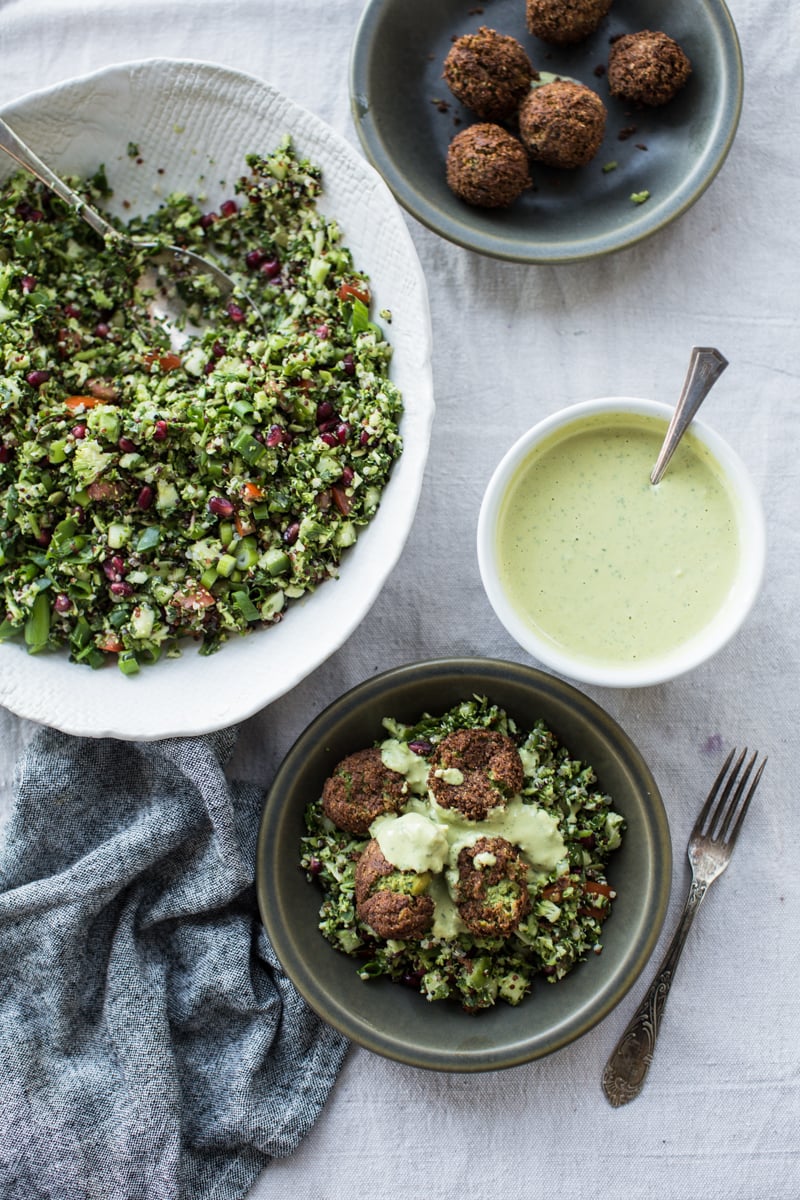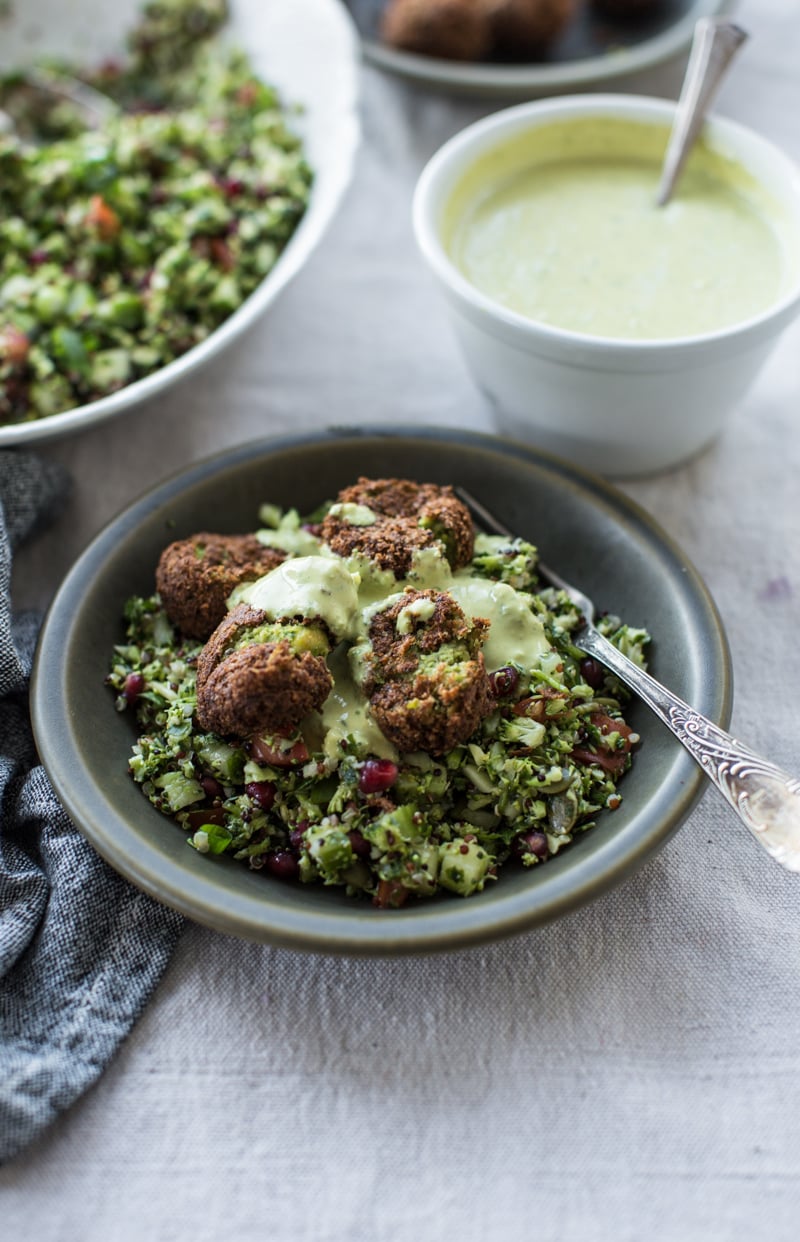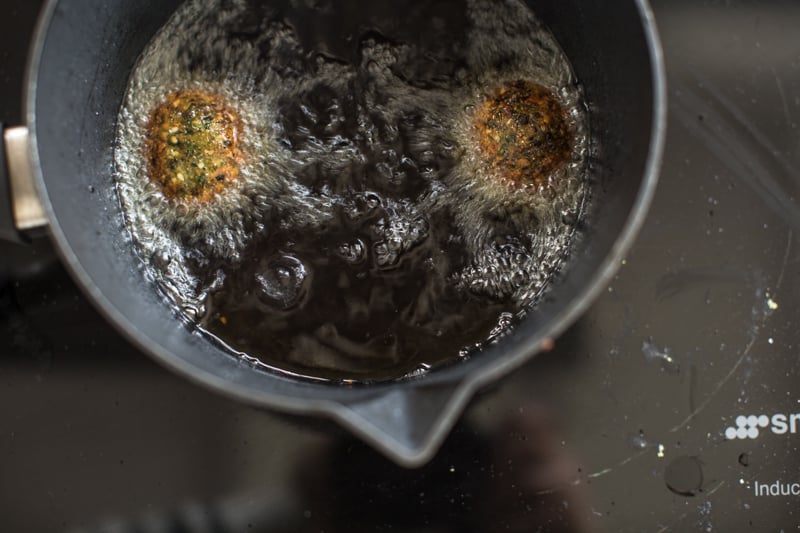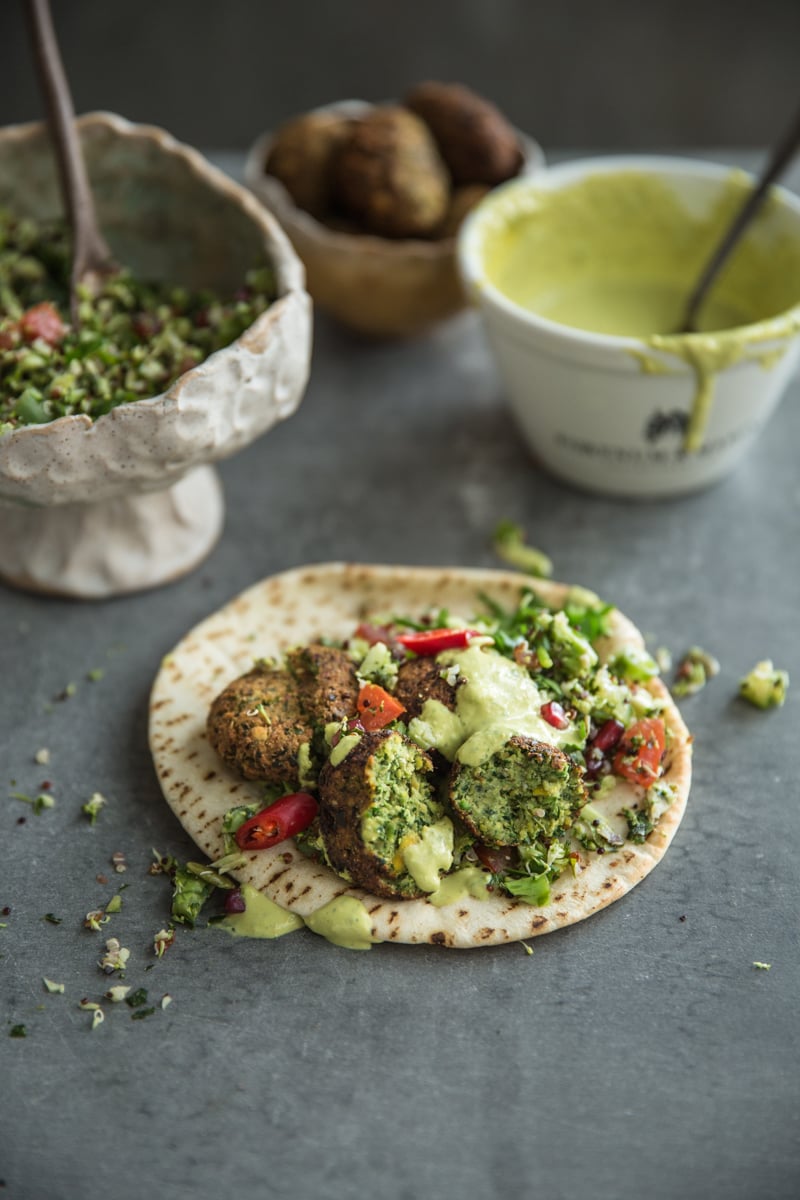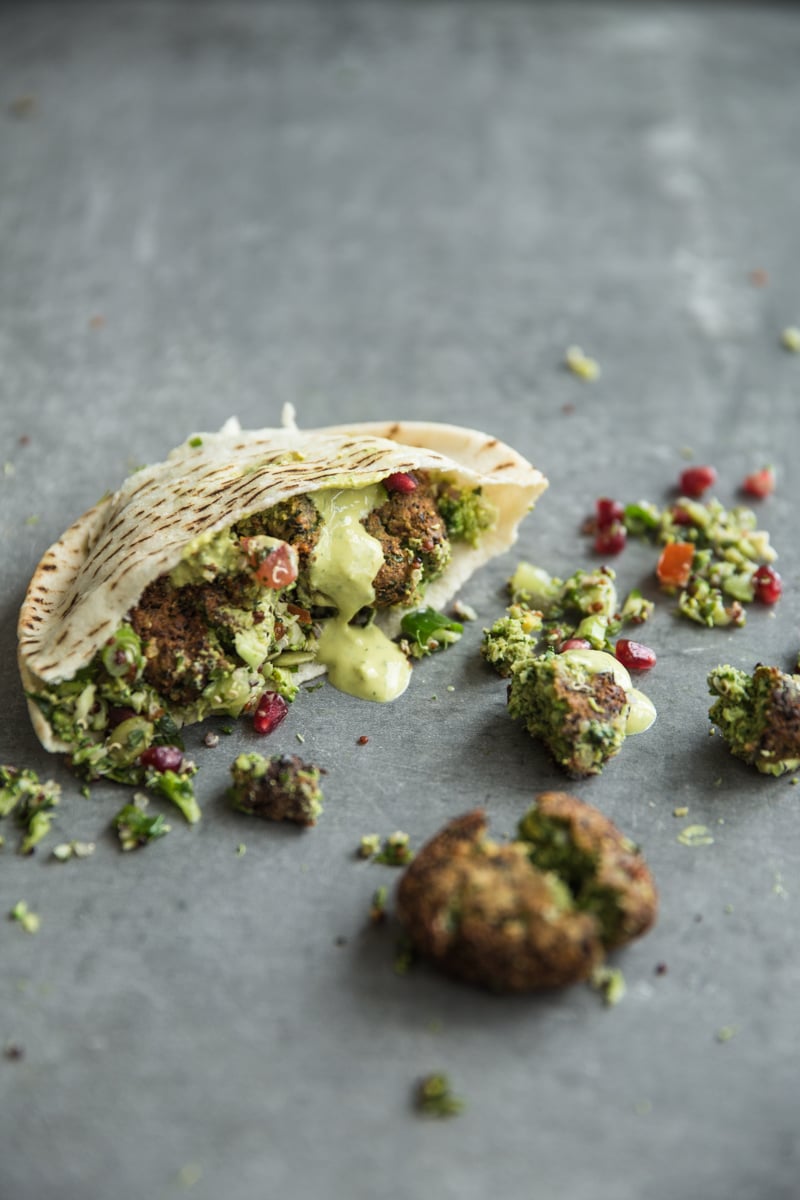 Recipe
Hungry For More Recipes? Subscribe to my newsletter. Check out Facebook, Instagram and Pinterest to see everything I share! And if you love cooking and new cookbooks, join my free Cooking Club on Facebook!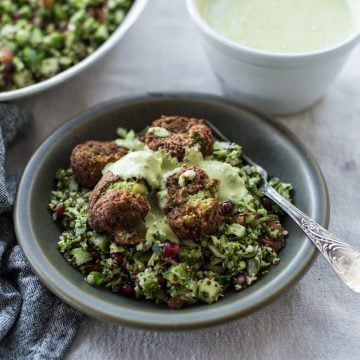 SUPER GREEN FALAFEL WITH TURMERIC TAHINI SAUCE
The most perfect falafel recipe with a beautiful texture and vibrant green colour due to the abundance of kale, pistachios, parsley and peas. This lip smacking, tasty street-food inspired dish is served with a nourishing turmeric tahini sauce and can be served as a wholesome bowl or stuffed pita.
Print Recipe
Rate / Comment
Ingredients
for the falafels
2

cups

(

360

g

)

canned chickpeas

,

rinsed and drained

1

red onion

,

coarsely chopped

1/2

cup

(

75

g

)

pistachios

1/2

cup

(

70

g

)

frozen peas

5

garlic cloves

40

g

kale

,

stem and membrane removed

1

cup

(

30

g

)

flat-leaf parsley leaves

1/2

cup

(

15

g

)

fresh coriander leaves

1

teaspoon

ground cumin

1

teaspoon

ground coriander

2

teaspoons

sea salt flakes

1/2

teaspoon

baking powder

4

tablespoons

buckwheat flour
for the turmeric tahini sauce
150

g

tahini paste

4

garlic cloves

juice of 1 large lemon

1/4

packed cup flat-leaf parsley

1

teaspoon

sweet paprika

1

teaspoon

ground cumin

1/2

inch

piece fresh turmeric root

,

or 1/2 teaspoon ground turmeric

1/2

teaspoon

sea salt flakes

1/2

cup

cold water

grapeseed or vegetable oil

,

for frying

raw broccoli tabouli,

to serve

lime wedges

,

to serve

red chili slices

,

to serve
Instructions
Rinse and drain the canned chickpeas. If using dried chickpeas, soak in hot water for 5 hours. Drain water and use.

Place chickpeas in the bowl of a food processor. Add all the other ingredients for the falafel other than the baking powder and flour. Process to a semi-coarse mix.

Place processed falafel mix in a large bowl. Add baking powder and flour. Mix well.

Using your palms, shape the falafel mixture into 20 golf-ball sized rounds. The balls shouldn't be sticky and soft. They should be just dry on the outside and firm. If you feel the mix is too wet, add another tablespoon of flour. Alternatively, if the mix becomes too dry, add a dash of water to loosen it.

Heat oil in a small heavy-bottomed saucepan on high. Ensure the depth of the oil is only about 5cm. When the oil reaches smoking point, reduce heat to medium. Wait for a minute and then test your first round by sliding it gently and carefully in the hot oil. If the oil is ready, the falafel will instantly rise to the surface. If it starts browning too quickly, reduce heat some more till it is frying at a gently pace, browning evenly. Turn it gently with a slotted spatula and cook the other side until evenly browned. Remove from oil and drain on paper towels.

Repeat this process with the remaining falafels. If frying 2-3 at once, make sure you adjust the heat as the more falafels you have in the pan, the colder the oil gets.

To make the turmeric tahini sauce, place all ingredients in the jug of a small processor and blend until smooth and thoroughly mixed.

Serve falafels on a bed of raw broccoli tabouli with a generous dollop of the tahini sauce, lime wedges and chili. Alternatively, stuff falafels, tabouli and tahini sauce in a small pita bread and enjoy.

The falafel mix can be made 24 hours in advance. If pre-making the mix to fry later, add the baking powder only when you are ready to fry.
Notes
Falafel Consistency - The trick to making the perfect falafel that doesn't fall apart while frying is to ensure that the falafel mix is not too chunky and has the buckwheat flour. When you roll them, the falafel should be firm round balls and not too soft. If you feel your falafel mix is too soft and sticky, add more flour one tablespoon at a time (you wouldn't need more than 1-2 tablespoons over the quantity given here) till you can roll firm falafels. This is only because the size of the onion, quantity of kale and the peas can alter the liquid content from person to person. Flour Substitution - Buckwheat flour can be subbed with plain flour or chickpea flour. Oil Temperature - Make sure that the oil is not too hot. Oil temperatures can be adjusted constantly while frying. The rule of thumb is to ensure that the heat is hot enough to fry slowly and evenly. This cooks not only the outside of the falafel but the inside as well. If the oil is too hot, the crust will brown super quickly leaving the inside mushy. Oven Variation - The uncooked falafel rounds can be drizzled with olive oil and baked in a pre-heated oven (190°C) for 20 minutes on one side and 15 minutes on the other for a non-fried version. These can also be pan-fried like an omelette flipping gently with a butter knife and using very minimal oil.
Did you make my recipe?
I'd love to hear how you went! Tag me on Instagram @cookrepublic