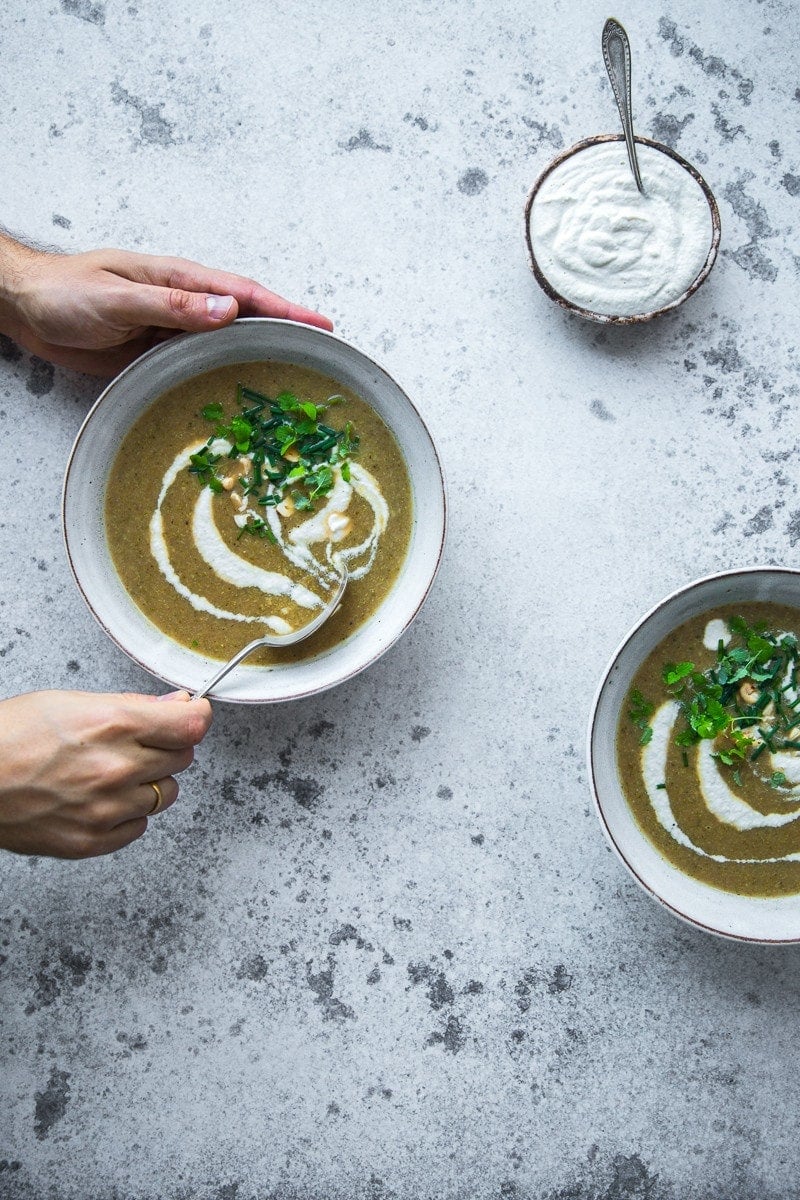 I find that vegetables are a lot like people. Some are ready to be your friend the minute you meet them while some need a nice conversation or two to warm up to you while some need a whole lot of cajoling and tender loving care to let down their guard and allow their true nature to shine. Broccoli falls in the second category. Although you could eat broccoli raw, a little bit of attention and cooking will make it taste not only fantastic but reduce the awful gas in your tummy that is caused by virtually all members of the cabbage family. Broccoli soup is one of the quickest ways of getting a huge dose of those green nutrients.
Cooking it though can either be a nightmare experience or not, depending on how you long you cook it. I learned it the hard way after I forgot it on the stove once and dinner smelled like we were in the middle of some volcanic zone, the air rife with rotten eggs. Now every time I cook broccoli, I hover. But not for long as broccoli is one of the quickest vegetables to cook.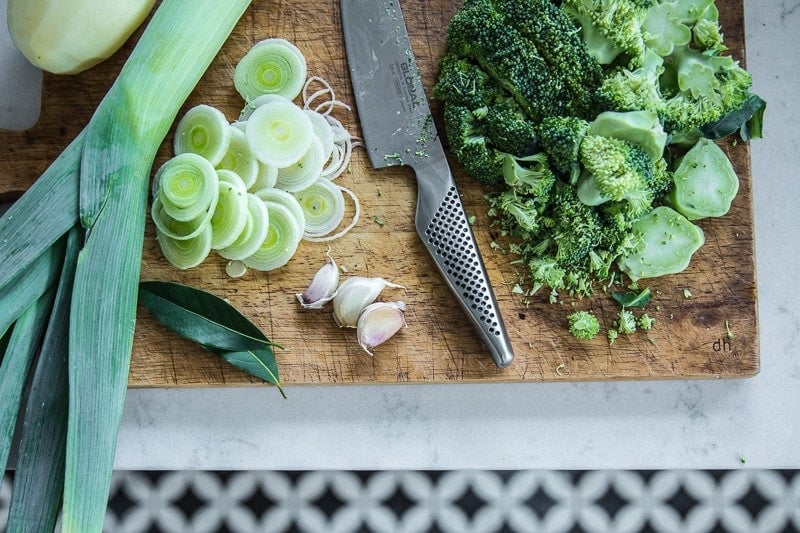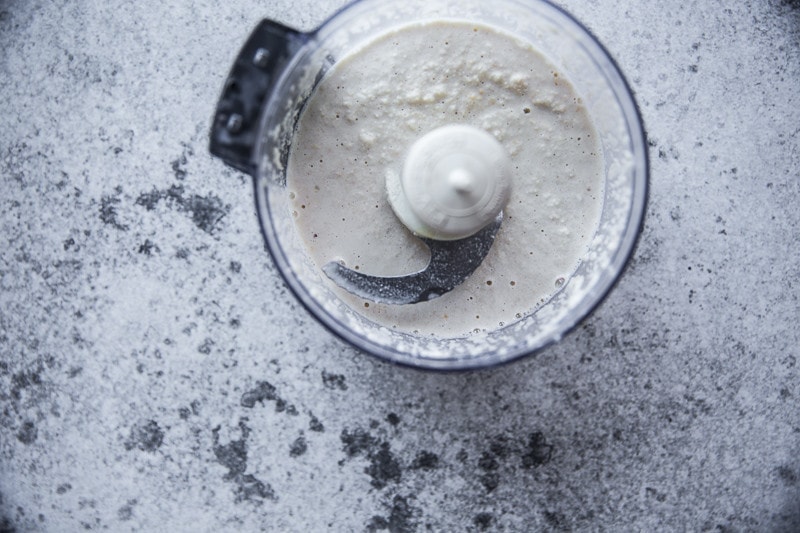 This is a simple broccoli soup with the classic garlic, bay leaf, leek and potato base. The only difference is that the potato is cooked (boiled) beforehand and the broccoli is cooked for a mere 5 minutes. This ensures that the broccoli stays quite green and retains its high nutritional value. Overcooking it will result in a brown soup that will taste and smell awful and have not much in terms of nutrition. Using only the broccoli florets will also result in a greener soup but I use the stalk as well because I don't like to waste it, it is absolutely tender and delicious. A broccoli soup will never be silken smooth no matter how much you blend it, but the tiny bit of texture is lovely in a hot bowl on a cool night.
The cashew cream is a revelation. It is creamy with a lasting sweetness. You will find versions of this recipe on pretty much every vegan or health conscious blog out there. I use minimal garlic and lemon juice to let the flavour of the cashew come through. It is a great substitute for fresh cream/sour cream if you are avoiding dairy. I think it tastes even better than dairy because there is just something savoury and sweet about it that lifts the soup itself. A very worthy garnish indeed.
GREEN BROCCOLI SOUP 101
Why is my broccoli soup green-brown??
Did you brown your leek and garlic when you cooked it first? You did, didn't you? I don't blame you. A caramelised leek is a beautiful thing and adds a rich sweetness to the dish. (I did and you can see the result in the pictures here. Don't worry though, your soup is every bit as delicious and nourishing as it should be!)
Why is my broccoli soup brown, like dish water??
You overcooked the broccoli! It is very simple. You overcook it and you are killing the wonderful thing that makes broccoli green - chlorophyll. As broccoli gets cooked it gives out carbon dioxide and turns an ugly dirty water green colour which results in a brown soup.
Why does my broccoli soup smell of rotten eggs??
Same reason as above!
How do I ensure that my broccoli soup stays vibrant, green and Instagram-worthy??
Make sure that you are cooking broccoli for a very minimal time. At the end of cooking and just before you purée the broccoli, it should still appear vibrant and green and just tender. You can do this by ensuring that you boil your broccoli in salted stock (uncovered) for no more than 4-5 minutes. Alternatively, you can boil your broccoli in a pot of salted water (uncovered) for about 5 minutes, remove and douse in cold water to stop the cooking and then add it to the soup when you are ready to purée. Boiling in salt is a must to prevent the carbon dioxide from affecting the colour of the broccoli.
Did you make this soup? Let me know what you thought in the comments below. x
Recipe
Hungry For More Recipes? Subscribe to my newsletter. Check out Facebook, Instagram and Pinterest to see everything I share! And if you love cooking and new cookbooks, join my free Cooking Club on Facebook!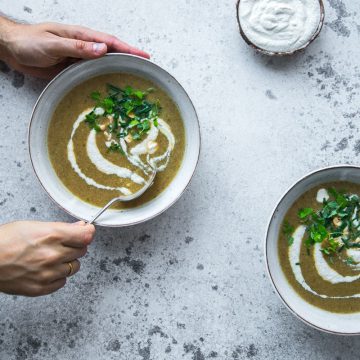 Ingredients
for the soup
1

tablespoon

olive oil

3

garlic cloves

2

bay leaves

1

leek

,

sliced (white only)

1

large potato

,

peeled cubed and boiled

1

(

350

g

)

head of broccoli

,

chopped

800

ml

vegetable stock

salt and pepper

,

to taste

chopped chives

,

to serve

toasted chopped cashew nuts

,

to serve

cashew cream

,

to serve
for the cashew cream
1

cup

(

150

g

)

raw cashew nuts

1

garlic clove

1

tablespoon

lemon juice

1/2

cup

(

125

ml

)

water

1/2

teaspoon

sea salt flakes

freshly ground black pepper
Instructions
to make the cashew cream
Cover cashew nuts with boiling water in a small bowl. Set aside for 20 minutes. Drain.

Add cashew nuts and all the other ingredients for the cashew cream to the jug of a blender or small processor. Process until smooth.

Store in the fridge for up to 2 days. Use as required.
to make the broccoli soup
Heat oil in a heavy bottomed dutch oven or deep saucepan. Add garlic, bay leaves and leek. Sauté for a few minutes on medium until leek starts to soften.

Add the stock, season with salt and pepper, add potato and broccoli. Cook uncovered for 5 minutes until broccoli appears tender and still vibrant green. Do not over cook.

Remove from heat. Discard the bay leaves.

Use a stick blender, purée the soup until quite smooth.

Serve hot in a bowls with a dollop of cashew cream. Garnish with chives and toasted nuts. Enjoy with crusty bread.
Did you make my recipe?
I'd love to hear how you went! Tag me on Instagram @cookrepublic