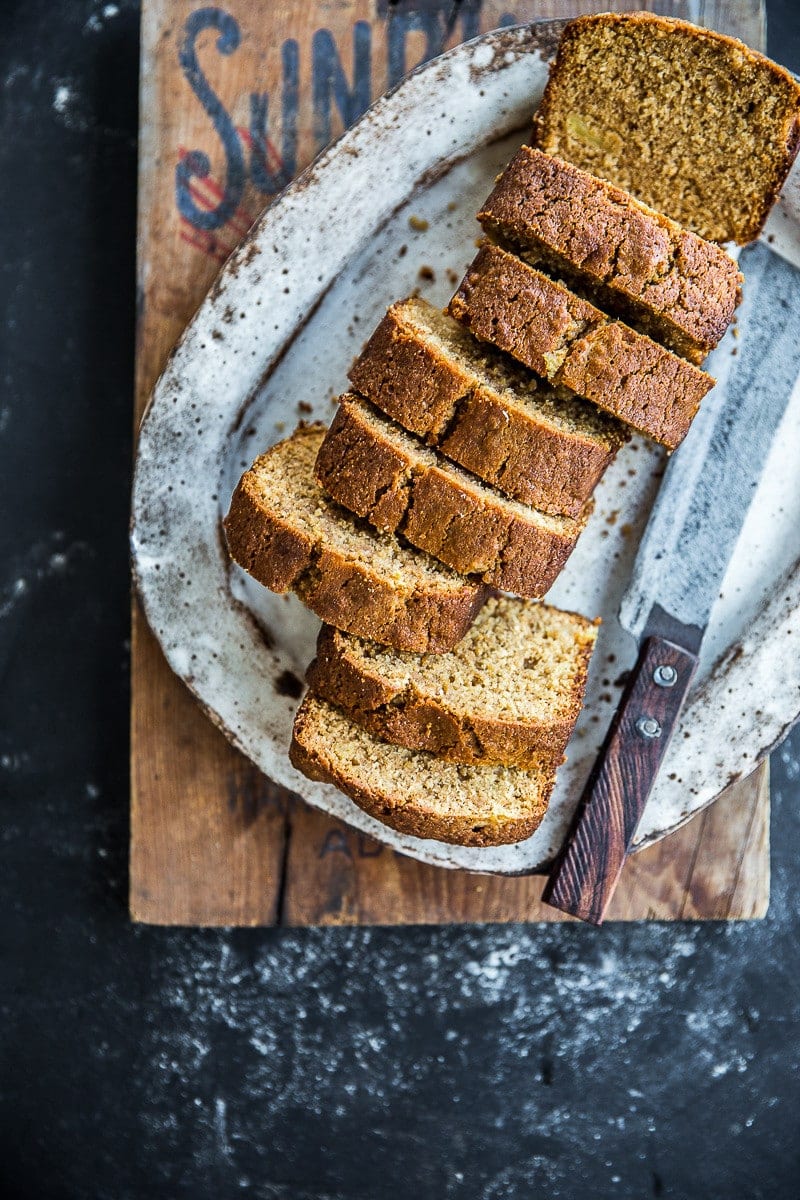 Did you know that pineapple fruitcake was flown on Apollo 11 into space and back to earth and that very slice now sits at the Smithsonian, probably in a glass case? If I was on that mission, I don't think any slice would have made it back to earth. Especially if it was a pineapple coconut loaf cut into thick slices.
My first brush with pineapple cake was when I had just finished high school and a bunch of us were hanging out at a girlfriend's home. Her mum had a pineapple cake just casually sitting in the fridge. She cut big slices for us and we sat on the couch with our big bowls and spooned the almost pudding like cake in our mouths. I remember thinking that I had died and gone to heaven.It was quite possibly the most delicious cake I had ever eaten in the short time I had lived on earth. And I have spent many baking sessions over the years trying to recreate it.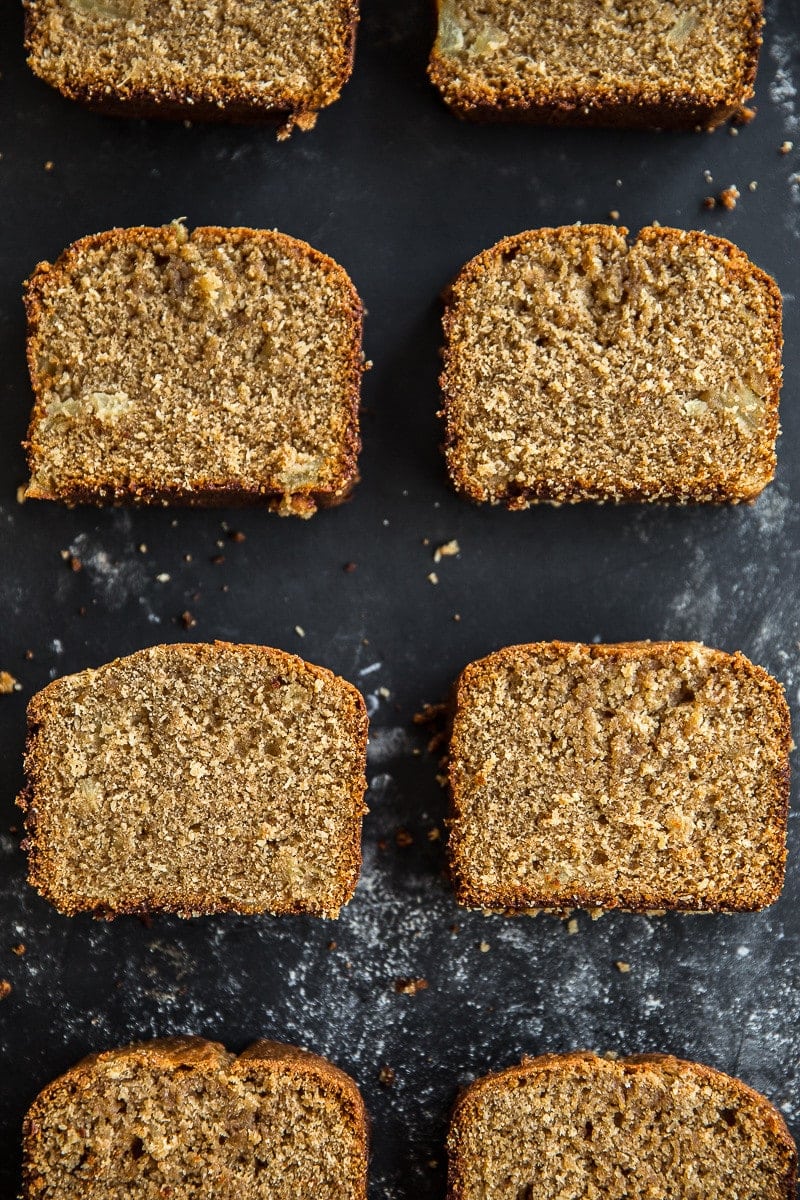 But today I have another gorgeous pineapple baked treat made with spelt flour and crushed canned pineapple that might just change your breakfast game forever - a pineapple coconut loaf. Pineapple is often overlooked when it comes to baking, pushed aside by the bunches of bruised and blackened bananas. But if you are after a delicious change, you MUST make this! I implore you. If you are a pineapple fan, you have not lived till you have tried a slice of this golden bread, toasted and slathered with butter. Oh my goodness! And if you love coconut too, then .. ding ding ding!
It is a heavily modified version of a recipe from a magazine cutting so old, I can't even tell what magazine it was. It has been made utterly wholesome with a much lower sugar content as I like to do with all my recipes. It is a winner! It doesn't last past a day and surely wouldn't be coming back on that rocket from the moon.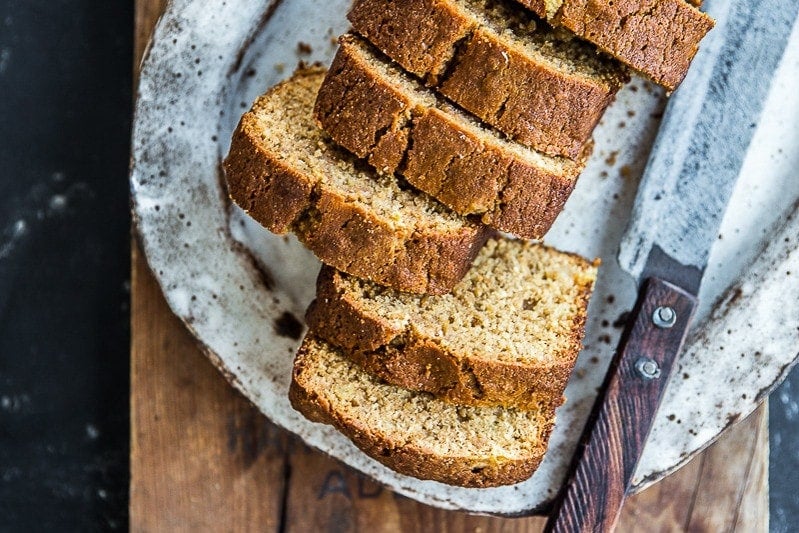 Share your pineapple coconut loaf with me? #cookrepublic
And don't forget to leave your feedback in the comment along with a rating. It allows other home cooks to be brave enough to try it. Big love! x
Recipe
Hungry For More Recipes? Subscribe to my newsletter. Check out Facebook, Instagram and Pinterest to see everything I share! And if you love cooking and new cookbooks, join my free Cooking Club on Facebook!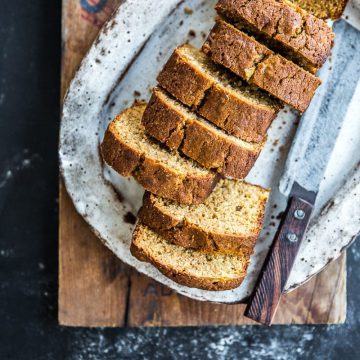 Ingredients
125

g

butter

1

cup

(

175

g

)

rapadura sugar

1

teaspoon

vanilla extract

pinch

of salt

2

organic eggs

1/4

cup

(

80

g

)

golden syrup

1 1/2

cups

(

225

g

)

spelt flour

1

teaspoon

baking powder

1/2

teaspoon

bicarbonate of soda

1

cup

(

45

g

)

desiccated coconut

150

g

crushed and drained canned pineapple
Instructions
Preheat oven to 170°C convention (150°C fan-forced/convection).

Grease and line a 21cmx8cm loaf tin (10cm high) with baking paper.

Place butter, sugar, vanilla and salt in an electric mixer and beat until pale and creamy.

Add eggs and beat for a couple of minutes. Add golden syrup and beat briefly.

Sift flour, baking powder and bicarbonate of soda in a large bowl. Add coconut. Mix lightly with a wooden spoon.

Add the dry ingredients to the wet mixture and beat briefly until just combined. Fold through the pineapple with a wooden spoon.

Spoon batter into the prepared tin and bake in the pre-heated oven for approximately 45 minutes until golden and risen. Reduce oven temperature to 160°C convection (140°C fan-forced) and continue baking for approximately 10-15 minutes.

Remove from oven and cool in the tin for a few minutes before lifting out with the baking paper and cooling completely on a wire rack.

Once cooled, slice and enjoy with a slathering of butter. Tastes great when toasted. Slices can also be individually wrapped in parchment paper and frozen in freezer bags or sealed boxes for up to 3 weeks.
Notes
Golden syrup can be subbed with maple syrup, honey or coconut nectar.
Spelt flour can be subbed with buckwheat or amaranth flour for a gluten free version of this loaf.
Did you make my recipe?
I'd love to hear how you went! Tag me on Instagram @cookrepublic