I was blown away by your response to my first meal prep post yesterday. Thank you for all your emails and messages. It makes me very happy to be able to connect with you through food and to know that posts like these provide you with lots of inspiration and ideas to eat better. On the heels of the meal prep ideas I gave you yesterday, I am very excited to share one of my favourite meal-prep recipe - Vegan Cauliflower Fried Rice. This one is such a robust and fast recipe. It takes 10-12 minutes if you haven't prepped the veggies in advance and only 5-6 minutes if you have the veggies prepped. Who can say no to that? I make this for my lunch at least once a week, less because of convenience but more because I just love this rice-free version of fried rice.
It is important to have a carbon-steel wok/pan for this recipe. I have cheap carbon-steel woks in 3-4 different sizes. Each cost me $10-20 at the Chinese supermarket/small homeware stores. These will truly cook stir-fries faster while imparting that smoky charred flavour that is so synonymous with stir-fries. It doesn't have to be a wok, it could even be a large frying pan (although woks are great for tossing the ingredients around). Ideally you need a wok/pan twice the size of the amount of food you are going to put in it. This ensures that you have enough room to toss and stir faster to get a crisp and even stir-fry. When your wok is small, you turn ingredients slowly to avoid them from spilling out. This makes the stir-fry soggy, wet and unevenly cooked.
When I am cooking just for myself, I use a smaller wok. I cook on induction and still manage to get a good smoky char on my stir-fries due to these woks. Heat the wok on high. It will get hot in a few seconds and ready for you to create the perfect stir-fry. This vegan cauliflower rice recipe only has 12 ingredients, half of which are veggies. I pulse the cauliflower only 3-5 times in the processor to make coarse cauliflower rice. I use a hot sauce like Sriracha for the tiny hit of spice and elevated flavour. The order of the ingredients going in the wok is important as is the size of the veggies chopped (see notes), so make sure you follow that. I follow this exact same recipe when I am making actual fried rice, subbing cauliflower with cold cooked rice.
This cauliflower fried rice is great on its own but even better as part of a larger meal. It is important to note that you can't eat this whole amount by yourself if you can't handle fibre very well as you will most likely have stomach pain till it clears your system. To that effect, I recommend making this cauliflower part of a bigger meal. Maybe add a tofu stir-fry on the side, or some egg/fish/chicken to make it a more complete meal. The quantity below will make enough for two people. I like to have my portion with a cup of steaming miso soup on the side and occasionally an egg scrambled through it.
If you make the recipe, I would love to hear your feedback in the comments below. Don't forget to tag me on Instagram @cookrepublic to share your cauliflower fried rice creations.
Recipe
Hungry For More Recipes? Subscribe to my newsletter. Check out Facebook, Instagram and Pinterest to see everything I share! And if you love cooking and new cookbooks, join my free Cooking Club on Facebook!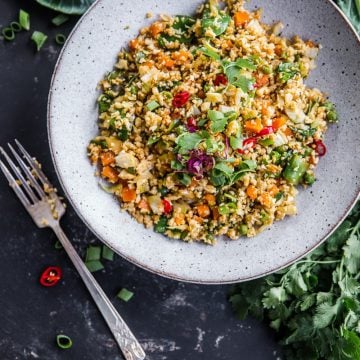 Ingredients
2

tablespoons

extra virgin olive oil

,

light flavour

1

tablespoon

grated fresh ginger

1/2

cup

(

65

g

)

carrot, finely diced

8

snow peas

,

sliced

1

cup

(

95

g

)

cabbage, finely chopped

1/4

cup

(

40

g

)

frozen green peas

2

cups

(

260

g

)

coarse cauliflower rice

1

tablespoon

tamari or light soy sauce

1

tablespoon

white vinegar

1

teaspoon

Sriracha or chilli garlic sauce

dash of white pepper

1/4

teaspoon

sea salt flakes

1

(

15

g

)

spring onion

,

finely chopped

to garnish - sliced red chilli

,

coriander, micro herbs, fried shallots
Instructions
Make cauliflower rice - Wash and pat dry cauliflower with a paper towel. Remove the green leaves and woody bits of the stalk attached to the leaves. Break florets into a bowl/plate and try to include as much of the stalk as you can. Place cauliflower florets and stalks in the bowl of a food processor. Pulse the food processor 4-5 times to get  coarse cauliflower rice. Remove to a bowl.

Heat a 24-27cm wok or frying pan on high heat.

Add oil. When it starts smoking (almost instantly), add ginger and carrot. Using a metal turner or wooden spatula, stir-fry the ginger and carrot for a minute.

Add snow peas, cabbage and peas. Stir-fry for another minute.

Add cauliflower rice, tamari, vinegar, Sriracha, white pepper and salt. Mix well. Cook for 3-4 minutes, stirring constantly to cook the rice evenly. At the end of 3-4 minutes the cauliflower will be al-dente (just cooked).

Remove from heat and stir through the spring onion. Serve hot with garnishes.
Notes
Cabbage - I use drumhead cabbage for this recipe. This cabbage holds its shape well and retains a slight crunch after a quick stir-fry unlike other cabbages that wilt very quickly.
Chopping - It is important to chop and dice vegetables finely to compliment the small grains of cauliflower. Finely diced/chopped veggies will also cook faster and feel perfectly cooked when you take a mouthful.
Storage - Cauliflower fried rice will keep well in the fridge for up to 2 days in an air-tight container. It will freeze well in the freezer for up to two weeks.
Non-Vegan Options - You can bulk it up by scrambling an egg or two through it and adding prawns/tofu/diced chicken with the veggies during stir-frying.
Sea Salt Flakes - I always add sea-salt flakes. They are less salty and bigger in size to table salt which means I add less when using teaspoons-tablespoons.
Did you make my recipe?
I'd love to hear how you went! Tag me on Instagram @cookrepublic