Jump to:
What are Rotis?
Rotis are unique to the Indian subcontinent - a small bread plate-sized round, thin, soft flatbread made with just three ingredients – whole wheat flour, water, and oil. The perfect vessel for scooping curries and daals.  Making rotis is a time-consuming and often frustrating exercise, especially for novice cooks. You knead the dough, roll out the rotis and then (try to) perfectly roast them (using a combination of a hot pan and open fire). The goal is to puff it up slightly without tearing it so that it remains soft and perfectly chewy. No pressure there! And then you have to repeat these actions for 10 or 20 or 30 rotis depending on how much your family loves rotis (in our case, it is a lot!).
As someone who has been cooking rotis for over three decades, I can assure you that you will still not make uniform rotis after years of practice. Some will be round, some not. Some might be thinner than others, some will tear and some will roast to a crispy consistency instead of a pliable softness. After a hard day at work when all you want to do is to sit and enjoy a quick oven baked curry or a slow cooked daal, making rotis from scratch by hand is the last thing on your mind. And you can only have so much rice. What do you do when you want to eat healthier carbs and lighter meals consisting of rotis or flatbreads, but don't want to do all the hard work? You turn to Rotimatic instead - the world's first roti-making robot.
What is Rotimatic?
I first read about the Rotimatic in a news article on a Singapore website a couple of years ago on the eve of its launch in Singapore and the US. I was fascinated to learn that an Indian couple living in Singapore had spent over 8 years developing a kitchen robot that made fresh rotis (flatbreads) at the touch of a button. How could it be? How could a machine mimic a set of complex human actions that seasoned roti makers took years to perfect? Would it really work?
It really piqued my interest. So, I have been following their progress and news from time to time. There is a lot of buzz about it in the Indian roti-eating communities and and health conscious non-Indians seeking to expand their healthy eating options. I have even heard rave reviews from friends in the US who have bought the Rotimatic and are blown away by what it can do.
With its launch in Australia this year, I am very excited to be collaborating with the guys at Zimplistic to bring the Rotimatic experience to you. I have been taking my Rotimatic through the paces for the past few weeks and it has not disappointed. With a kitchen (and garage) full of appliances that I cook with and test out regularly, I am probably impressed with this one the most. Quite simply, it works! It does mimic complex human actions and produces the most beautiful, perfectly round, perfectly soft rotis at the press of a button.
And it is absolutely fascinating to watch. Because it is unlike anything you might have seen in your kitchen. A commercial strength machine in the form of a personal kitchen robot. For the first few times we made rotis, it was literally the "Roti Making Show" as we all pulled up our kitchen stools just to watch it knead the dough, press the rotis and puff them up before sliding them out to excited squeals all around. I wish I had received fanfare like that every time I toiled over a batch of rotis. Alas, I am just human and not an exciting kitchen robot.
How does the Rotimatic work?
Using the Rotimatic is a breeze. When you first start the machine, you connect it to wi-fi. This enables the company to track every device sold and monitor its performance.  It also allows it to download updates from Zimplistic when they release them (new flours added, gluten-free flour capability etc). The Rotimatic is AI-enabled and future-proof, it learns and adapts from the roti-making process to make better ones as it goes along. There are three containers with orange-rimmed lids, one each for flour, water and oil. You fill these up and pop them on top. You start the Rotimatic up by pressing a button and select the flour you are using from the list of flours. You select the thickness of the roti, the roast level, the oil level and the number of rotis you want to make. And then it works its magic, making a perfect roti every 90 seconds. It is incredible!
Rotimatic in action - A Video Review
I made a video to show you how easy it is to use in the kitchen. In this video, I was making Samosa & Chutney Wraps (recipe below). Once I started the Rotimatic, it kept producing rotis automatically while freeing me up to quickly make the chutney and samosa filling. And just like that, a wholesome and nutrient-rich vegetarian dinner was ready for the whole family in just about 30 minutes. I think that is the most valuable feature of this machine. The freedom it gives you to cook other things or just relax while it does all the work for you.
Some Things To Note
The Rotimatic uses the exact same ingredients that are used to make homemade roti from scratch. Flour, water, oil (and I like to add a pinch of salt). There are no additives or preservatives required.
The Rotimatic comes recommended with a list of whole wheat flour brands. You must use only these flours as these are the ones tested by Rotimatic for optimum rotis. From whole wheat flours to Multigrain flours (that are a combination of wheat, oat, soy, corn, psyllium husk and chickpea), there are a whole range of nutrient, fibre and protein rich flours that you can use. The flours are easily available at any Indian grocers or online stores. Many Coles (in Australia) stores also stock some of these flours. I tried out a couple of these flours but my favourite was Aashirvad Select as the rotis were just beautiful and soft.
My preferred settings for making the rotis (soft, light, puffy flatbread for rolling) is
Thickness =1/ Roast Level = 1/ Oil Level = 1
The rotis at this setting stay soft and pliable which means they can be made ahead and reheated in the microwave (they stay soft even after reheating).
My preferred settings for making parathas (rustic thicker flatbreads for dipping) is
Thickness = 2-3 / Roast Level = 2 / Oil Level = 2
This setting produces thicker and more robust flatbreads with slightly crinkly edges. These are great for dipping and serving on cheese platters. They even make a great thin yeast-free pizza base for cooked toppings.
The Rotimatic takes about 6 minutes to warm up and start if it has been idle for a while. I find that if I am making rotis twice a day, it starts pretty much instantly the second time. After it starts up, it produces one perfectly round roti every 90 seconds.
My Rotimatic Review
Rotimatic Pros
The Rotimatic is super easy to clean (I love this!). Two of the parts (dough kneading cup and tray) just clip off and detach for a quick hand wash or dust off with the cleaning brushes provided.
The Rotimatic can make rotis, puris and pizzas. You can make different kinds of rotis – Spinach rotis, Fenugreek rotis and Spice Rotis. Perfect for healthy snacking and getting a whole lot of nourishing whole-grain goodness in your everyday diet.
The rotis stay soft and pliable hours after making them. They keep well in the fridge for up to three days and regain their softness on heating in the microwave. This means you can make loads in advance as part of your meal prep and use them over the course of the week.
The automatic roti-making process frees you up to cook or multitask in the kitchen. Rotimatic is so easy to use, even the kids can help make rotis (with monitoring of course!) and the whole family can get involved in the meal-making experience.
The progressive nature of the company and the wi-fi feature on your Rotimatic means they can troubleshoot your software problems remotely. In case of hardware issues, they simply replace your machine with a new one if it is in the one-year warranty period. They also have a 'no questions asked' 30-day return policy
The team at Rotimatic has informed me that they push out new updates every quarter and some of the exciting updates in 2018 and beyond are – remote control, millet flour, gluten-free flour and tortillas.
Rotimatic Cons
The Rotimatic is quite big for a kitchen appliance, roughly the size of a medium microwave. And because it is heavy (20kg), you will need a dedicated space for it as it is too hard to move around constantly. On the plus side, it is aesthetically pleasing and with its neat angular white structure fits seamlessly in a white or light-based kitchen.
One of the things that can be improved on is the noise factor. It is a noisy machine with a lot of beeps and a whirring sound when the dough ball is forming. My kitchen is quite big and part of the even large open-plan living area so the sounds drown out a bit and don't bother me. But they could be really loud in a smaller kitchen or more compact space. I would liken the sounds to a combination of a microwave and a dryer.
The Rotimatic is an expensive machine. But if you are a family who loves eating rotis/wraps or would like to include more complex carbs in your diet, then it is a worthy investment. For a limited time, you could get a whopping discount of USD 100 by clicking this link and buying it there.
Recipe
Hungry For More Recipes? Subscribe to my newsletter. Check out Facebook, Instagram and Pinterest to see everything I share! And if you love cooking and new cookbooks, join my free Cooking Club on Facebook!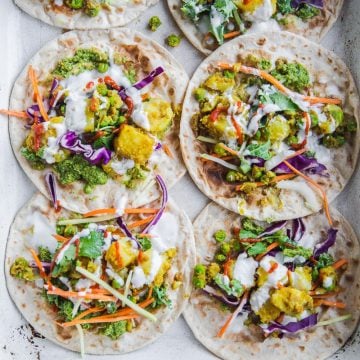 Ingredients
For the samosa mix
1

tablespoon

olive oil

1

teaspoon

cumin seeds

1

teaspoon

fennel seeds

3

garlic cloves

,

minced

1

teaspoon

fresh grated ginger

1

red chilli

,

finely chopped (optional)

4

medium potatoes

,

boiled peeled and diced

1

cup

frozen green peas

½

teaspoon

ground turmeric

1

teaspoon

ground cumin

1

teaspoon

ground coriander

½

teaspoon

garam masala

½

teaspoon

chaat masala

1

teaspoon

sea salt flakes

,

or to taste
For the green chutney
1

bunch fresh coriander leaves and stalks

12-14

mint leaves

1

small green chilli

1

garlic clove

½

inch

piece of ginger

juice of 1 lemon

¼

cup

toasted peanuts

1

teaspoon

raw sugar

½

teaspoon

sea salt flakes

½

cup

water
to serve
6

rotis

,

(or tortillas)

fresh coriander, greens, shredded cabbage, julienned carrot, hot sauce, coconut yoghurt, sweet sauce or chutney
Instructions
Place all ingredients for the chutney in the bowl of a small food processor and blend until smooth.

Heat oil in a large sauté pan on medium heat. Add the cumin seeds, fennel seeds, garlic, ginger and chilli. Sauté for a minute.

Add the potatoes, peas, spices and seasoning. Mix well. Adjust seasoning to taste and cook uncovered on slow heat for 10-15minutes until heated through.

To serve, spread green chutney on the rotis. Top with salad greens, shredded cabbage and julienned carrots. Add the samosa mix. Drizzle with yoghurt, hot sauce or sweet chutney. Roll or wrap and enjoy.
Notes
Peanuts in the chutney can be substituted with pine nuts or cashew nut. In case of nut allergies, simply omit peanuts and reduce water added.
Chaat masala is a tangy spice mix available at Indian grocers. It imparts that beautiful Indian street-food flavour to dishes. Substitutes can be pomegranate molasses or black salt or mango powder. Again, this is optional.
Nutrition
Calories:
252
kcal
|
Carbohydrates:
42
g
|
Protein:
8
g
|
Fat:
6
g
|
Saturated Fat:
1
g
|
Polyunsaturated Fat:
1
g
|
Monounsaturated Fat:
2
g
|
Sodium:
689
mg
|
Potassium:
583
mg
|
Fiber:
7
g
|
Sugar:
4
g
|
Vitamin A:
282
IU
|
Vitamin C:
38
mg
|
Calcium:
101
mg
|
Iron:
3
mg
Did you make my recipe?
I'd love to hear how you went! Tag me on Instagram @cookrepublic