Love a loaded Falafel Wrap but can't be bothered to cook all the elements separately? Then this Chopped Falafel Salad is going to become your best friend. Cut your cooking time in half with this easy recipe. A big spoonful of this in your mouth is like a bite out of a legit loaded falafel wrap - you get the perfectly spiced chickpeas, the creamy tahini sauce, the punch and texture of the tabbouli, and the crunch of fresh veggies. Absolutely delightful and delicious!
A Deconstructed Falafel Salad
Ever have a falafel bowl? or a falafel wrap? How about a falafel platter? What's common between all three? Falafels!
I LOVE falafels. I bet you do too! I wish I could have them every day. But although they aren't very difficult to make, they are still time-consuming. And then if you do make falafels regularly, you also need to make all the accompaniments. One doesn't always have the time to fry falafels, make tabbouli, blend some tahini sauce and make some pickled veggies on the side.
So, what's the fix? A falafel salad!
Deconstructed salads were created by some genius chef somewhere to address the laziness of the masses with surprisingly fabulous results. I like to call my deconstructed falafel salad - Chopped Falafel Salad. Because chopping is the main exercise involved in creating this absolutely delicious salad.
I wanted this salad to not only taste like falafel but a loaded falafel wrap or falafel plate with all the individual elements that make a complete meal. A typical falafel wrap would have
flatbread
falafel
tabbouli
pickled cabbage
tahini sauce/hummus
chilli
salad leaves/ cucumber / tomato
But my falafel salad doesn't have all these individual elements. Just a handful of clever ingredients mixed together in a bowl. With less than half the prep of making a falafel wrap. Smart cooking at its very best!

Ingredients and Substitutions
My falafel salad has cooked/canned chickpeas as the base. I cook the chickpeas with some caramelized onion, aromatics and spices to create the perfect falafel taste. This is the hero of the salad and if you don't end up making the entire salad, these pan-fried chickpeas and onion are a dish in itself.
Next, I add veggies for freshness and crunch. The tabbouli texture and flavours were introduced via a small amount of cooked burghul/bulgur and lots of parsley. The tahini and lime sauce with its unusual ingredient list actually works like a charm in this recipe. And finally, the sour element of the wrap that comes from pickled red cabbage was achieved with fresh pomegranate seeds. Yum!
Chickpeas
Bulghur/ burghul
Tomato
Cucumber
Parsley and coriander
Base Flavour makers - Onion, garlic, chilli
Spices - cumin, coriander, cinnamon, paprika
Acidity - Lemon and pomegranate
Dressing sauce - tahini, soy sauce, lime juice and maple syrup
How to make Falafel Salad?
Chopped Falafel Salad - A Complete Meal
If you try this salad, I reckon you will make it quite often in the coming weeks. You know when something is incredibly simple yet has an amazing wow factor? This is it! The quantity is large enough to serve six people or have plenty of leftovers for a family of 3-4. I imagine it being a hit at gatherings and potlucks. It has plenty of protein and fibre and good fats. I usually steam or pan-fry a piece of barramundi and top it on the salad with a dash of black pepper and salt. Just utterly delicious and satisfying.
The salad is Vegan but not gluten-free. You can easily remedy this by swapping the burghul/bulgur for quinoa or millet. If you make this salad and love it, I would love to hear your feedback in the comments below. Another great chopped salad to add to your weekly meal preps! Happy chopping! x
Recipe
Hungry For More Recipes? Subscribe to my newsletter. Check out Facebook, Instagram and Pinterest to see everything I share! And if you love cooking and new cookbooks, join my free Cooking Club on Facebook!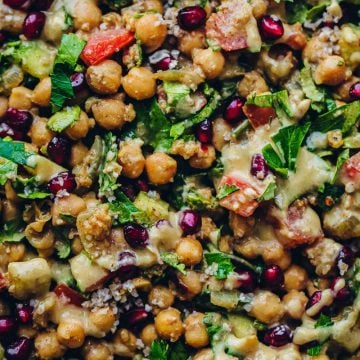 Ingredients
1

tablespoon

olive oil

6

garlic cloves

,

minced

½

teaspoon

red chilli flakes

1

brown onion

,

diced

500

g

cooked chickpeas

2

teaspoons

ground cumin

2

teaspoons

ground coriander

½

teaspoon

ground cinnamon

½

teaspoon

sweet paprika

1

teaspoon

sea salt flakes

1

tablespoon

lemon juice

1

large cucumber

,

deseeded and finely diced

1

large tomato

,

deseeded and finely diced

½

cup

cooked bulgur *

½

cup

packed fresh parsley leaves

,

chopped

½

cup

packed fresh coriander leaves

,

chopped

½

cup

pomegranate seeds

Lime wedges

,

to serve
For the dressing
3

tablespoons

hulled tahini

1

teaspoon

minced garlic

1

tablespoon

maple syrup

1

tablespoon

light soy sauce

2

tablespoons

lime juice

¼

cup

water
Instructions
Heat oil in a large frying pan on medium. Add garlic, chilli flakes and onion. Sauté for a few minutes until onion is starting to caramelize. Add chickpeas, cumin, coriander, cinnamon, sweet paprika, salt and lemon juice. Toss and mix well. Cook for a further minute or two until chickpeas are warmed through. Remove from heat and allow to cool for 10 minutes.

Add chickpea mixture to a large bowl. Add cucumber, tomato, cooked bulgur, parsley, coriander and pomegranate seeds.

Make the dressing by mixing all the ingredients in a lidded glass jar and shaking until thoroughly blended and smooth (I use a spoon to ensure the tahini is completely mixed to make a smooth creamy dressing).

Add the dressing to the salad. Toss and mix gently until thoroughly combined. Serve with lime wedges.

Salad will keep well in the fridge for up to four days.
Notes
*bulgur – Bulgur is cracked wheat and a key component of tabbouli. You can cook a very small batch of bulgur for this salad in minutes. Add ¼ cup uncooked bulgur to a bowl. Add 1/3 cup boiling hot water to the bulgur and set aside for 10-15 minutes to absorb. After the stipulated time, fluff up the bulgur with a fork. It is now ready to use. Use ½ cup of this cooked bulgur for the recipe above. Make It Gluten-Free - Substitute cooked bulgur with cooked quinoa or cooked millet.
Nutrition
Calories:
252
kcal
|
Carbohydrates:
39
g
|
Protein:
9
g
|
Fat:
9
g
|
Saturated Fat:
1
g
|
Polyunsaturated Fat:
3
g
|
Monounsaturated Fat:
4
g
|
Sodium:
814
mg
|
Potassium:
513
mg
|
Fiber:
9
g
|
Sugar:
7
g
|
Vitamin A:
966
IU
|
Vitamin C:
19
mg
|
Calcium:
95
mg
|
Iron:
3
mg
Did you make my recipe?
I'd love to hear how you went! Tag me on Instagram @cookrepublic