Deliciously moreish Vegan Coconut Chai Cookies, crispy on the outside and chewy in the middle. These healthy, protein-packed cookies make a yummy guilt-free snack and are infused with the warmth of a custom chai-spice mix.
Warm Vegan Chai Cookies For A Healthy Afternoon Snack
These delightfully crispy and chewy cookies have become a personal favourite of mine. Vegan cookies are notorious for how easy and foolproof they are to mix and bake. 9 out of 10 times, a vegan cookie can be also eaten raw. You can definitely eat this cookie dough raw as there is no egg in it. I use a flax egg which is a brilliant vegan invention for keeping recipes egg-free yet providing the perfect binding agent. It is basically flax meal (ground flaxseed) mixed with water. It is wholesome, full of fiber and works a treat!
My Vegan Coconut Chai Cookies are inspired by a recipe from the now-defunct Donna Hay magazine. Donna's recipe used butter and a liquid chai syrup. I wanted my cookies to be lighter and less fiddly. I was also never going to tediously make a chai syrup only to have most of it sitting in my fridge for months and then chucking it out. So, I created a dairy-free, egg-free version with my own warming chai spice mix. The quantity you see in the recipe below is just enough for this recipe so you won't have any extra left over. But if you would like to grind another little batch in your mortar and pestle, it goes really well with some chilled almond milk and a bit of maple syrup to make an Iced Chai Latte!
These cookies are wonderfully crispy on the outside and chewy in the middle, an irresistible cookie combination if there ever was one. It satisfies both the crispy and chewy camps. The spice hit is incredible and the warm after taste of chai is so divine.
Recipe
Hungry For More Recipes? Subscribe to my newsletter. Check out Facebook, Instagram and Pinterest to see everything I share! And if you love cooking and new cookbooks, join my free Cooking Club on Facebook!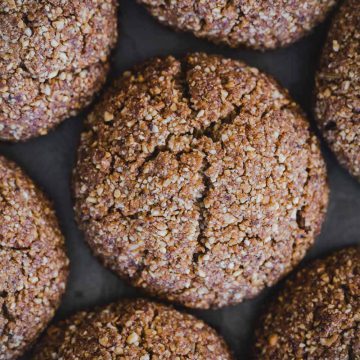 Ingredients
1 ½

cups

(

220

g

)

cashew nuts

,

raw and unsalted

½

cup

(

45

g

)

desiccated coconut

1/3

cup

(

45

g

)

coconut sugar

¼

cup

(

60

ml

)

olive oil

½

teaspoon

baking soda

1

flax egg *
For the chai spice mix
½

teaspoon

ground cardamom

½

teaspoon

ground ginger

½

teaspoon

ground cinnamon

¼

teaspoon

allspice

¼

teaspoon

ground nutmeg

½

teaspoon

fennel seeds

6

cloves

10

peppercorns
Instructions
Pre-heat oven to 180°C (160°C fan-forced). Line a large, rimmed cookie sheet with baking paper or silicone lining.

Add cashew nuts, desiccated coconut and coconut sugar to the bowl of a small food processor. Process into very fine crumb/meal. Scoop into a bowl.

Place cardamom, ginger, cinnamon, nutmeg, allspice, fennel, cloves and peppercorns in a mortar. Grind to a fine powder using a pestle. Scoop into the bowl with the cashew mix.

Add olive oil, flax egg and baking soda to the bowl. Mix well with your hand. The mixture will form a soft dough.

Scoop 2 tablespoons worth of the cookie dough into your hand, roll into a ball and slightly flatten the top with your fingertips. Place on the prepared sheet. Repeat with the remaining dough.

Bake in the pre-heated oven for 12-14 minutes until done. Remove from the oven and cool on a wire rack. Store in an air-tight cookie jar in a cool corner of your kitchen for up to a week.
Notes
*Flax Egg – To Make 1 Flax Egg / Mix 1 tablespoon flax meal with 3 tablespoons water in a small bowl. Set aside for 10 minutes.
Egg Replacement – If you don't want to use a flax egg and vegan dietary restrictions are not an issue, you can swap the flax egg for a small regular hen's egg.
I bake my cookies for 14 minutes and leave them in the oven for another 1-2 minutes to crisp up further. I have a large 90cm oven which allows me to do so. Heat will be more concentrated in a smaller oven and I would recommend watching cookies from the 12-minute mark to a maximum of 14 minutes before pulling them out to avoid burning the bottom of the cookies.
Did you make my recipe?
I'd love to hear how you went! Tag me on Instagram @cookrepublic