A blueberry packed smoothie with the added health benefits of kefir and hemp seeds, this is a delicious way to introduce new gut and skin-loving ingredients in your smoothie rotation. The Blueberry Kefir Smoothie is an antioxidant powerhous and absolutely delicious!
The Health Benefits Of Kefir And Hemp Seeds
I love to use Goat Kefir for a lot of my smoothies. Goat's milk has a delicious tang and saltiness to it which renders really well into a yoghurt-like drink when kefir grains are added to ferment it. Kefir grains resemble cauliflower crumbs and are colonies of healthy bacteria and yeast that promote good gut health. Low in carbs and fat, kefir is very high in protein, phosphorus, Vitamin B12 and magnesium amongst other nutrients.
Kefir is much more potent than yoghurt with a whopping 61 strains of bacteria and yeast. Besides being great for digestion, improving bone health and having antibacterial properties; kefir also helps alleviate allergies and asthma. It is a great new ingredient to add to your probiotic intake if you aren't already doing so.
Hemp seed is another favourite ingredient that I like adding to my smoothies. Hemp seeds are the seeds of the Cannabis Sativa plant, the same family as cannabis (marijuana) but a different variety. They are high in good fats and have a good amount of Omega-3 and Omega-6 fatty acids. They are rich in protein, containing more protein than chia seeds and flaxseeds. They contain a wealth of good nutrients like zinc, vitamin E, potassium, calcium, magnesium and iron. They are known to be great for heart health, skin health, gut health and for alleviating menopausal and PMS symptoms.
Recipe
Hungry For More Recipes? Subscribe to my newsletter. Check out Facebook, Instagram and Pinterest to see everything I share! And if you love cooking and new cookbooks, join my free Cooking Club on Facebook!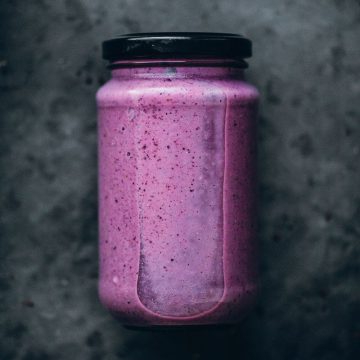 Ingredients
2

cups

frozen blueberries

1

cup

goat's kefir

1

cup

chilled water

2

tablespoons

hemp seeds

1

teaspoon

ground cardamom
Instructions
Add all ingredeints to the jug of a blender. Process until smooth.

Fill 2 X 300ml lidded glass jars. Smoothie will keep fresh in the fridge for up to 3 days.
Notes
Hemp seeds can be swapped for instant oats or almond meal for a similar texture and a boost of protein and fiber.
Did you make my recipe?
I'd love to hear how you went! Tag me on Instagram @cookrepublic