An easy, delicious recipe for an Asian Smacked Cucumber Salad - a raw, cold cucumber salad made by smashing cucumbers and dressing them with warmed chilli oil and a few other ingredients. Delightfully complex in flavour and utterly refreshing. A must for lovers of cucumber and chilli.
Jump to:
A Good Smacked Cucumber Salad
I first had this salad decades ago at a fancy Chinese restaurant. We ordered it off the menu under the "Cold Entrée Section". I was intrigued by the fact that the appetizers were cold. I was even more surprised when the salad arrived quite perfectly chilled. Not room temperature. But chilled! And it was delicious beyond words. The cucumber was smashed and cut into neat little chunks, the chilli oil set my mouth on fire in a good way and the aromatics added a depth of flavour that took something as simple as a cucumber to culinary perfection.
I have made many versions of this Smacked Cucumber Salad over the years. And I am sharing my favourite version. It is quick and also involves making a quick chilli oil from scratch. I usually make this salad when we are having dumplings and noodles. I serve it at room temperature. But sometimes, I make it in advance and chill it for a couple of hours. That version is quite special to me as it was the first time I had ever sampled this cucumber salad.
Cucumbers And Chilli
A continental cucumber is a good choice for this salad. It is long, so you will only need one and it barely has any seeds. I use everyday Lebanese cucumbers as they are what I usually have lying around the kitchen. They are also juicier. I remove the excess liquid after smashing by salting and draining the cucumbers. I don't remove all the seeds, rather I remove half and leave the rest in.
I also use my pestle for smashing. It is heavy and does a good job. Pressing down on the knife might work for some but you always run the risk of slicing your palm and depending on the cucumber, you might not be able to smash it easily. If you don't have a stone pestle, use a rolling pin and gently press down on the cucumber rather than smack it. The pressure has to be applied low and hard to avoid the cucumber from flying everywhere.
I use a combination of dried red chilli flakes and Gochugaru to flavour my oil. Gochugaru are Korean red pepper flakes. You can find them at Asian supermarkets or online in spice/Asian grocery stores. They are textural, have a lovely aroma and a gentle heat. They also colour the chilli oil beautifully without making it too hot. Good substitutions would be red cayenne chilli powder or sweet paprika. Both aren't hot but have a good aroma and colour.

Recipe
Hungry For More Recipes? Subscribe to my newsletter. Check out Facebook, Instagram and Pinterest to see everything I share! And if you love cooking and new cookbooks, join my free Cooking Club on Facebook!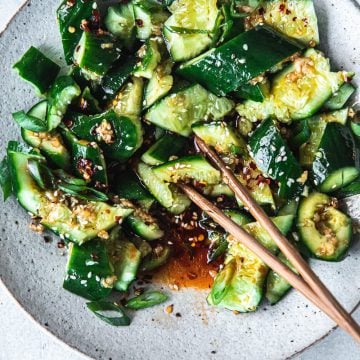 Ingredients
4

garlic cloves

,

minced

2

teaspoons

sesame oil

2

teaspoons

sugar

3

teaspoons

light soy sauce

1

tablespoon

rice wine vinegar

500

g

Lebanese cucumbers

,

washed and dried

Dash of salt and black pepper

1 ½

tablespoon

grapeseed oil*

1

teaspoon

red chilli flakes

½

teaspoon

Gochugaru**

,

(Korean red pepper flakes)

2

teaspoons

white sesame seeds

2

tablespoons

thinly sliced spring onion
Instructions
Mix garlic, sesame oil, sugar, soy sauce and vinegar in a small bowl. Set aside for 10-15 minutes while you prep everything else to allow the garlic to mellow in the vinegar.

Start preparing the cucumbers by trimming the ends. Place each cucumber on a wooden chopping board. Smash it gently along the length using a heavy pestle or rolling pin until it splits. Slice the cucumbers in 1-2 inch diagonal slices. Using a spoon, gently remove some of the wet seed clumps. Scoop the cucumber pieces into a medium bowl. Sprinkle with a pinch of sea salt flakes and black pepper. Set aside for 15 minutes. Then drain off the excess liquid.

Prepare the chilli oil by heating the grapeseed oil in a small saucepan on low heat. Add chilli flakes and Gochugaru. Continue cooking on a low heat for 5-6 minutes until the oil is toasted and fragrant. Remove from heat.

Pour dressing over the cucumber and mix gently until cucumber is coated.

Pour the chilli oil over the cucumber. Sprinkle sesame seeds and garnish with spring onion. Serve immediately.
Notes
*Grapeseed oil – It can be replaced with peanut oil if allergies are not an issue. Peanut oil is often used in Asian cooking for a warm garnish/dressing. You can also use Canola or Sunflower oil. Heating the oil gently with the chilli makes it fragrant and adds a depth of complex flavour. **Gochugaru – Korean red pepper flakes are known as Gochugaru. They are textural, aromatic and have a mild heat. In chilli oil, they add a lovely colour and a layer of heat. You can replace Gochugaru with red cayenne pepper powder or even sweet paprika.
Did you make my recipe?
I'd love to hear how you went! Tag me on Instagram @cookrepublic