Crispy Zucchini Halloumi Fritters with the golden fried crunch of the cheese and a perfectly cooked inside brimming with spices. Make the perfect zucchini fritter every single time with the salting and squeezing technique. This recipe makes 8 small snack-sized fritters or 4 large zucchini burgers ready to be stuffed in buns with your favourite condiments. With a side of a lip-smacking good Green Avocado Salad!
Salting Zucchinis And Draining Before Cooking
Zucchinis are notorious for weeping large amounts of liquid. Recipes often call for squeezing the zucchini to remove excess liquid before using it in batters. I like salting the zucchini first, just like I love salting tomatoes. Salting zucchinis not only draws out the excess liquid faster but also intensifies the flavour of the vegetable. For zucchini fritters and zucchini bread recipes, salting the zucchini first and then squeezing out the liquid not only makes the zucchini nice and dry but adds a lovely subtle saltiness to the finished dish. You only need small amounts of salt.
This is how you should be salting and draining zucchinis.
Grate zucchini using a box grater. Place grated zucchini in a large sieve resting over a bowl. Sprinkle with half or one teaspoon of salt.
Mix it well into the grated zucchini and let the zucchini rest for 10 minutes.
In ten minutes or so, your zucchini will have deflated and sagged with all the water and will be ready to squeeze.
Move the zucchini to one side of the sieve, grab handfuls of it and squeeze over the empty side of the sieve so the liquid drains straight down to the bowl.
A solid 3-4 minutes of squeezing two large zucchini will produce almost a cup of liquid. This beautiful green zucchini juice is full of the same nutrients as the zucchini (minus the fibre) and can be drunk straight up or added to mocktails, smoothies, green juices etc.
Shaping And Frying Zucchini Fritters
The halloumi is a great addition to this zucchini fritter as it adds a delicious saltiness to the fritter and cooks to golden perfection while retaining its shape. It also adds a good amount of protein, which is something I have been consciously including in all the recipes I have been cooking lately.
The recipe below makes 7-8 small snack-sized fritters (if you scoop 1/3rd cup full into the frying pan) or 4 very good-looking large zucchini burgers (if you scoop 1/2 cup full into the frying pan). Smaller-sized fritters are great to grab and go. Larger burger-sized fritters make a beautiful complete meal when stuffed in a Brioche bun with chutney, relish and salad leaves. On Sundays, I love to serve the larger-sized fritters with a topping of smoked trout or salmon, some tomato relish and fresh rocket leaves. It makes for a beautiful light cafe-style meal.
To fry the zucchini fritters, make sure you use medium-low to low heat. I first crisp both sides on medium heat for 1-2 minutes each, then reduce the heat to low and cook each side for 3-4 minutes until the fritter is cooked through. Crispy on the outside and perfectly cooked on the inside. I hope you enjoy these fritters, they are so more-ish. Don't forget to share your feedback with me via the comments below. Happy cooking guys! x
More Fritter Recipes
Recipe
Hungry For More Recipes? Subscribe to my newsletter. Check out Facebook, Instagram and Pinterest to see everything I share! And if you love cooking and new cookbooks, join my free Cooking Club on Facebook!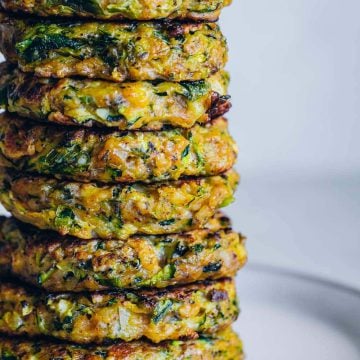 Ingredients
2

(

500

g

)

large zucchinis

,

grated

1

teaspoon

sea salt flakes

1

tablespoon

olive oil + extra for frying the fritters

2

large garlic cloves

,

minced

3

spring onion

,

thinly sliced

180

g

halloumi cheese

,

grated

1

teaspoon

dried oregano

1

teaspoon

dried thyme

1

teaspoon

dried basil

1

teaspoon

smoked paprika

Freshly crushed black pepper

1

egg

,

whisked

½

teaspoon

baking powder

½

cup

(

90

g

)

plain flour
Instructions
Place grated zucchini in a large sieve over a bowl. Sprinkle with the salt and toss gently to thoroughly mix zucchini and salt. Set aside for 10-15 minutes. Press down on the zucchini in the sieve or grab handfuls and squeeze out the water. Do this a few times till you feel zucchini is quite dry and squeezing doesn't release water anymore.

Heat a tablespoon of oil in a frying pan. Add garlic and spring onion. Sauté for a minute or two until spring onion is wilted. Remove from heat. Scoop into a large bowl.

Add squeezed zucchini and grated halloumi to the bowl. Add oregano, thyme, basil, smoked paprika, black pepper and egg. Mix well.

Add baking powder and flour to the bowl and gently mix until just combined.

Heat a tablespoon of oil in a large frying pan on medium. Scoop one-third cup of the fritter batter onto the hot pan. Add up to 2-3 more fritters depending on the size of your pan. Cook each side for 3-4 minutes until golden. Reduce heat to medium-low or low and cook each side for a further 3-4 minutes (this helps dry out the fritter and firm it up). When cooked through and crispy, remove the fritter onto a plate lined with paper towel. Repeat with the remaining batter.

Fritters can be eaten hot or stored in the fridge for up to 3 days in an air-tight container. Individually cooked fritters can be packed in ziplock bags or in a freezer-safe container, separated by baking paper and frozen for up to a month. To eat, they can be toasted or microwaved from frozen.
Did you make my recipe?
I'd love to hear how you went! Tag me on Instagram @cookrepublic