Healthier Chicken Meatballs In Marinara Sauce is a delicious, easy and quick recipe to have in your arsenal. Made lighter without cheese and dairy, these chicken meatballs are tender, succulent and packed with lots of flavourful herbs. With homemade marinara sauce, you can serve them as canapes for a snack. You can also toss them with pasta for a satisfying weeknight dinner.
Tips For Making Healthier Chicken Meatballs
When the boys were little, homemade chicken meatballs in bolognese sauce, tossed through hot spaghetti was one of their favourite meals. I used to make it for them almost every week. And when they had playdates, I would make the chicken meatball pasta in bulk for all their friends. Everyone loved it!
How do I ensure juicy and delicious chicken meatballs while still keeping them light? That's easy. I make sure I do these three things.
Pack With Flavour - As the boys have gotten older and their tastes are more refined, I love substituting fat in recipes that can do without with flavour. Nine out of ten times, the flavour of cheese will not be missed if substituted with lots of aromatics. My healthier chicken meatballs are packed with garlic, oregano, thyme, parsley, chilli and alliums.
Using The Right Cut Of Meat - I use boneless chicken thigh mince as this cut tends to be fattier. The higher fat content in the thigh makes the meatballs juicier and tender despite not adding cheese.
Using Fresh Bread Slices - I use fresh wholemeal bread slices to make fresh breadcrumbs rather than using dry breadcrumbs/panko. I leave the crusts on when I crumb the bread for added texture, but you can trim the crusts off if you like.
Using An Egg - I use an egg as a binder and also to inject a bit of fatty moisture in the meatballs.
Using Nutritional Yeast - A flavour injector, adding nutritional yeast will add the umaminess of parmesan. Purely optional. I add if I remember.
Sauteing And Wilting Your Alliums - This is perhaps the most useful trick I have discovered in the kitchen. One that helps immensely with meatballs, fritters and savoury pancakes or muffins. Before adding your onion, garlic and spring onion to the raw chicken mixture, make sure you saute them in a bit of oil until the onion is caramelized and the spring onions are wilted. You must also make sure that the onion is finely chopped. If you add onion, garlic and spring onion raw to the mixture, they won't cook enough and will have a slightly raw taste and a bit of crunch after the meatballs are cooked. This isn't optimum. Often raw onion and spring onions sweat when cooked. When added raw, they will sweat inside your meatball releasing liquid that will make your meatball tougher. Plus, you just can't beat the taste of golden caramelized onions! And the oil from sauteing adds extra juiciness to the meatballs
A Wet Soft Mixture - You want you chicken meatball mixture to be quite wet and slightly soft. Just enough to form high and rounded meatballs. Make sure you don't press and compact the meatball when shaping it.
How To make Homemade Marinara Sauce
My homemade marinara sauce recipe came about during lockdown two years ago when I planned a special Italian meal for my son's 16th birthday - in lockdown. I remember I made everything from scratch (because of supply issues). Fish stock, marinara sauce, Napoli sauce, gnocchi, hand-cut pasta, arancini - the whole nine yards.
All you need is onions, garlic, fresh basil, tins of whole peeled San Marzano tomatoes (or any whole peeled tomato really) and a couple of pantry staples. The sauce requires a simple 3-step saute, simmer and blend process. Better than any store-bought bottled sauce. We use it as a dip for chicken meatballs. When entertaining, I dip the chicken meatballs in the marinara sauce and place them on a serving platter with cocktail forks and a bowl of extra sauce on the side for dipping. A double batch of the marinara sauce means the sauce and chicken meatballs get tossed in hot pasta for a delicious, quick, weeknight dinner.
These Healthier Chicken Meatballs keep well in the fridge in an airtight container for 2 days, the sauce keeps for up to a week. Chicken meatballs can also be frozen for up to a month and reheated in the microwave when ready to eat. It is a great Meal Prep recipe too. And provides snacking and main meal options. I hope you enjoy cooking and eating these as much as my family does. If you make them, I'd love to hear how you went in the comments below!
Hungry For More Recipes? Subscribe to my newsletter. Check out Facebook, Instagram, and Pinterest to see everything I share! I also run a free Cooking Club on Facebook. Come and join as we learn new stuff every week!
Recipe
Hungry For More Recipes? Subscribe to my newsletter. Check out Facebook, Instagram and Pinterest to see everything I share! And if you love cooking and new cookbooks, join my free Cooking Club on Facebook!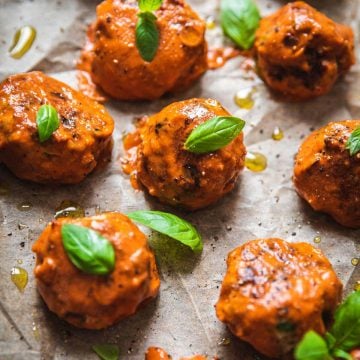 Ingredients
For the meatballs
500

g

boneless chicken thigh mince

2

tsps

olive oil

1

red onion

,

finely diced

3

garlic cloves

,

minced

2

spring onions

,

thinly sliced (green only)

2

wholemeal bread slices

,

processed into crumbs

1

egg

1

tablespoon

dried oregano

1

teaspoon

dried thyme

1/2

teaspoon

red chilli flakes

2

teaspoon

nutritional yeast

,

(optional)

¼

cup

parsley leaves

,

chopped

Flakey salt and pepper

,

to taste

Oil

,

to pan-fry
For the marinara sauce
2

tablespoons

olive oil

1

brown onion

,

chopped

5

large garlic cloves

,

chopped

1

teaspoon

dried basil

1

teaspoon

dried oregano

400

g

canned whole tomatoes

½

teaspoon

sea salt flakes

¼

teaspoon

crushed black pepper

1

teaspoon

balsamic vinegar

6

fresh basil leaves

,

plus extra for garnish
Instructions
Chicken Meatballs
Place chicken mince in a large bowl and break it up.

Heat oil in a frying pan on medium. Add onion and garlic. Sauté for 5-6 minutes, tossing constantly until onion is caramelized and softened. Add spring onion. Cook briefly for a few seconds until spring onions are glazed and softened. Remove from heat and scrape the onion mixture into the bowl with the chicken mince.

Add breadcrumbs, egg, oregano, thyme, chilli, nutritional yeast (if using), parsley, salt and pepper. Mix well.

Take a quarter cup of the mixture in the palm of your hands and form a round meatball. Place on a large plate lined with baking paper. Repeat with the rest of the chicken mixture.

Heat a tablespoon of olive oil in a frying pan on medium/medium-low heat. Add 5-6 meatballs to the frying pan at a time, cooking them for 5-6 minutes until golden and then turning them slowly and continuing to cook for a further 5-6 minutes until evenly browned all over and cooked through. (If the meatballs start browning too quickly, reduce heat to medium-low). Remove cooked meatballs onto a plate lined with paper towel. Add another tablespoon of oil to the pan and repeat with the rest of the meatballs until they are all cooked.

Chicken meatballs can be cooled and stored in the fridge in an air-tight container for up to 2 days. When ready to eat, heat in microwave and serve with warmed Marinara sauce. Alternatively, heat meatballs and marinara sauce together in a pan on the cooktop on low heat.
Marinara Sauce
Heat oil in a medium saucepan on high heat. Add onion and garlic. Sauté on high for a few seconds until glazed. Reduce heat to medium and cook for 8 minutes until onion is caramelized and softened.

Add dried basil, oregano, canned tomato, salt, pepper and balsamic vinegar. Mix well. Reduce heat to medium-low and simmer for 10 minutes until fragrant and heated through. Remove from heat. Adjust seasoning as required. Add the fresh basil leaves and mix well. Allow to cool to room temperature. Blend to a smooth sauce in a small blender.

Marinara sauce can be cooled and stored in an air-tight glass jar in the fridge for up to 4 days. It can be reheated in the microwave or in a pan on the cooktop when ready to eat.
Notes
Bake The Chicken Meatballs - Roll and place on a baking paper lined tray. Bake in a 200°C oven for approximately 20 minutes until cooked through the middle. Air fry The Chicken Meatballs - Roll and place on Airfryer trays/basket and air fry for 10-12 minutes at 200°C Make Them Gluten-Free - Substitute regular bread slices with gluten free bread slices or crumbs. Almond meal also works a treat. Use half a cup and increase amount if mixture is still soft.
Nutrition
Calories:
215
kcal
|
Carbohydrates:
14
g
|
Protein:
19
g
|
Fat:
9
g
|
Saturated Fat:
2
g
|
Polyunsaturated Fat:
2
g
|
Monounsaturated Fat:
5
g
|
Trans Fat:
0.02
g
|
Cholesterol:
79
mg
|
Sodium:
424
mg
|
Potassium:
463
mg
|
Fiber:
3
g
|
Sugar:
4
g
|
Vitamin A:
463
IU
|
Vitamin C:
14
mg
|
Calcium:
88
mg
|
Iron:
3
mg
Did you make my recipe?
I'd love to hear how you went! Tag me on Instagram @cookrepublic