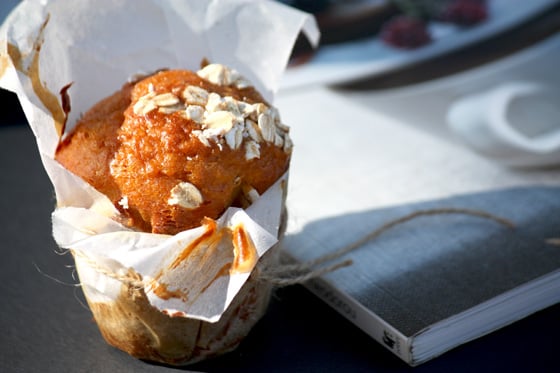 A few years ago when I first visited Australia on a holiday, I found a lovely little cookbook called Coffee & Bites by Susie Theodorou in a basement selling bargain books in Sydney. It was a stylish and simple unusually square paperback and the cover picture of a white mug of coffee balancing a plate of toast, egg, fruit and honey was too delicious to resist. I cooked a few recipes from it and then it got lost in my over burgeoning collection of cookbooks and cooking magazines. Then last year Murdoch Books in Australia revisited the cookbook and a "new" cookbook started doing the rounds on best booksellers list. When I saw it again, faint memories of having once browsed it started clawing through the stupors of my mind. So I got it off the shelf where it had been hibernating and was instantly inspired by a handful of recipes. The golden, moist Wheatgerm Honey And Raisin Muffin is what resulted from adapting the Breakfast Muffin from the book. Not so sweet, I baked these in my mustard hued latte cups, each muffin turning out taller and a little meal in itself. Perfect for a high-energy breakfast.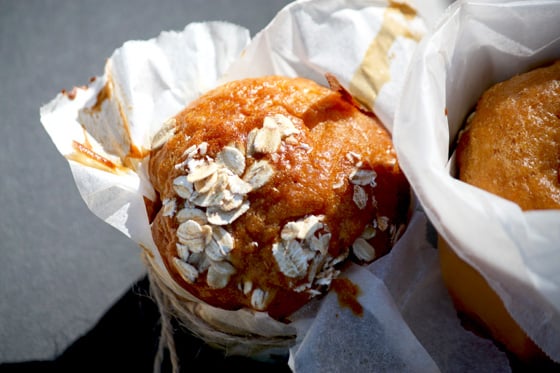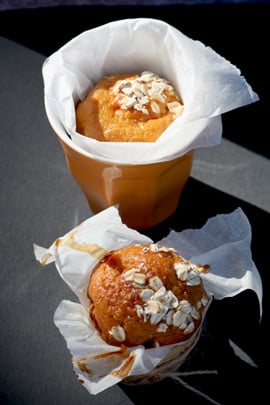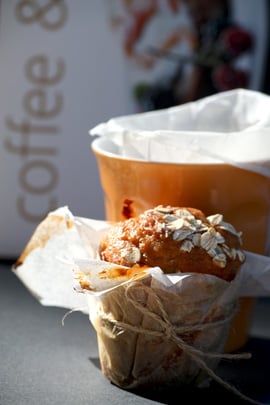 [print_this]
Wheat Bran Honey And Raisin Muffins
[Preparation Time : 10 minutes/ Baking Time : 30 minutes/ Makes 6 large muffins]

Ingredients
1 1/2 cups self-raising flour
1/2 tsp ground cinnamon
1/2 tsp ground mixed spice
2 tsps baking powder
2 tbsp raw wheatgerm
2 tbsp soft brown sugar
finely grated rind of 1 lemon
1/4 cup olive oil
1/3 cup mango honey
2 large eggs
1 cup light buttermilk
1 small carrot, peeled and finely grated
1/3 cup raisins
1 tbsp rolled oats

Method
Preheat oven to 190oC. Grease and line 6-8 ovenproof latte glasses [the number depends on the size of your latte glass varying from 150ml to 200ml in capacity].
Sift the flour with the cinnamon, mixed spice and baking powder. Stir in the wheatgerm, sugar and lemon rind. Add oil, honey and eggs. Pour in the buttermilk. Mix gently with a wooden spoon to form a lumpy batter. Fold in the carrot and raisins. Mix gently.
Spoon the batter into the prepared cups about 2/3rd of the way up. Sprinkle rolled oats on top and bake for approximately 30 minutes until well risen, golden and cracked on top. Cool in the cups before turning out and serving warm or cold.
[/print_this]