Air Fryer Veg Manchurian is a delightfully light and deliciously crispy take on the popular Indo-Chinese street food. Crispy golden veggie balls served in a lip-smacking Chinese sauce! This Vegan dish is a true treat for the senses and makes a great versatile main or canape.
Jump to:
If you have been following me and my blog, especially on social media, you will know that I am a HUGE Dosa fan. That I will happily pick that as my last meal on Earth. But what you might not know is that it will be accompanied by Veg Manchurian. The insanely popular Indo-Chinese street food dish is one of my favourite things to cook and eat. It is light, full of texture, and packed with flavour and every mouthful is a sensory experience with its unique Indian and Chinese flavours.
The word Manchurian means native of "Manchuria" a common name used to describe the large geographical region of Northeast Asia comprising of Russia and China. Although vastly different from traditional Manchu cuisine, the idea of this dish was the brainchild of chef Nelson Wang at the Cricket Club Of India in Bombay back in 1975; exactly two years before I was born in the same city.
When one of the patrons of the club asked him to create something new on that day, Nelson started by cooking with staple Indian ingredients - ginger, garlic and chopped chilli. Rather than add the traditional garam masala, he chose to add soy sauce and cornflour to the chicken he was cooking.
It resulted in a brand-new dish with Indian and Chinese roots that would go on to become a sensation around the world. Over the years, as is customary in India; an even more delicious Vegetarian version emerged since most of the country is vegetarian. This version was clever and superior in both taste and texture. It also packed a lot of veggies and could be eaten "dry" as a canape or "wet" as a main with sauce. Finely chopped (and I mean really finely!) veggies were rolled into balls with a bit of cornflour and rice flour and deep-fried. A delicious, tangy, Chinese-style sauce was ladled over the balls. And so Veg Manchurian was born.
Ingredients
Making Veg Manchurian in the Air Fryer
Continuing my love affair with the brilliant Instantpot Vortex Plus Air Fryer Oven, I decided to make Veg Manchurian balls in the air fryer instead of deep-frying them. I don't deep fry much and when I do, it always gives me anxiety especially if it is a fritter of some kind. If the veg-to-flour proportion is not right or if the oil is not hot enough or too hot, the fritters always end up collapsing or getting oil logged. Same with falafels. I find air-frying to be a no-brainer in these situations. Not only does the final dish not absorb an insane amount of oil, but the crisp factor is unparalleled and things never disintegrate.
The Instantpot Vortex Plus Air Fryer Oven also has my favourite feature. It opens like an oven and multiple trays can be slid in with batches of your favourite things to air fry like these Air Fryer Samosas for instance. Forming Veg Manchurian balls and air frying them on perforated trays crisps and cooking them evenly.
At this point, they are incredibly hard to resist and you will try very hard to stop yourself from snacking on the hot, crispy little parcels of veggies. But you must resist! You must then make the delicious Manchurian sauce and pour it over the Manchurian balls so they get all sticky and delicious. And then you must eat this beautiful veg Manchurian.
Tips For Making Perfect Veg Manchurian Balls
But before you do that, I'd like to share some really important tips so that you make the perfect Air Fryer Veg Manchurian
Chopping Veggies - Always chop the veggies really fine. You must almost mince them to a coarse meal with your knife. See my pictures for reference. The finer you chop the veggies, the easier it will be to bind them.
Binding Without Water - This is where clever cooking comes in. There is no water or external liquid of any kind to bind the Manchurian balls.  Once your veggies are chopped really fine and you've added the flour and seasoning, you must mix, grab and squeeze the mixture to release the natural liquids in the veggies to create a natural binder. As you continue doing this, the mixture will produce enough liquid for you to form the balls. If the veggies are not super fresh and the mixture is too dry, you can wet your fingertips before forming the balls. But you must never add any water to the mixture. This ensures fluffy and beautifully cooked Manchurian balls with a crispy exterior.
Shaping the Manchurian Balls - Traditionally Manchurian balls are round and deep fried. For Air Fryer cooking I tried two shapes - round and slightly flatted like patties (see picture) and I found that the slightly flattened version cooked perfectly while the round version remained a bit doughy in the middle.
Making A Textural Sauce - It is important to chop the veggies really fine and mince your garlic and ginger well to obtain that beautiful texture in your Manchurian sauce.
disclaimer - This post and recipe was created for and is sponsored by Instantpot. Sentiments on Veg Manchurian and opinion/musings on cooking with this appliance are my own. I have been cooking with Instantpot appliances for years and find them to add immense value in my cooking and prep in the kitchen.
Recipe
Hungry For More Recipes? Subscribe to my newsletter. Check out Facebook, Instagram and Pinterest to see everything I share! And if you love cooking and new cookbooks, join my free Cooking Club on Facebook!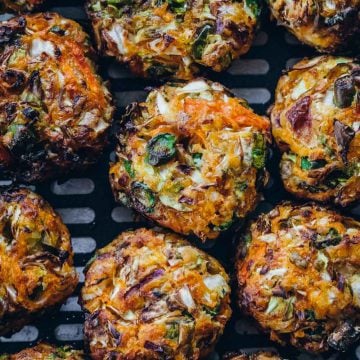 Ingredients
For the Manchurian balls
1

cup

(

100

g

)

cabbage

,

sliced thinly and finely chopped

1/3

cup

(

40

g

)

red onion

,

finely chopped

1/3

cup

(

40

g

)

green beans

,

finely chopped

½

cup

(

85

g

)

carrot

,

grated

1

teaspoon

green chilli

,

finely chopped

1

tablespoon

coriander

,

finely chopped

1

teaspoon

ginger

,

grated

2

garlic cloves

,

minced

¼

cup

(

20

g

)

spring onion

,

thinly sliced

¼

cup

(

30

g

)

cornflour*

¼

cup

(

45

g

)

rice flour

1

teaspoon

sea salt flakes

,

crushed

Dash of ground white pepper
For the Manchurian sauce
1

teaspoon

olive oil

3

garlic cloves

,

minced

1

teaspoon

ginger

,

grated

1

spring onion

,

thinly sliced

1

tablespoon

green chilli

,

finely chopped

1

tablespoon

coriander leaves and stalk

,

finely chopped

1

tablespoon

light soy sauce

1

teaspoon

white vinegar

¼

cup

tomato ketchup

1

cup

vegetable stock

½

teaspoon

raw sugar

Salt and pepper

,

to taste

1

tablespoon

cornflour mixed in 2 tablespoons water

Extra sliced spring onion

,

to serve
Instructions
Add cabbage, onion, green beans, carrot, green chilli, coriander, ginger, garlic and spring onion to a large bowl. Add cornflour, rice flour, salt and pepper. Toss and mix well using your hand. The mixture will appear dry. Now continue mixing the ingredients by hand while grabbing handfuls and squeezing it. As you continue doing this, you will notice the mixture starting to become wet. This is because of the vegetables releasing their liquids. Take about a quarter cup of the mixture in the palm of your hands and shape it into a ball. Flatten it slightly to form a thick patty. Repeat with the remaining mixture. If the mixture feels too dry and you can't bind it, wet your fingertips with water and continue.

Lightly grease the tray of the Instant Vortex Plus Air Fryer Oven with olive oil. Place the Manchurian balls on the tray. Drizzle with olive oil. Air Fry at 180°C for 10 minutes.

Remove from the Air Fryer Oven and set aside.

Heat olive oil in a small heavy bottomed saucepan on medium-low. Add garlic, ginger, spring onion and green chilli. Sauté for a few seconds until fragrant. Add coriander, soy sauce, white vinegar, ketchup, stock, sugar, salt and pepper. Mix well and cook for a couple of minutes until the sauce comes to a gentle boil. Reduce heat by a bit. Add the cornflour and water mix. Whisk and stir the sauce until it thickens. Remove from heat.

Place the Manchurian balls in a serving bowl. Pour the hot Manchurian sauce over the balls. Garnish with extra sliced spring onion.
Notes
*Cornflour - Cornflour also known as cornstarch is a superfine powder like flour used in Chinese and Indo-Chinese cuisine as a thickening agent for sauces. In this recipe, it acts as a binder for the Manchurian balls and also thickens the sauce.
Did you make my recipe?
I'd love to hear how you went! Tag me on Instagram @cookrepublic