Before I share my recipe for this gorgeous Avocado Ice Cream, let me tell you that a lot has happened since the last two times I did a little catch-up on the blog. Today, I thought I'll fill you in on what has been happening in my kitchen and in my life.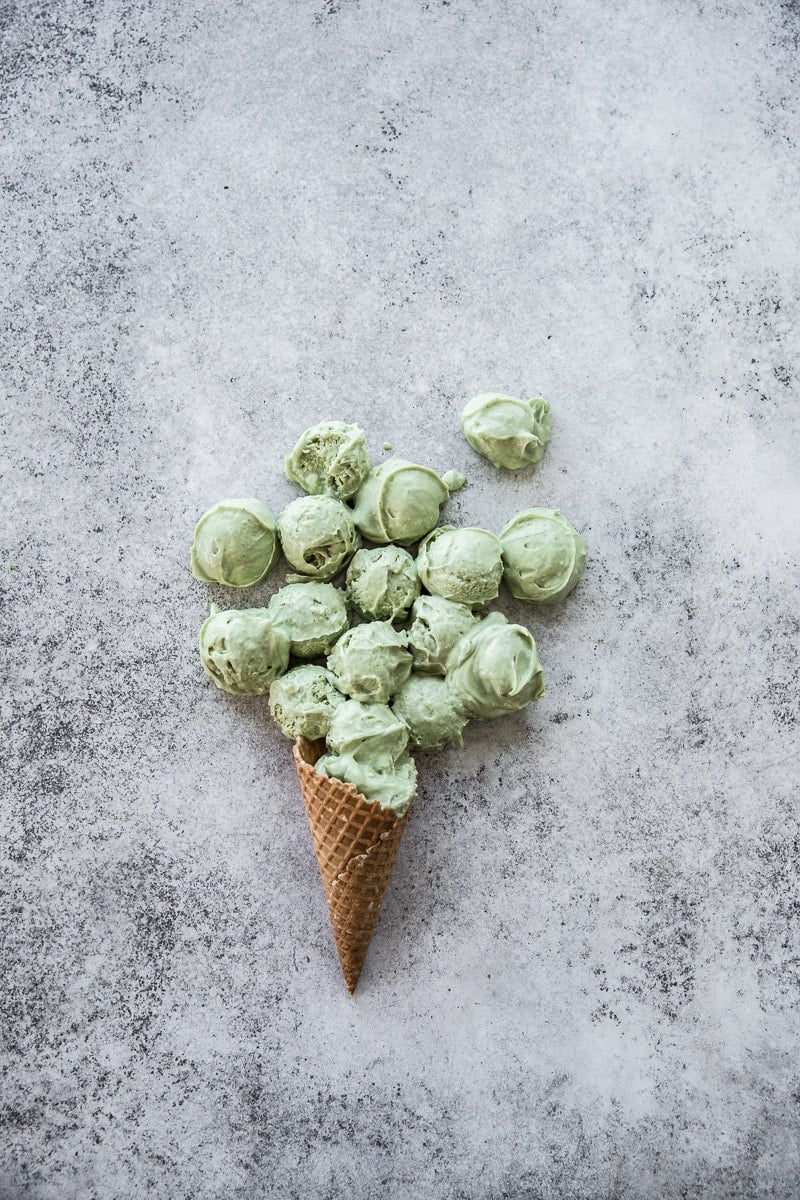 Too many food photography props and how to curate them ..
Things have gotten out of hand. Props have gone wild. I repeat, Props have gone wild! That is my take from looking at pictures in those old catch up posts and walking around my home looking at stacks and stacks of props - in the kitchen, in the garage, in the study and heck even in my bedroom! Like Samuel L Jackson in movies, my props are literally everywhere. And the more I have, the less I feel I am able to achieve.
After having that epiphany a few weeks ago, I systematically started sorting through my prop shelves, drawers, cupboards and tables. I donated two big boxes of props on the first day. Then the really old ones and ones I had used in a lot of my old shoots got taken to the Second Hand Studio in Hornsby. After which began a very difficult journey of culling props that I still love dearly, that I still use in my shoots and thought I would never part with. But it was for the best.
So I started putting them up for sale on Instagram every Monday evening with the hope that they would find a new owner that would love them and give them a new lease of life in their photographs and on their shelves. It is going to be a long process because I still need to buy new props for new shoots and projects but I am realizing the importance of balancing the influx of new objects by culling the old. If someone would've told me a few years ago when I really started boosting my prop collection what a negative effect it would have on my time and life, I would've been more mindful of the whole process.
The life cycle of grief and joy ...
An entire year has passed since I did my last food photography and styling workshop. Since then I have shot two cookbooks, an app and nearly 50 shoots for clients. I have tested and developed enough recipes to fill a book and nursed a massive work-related injury that sprained a rib and popped out two of my vertebrae out of alignment .. ouch! Which limited my movement and exercise which in turn limited my often wordy and long-winded posts, because I think of things to write when I walk or work out.
And just like that my older son is off to high school next year and my younger one is nearly as tall as me. Our bunnies died, two of our chickens died and the current lot bring me no joy with their bad feather-picking habits. And every day I wonder whether to just write here on the blog, read other blogs, work less, cook more, do more and be more or grab new opportunities, step out of my comfort zone, get out more, word harder and do new things.
You see, it isn't as simple as that. It isn't black or white. There are so many shades of grey and blue and green and yellow in there. But the internal dialogue is constant. The fear of life passing me by is there. The uncertainty of whether my work is good enough lurks. The anxiety that I am not doing enough for my family wrecks havoc. The horror of a Trump presidency looms. The pressure to be more is palpable. The struggle is real. And if you throw an illness in the mix, the entire structure collapses like a house of cards. I don't understand how some people do it all. They seem to have endless bouts of energy and enthusiasm and time to do so many different things. I struggle at best on any given day, I honestly do. Maybe you relate with me?
Feeling lost in a sea of beautiful things and moments ...
I actually have no idea why I went off on a tangent when all I wanted to do was share a recipe for an Avocado ice cream but it sure felt good. Isn't that what blogging is meant to do? Gosh, it feels so far removed from the usual recent recipe posts I do where I just talk about the recipe and nothing else, but it feels right.
And I need to talk more about me, my life, what affects me, what lifts me up and what brings me down. But you need time for that. The time that I do not have because I am working too much? or thinking too much? or spending it on moving and organizing an excessive amount of props? Whatever the reason, I feel like something needs to change and give. I need to subtract, subtract, subtract and then curb my desire to add, add, add. That doesn't come naturally to me. I am an excessive person on all counts, living larger than life, hands in all pies.
But I feel lost. Lost in all the excessiveness. Lost without a clear demarcation of life, of work, of time and me. To feel less lost, I read and look at pictures and to motivate me and bring me calm - like Heidi Swanson's fridge shelfies (if I can achieve that, I think I can achieve Nirvana!), like Deb Perlman's minimal kitchen and everyday delicious food with no bells and whistles, like Clare's just cook it-just grow it-just do it attitude, like Hayley's everyday visual musings time and tide and everything in between and like this mood board of mine where I want to live every single day. But I still feel lost. I have figured that a prop detox or social media detox or anything along those lines is only temporary. It has to be bigger than that, a complete overhaul of everything. What do you do if you ever feel that way? Because I am lost!
I took the below pictures  a few minutes ago. While you decide whether to feel envious or sorry, I'll share a recipe with you that recently brought me joy. I never thought I'd say this, but I made an ice cream with avocado and I liked it! I loved it even more because it is a lazy ice cream for a time-poor lazy person like me. Chuck in blender, whizz in blender, chuck in freezer, wait ..... for a long time, scoop and eat! I consulted my favourite Flavour Thesaurus and working on an indirect ingredient correlation theory in my own head, added a few simple ingredients that I thought would elevate the avocado to the skies. And it worked! But I did not indulge in an elaborate shoot, just the bare essential ice cream scoop on the tabletop and it still looked good enough to make me want to lick the table. It is something I have been incorporating in my own shoots (not client shoots) - minimalism. A silent protest against props. A Prop Detox. Keeping it really simple. With the focus on food.
Despite everything, I do love my job .. all the recipes, all the mess, all the chaos and those darned overflowing props. Hopefully next time I play catch-up here on the blog, I would've conquered my hoarding tendencies and developed a cure for a life threatening disease while I am at it. Meanwhile, please do make this ice cream! It is sensational and don't forget to share it, rate it, comment on it etc. It makes my day when you write, it feels like someone is listening (or reading!).
Recipe
Hungry For More Recipes? Subscribe to my newsletter. Check out Facebook, Instagram and Pinterest to see everything I share! And if you love cooking and new cookbooks, join my free Cooking Club on Facebook!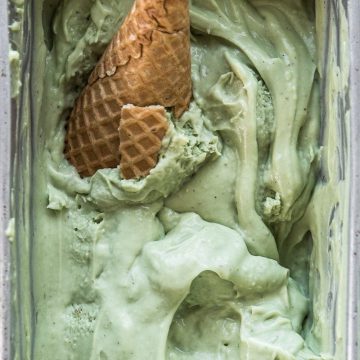 Ingredients
3

avocados

,

peeled and seed removed

220

g

condensed milk

270

ml

coconut milk

juice of 2 limes

1

teaspoon

vanilla extract

pinch

of salt
Instructions
Place all ingredients in the jug of a blender. Blend until smooth.

Pour in a shallow metal tin (an aluminium loaf/cake tin works a treat). Cover with cling wrap and freeze in the freezer for at least 6 hours or overnight.

Thaw for 5-10 minutes at room temperature before serving.
Did you make my recipe?
I'd love to hear how you went! Tag me on Instagram @cookrepublic