Baingan Bharta is a delicious smoky Indian eggplant dip made by cooking the eggplant twice - first by roasting it on an open fire or the oven and then stir-frying it with spices. It is a rustic, flavour-packed dish - a MUST for eggplant lovers everywhere.
Jump to:
What is Baingan Ka Bharta?
The Baingan Bharta, a fire-roasted twice-cooked eggplant curry is India's version of Baba Ganoush. A truly rustic celebration of the whole fruit, it is a smoky eggplant mash fragrant with spices and absolutely delicious. Baingan means eggplant and bharta means a lightly fried dish of mashed vegetables.
Typically baingan bharta is created by roasting a whole eggplant on a naked flame, scooping the flesh out and then stir-frying the smoked flesh in a pan with spices. It is often served with flatbread or as a side dish to an Indian feast.
Baingan Bharta in the oven
Fire roasting imparts the dish with that signature smoky flavour and it was the method I saw my mum adopt throughout my childhood and teen years. It was how I cooked this dish when I moved to Singapore in the early 2000s.
When we moved to Australia, we didn't have gas cooking. Which meant not having access to fire for cooking. We eventually rectified that by buying a small and cheap camping stove (which sits on a bench in my kitchen and is used for quick corn roasting sessions or making rotis and naan). But before we did that, I devised a quicker and safer (for those spooked by the thought of cooking over a naked flame) method of making this delicious smoked eggplant dip. Grilled in the safe confines of the oven and then pan-cooked. Some variations require you to prick the skin of the eggplant prior to roasting, but I have never done that. It is not really required.
To roast the eggplant to smoky perfection in the oven
Simply wash and dry the eggplant and rub it all over with oil.
Place in a hot oven on a tray for 30-40 minutes until the skin is charred and flaking.
Remove, cool slightly and peel and discard the skin to reveal the smoky, cooked eggplant flesh.
Dhungar Smoking Technique
Baingan Bharta is smoky enough but sometimes I want it to be even more fragrant. Just like the curry served at a dhaba (roadside restaurants prevalent along highways and serving as truck stops where food is rustic, local, flavourful and cooked on coals). On days like that, I employ the Dhungar smoking technique which was made famous in ancient India during the rule of the Mughals.
Hold a piece of natural charcoal in a flame till it is red hot.
Move the baingan bharta aside in the pan to create a void in the middle. Place a metal bowl in this void and add the piece of hot coal to the metal bowl.
Drizzle a tiny amount of oil on the charcoal so that it starts to smoke.
Cover the pan with a lid for a minute and let that smoke infuse the baingan bharta and impart a world of exotic flavour.
Storage & Freezing
The spices and quantities used in this recipe are bold simply because eggplant demands it otherwise it runs the risk of being quite bland. If you cannot tolerate too much spice, go easy on the garam masala or skip it completely.
This recipe makes about 250g of the dip and it freezes beautifully. I often make a big batch with 6 or even 8 eggplants and then freeze 3-4 small containers of it for easy mid-week meals. Often when I am shooting and have nothing prepared, I will reheat this and eat with a wrap or smear on a tortilla and grill for a few minutes till crispy. So much yum!
In the fridge, it stays fresh in an air-tight-lidded container for upto three days.
Serving Suggestions
Baingan Bharta has a beautiful umami, smoky flavour and is an excellent dip. These are just some delicious ways of eating baingan bharta
Smear it on Green Garlic Spinach Flatbread or these Lebanese Flatbreads.
It goes really well with Turmeric Rice and Spinach Daal as a complete meal.
And lastly, make some hot rotis or chapatis and simply enjoy this baingan bharta with a side of Indian Raita.
More Eggplant Recipes To Love
If you love the romance of smoked eggplant as much as I do, you will also love this textural salad that I have shared in the past. Have you smoked eggplant and made something amazing out of it? I would love to try out your recipe! And if you make this one and love it, please rate the recipe below! Thanks x
Recipe
Hungry For More Recipes? Subscribe to my newsletter. Check out Facebook, Instagram and Pinterest to see everything I share! And if you love cooking and new cookbooks, join my free Cooking Club on Facebook!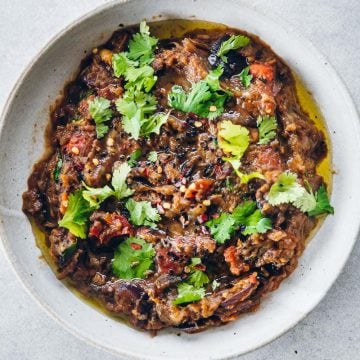 Ingredients
1

(

600

g

)

large eggplant

2

tablespoons

ghee

,

or olive oil + extra for rubbing

2-3

garlic cloves

,

minced

2

cm

piece of ginger

,

finely chopped

1

red onion

,

thinly sliced

1

large tomato

,

diced

1

teaspoon

ground cumin

1/2

teaspoon

ground coriander

1

teaspoon

garam masala

1/4

teaspoon

ground turmeric

1/4

teaspoon

smoked paprika

1/4

teaspoon

red chilli powder

,

optional, if you like it spicier

1

teaspoon

sea salt flakes

,

or to taste

handful of fresh chopped coriander leaves

extra virgin olive oil, nigella seeds, chilli flakes

,

- to garnish
Instructions
Preheat oven to 210°C (convection)/190°C (fan forced). Line a large rimmed baking tray with foil. Wash and dry the eggplant. Rub a bit of olive oil all over the eggplant and place in the prepared tray.

Roast The eggplant in the top quarter of the oven (closer to heat source) for approximately 35-40 minutes until the skin is falling apart and starting to char.

Remove from oven and cool completely. Gently part a section of the skin and scoop out the flesh in a bowl using a spoon. It is okay to get some charred bits of the skin with the flesh.

Heat ghee/oil in a small chef's pan/sauté pan on medium. Add the garlic, ginger and onion. Cook for a couple of minutes until onion starts caramelising. Add tomato, eggplant flesh and all the spices. Reduce heat to medium-low and cook for 10 minutes mashing the flesh occasionally to get a dip with a lovely silky consistency. Adjust seasoning.

Remove from heat, garnish with fresh coriander, top with nigella seeds/chilli flakes/olive oil and serve hot with flatbread or crackers.
Notes
If roasting on an open fire (I use camping stove), don't rub oil on the eggplant. Just wash, pat dry and roast on a medium flame, turning every 5-10 minutes over a period of 30 minutes. Cool slightly, peel the charred skin and scoop the flesh in a bowl.
Nutrition
Calories:
225
kcal
|
Carbohydrates:
20
g
|
Protein:
4
g
|
Fat:
16
g
|
Saturated Fat:
10
g
|
Polyunsaturated Fat:
1
g
|
Monounsaturated Fat:
5
g
|
Cholesterol:
39
mg
|
Sodium:
1196
mg
|
Potassium:
750
mg
|
Fiber:
9
g
|
Sugar:
10
g
|
Vitamin A:
779
IU
|
Vitamin C:
16
mg
|
Calcium:
51
mg
|
Iron:
2
mg
Did you make my recipe?
I'd love to hear how you went! Tag me on Instagram @cookrepublic