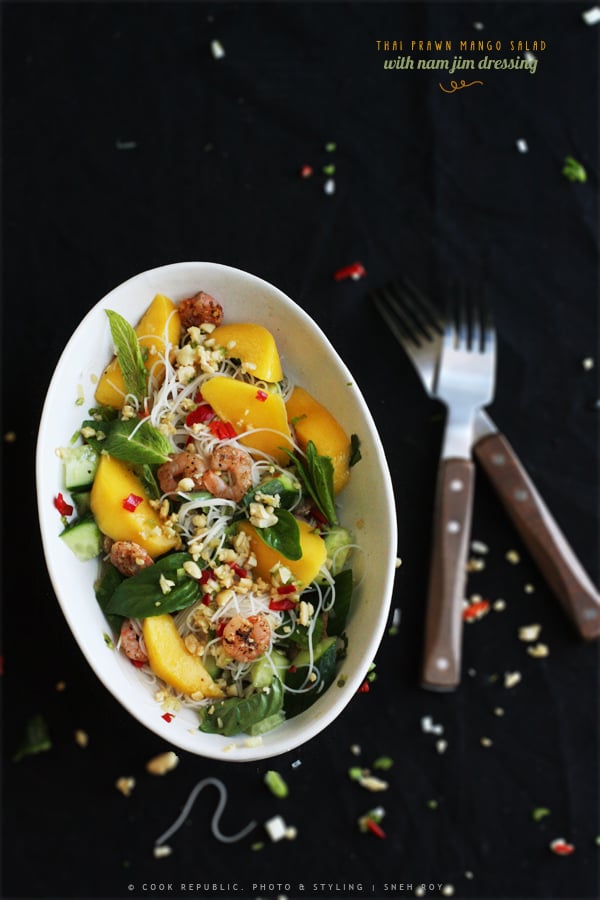 Lately I have been cooking from Billy Law's first cookbook, Have You Eaten? My signed copy of this gorgeous cookbook is peppered with little post-its sticking out at the top, marking all the recipes I want to try. And there are a lot of post-its, believe me you.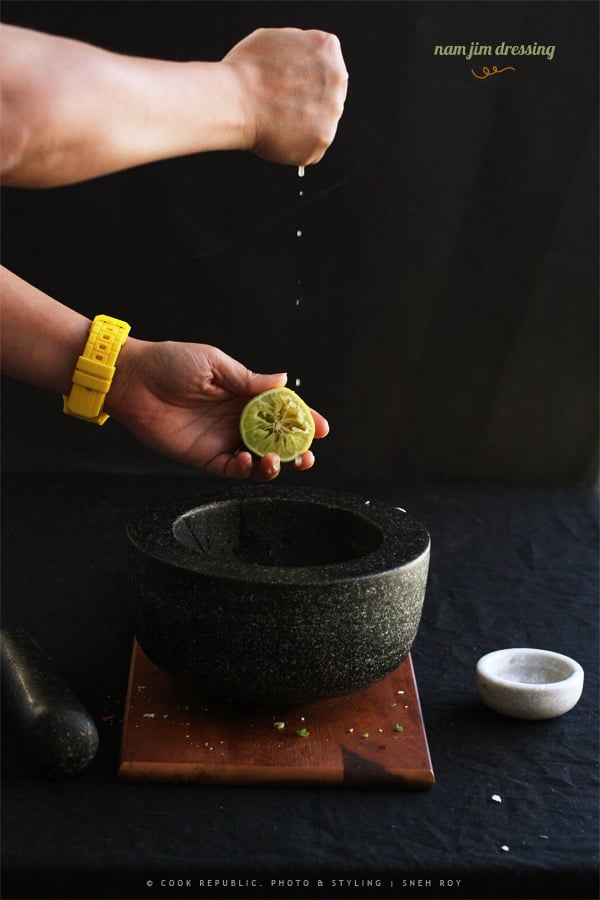 The recipe I am going to share today is an adaptation of a similar recipe from the cookbook. It is a Thai Prawn And Mango Salad With Nam Jim Dressing. In my opinion, the dressing which forms the base of the salad is quite spectacular in its myriad flavours and makes it possible to easily adapt the dish to ingredients you might have on hand. It hits all the right notes of sweet, sour and salty with a punchy amount of heat.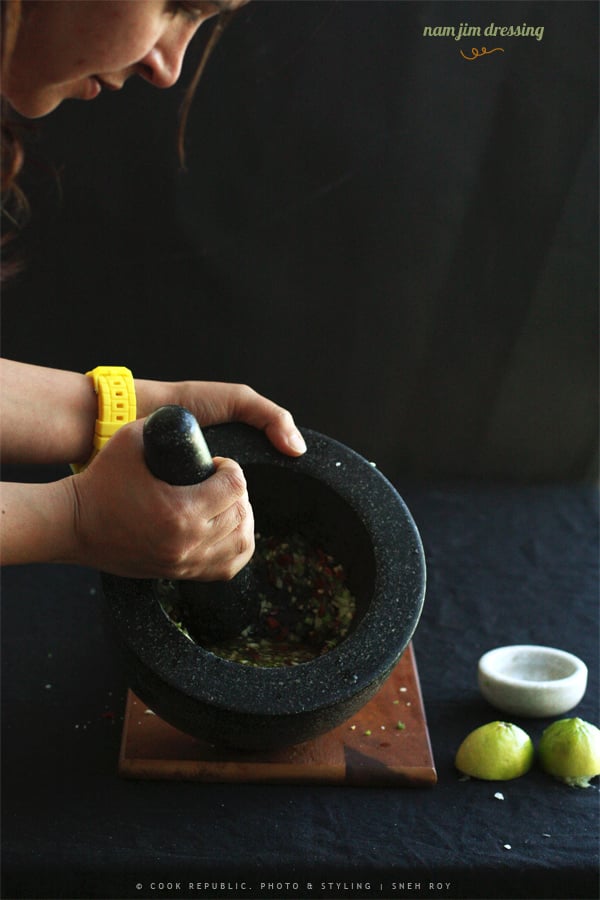 A trip to my local market last week resulted in a bag full of the season's first ripe mangoes, sun kissed, plump, juicy and sweet. The mangoes I buy from the farmer's markets are often the most delicious we have in the warmer months. They are unmarked, I often have no idea what variety they are, but they still have leaves attached and are quite small. I like them small because it means their concentrated flavour would be out of this world.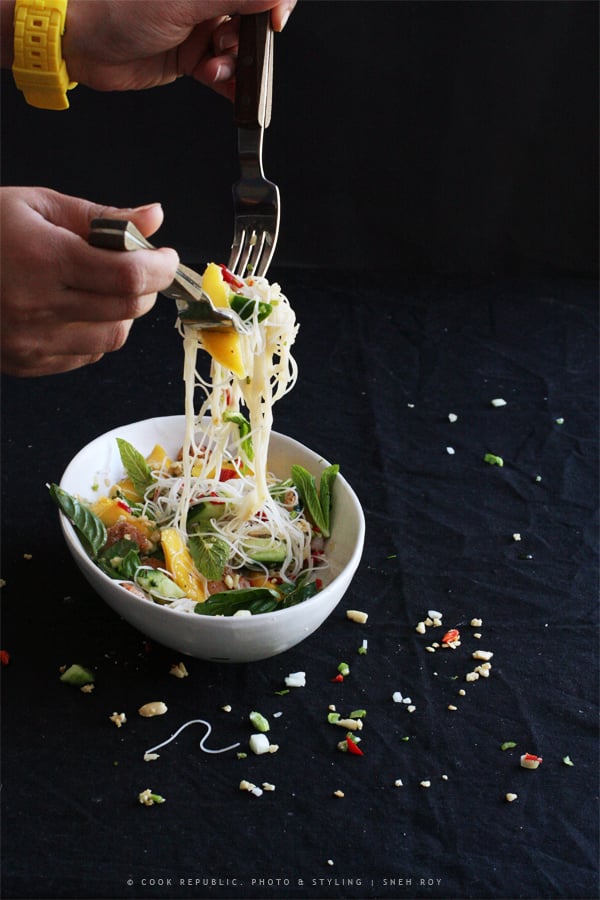 I have had raw mango and papaya salads in the past but not quite a salad that calls for firm ripe mangoes. So I was very curious to try this one. I only had small cooked prawns on hand and the original recipe calls for cooked rump steak. But if you can get your hands on big juicy prawns, then this dish will elevate beyond your imagination. It is a perfect exercise in culinary textural pleasure. Enjoy!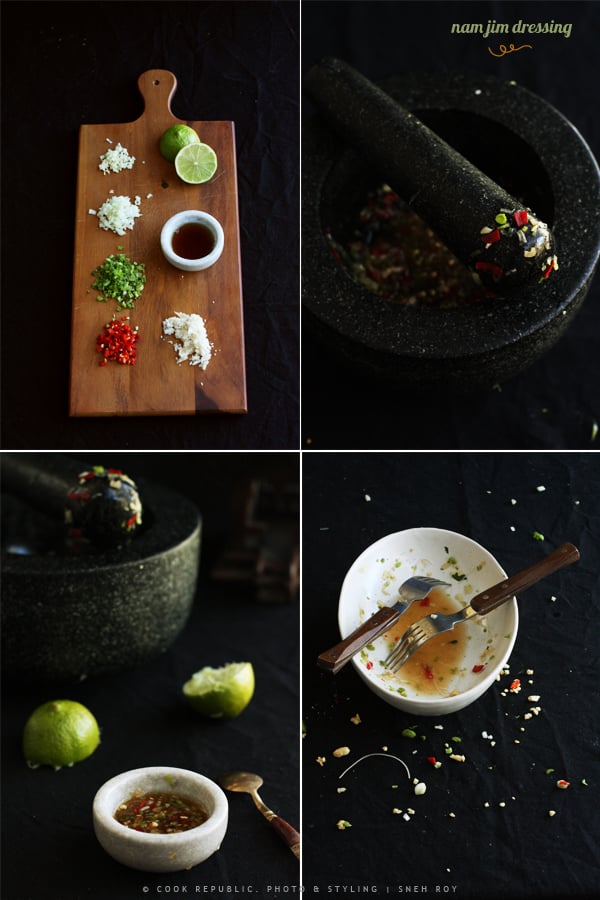 [print_this]
Thai Prawn And Mango Salad With Nam Jim Dressing
adapted from Have You Eaten?
A light, fragrant and textural salad with warm, tropical flavours for a mid week brunch.
Preparation Time - 30 Minutes
Makes - To serve 2
Ingredients
50g dried rice vermicelli noodles
300g cooked and peeled prawns (large ones like tiger)
1 lebanese cucumber, diced
1 large ripe mango, peeled and thinly sliced
handful of mint leaves
handful of coriander leaves
handful of fried shallots
40g unsalted peanuts, toasted and crushed
salt and pepper to taste
1/4 to 1/2 cup of Nam Jim Dressing (see below)
for the nam jim dressing -
1 large red chili or 2 small bird's eye chillies, finely chopped
1 small French shallot, finely chopped
2 garlic cloves, finely chopped
1 tablespoon thinly sliced coriander roots
2 tablespoons grated palm sugar (jaggery)
2 tablespoons fish sauce
juice of half a lime
Method
to make the nam jim dressing -
Using a mortar and pestle, gently pound the chillies, shallots, garlic and coriander roots to bruise them. Don't turn them into a paste. Scrape the mixture into a mixing bowl. Add the palm sugar, fish sauce and lime juice. Stir until sugar has dissolved. Taste dressing and adjust. It should have a good balance of sweet, sour, salty and hot. Dressing keeps in the fridge for upto 3 days. (I add all the ingredients to my mortar and pestle and gently bashed and bruised to release the juices and mix up the flavours).
to make the salad -
Put the rice noodles in a heat proof bowl. Pour enough boiling water to submerge noodles. Soak for 20 minutes or until softened and drain.
Preheat barbecue hotplate or grill or a pan until smoking hot. Toss prawns in a bowl with salt, pepper and a drizzle of olive oil. Grill prawns for a couple of minutes until done (they change colour and become orangey). Remove from heat.
To serve, place prawns, cucumber, mango, mint and coriander leaves and noodles in a large bowl. Transfer to serving plate, drizzle with nam jim dressing and sprinkle with toasted peanuts and fried shallots.
[/print_this]