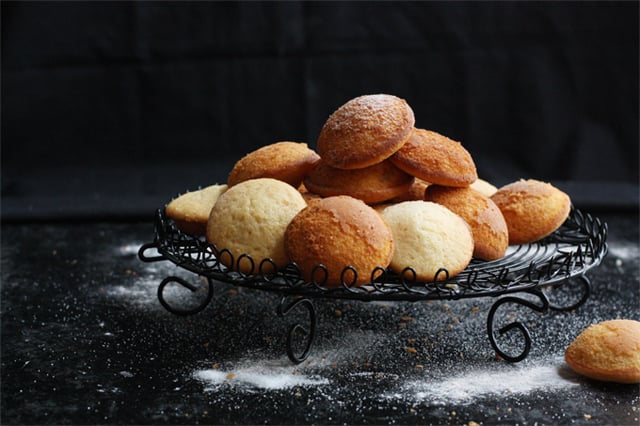 A patty cake is a miniature cake, essentially a cupcake but more importantly a single individual serve of cake. The term made famous by the poem "Pat-A-Cake", patty cake is often used in Australian English. I am quite convinced that the name caught on from the overuse of terms like patty pans and patty cases. Nevertheless, it is a sweet quirky name for a little cake.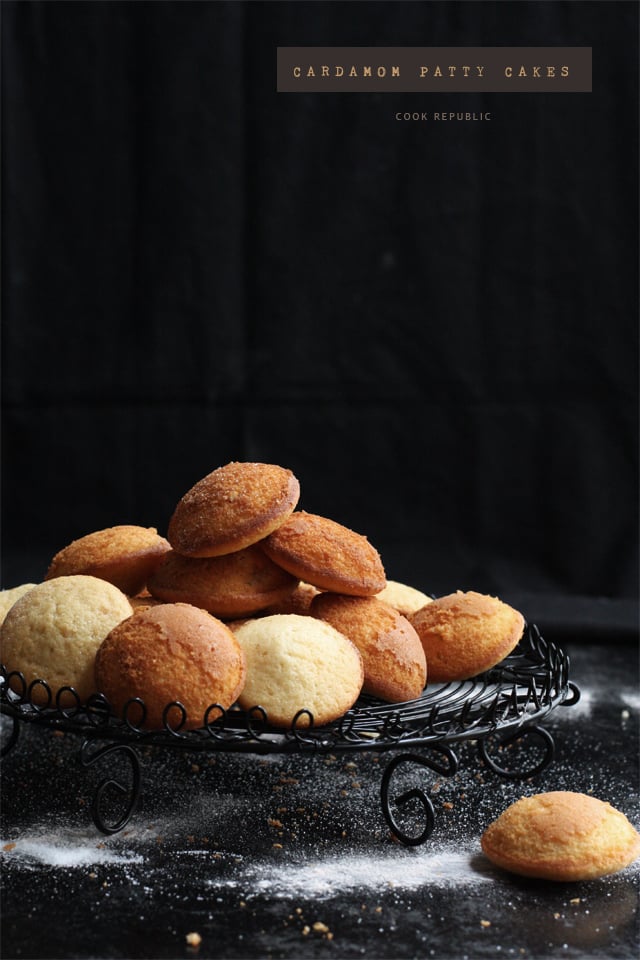 I love vintage illustrations especially in poems and stories that talk about food. The Pat-A-Cake poem illustrations always show bakers and children cupping their hands together and pressing palms to mimic patting-a-cake, kind of like making mud pies. Taking inspirating from those illustrations I have made little cupcakes peppered with ground cardamom, but baked in round gem scone molds without wrappers. When baked, they come out like little fat cake discs with a gorgeous crust and melt-in-your-mouth cakey middle. They are perfect to pop in your mouth and need just a hint of icing sugar dusted on top to make them really special.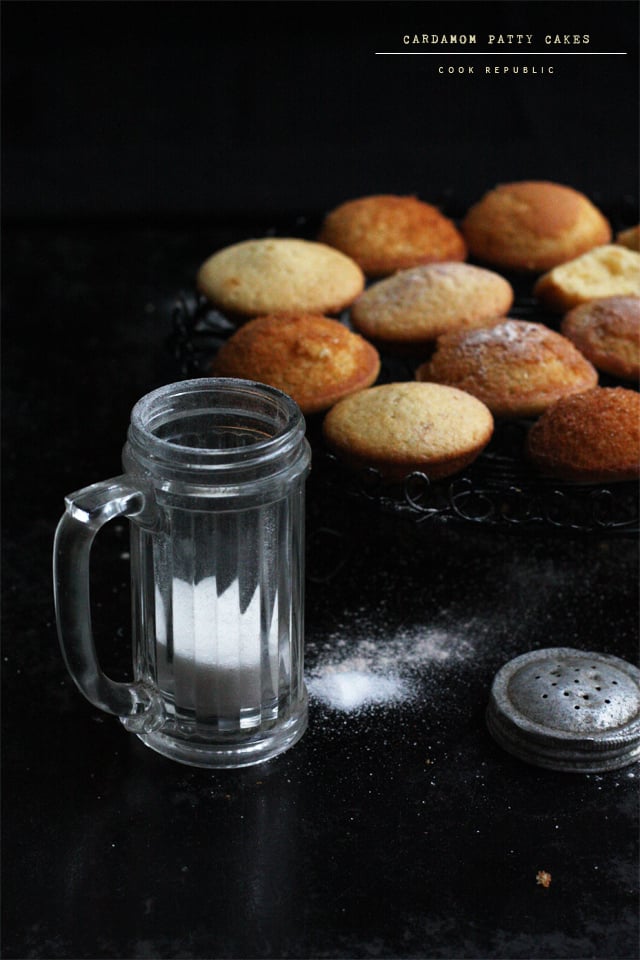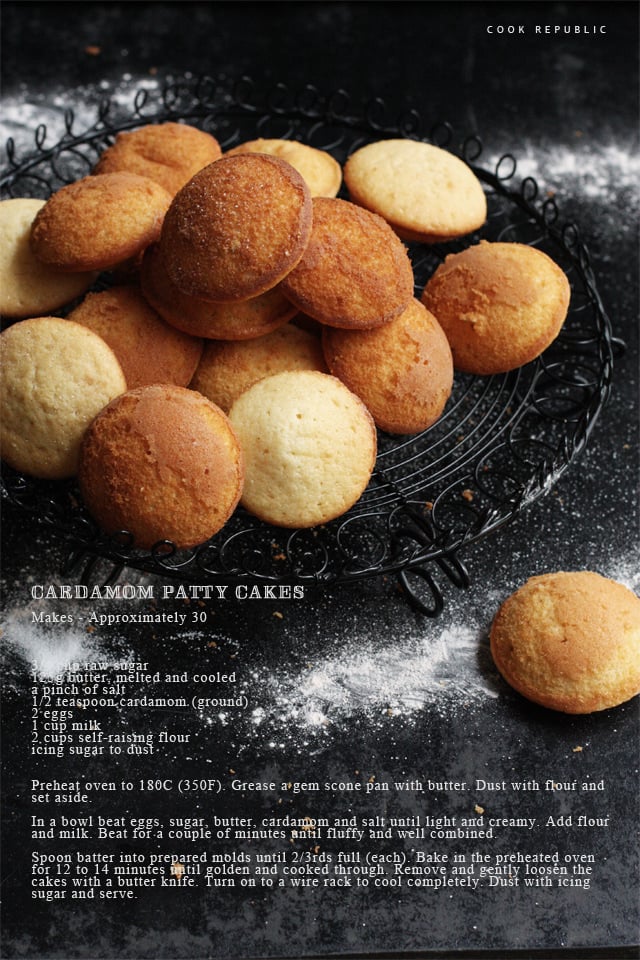 It is always fascinating to find out the terms used for similar food in different countries. Cupcakes, fairy cakes, patty cakes … do little cakes have a special name in your part of the world?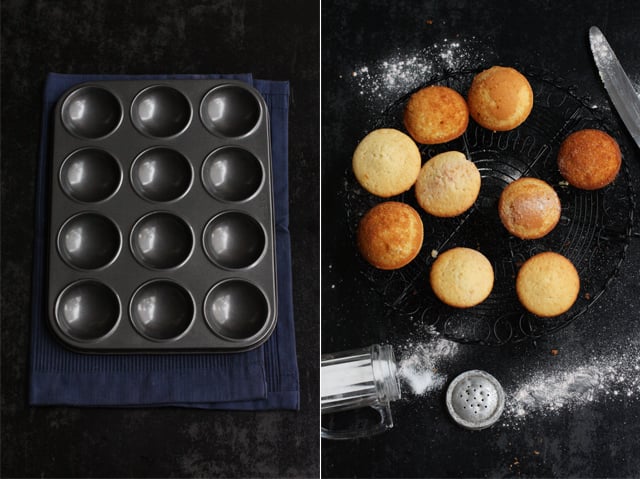 [print_this]
CARDAMOM PATTY CAKES
Fragrant little mini cakes are baked in a gem scone pan and topped with icing sugar for a cardamom infused afternoon treat.
Makes - Approximately 30
Ingredients
3/4 cup raw sugar
125g butter, melted and cooled
a pinch of salt
1/2 teaspoon cardamom (ground)
2 eggs
1 cup milk
2 cups self-raising flour
icing sugar to dust
Method
Preheat oven to 180C (350F). Grease a gem scone pan with butter. Dust with flour and set aside.
In a bowl beat eggs, sugar, butter, cardamom and salt until light and creamy. Add flour and milk. Beat for a couple of minutes until fluffy and well combined.
Spoon batter into prepared molds until 2/3rds full (each). Bake in the preheated oven for 12 to 14 minutes until golden and cooked through. Remove and gently loosen the cakes with a butter knife. Turn on to a wire rack to cool completely. Dust with icing sugar and serve.
My Notes
You can bake the batter into little cupcakes or a full sized cake topped with nuts by adjusting the baking times.
To make nutella or jam stuffed patty cakes, spoon some batter into the mold. Add a teaspoon of the filling, top with more batter and bake. Make sure each mold is only 2/3rds full.
[/print_this]