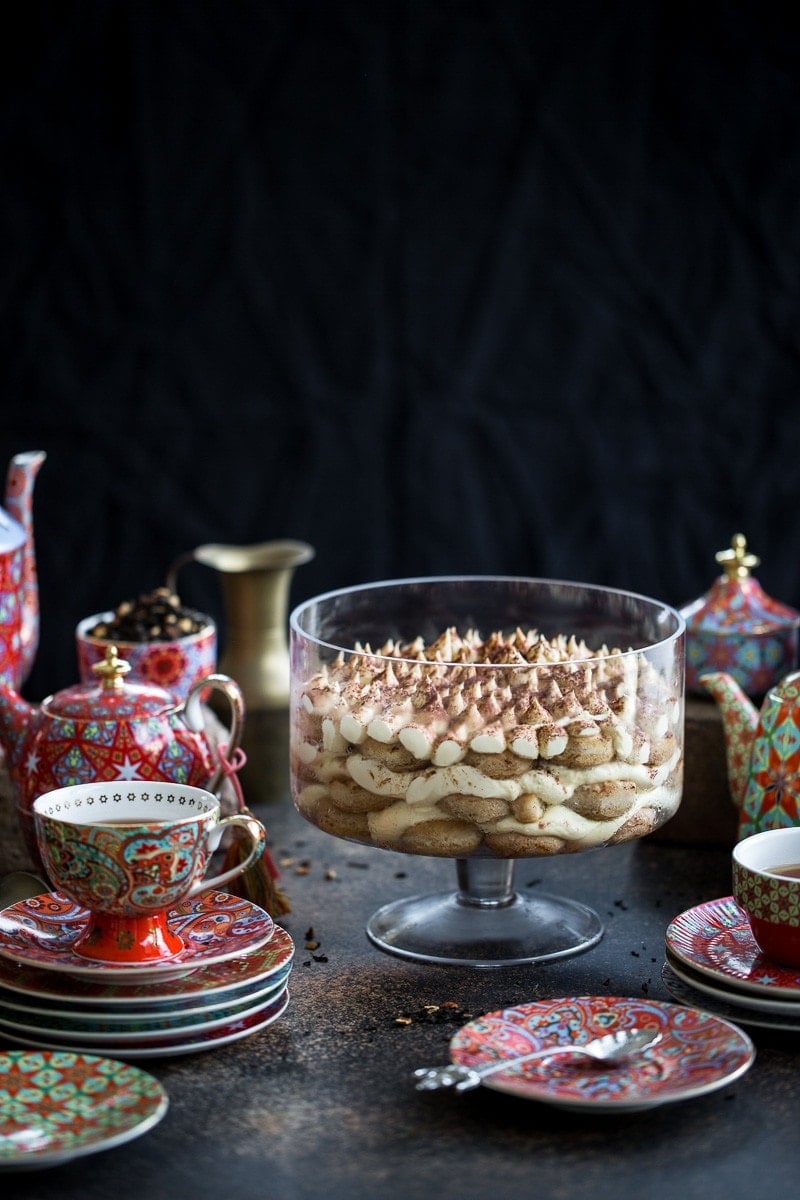 Christmas is just over six weeks away. Okay, now you can panic! I had that moment about two weeks ago when I realised that the whole year had slipped through my fingers and that my boys and loved ones would be the only ones waking up to no presents under the tree, if I didn't get my act together. So I started putting aside 15 minutes each day to research and order/plan/buy presents both online and in stores. Two weeks of 15 minutes a day and I am so chuffed that I have managed to sort it all out, presents, cards, donations and food. I also managed to plan our Christmas lunch and dessert. Amazing what a few distraction free minutes a day can do huh?
My planning also happened to coincide with a fabulous collaboration with T2. I was meant to style and shoot with their newest range of breathtakingly beautiful tea wares - Magic Carpet Ride. My first thought? Reminiscent of the ancient streets of Morocco and evoking the gold and vibrant patterns from Aladdin's cave of treasures, the ornate teapots and footed teacups would make the most special Christmas present for a dear girlfriend or a teacher or a colleague. The Magic Carpet Ride series comes in many different sizes - teapots for one, teapots for four, tall footed teacups, shallow wider teacups, jugs, sugar pots, stirrers and ornate trays. With gold detailing and tassels, my hippie heart was loving the Boho chic factor of these beauties and I had an absolute blast styling them amidst terracotta bricks with Moroccan lanterns, roses and fairy lights.
To compliment the beautiful tea wares, I created a very special dessert, a stunning show-stopper that would electrify your Christmas dining scene. A Tiramisu with tea. A Tea-ramisu! I love Tiramisu, it is my absolute favourite dessert. I have made many variations of it over the years - Mango-Misu, Gingerbread-Misu, Banana-Misu, Jaffa-Misu, Matcha-Misu - you name it! Traditionally a tiramisu would always have a coffee base and use eggs in the cream mixture. I decided that it was time to shake things up a bit and use tea. My tiramisu is always egg-free, we love it more that way. It is lighter. When I was thinking up of tea flavours to infuse the Tiramisu with, I couldn't go past ginger and spice - a classic festive flavour that embodies Christmas on a plate. I called it a Chai Latte Tiramisu, because if Chai Latte was a dessert then this is exactly what it would taste like! With just the right amount of sweetness, creamy with subtle cardamom and cinnamon notes and a heady ginger hit. Delicious!
The Ginger Spice tea from T2 was perfect for this - a black tea with dehydrated ginger bits in it. We often use this tea to simmer our morning cup of chai. On occasion, I have also created a Chai Concentrate (recipe below) using this wonderfully warming tea which I store in a glass bottle in the fridge (would make a great gourmet gift for your tea loving friend) and use to make chai lattes! That chai concentrate was the main inspiration behind this dessert. I used the chai concentrate to dip the Italian ladyfinger biscuits before layering the tiramisu. I also added some rum to the cream mixture (you could leave it out if also serving kids).
I usually just spread the top layer of cream but if making this for a gathering, I like to pipe the cream in little mounds before dusting with cocoa powder. It instantly added a wow factor. The dessert itself takes only 30 minutes to put together without any real cooking involved, which is why it is one of my go-to desserts. It can be arranged in a round or rectangular serving dish for effect or in individual glass bowls/cups. Arranging lady finger biscuits in a rectangular dish is a no-brainer. But when I am arranging them in a round dish, I like to cut them out and arrange them roughly in a circular pattern. I then cut more biscuits up and arrange them in the same pattern on two dinner plates, so I have both layers of biscuits ready to go for dipping and arranging.
I hope you make make this gorgeous dessert. Please share your experience/rating in the comments below and don't forget to tag me on Instagram with #cookrepublic if posting a picture of your creation. In the meantime, I'l let you soak up the teapot goodness from T2, the big red one is my absolute favourite, isn't it just a masterpiece?
x
Recipe
Hungry For More Recipes? Subscribe to my newsletter. Check out Facebook, Instagram and Pinterest to see everything I share! And if you love cooking and new cookbooks, join my free Cooking Club on Facebook!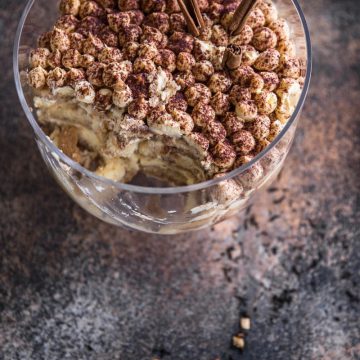 Ingredients
For The Ginger Chai Concentrate (makes 500ml)
3

cups

water

3

teaspoons

T2 Ginger Spice Tea

8

cloves

3

cardamom pods

1

star anise

1

cinnamon stick

½

cup

brown sugar
For The Tiramisu
500

g

mascarpone cheese

200

ml

thickened cream

½

cup

caster sugar

¼

cup

dark rum

,

optional

500

g

Savoiardi biscuits

,

(Italian Ladyfinger biscuits)

cocoa powder

,

for dusting
Instructions
Place all the ingredients for the Ginger Chai concentrate in a small saucepan and bring to a boil.

Remove from heat and strain into a heat-proof jug.

Pick out the spice bits (pieces of ginger, cloves, cardamom, cinnamon, star anise) from the strained tea and add them to the liquid.

Allow to cool completely. Once cooled, strain the concentrate into a lidded glass jar/bottle and store in the fridge until ready to use.

Place mascarpone cheese, cream, sugar and rum in a large bowl. Whisk with an electric beater for a couple of minutes until fluffy and starting to form peaks.

To assemble the tiramisu, start with a 10-cup capacity (2.5 litre) round glass bowl with a flat base (alternatively use a round or rectangular ceramic baking dish).

Pour Ginger Chai concentrate in a separate shallow bowl.

Working quickly, dip the Savoiardi biscuits lightly in the chai concentrate and arrange them in the bottom of the glass bowl in a single layer.

Spread one third of the mascarpone cream mixture on top.

Dip more Savoiardi biscuits in the chai concentrate and layer them over the cream. Spread another layer of cream and dust this layer with cocoa powder.

Arrange the last layer of dipped Savoiardi biscuits. For the final cream layer, you can either spread it out in swirls or fill the remaining cream in a piping bag and pipe little mounds on top of the Savoiardi biscuits. Finish with a dusting of cocoa powder.

Cover and chill in the fridge for at least an hour or overnight.
Did you make my recipe?
I'd love to hear how you went! Tag me on Instagram @cookrepublic
disclaimer - This post is sponsored by T2. Recipe, musings and feels are my own.