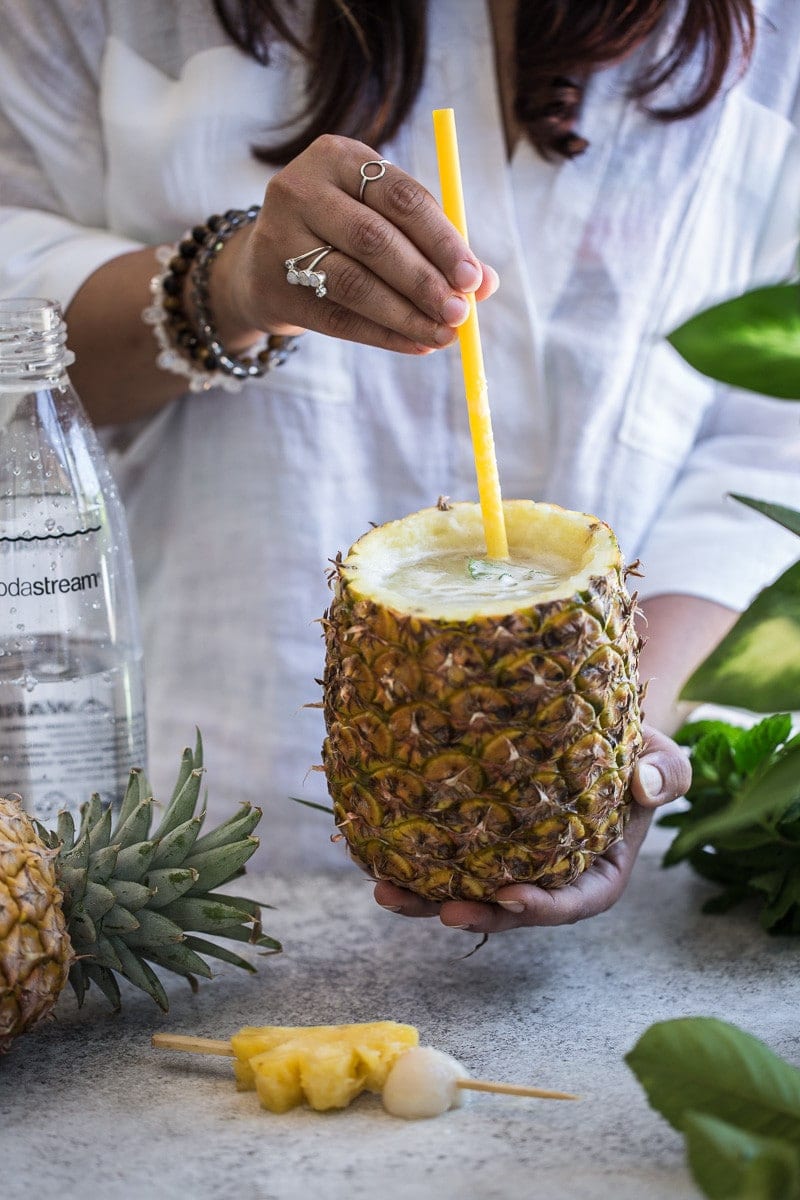 Nothing screams summer more than a perfectly golden pineapple with a spiky green crown instantly transporting you to a gently swaying hammock under lush palm fronds. And then you bring some lime, some lychees, some rum and a whole lot of ice and you can sway yourself into dreamy oblivion. I have recently started sharing our cocktail recipes which have become a special ritual on Friday nights. Over the years, our trusty SodaStream Sparkling Water Maker has played a very important role in making our Friday nights a success.
When I recently collaborated with them on their new SodaStream Power machine, I wanted to showcase hot summer vibes with pineapples. Pina Colada is one of my favourite drinks, doesn't matter if it is virgin or spiked with liqueur. But often, I find that the coconut milk makes it quite rich. When I started experimenting with the new SodaStream, I realised that you could get a similar creamy effect without the added richness by using pureed lychees!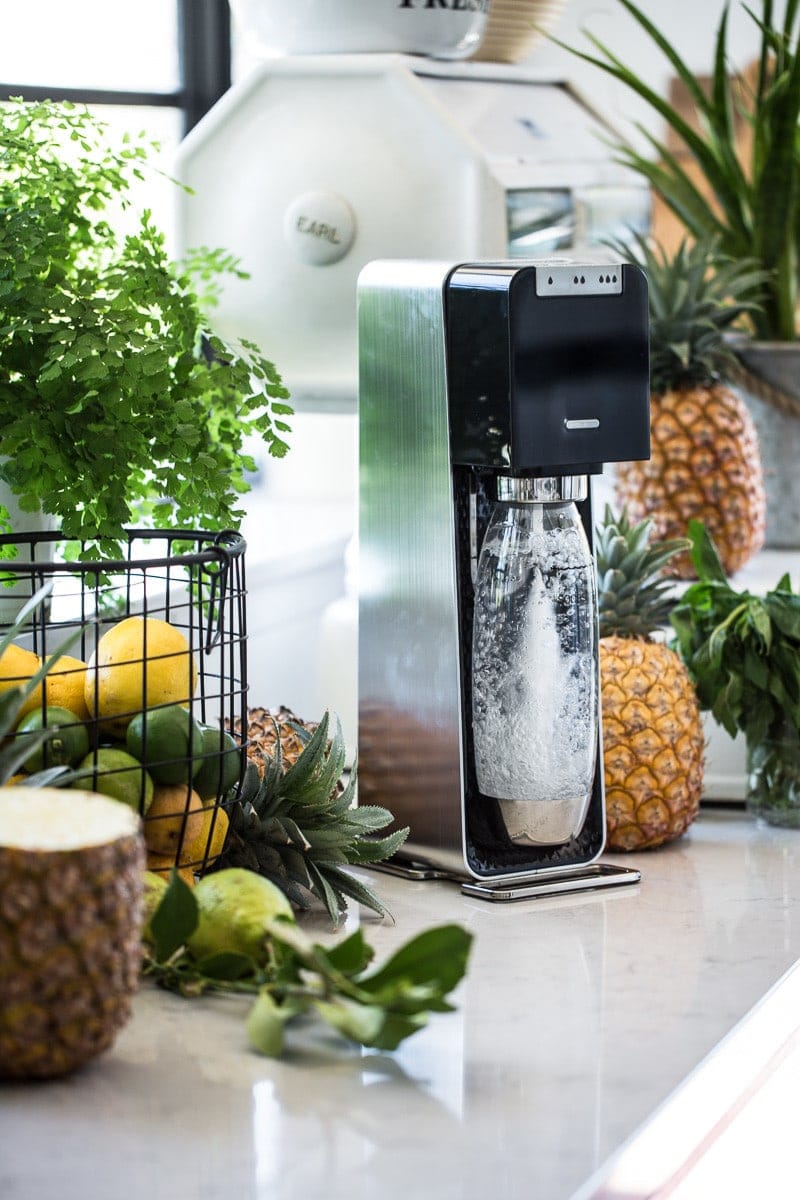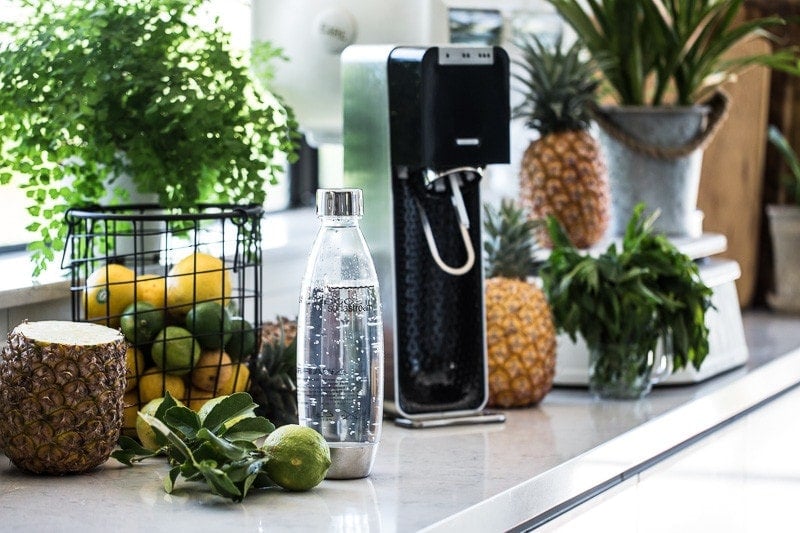 So I created this drink with just pineapple, lychee, lime and sparkling water. It was sensational. Refreshing, light, bubbly and utterly creamy and delicious. The boys couldn't have enough of it after school. That Friday night, I spiked the drink with some white rum and a pinch of salt for Nick and I. It was sublime. The SodaStream machine works like a charm. It sits on my counter and I can make sparkling water with the push of a button.
Depending on how strong or light I want my water, I can press the options to get a lightly sparkling water for lunch or a really fizzy bubbly water for cocktails and ice cream floats. What I absolutely love about SodaStream and a reason I have been using it for many years is that it is highly sustainable, environmentally friendly and amazing value for money.
SodaStream's machines are cost effective, really simple to use and streamlined so they don't take up much space on the counter or in the pantry. The sparkling water is made using pressure from a gas cylinder that can be refilled and reused. One gas cylinder makes about 60 litres of sparkling water. The bottles that the sparkling water is made in are BPA free and easy to store in the fridge. I usually have them all filled with tap water and chilling in the fridge. When I want to make sparkling water, I just get the chilled water bottles out and fizz the tap water to perfection. I also use this sparkling water when I mix my scone or pancake batter for some added fluffiness. So amazing!
You could serve this drink in glasses or jars or even the whole fruit like I have in the pictures. I think it is just more fun to serve it in this manner especially if you manage to get your hands on mini pineapples. You can scoop the flesh out and use that to create the drink and then serve it in the hollowed out pineapple. Absolutely tropically wonderful! Please share your creations with me on Instagram by tagging #cookrepublic. Thanks!
Recipe
Hungry For More Recipes? Subscribe to my newsletter. Check out Facebook, Instagram and Pinterest to see everything I share! And if you love cooking and new cookbooks, join my free Cooking Club on Facebook!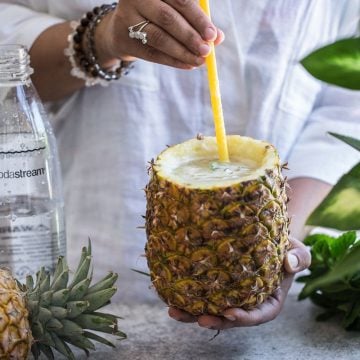 Ingredients
350

ml

fresh pineapple flesh and juice

120

g

pitted lychees

60

ml

sugar syrup

,

or canned lychee syrup

juice of 2 limes

80

ml

rum

,

optional

pinch

of salt

SodaStream sparkling water

Lychees

,

pineapple cubes, mint and ice to serve
Instructions
To make a pineapple jug, cut the top off a medium pineapple. Using a metal serving spoon, hollow out the pineapple reserving the flesh and juice. You might need to cut the core with a sharp paring knife to remove it.

Place pineapple, lychees, lime juice, sugar syrup and rum (if using) in the jug of a blender and process until smooth. Strain the mixture into a jug.

Fill two hollowed out pineapple with half of the pineapple mixture each. Add half a cup of ice to each pineapple. Top the rest with the SodaStream sparkling water. Garnish skewers with lychees and pineapple cubes. Top with fresh mint and a sprinkling of salt. Enjoy chilled by the pool or under the shade of a tree.

Alternatively, serve in two mason jars.
Did you make my recipe?
I'd love to hear how you went! Tag me on Instagram @cookrepublic
disclaimer - This post was created in collaboration with SodaStream. Recipe and musings are my own.