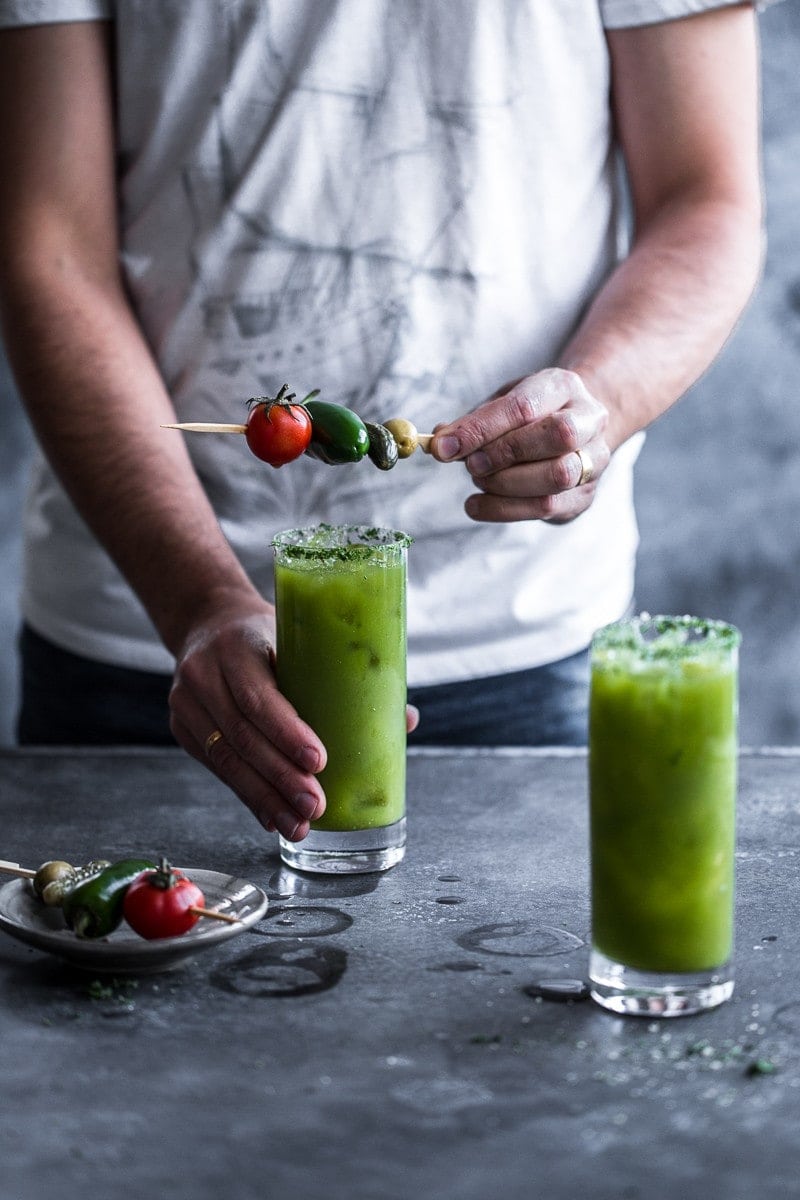 Nick and I met 21 years ago when we were starry eyed and 18. Within a month, we had forged a bond that went deeper than societal norms and expectations. It started with an easy going friendship that blossomed into love. We dated for the longest time – 6 years. Then came marriage and a couple of years later, the birth of our older boy. The once starry eyes were red rimmed with lack of sleep and the love was there but hiding under the covers with a bawling baby that refused to sleep. The years went by and another bubbly bundle arrived, this one feisty and determined to make his parents run around, as if moving countries and renovating the house of their dreams wasn't hard enough.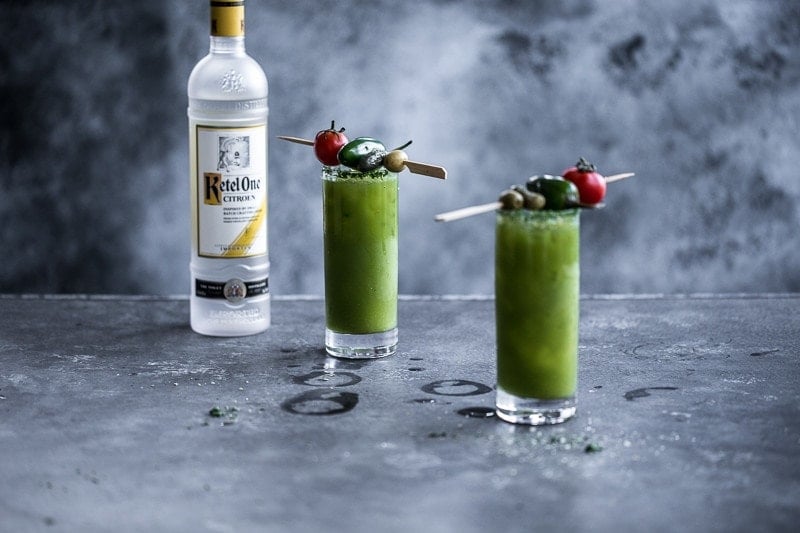 Through all those long nights and tired mornings, the bond that we had initially forged and our no-questions-asked friendship was what kept us going. Because our children were young and we had no family to rely on, we had virtually not had a date night in over a decade. When our second born hit the ripe old age of 5, something clicked. Both brothers became inseparable, allowing us a breather, a chance to be people again. Nick and I had always talked about making time for each other, so we decided that Friday night would be date night. The boys would be eager to watch a film then which would allow us to unwind in a cosy corner of our kitchen at the table for two. On my weekly trips to the farmer's market and fishmonger's on Thursdays, I started buying a dozen fresh oysters for Friday nights. Or rather, Cocktail and Oyster night!
I love cocktails, I love the care and creativity that goes into them. More than anything, I love how a special cocktail shared with a special person can light up your whole evening as you sit and chat and laugh and create a special moment in time. So Nick started experimenting with cocktails for me, apprehensively at first but with growing confidence as he got better. One of his most favourite liqueur to work with was Ketel One Vodka. Crafted in small batches and inspired by over 300 years of family distilling expertise, Ketel One Vodka was an instant hit on our date nights with its smooth, crisp and sophisticated taste. Creating delicious concoctions with vodka using fruit and herbs from the garden became Nick's duty while I created fabulous dressings for the oysters. It was a perfect match. Within a few months, we realised that we had had a date night every single Friday over a long stretch of time. It became our thing, something that we looked forward to all week.
And then, together we created this absolutely brilliant Green Bloody Mary using Ketel One Citroen flavoured Vodka which was infused with 4 different kinds of lemons and 2 different kinds of lime. Fresh, crisp yet soft and full of mouth puckering flavours. We spiked our Bloody Mary with fresh turmeric for that warming spice and finished it with an assortment of pickling veggies on top! Olives, jalapenos, cocktail tomatoes and gherkins! The gherkin is brilliant with the Bloody Mary, my most favourite of all the toppings. And the best part was that the cocktail was the most perfect dressing for the oysters. Two birds with one delicious stone!
Friday nights have never looked better and this Green Bloody Mary is one of our favourites as we can really go to town (no pun intended!) with all the crazy toppings (corn chips and hot salsa, I am looking at you!). A little ritual, a great ingredient and a whole lot of time together is the perfect recipe for putting the stars back in your eyes, even when you can hear Star Wars blazing guns on a telly two meters away. I hope you make this Green Bloody Mary, it is so full of nourishing ingredients and it is bloody delicious! Do you do anything special to make time? And rituals? Funny stories? I would love to hear all about it! And if you are a Bloody Mary fan, don't forget to comment and tell me about the most over the top Bloody Mary you've had!
Recipe
Hungry For More Recipes? Subscribe to my newsletter. Check out Facebook, Instagram and Pinterest to see everything I share! And if you love cooking and new cookbooks, join my free Cooking Club on Facebook!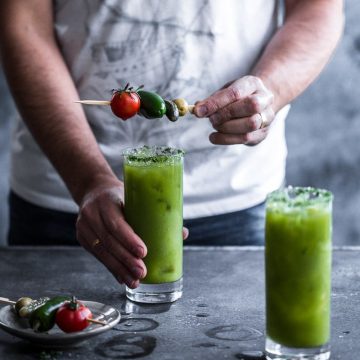 Ingredients
3

oz

(

90

ml

)

Ketel One Citroen Vodka

6

oz

(

180

ml

)

green Bloody Mary mix

celery salt

2

olives

,

to serve

2

gherkins

,

to serve

2

jalapenos

,

to serve

2

cocktail tomatoes

,

to serve

crushed ice

,

to serve
For the green Bloody Mary mix
4

medium green tomatoes

1

cucumber

1

large celery stalk with leaves

1

green apple

,

cored

1

inch

piece of fresh turmeric

1

jalapeno chili

,

deseeded

1

lemon

,

peeled, pith and seeds removed

1

lime

,

peeled, pith and seeds removed

1

tablespoon

green Tabasco sauce/hot sauce

¼

teaspoon

ground black pepper

pinch

of sea salt
For the celery salt
8

celery leaves

2

tablespoons

sea salt flakes

,

crushed
Instructions
To make the green Bloody Mary Mix
Place all ingredients in the jug of a blender and blend until fine and smooth. Strain the green mix in to a jug. Refrigerate until ready to use.
To make the celery salt
Wash and pat dry the celery leaves. Place them on a paper towel on a flat plate. Microwave on high for 30 seconds at a time, checking to see that the leaves don't burn. After 3-4 bursts of 30 seconds in the microwave, the leaves will be dry and papery.

Crush the dried celery leaves onto a flat, shallow rimmed plate. Add salt and toss to mix well.
To assemble the Bloody Mary
Prepare serving glasses by wetting the rim of two tall 300ml highball or long drink glasses. Dip the rim of each glass in the celery salt. Add a big scoop of crushed ice to each glass.

Pour vodka and green Bloody Mary mix in a cocktail shaker. Add a small scoop of crushed ice. Shake.

Pour Bloody Mary over the ice in the salt rimmed glasses.

Skewer an olive, gherkin, jalapeno and tomato on a cocktail skewer and perch on top of the Bloody Mary. Serve.
Did you make my recipe?
I'd love to hear how you went! Tag me on Instagram @cookrepublic
disclaimer - Post is sponsored by Ketel One Vodka. Sentiments, opinions, story and recipe are my own.