A beautifully thick and creamy soup that has no cream! Deceptively easy, this Cream Of Zucchini And Tomato Soup that tastes like a summer garden in a bowl is actually perfect for winter with the warmth from the generous amount of black pepper. Brimming with nutrients, this soup is cooked using the "sweat" technique which uses very little stock to create a rich cooked vegetable purée that has such an intense flavour. Just delicious!
Cooking Soups Using The Sweat Technique
I don't really know if this is an official term for how the vegetables are cooked, but I like to call it that because it is similar to sweating in a sauna or a hot bathhouse. I often use this technique for creating intense flavoured curry bases and sauces that are luscious and thick. The idea is to first caramelize the spices and veggies on medium heat. Then you deglaze the pan/veggies with a small amount of liquid, cover and let them sweat themselves to perfection. When you cover the pan, the steam that rises from the cooking drops back in the pan and keeps the perfect balance of liquid in the pot without drying anything out.
When you cook the soup with the lid on and later blend the soup contents on high until they are pulverized into a smooth emulsion, the resulting soup is so creamy that you don't need to add additional cream. Of course, you are free to add cream as and when you like. But this pure, unadulterated veggie goodness in a bowl is a really light and healthy lunch option on a cold day. The combination of zucchini and tomato is rich. Make sure you season the soup really well and add lots of freshly crushed black pepper for that hit of warmth. And don't remove the bay leaves. Blitz them through the soup for an incredible flavour hit.
Cooking Soups In The Ninja Foodi Cold & Hot Blender
This Ninja blender that cooks and blends all at once is perhaps my most favourite meal-prep appliance. Whenever I share this on Insta stories, I get asked a lot of questions about it. So, I thought I'll answer some of them here. It can be used as a standalone blender. It has a thick, heavy-duty glass jug (which I love!) and has an inbuilt plate that heats up and cooks food inside the jug while sautéing, blending, chopping etc. It is pure genius.
It also has pre-programmed buttons for hearty soup, smooth soup, dips, spreads, smoothies etc. I love the smooth soup function. I always add the base ingredients (garlic/onion) and turn on the sauté function. Once it's done, I add the veggies, stock and spices and turn on the smooth soup function. From there on it's hands-free. It spends the next 25-30 minutes cooking the soup and blending it to perfection while I am freed up to do other things in the kitchen. In the recipe instructions below, I have shared the conventional stove-top method of cooking this soup. But if you have this appliance, then just follow the sauté/smooth soup functions for this recipe.
Recipe
Hungry For More Recipes? Subscribe to my newsletter. Check out Facebook, Instagram and Pinterest to see everything I share! And if you love cooking and new cookbooks, join my free Cooking Club on Facebook!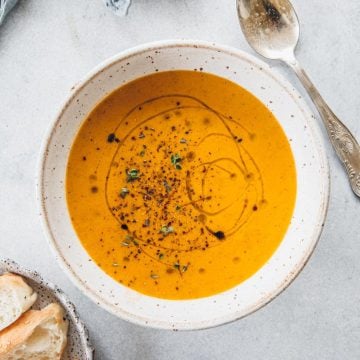 Ingredients
1

tablespoon

extra-virgin olive oil

2

small bay leaves

2

garlic cloves

1

brown onion

,

chopped

3

large tomatoes

,

chopped

1

large zucchini

,

chopped

½

teaspoon

dried thyme

½

teaspoon

dried oregano

250

ml

vegetable stock

Sea salt flakes and black pepper

,

to taste

Extra virgin olive oil

,

balsamic vinegar, crusty bread – to serve
Instructions
Sauté bay leaves, garlic cloves and onion in the olive oil in a large heavy-bottomed saucepan on medium heat.

When the onion start browning and turn soft, add the tomato, zucchini, thyme and oregano. Toss and cook on medium for 3-4 minutes until veggies start to gloss over.

Add vegetable stock. Mix well. Cover and simmer on medium-low for approximately 20 minutes. Remove from heat. Using a stick blender (or heat-proof jug blender), purée the soup until smooth.

Return to the saucepan. Season with salt and pepper. Add more stock if too thick. Gently heat for a few minutes until warmed throughout. Serve hot with a drizzle of extra virgin olive oil, balsamic vinegar and crusty bread on the side.

Soup can be cooled completely and frozen in freezer safe containers for 2-3 weeks. Cooled soup will keep well in a glass jar/container in the fridge for up to 3 days.
Did you make my recipe?
I'd love to hear how you went! Tag me on Instagram @cookrepublic