A delicious rockmelon smoothie that is the most divine soft pastel coral colour you've ever seen. A jar full of healthy nutrients, this honeyed melon milk is unlike anything you might have ever tasted. Sweet, floral, velvety, musky and creamy - a great smoothie to add to your weekly rotation when rockmelons (cantaloupes) are in season!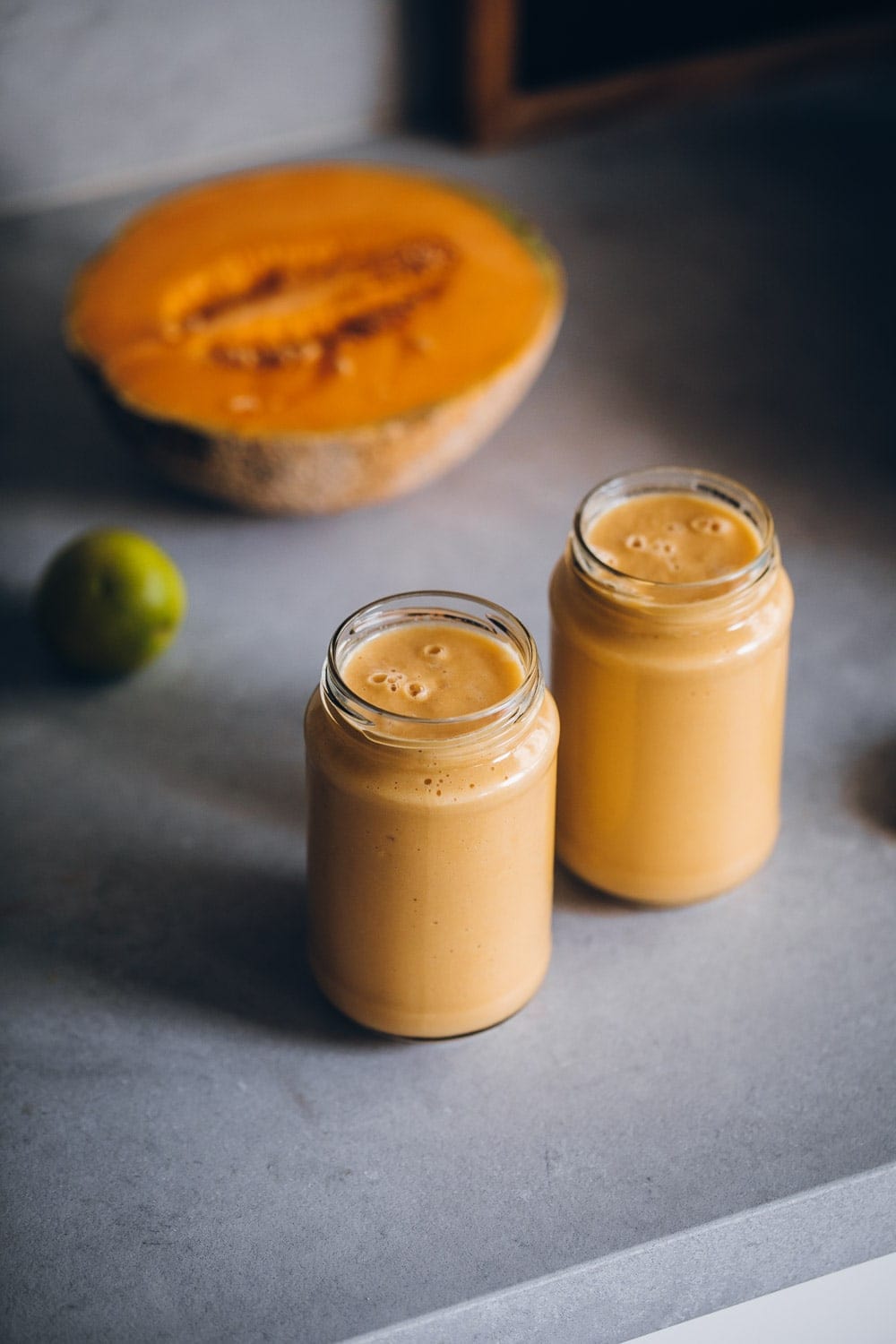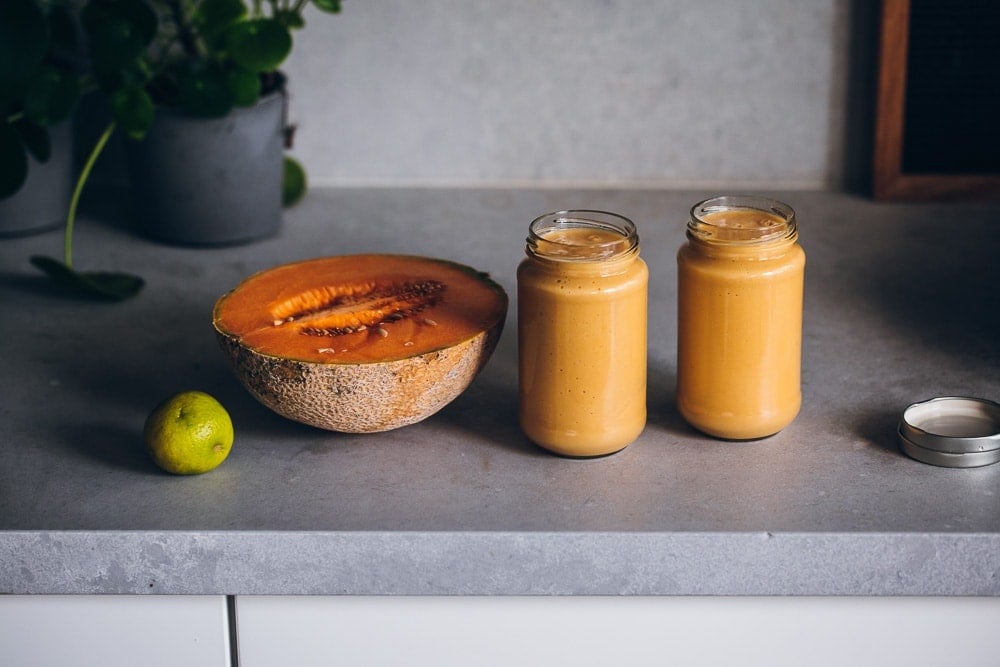 Rockmelon (Cantaloupe) - A Nutrition Powerhouse
We have all been told as children how important it is to eat fruit and veg of all colours. It isn't just an old wives' tale. There are immense health benefits in coloured produce, especially the red and orange ones. We drink our orange juice and chomp on carrots religiously but we are looking to expand our orange colour palette - a rockmelon (also known as cantaloupe in most of the world) is a brilliant alternative!
Named after the city of Cantaloupe in Italy where these were originally cultivated, cantaloupes are an excellent source of beta-carotene. In fact they have pretty much the same amount as carrots and much more than oranges, peaches, mangoes, nectarines and even grapefruit. Beta carotene is great for eye health, red blood health and immunity.
They are full of water, folate, potassium, fiber, zinc, manganese and a whole range of nutrients that are good for you. Adding a rockmelon to your family's weekly eating repertoire (if you aren't already doing it!) might be a great idea to boost some of those nutrients. And the best way to do that besides just eating them is to make this delicious Honeyed Melon Milk.
I have created this smoothie by matching the flavour profile of the melon with the ingredients used. Rockmelon is great with nuts, honey, coconut and citrus. I have boosted their flavour by a hit of lime along with some high strength Manuka honey and cashew butter to make a creamy decadent smoothie.
A note on picking a perfectly ripe rockmelon - Make sure your melon has a soft peachy, yellow hue to the skin with hardly any green. If there are green tomes to the skin, let it sit close to some bananas for a day to ripen. A perfectly ripe rockmelon will smell sweet and a little musky. The flesh will be firm and juicy. If the flesh is hollow and mealy, your rockmelon is too ripe. If you cut and use half of the melon, wrap the other half in cling film and refrigerate for up to 2-3 days.
Recipe
Hungry For More Recipes? Subscribe to my newsletter. Check out Facebook, Instagram and Pinterest to see everything I share! And if you love cooking and new cookbooks, join my free Cooking Club on Facebook!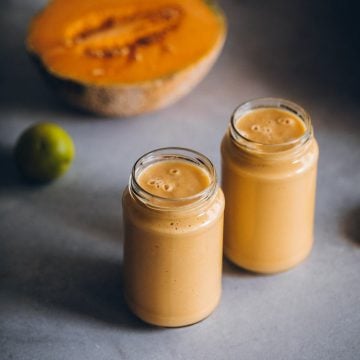 Ingredients
½

rockmelon

,

cantaloupe, peeled, deseeded and cut into cubes

1

lime

,

peeled

1

tablespoon

honey

1

tablespoon

cashew butter

1

cup

(

250

ml

)

nut/almond milk
Instructions
Place all ingredients in the jug of a blender and process until smooth.

Fill in 2 X 325ml lidded glass jars. Will keep in the fridge for up to 3 days.
Did you make my recipe?
I'd love to hear how you went! Tag me on Instagram @cookrepublic