When my boys were little, I used to often make them Noodlecakes. This Spaghetti Fritter recipe is a more sophisticated take on that childhood recipe and a perfect antipasti snack when you are hanging out in the evening around the coffee table during the school holidays deciding what movie to watch that night. Full of flavour, this crispy-edged, highly addictive snack is like eating a fritter version of cacio e pepe pasta.
Fritelle Di Spaghetti - An Italian Tradition
Years ago on a media trip to Adelaide, I had the pleasure of indulging in hot crispy pockets of golden spaghetti, cheese and pepper at one of the restaurants. A delightful starter, I was instantly smitten by the novel idea of turning leftover spaghetti (sauce and all!) into a fritter. I was informed by the chef that this was a humble Italian tradition prevalent in many parts of Italy where cooks and chefs alike put their own twist on this fritelle de spaghetti to cleverly use up leftover pasta.
I was very inspired by this idea and knew my feathered chickens would not be very happy but my other chickens (my darling boys!) would absolutely love it. You see, whenever I cook pasta at home, a tiny amount of cooked pasta is always leftover after I mix the right portions in the sauce. This leftover plain pasta gets tossed into the chicken run and my brood of six hens go absolutely bonkers over cold, slippery spaghetti.
Now my feathered chickens get less pasta and we get delicious, hot, crispy spaghetti fritters the day after we have pasta for dinner. And sometimes, I cook spaghetti, just so I can make these fritters. I would classify them as comfort food, something you have once and then crave when the rain is beating on your window and the tip of your nose is cold. If you plan to make these delightful spaghetti fritters, I suggest doubling the recipe. You won't regret it.
A Good Spaghetti Fritter
There are several small things to remember here but they make a huge difference to the finished fritter.
Cook your pasta till it is al dente. This should be achieved in just about 8 minutes. If you cook your spaghetti longer, it will absorb more water and get softer. This in turn will make your fritters dense and mushy. You want your cooked spaghetti to be firm enough to develop that nice crispy crunch.
Use 3 cloves of garlic. 4 if your cloves are tiny.
A lot of the saltiness comes from the cheese - whether you use parmesan or pecorino. But that is not enough. The thing to remember with fried and baked things is that if your batter tastes "just right" the finished fried/baked treat will be slightly less intense in flavour. To get the right taste "after" it has finished frying/baking, you must make sure that it is a tiny bit more intense in raw form. In the case of these fritters, you need to add a generous amount of salt and pepper (A good test is to add a bit and see if the batter tastes fine .. then add a bit more so it is veering on the edge of being a tiny bit salty. This is when it will be the perfect taste after pan-frying)
The small amount of flour holds the batter together and the panko adds texture.
A note about the pan I use – Because this batter has cheese in it, you want to fry the fritters in a solid/good frying pan. Non-stick is good but I don't use non-stick. It is either stainless steel or cast-iron. Cast-iron pans by Solidteknics and De Buyer are my daily staples. They have developed a gorgeous black natural non-stick coating with use. But I often find that cheese sticks to them on that rare occasion. So for this spaghetti fritter recipe, I use a thick, heavy-bottomed frying pan with a satin finish that is like magic because NOTHING sticks to it. This pan is the Sensuelle range from IKEA and it has impressed many a chef, cookbook author and tv personality cooking and shooting in my kitchen.
Salads To Eat With Spaghetti Fritters
Recipe
Hungry For More Recipes? Subscribe to my newsletter. Check out Facebook, Instagram and Pinterest to see everything I share! And if you love cooking and new cookbooks, join my free Cooking Club on Facebook!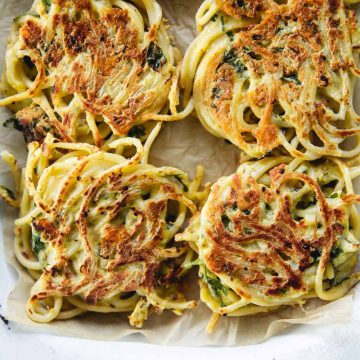 Ingredients
100

g

spaghetti

,

dry

4

eggs

,

lightly whisked

½

teaspoon

red chilli flakes

1

teaspoon

dried oregano

3

garlic cloves

,

minced

2

tablespoons

plain flour

½

cup

(

50

g

)

grated/shaved parmesan

½

cup

fresh parsley leaves

,

finely chopped

Generous amount of sea salt flakes and crushed black pepper

,

to taste

2

tablespoons

panko crumbs/ dried breadcrumbs

2

tablespoons

olive oil

,

to pan fry

Lemon wedges

,

extra virgin olive oil, pasta sauce – to serve
Instructions
Cook spaghetti in a pot of boiling salted water for approximately 8 minutes until al dente. (100g dry pasta will roughly yield 250g cooked pasta). Drain when done and cut the spaghetti strands in half.

Add cooked spaghetti, whisked eggs, chilli flakes, oregano, garlic, flour, parmesan, parsley, salt and pepper to a large bowl. Using a dinner fork, gently mix the spaghetti into the batter till everything is well incorporated.

Add the panko crumbs to the bowl and turn a couple of times with the fork until just mixed.

Heat a tablespoon of oil in a large stainless steel/non-stick frying pan on medium-high. Swirl the pan once so the oil coats the entire surface.

Using the same fork, twirl (roughly a large tablespoon worth) the spaghetti and batter and gently drop in a heap on the hot pan. Add three more fork full of the batter to the pan. In 2-3 minutes when you see the edges starting to brown and get crispy, gently flip the fritter over and cook the other side for another 3-4 minutes. Remove from the pan and onto a warm serving plate. Repeat with the rest of the batter.

Serve hot with lemon wedges, fruity extra virgin olive oil and your favourite pasta sauce for dipping.
Notes
Make It Gluten Free - Use gluten free spaghetti, gluten-free plain flour and rice crumbs.
Did you make my recipe?
I'd love to hear how you went! Tag me on Instagram @cookrepublic