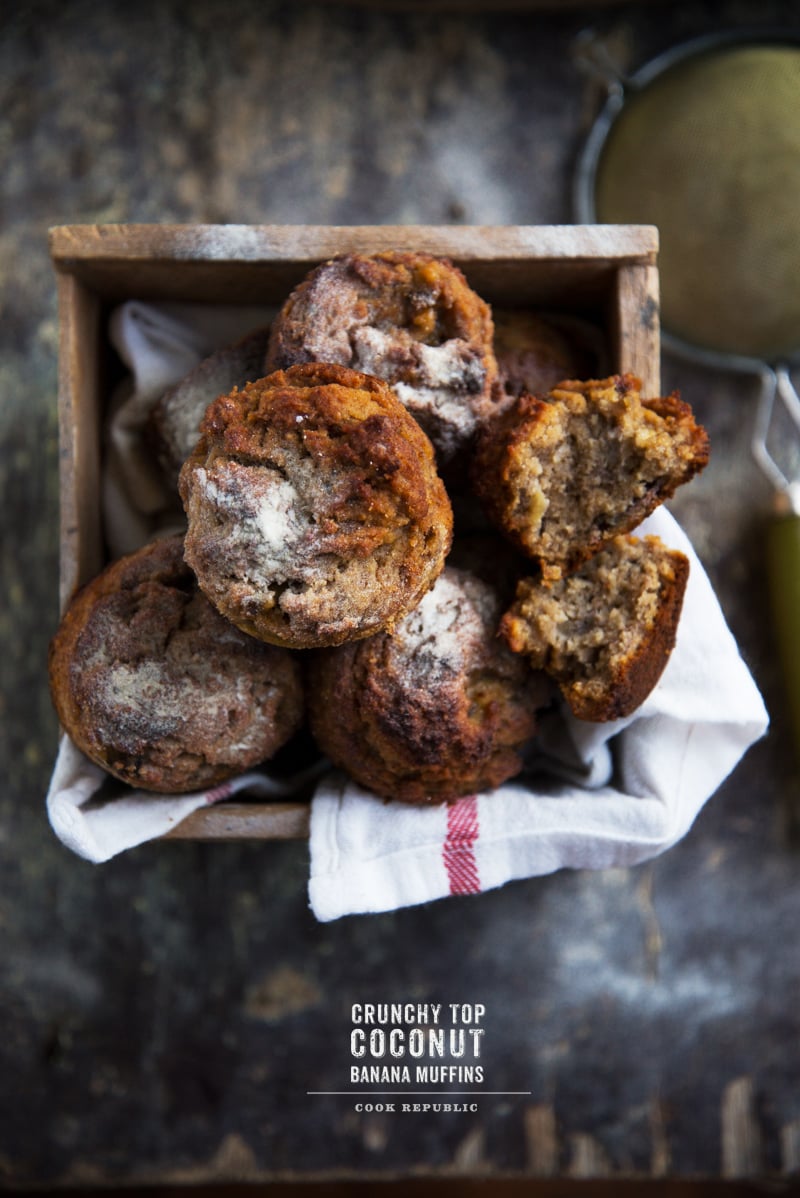 Muffins are not the prettiest to look at. Especially if they are homemade. And especially if they are baked by me. For a very long time, I was disillusioned. I would put the batter in the prettiest paper cases, make sure I filled the cases right and chided myself into thinking they would come out like works of art. But they came out looking like Cinderella's ugly step sisters. Every single time. Now I don't bother. At least they taste like Cinderella, if she was a muffin that was. And I can live with that.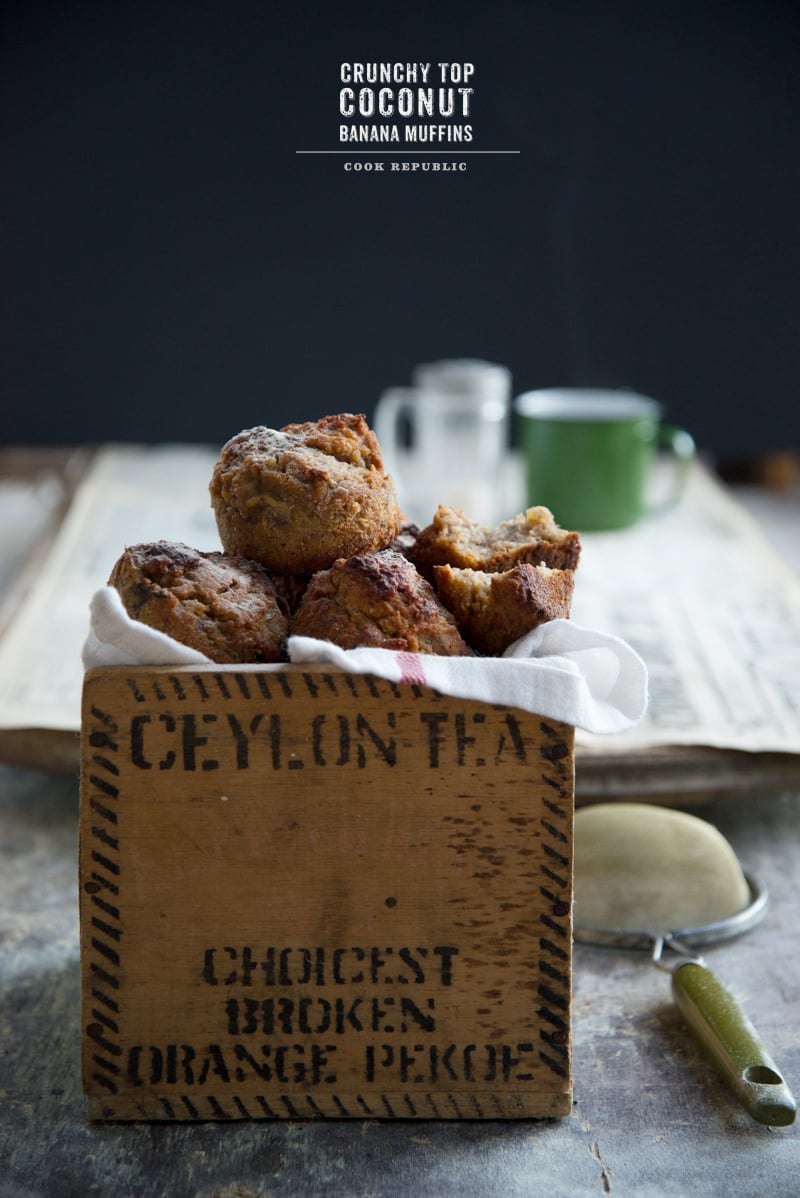 Muffins are lumpy and dense when they go in the oven. There the magic happens and they come out dressed for the ball, still rough around the edges but deserving of a glass shoe. Fairy tale references aside, muffins can be frustrating to look at and present. But in my honest opinion, they taste much better than their paper case counterparts except for friands. So for this recipe, I played Dr. Moreau and created muffins that were a cross between cupcakes and friands but with the simplicity of a barely mixed muffin. I then stripped them of all pretenses (read plain brown paper case) and glamourised them with vanilla sugar till they looked almost pretty. I absolutely loved them. You will too!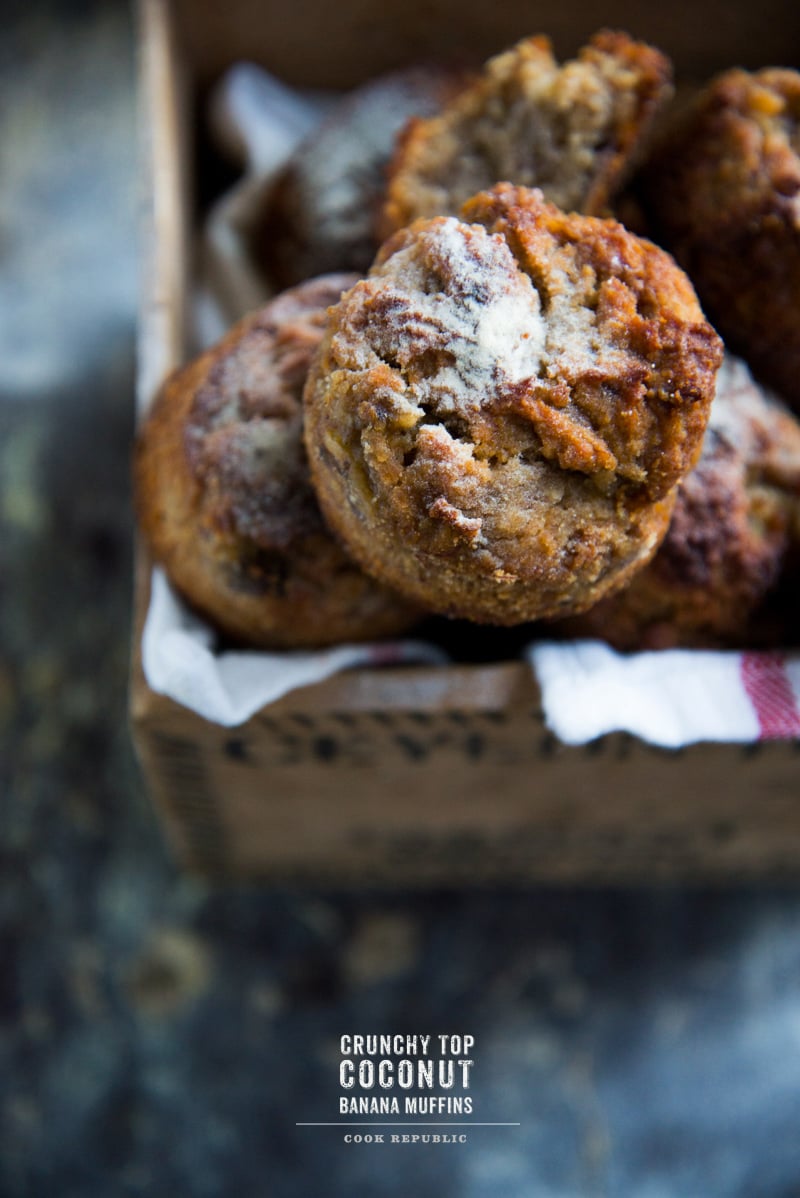 Food Styling, Photography & Prop Alert - Tea Towel $2 from Ikea. Rustic board stolen (well not really, I think she saw me!) from my neighbour's garden trash. Wooden Tea Box - $8 from Pioneer Antiques in Barossa. Vintage Strainer - $6 from Pioneer Antiques in Barossa. Enamel Cup - $1 from Pioneer Antiques in Barossa. Sugar shaker - $1 from The Curiosity Shop in Hornsby. Vintage Newspaper from Barossa.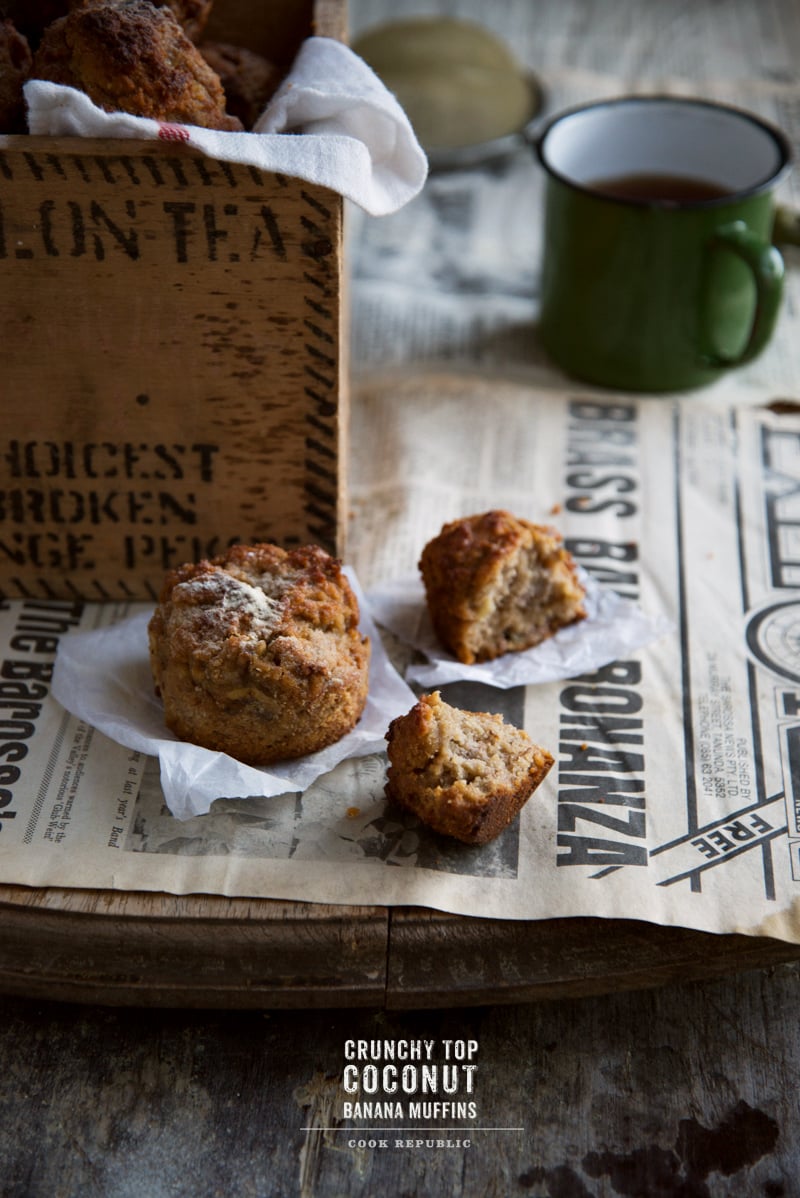 [print_this]
CRUNCHY TOP COCONUT BANANA MUFFINS
The simple banana muffin gets a facelift with a generous dose of coconut flour, almond meal and spices. The result is a fudgy, almost friand like golden muffin with a crunchy top.
Makes - 12 to 15 large muffins
Ingredients
1 cup wholemeal spelt flour
1 cup coconut flour
1 cup almond meal
6 over ripe bananas
4 eggs
3/4 cup raw sugar
250 ml rice bran oil
3 teaspoons baking powder
1/4 teaspoon salt
2 teaspoons ground cinnamon
1 teaspoon ground nutmeg
raw sugar or cinnamon sugar for sprinkling
Method
Preheat oven to 190C (375F). Line a large 12-hole muffin pan with paper cases (I used the high cafe-style brown paper cases).
Combine eggs and sugar in a large bowl. Beat with an electric beater for approximately a minute. Add the oil and continue beating for another minute until light and fluffy.
In a separate bowl combine the flours, salt, spices and baking powder. Stir with a fork or spoon to mix well. Add the wet mixture to the dry mixture alongwith the bananas. Using a wooden spoon and very gently mix the batter, moving in one direction until just mixed and slightly lumpy.
Spoon batter into prepared cases, each two thirds full. Sprinkle some raw sugar or cinnamon sugar on the batter. Bake in preheated oven for approximately 20 to 25 minutes until cooked through and golden on top.
Serve warm with some lovely butter or cool with a dusting of vanilla sugar.
My Notes
This recipe can be made gluten free by substituting the spelt flour with a gluten free flour and regular baking powder with a gluten free version.
You can sprinkle shredded coconut on the batter before baking for added crunch.
If the bananas are very overripe, you can reduce the amount of sugar to 1/2 a cup or even 1/4 cup if you prefer your muffins not very sweet.
The mixture is very wet. Don't be afraid.
[/print_this]