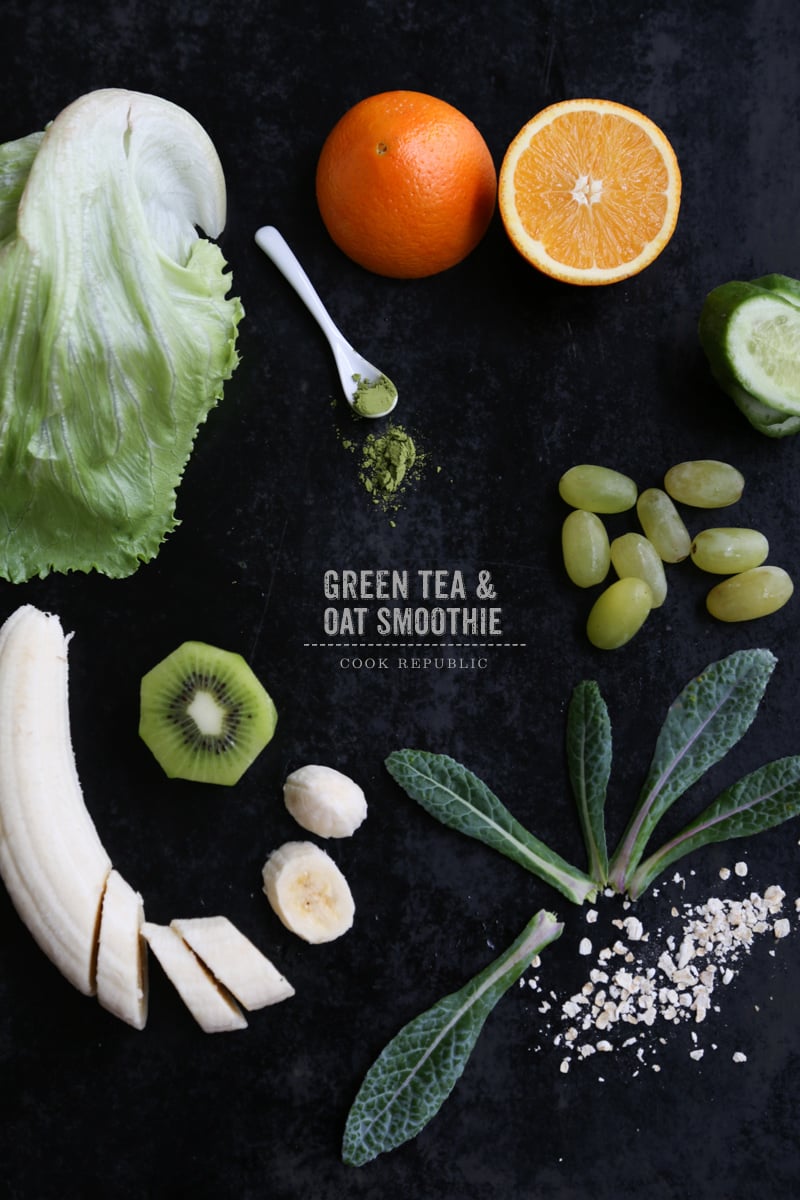 For the past few days I have been having this beautiful green tea and oat smoothie for breakfast. I have a Vitamix blender visiting me for a couple of weeks and I have been enjoying his (yes, all my kitchen helpers are big strapping males. I don't have a fetish I promise!) company a lot. The smoothies that this Vitamix makes are oh so smooth (not very creative wordplay, I know!) but they really are. And McCreamy!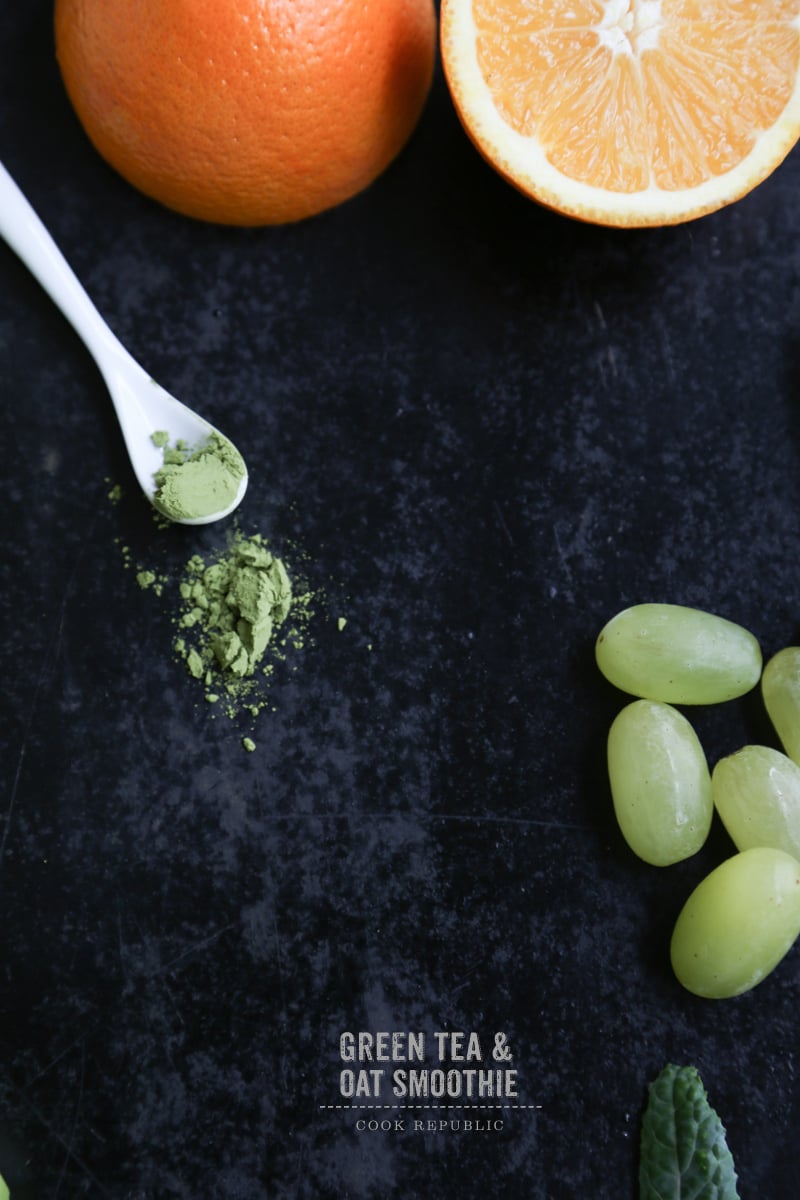 After blitzing smoothies all week for the Vitamix photo shoot, I realized that smoothie making was a science too just like cooking. You found your base ingredient and your dominant ingredient and you worked your way up to find fillers that would maintain the creamy consistency and not separate the liquids and solids. Colour was so important. The smoothie had to be healthy and yet looking appealing enough to consume without losing it's identity in an explosion of spinach green.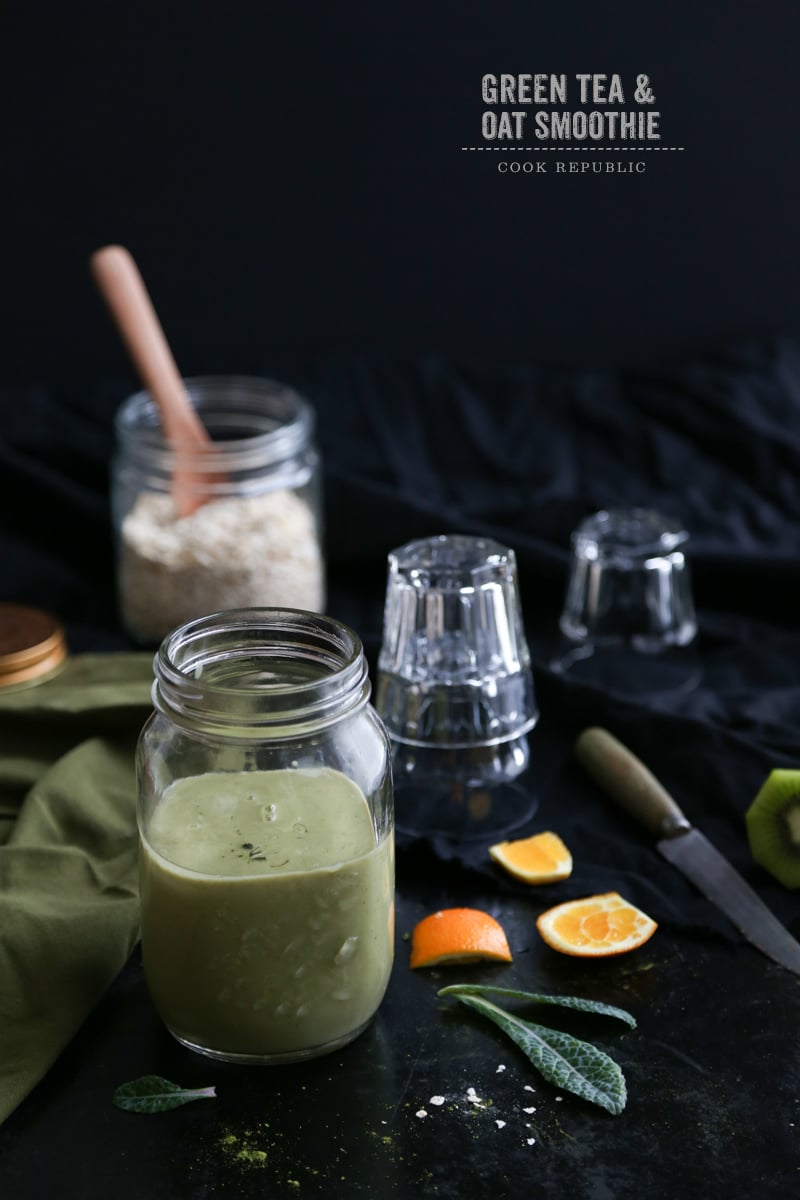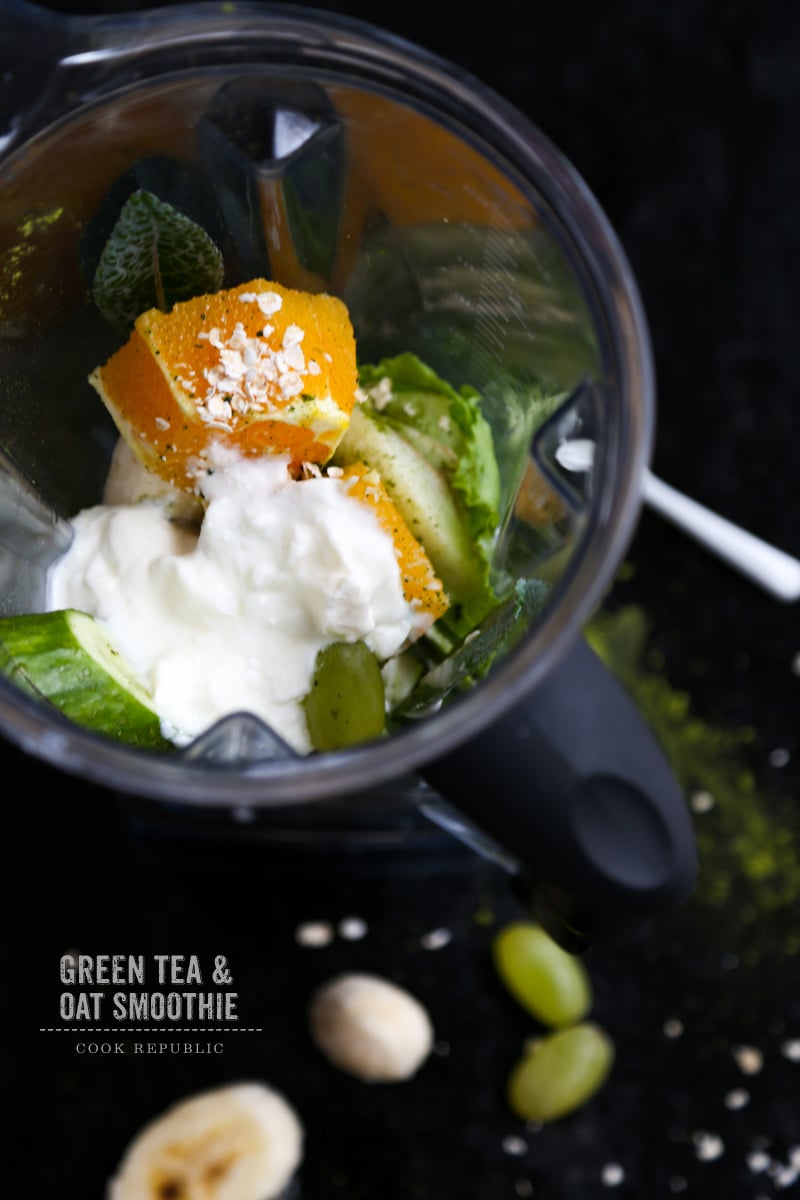 I have a bit too much on my plate right now and I don't need yet another thing on it. But since the Vitamix 7@7 challenge is going to be in a glass, I feel like I can make an exception. The challenge is to pack 7 fruits and veggies in a blender for a nutrient rich breakfast before 7am for 7 days. It is a challenge I can get very creative with. For my first day I expanded on the beautiful matcha smoothie I was so addicted to especially for it's colour. The designer in me loves the muted and moody sage tones with a hint of pale duck egg blue of this smoothie. I feel nourished from the inside and it is a wonderful feeling.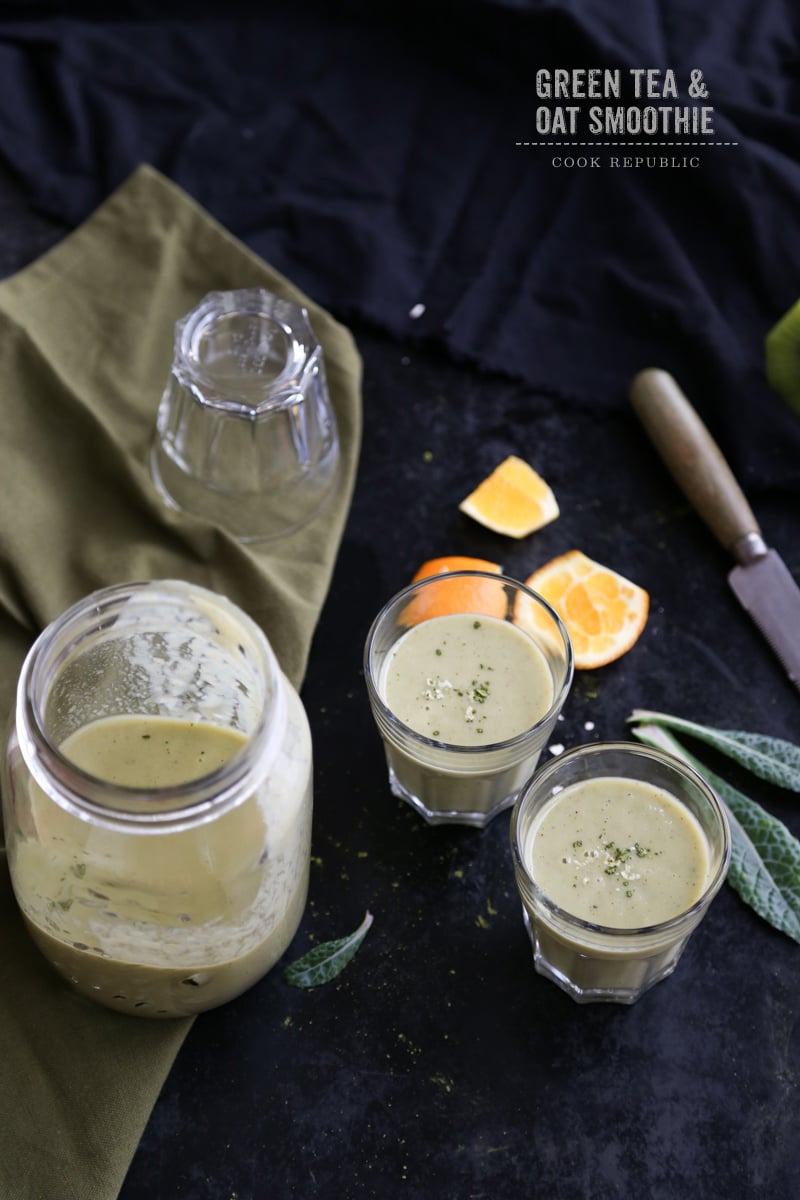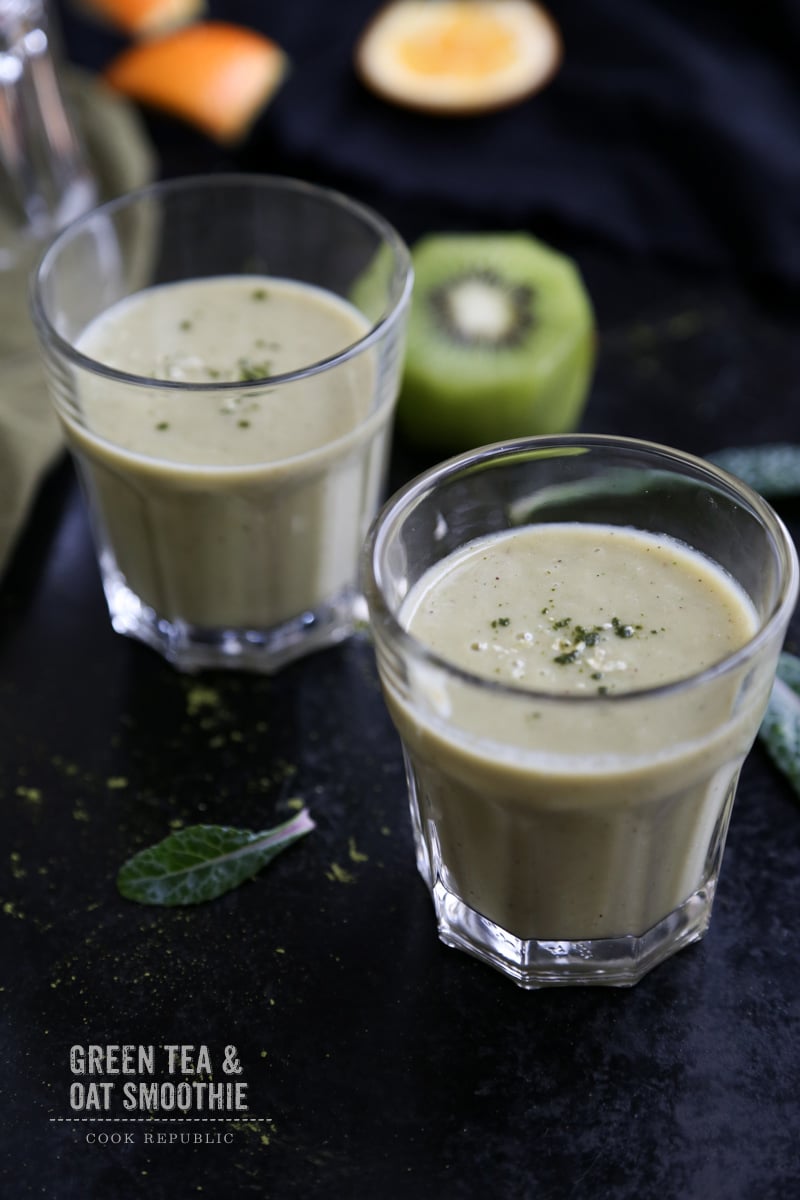 Photography, Styling And Prop Alert - Canning jar from Wheel & Barrow. Green Napkin from Target. Vintage Knife from Pioneer Homewares, Barossa. French glasses from Ikea. White ceramic spoon from Wheel And Barrow. Oat Jar from Coles. Wooden Spoon by Attia.
PS - These shots are the first photos from my spunky new Canon 5d Mark III. I will talk about that in length soon, but all I want to say for now is that I am in love!
[print_this]
GREEN TEA AND OAT SMOOTHIE
A nutrient packed green smoothie brimming with the goodness of 7 fruits and vegetables on a yoghurt base and spiked with beautiful matcha and oats.
Ingredients
1 ripe banana, peeled
1 orange, peeled
1/2 kiwifruit, peeled
1/3 cucumber
1 large lettuce leaf
handful of Tuscan kale leaves
handful of grapes
1 cup Greek yoghurt
1/2 cup chilled water
1 tablespoon instant oats
1/2 teaspoon matcha (green tea powder)
Method
Put all ingredients in the jug of a blender and blitz until smooth and creamy.
My Notes
You could skip the oats if your blender isn't powerful enough. Using pure protein powder is an option.
Yoghurt could be substituted with soy milk.
[/print_this]