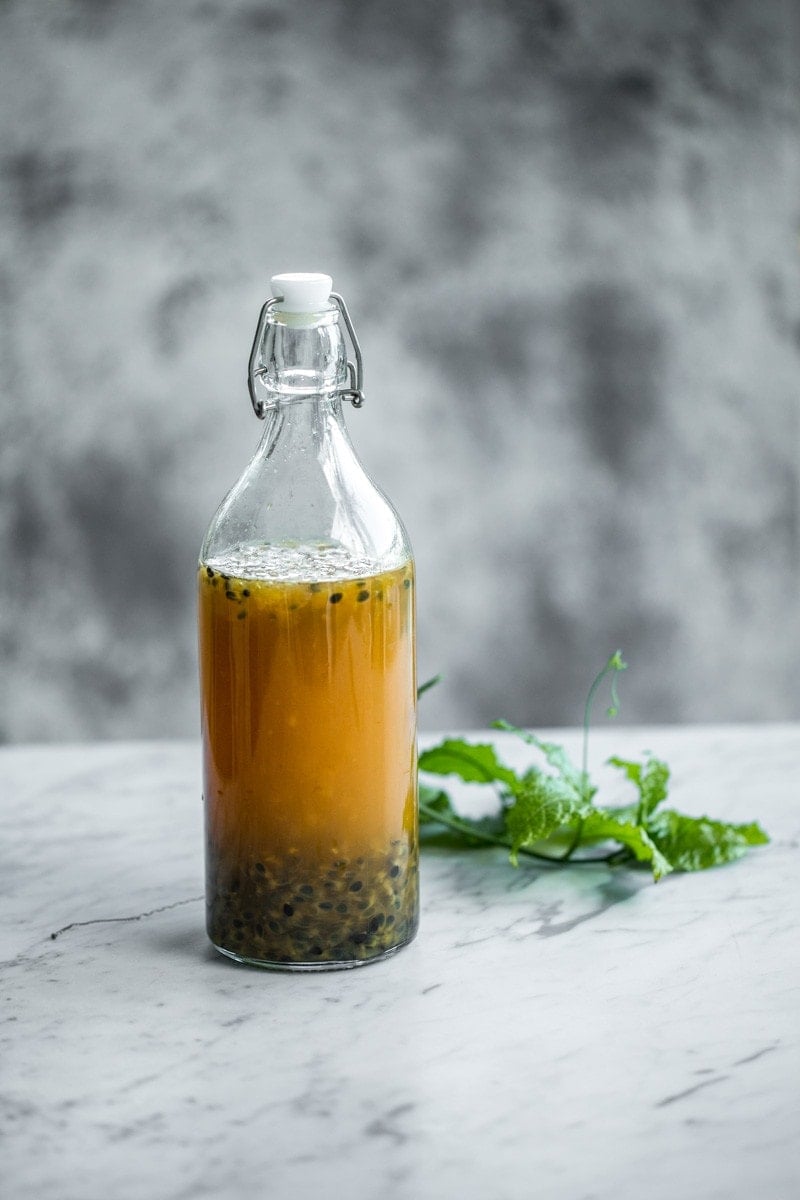 I am amazed that we still have a steady trickle of plump passion fruit at the markets. I am also amazed that we are still wearing skirts and tank tops when autumn has almost gone. Maybe the two are related. Maybe it was the wrong year to buy a very chic, very warm wool cape. Or that snuggle fest of a rust toned generous shawl. Whether or not I christen the wool cape, Friday evenings sipping something cool poolside is definitely something I am getting used to. Like this gorgeous homemade passionfruit cordial that has no refined sugar and works brilliantly with homemade carbonated water for casual sipping or as the base of a fancy gin and tonic concoction that Nick made on my behest.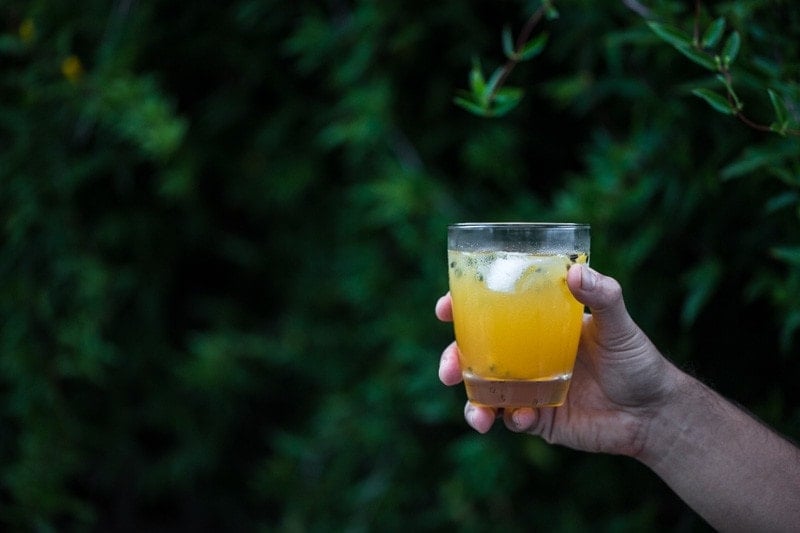 I love small batch everything. Jams, pickles, butters and cordials. I love the fact that you can create fancy flavours and healthier versions too, combos that you would be hard pressed to find at the stores. My boys were never cordial drinkers, it was freshly squeezed juice all the time. But now that they are older, Nick and I find more time to create a cocktail or two for ourselves as a treat for being over worked parents throughout the week. And small batch cordials are the thing to have handy if you are into that kind of a thing. This passion fruit cordial will last a week in the fridge and will make approximately 10 glasses of something delicious to sip on, whether it has alcohol or not. Cocktails, mocktails or icy poles. The possibilities are endless.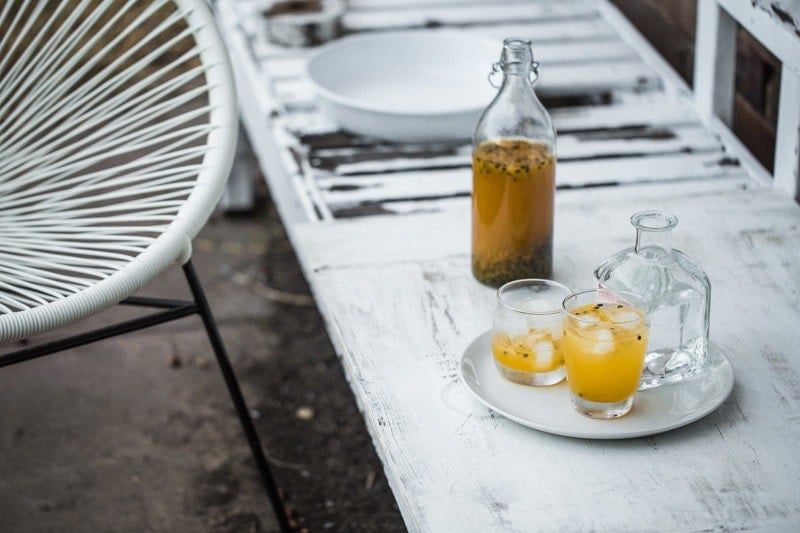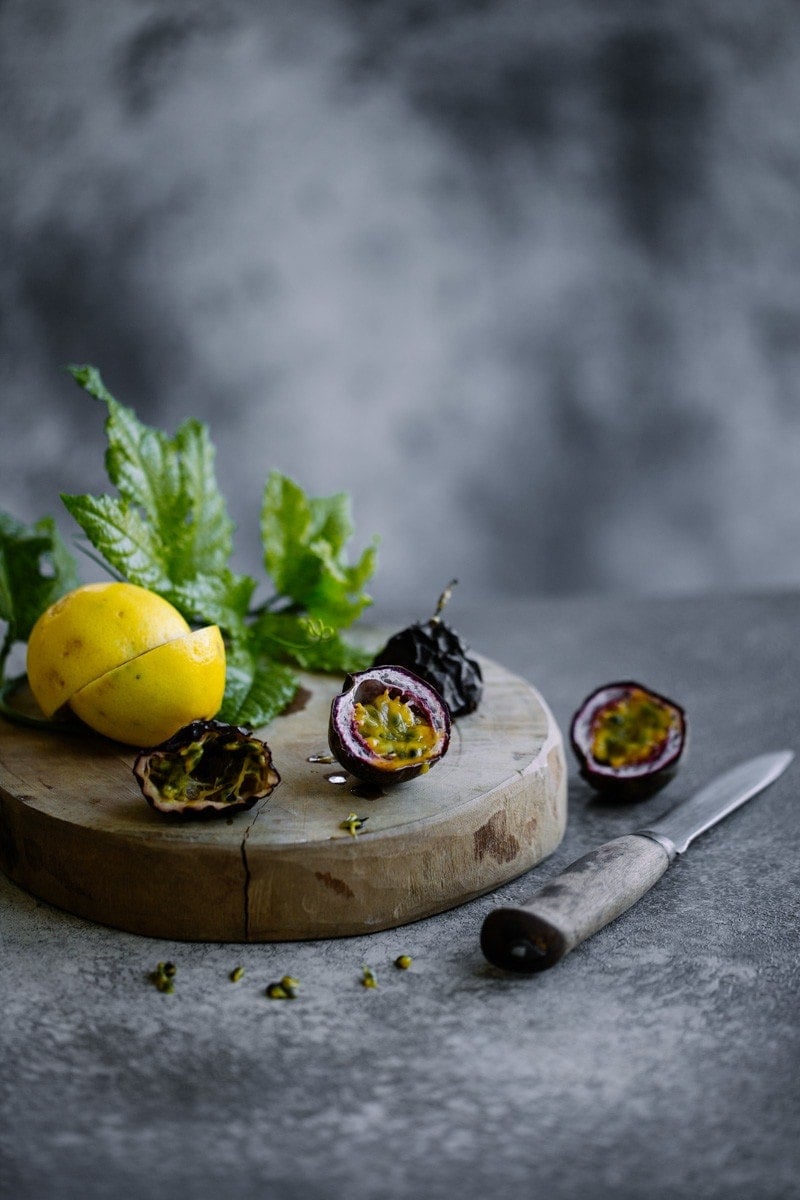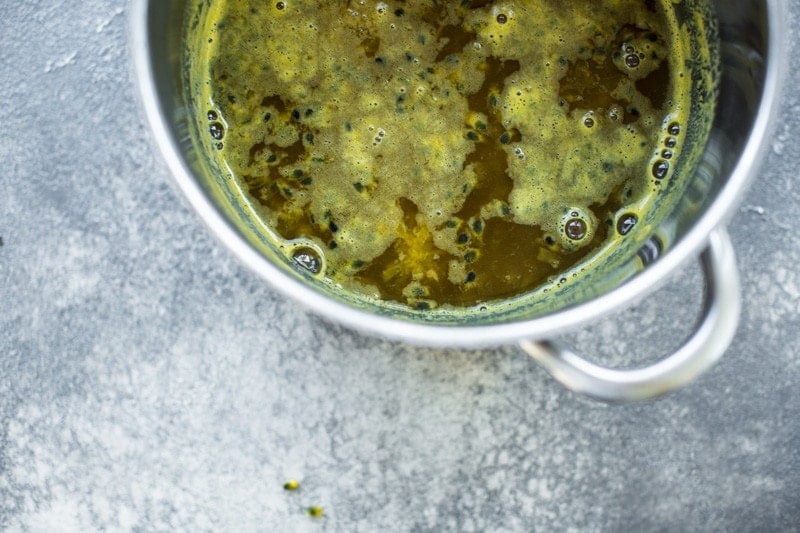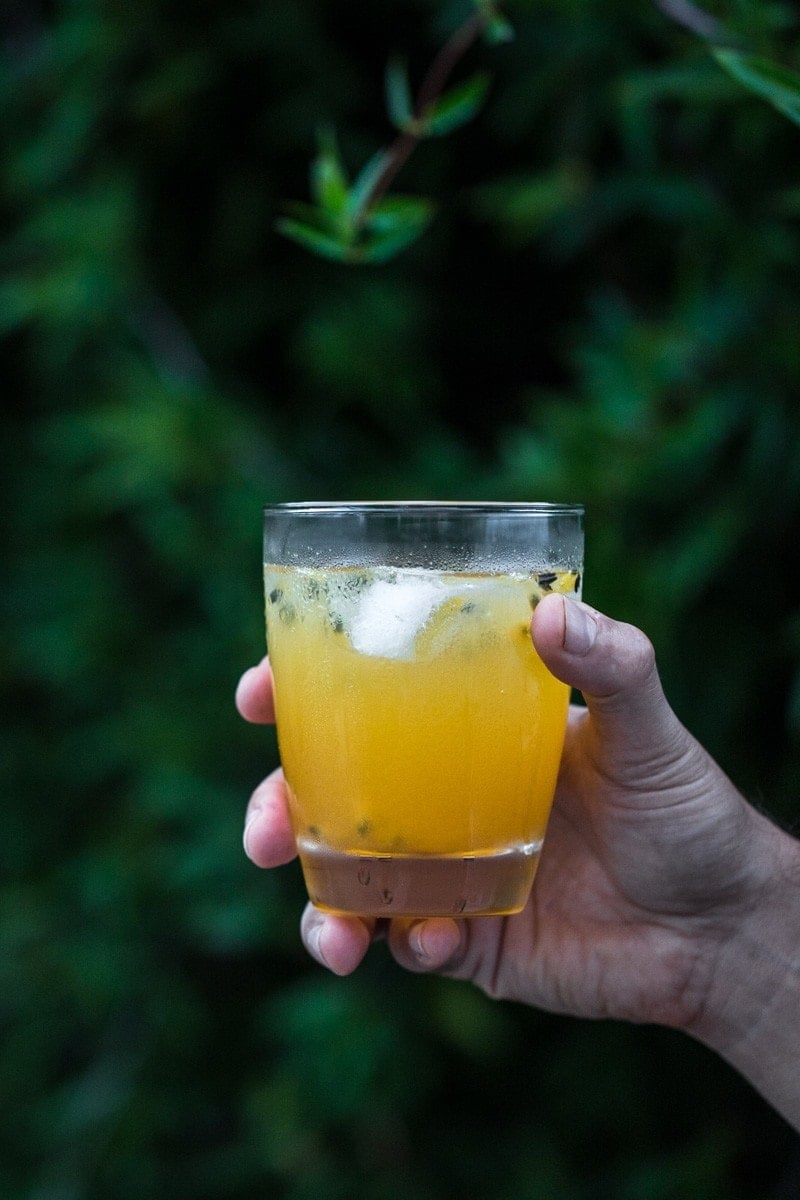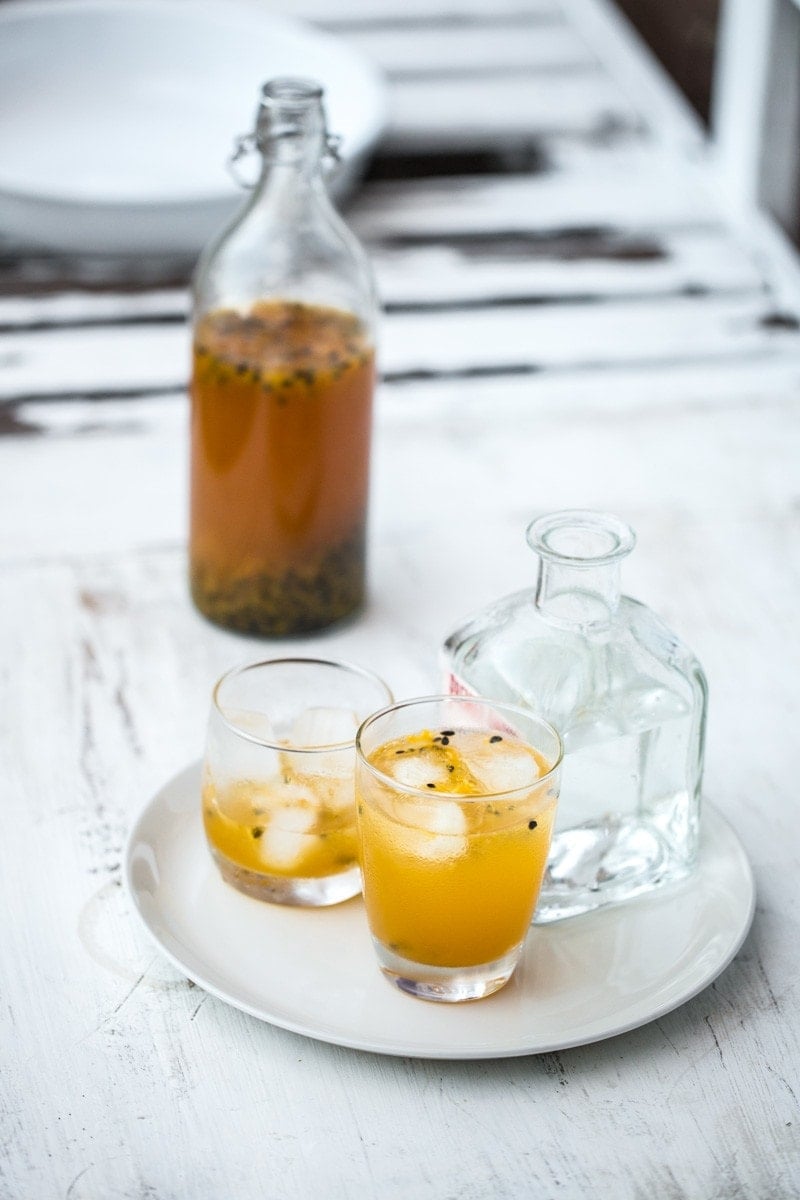 In non-food related news, I have indeed slowed down and regained some of my sanity back. My foot injury is a lot better (although it will never go away). I have created a couple of cosy reading zones around the house and have taken up reading in earnest. I have read some great books, blogs and articles and have come across a few books I just couldn't get into.
Here is a list of what has taken my fancy these past few weeks in the true spirit of slowing down, nesting, treasuring the moments etc etc ..
> Harvest, a blog by Renee Kemps.
> Lean + Meadow - photos and writings.
> Downton Abbey may have long finished and I might be missing all the fuss and tea that went on upstairs and downstairs, but we have started setting out table for dinner. Nothing fancy, just knives forks and spoons in a bid to be a tad more civilised. So I found this super interesting.
> If you are into cooking more vegetables all the time, you might find this handy.
> This sheet pan meal of spicy chicken tikka, caulis and potatoes is on the menu for this weekend.
> If you are planning to serve mum scones on Sunday for mother's day, start this clotted cream recipe today. Super easy and to die for.
> I think I have finally mastered cutting an avocado into thin slices and fanning them out without making it look like a two year old has mashed and bruised them to bits. After about two years. Making a rose is just the next logical step towards progression. Check with me in three years!
> Did you know you could grow every single herb indoors?
> Jasper Jones. I finally read it. Grabbed me from the get go. My imagination ran wilder than the author's so it fell flat towards the end. But then I couldn't stop thinking about it. Isn't that what a good book is supposed to do?
> Can reading make you happy?
> Marie Kondo's first book inspired me to shed my possessions, to regain time and energy in my life. I did. I Marie Kondo-ed four of my rooms (yes, totally using her name as a verb because it is a thing!) and in the past two months, I honestly take 5-10 minutes to tidy up each room. And two of them belong to the boys where the tidying up is their job.  Her second book is not too different from the first but inspirational nevertheless because it gives you the courage to find true joy amongst what remaining possessions you have and recognise the true meaning of usefulness and happiness for those of us who are always attracted to too many things (stylists, hoarders, bargain hunters, sentimentalists). I have been contemplating a huge prop sale for a while and think now might be the time to do it.
> Me Before You. This book destroyed me. I bawled like a baby. I became obsessed. I couldn't get over the malarkey, the grief, the joy. I still think about it.
> Continuing to tend and add to my house plant family with a fiddle leaf in my bedroom next to my reading chair, Devil's ivy in the bathroom under the skylight and fascinated by the science of low light and how it affects indoor plants.
> Loving this happy and delicious new publication on Australian shores.
I would love to know about books and blogs you are reading. Please do share as I am always looking to discover new reads. And Happy Mother's Day to you and yours. Have a great weekend folks! xx
Hungry For More Recipes? Subscribe to my newsletter. Check out Facebook, Instagram and Pinterest to see everything I share! And if you love cooking and new cookbooks, join my free Cooking Club on Facebook!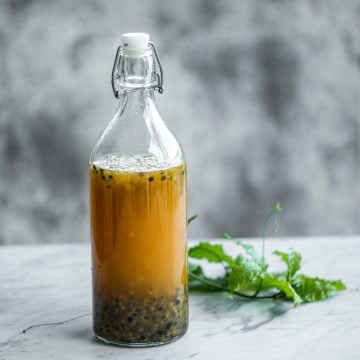 Ingredients
1

cup

(

200

g

)

passionfruit pulp

2

cups

(

500

ml

)

water

1

cup

(

250

ml

)

maple syrup

1/2

cup

(

125

ml

)

freshly squeezed lemon juice
Instructions
Place all ingredients in a large, heavy bottomed saucepan on medium heat.

Bring to a boil. Reduce heat and simmer for 5 minutes.

Remove from heat and cool completely.

Pour in a clean and dry glass bottle. Seal with a lid. Store in the fridge for up to 3 weeks.
Did you make my recipe?
I'd love to hear how you went! Tag me on Instagram @cookrepublic