A sizzling wok of perfect rice noodles tossed with big juicy Yamba prawns, slices of charred tofu, crisp snow peas and the sweet, sour, salty, spicy flavours of the most beloved Asian takeaway dish - Pad Thai becomes a speedy weeknight dinner. Fresh and flavourful, you will want to make this every week!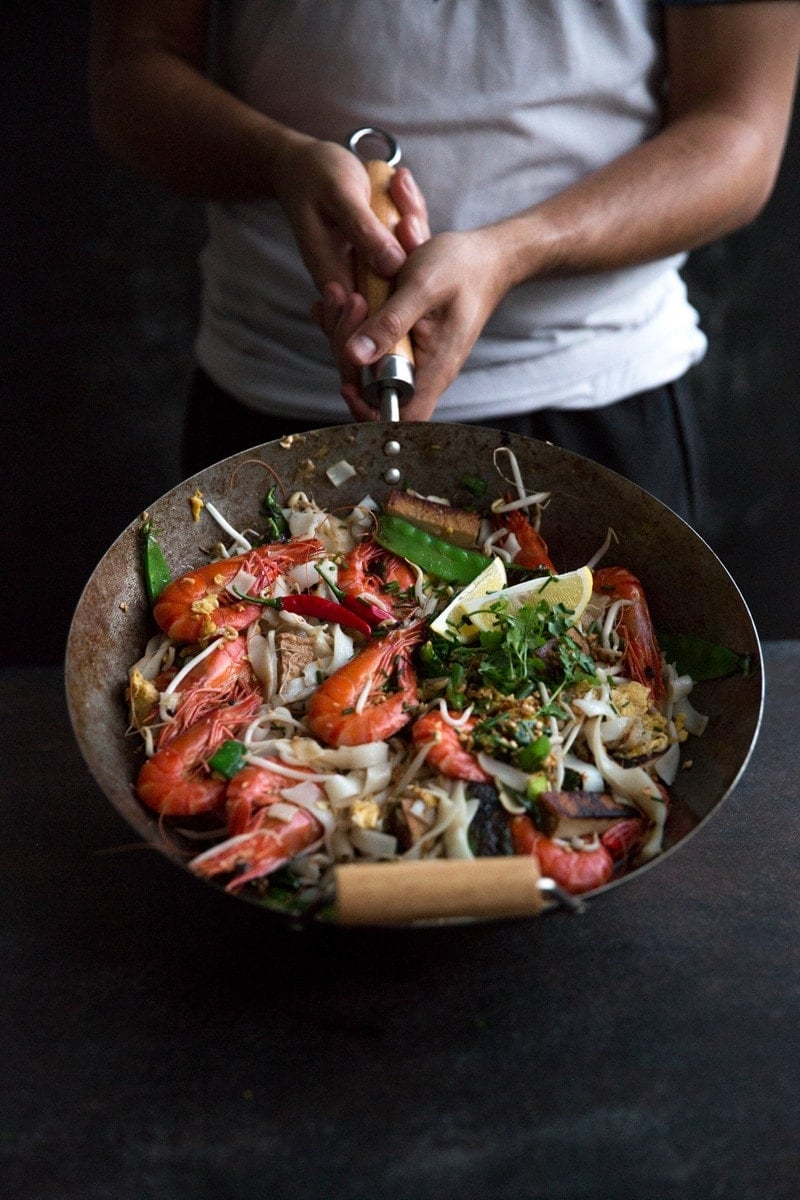 There are Pad Thai fanboys (and girls!) out there. I am one of them. If we are dining at a Thai restaurant, I order it. If we are being lazy and ordering Thai takeaway in the weekend, I order it. And for a dish that has achieved cult status, it ends up being different every single time. A delicious revelation on one occasion and a frustrating disappointment (I can't believe I paid $12.90 for this!) on another.
Some versions are sweet (too sweet with a syrupy sauce) and some are fiery. Some have noodles stuck together like chewing gum to the roof of your mouth while others have hard noodles that barely manage to hold on to the sauce while some are too oily. But when its good, oh it is good! And each good version has its own fan following.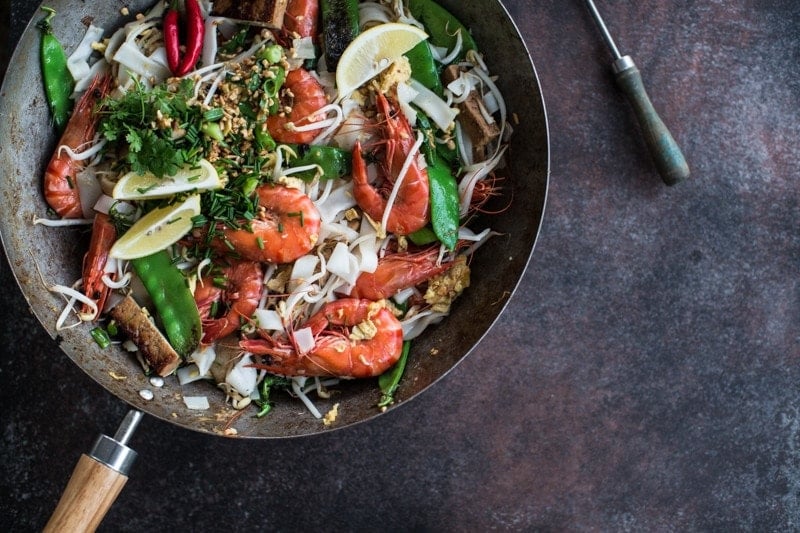 I like my Pad Thai big on flavour, a mouthy cornucopia of textures leaning heavily towards sour, salty, spicy with just enough sweetness to balance it all. I like my greens glossy with a crisp bite. I like my noodles soft, supple and ready to roll with the sauce. I like a bit of crunch and heaps of fresh toppings.
With these as my base guideline, I then create a fast stir-fry Pad Thai dish using whatever ingredients I have on hand often making a veg version with just tofu or jazzing it up with whole cooked prawns from the fish market. Prawns get replaced by poached chicken, snow peas are swapped for snake beans and broccoli. If I run out of peanuts, cashew nuts get crushed and added to the wok. And that is the whole premise of a dish like this. It is versatile, fresh and quick.
Now I must've cooked this a thousand times (without sounding like Adele!). I use commonly available ingredients that are easy to find and stock. The traditional Pad Thai recipe has tamarind which is one of the only ingredients I have omitted in my version. Very often, I follow the recipe below exclusively. And there are a few things I'd like to point out which will hopefully enable you to make a good Pad Thai in the sanctimony of your kitchen.
Pad Thai 101
1. Noodles - Glass noodles are rice noodles that look translucent in their dry form. They are available in Asian supermarkets or Asian sections of regular supermarkets. They are also called rice sticks. You don't need to cook these on the cooktop in a pan of boiling water. Rather, you should be soaking them in hot boiling water (see recipe method below) as they cook incredibly fast. This method avoids the noodles becoming gluggy and the Pad Thai becoming a big sodden mess. Alternatively, you can buy cooked rice noodles from the fridge section of Asian supermarkets. These can be used straight up and need no cooking or soaking.
2. Wok - I use a carbon steel wok that I have had for decades. I bought it quite cheap in an Asian market. If you cook on gas, that is great as woks respond very well to fire and get that inner smoky char going. I cook on an induction cooktop. So it is quite a challenge to get the same effect. I turn my heat level to the highest and let the wok smoke a bit with the oil added in. A non-stick or plain steel wok won't give you the same flavour a good carbon steel wok will.
3. Size - Your wok needs to be big. If you are cooking for two or three, make sure your wok is at least 30cm. If you are cooking the recipe below which is to serve four or six people, then your wok needs to be 36cm or 40cm. My wok (pictured) is 36cm(14in) and it does the job although I would've liked it to be larger. But because I cook on induction and there are no flames licking up the sides of the wok, I can only cook in a 36cm efficiently without losing heat. A large wok will allow you to toss things around expertly so that everything gets coated and heated evenly.
4. Prep - I always read my recipe several times and assemble ingredients as I would like to use them. So if tofu needs to be chopped, eggs need to be lightly beaten or garlic needs to be minced then I will do that and have everything ready in bowls. The key to a good Pad Thai (or any Asian stir-fry) is the high heat and speed. Often ingredients just need to sizzle in the hot wok for a few seconds or a minute or two. Having everything assembled and handy is a must.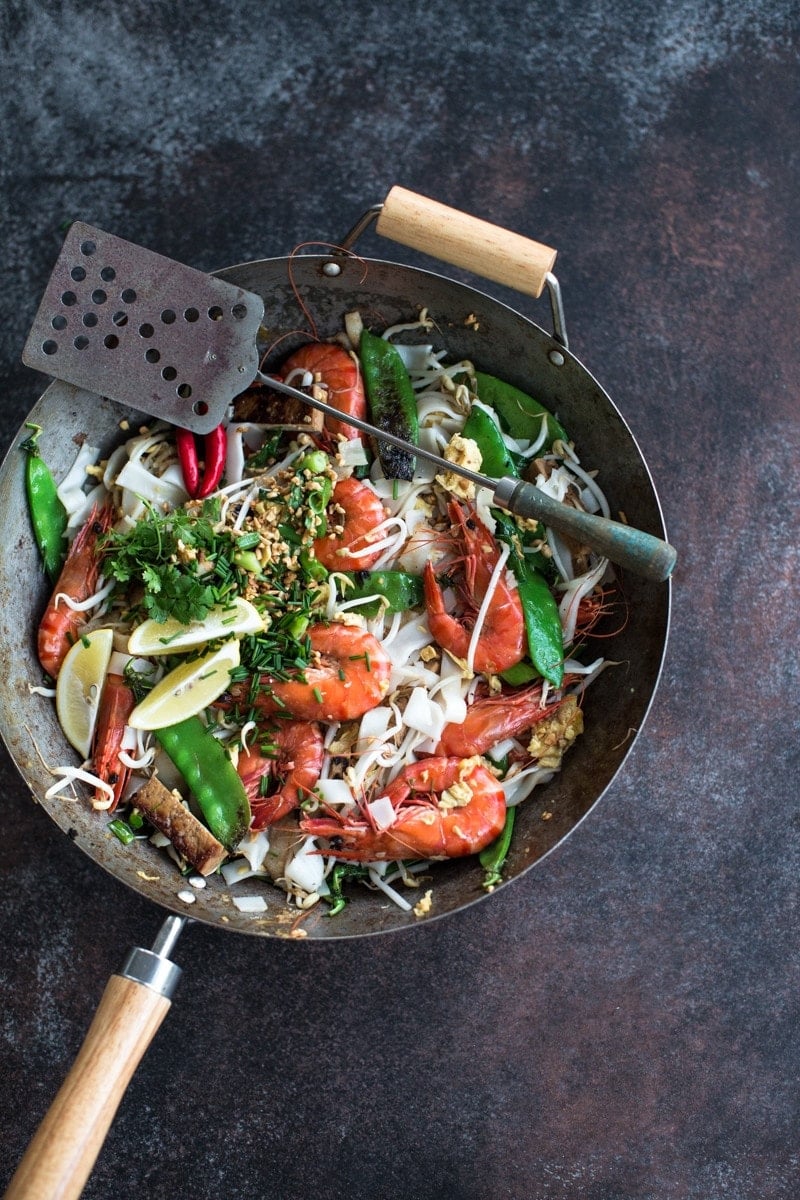 I hope before long, this Pad Thai recipe becomes a regular in your cooking repertoire. Do rate it if you like it when you leave a comment below. Don't forget to share your creations with me using #cookrepublic on Instagram or sharing on Facebook. Subscribe to get recipes and helpful cooking tips like these straight in your Inbox. Do you love Pad Thai as much as I do? Do you make it at home? What are your tips and tricks for a mean Pad Thai dish?
Recipe
Hungry For More Recipes? Subscribe to my newsletter. Check out Facebook, Instagram and Pinterest to see everything I share! And if you love cooking and new cookbooks, join my free Cooking Club on Facebook!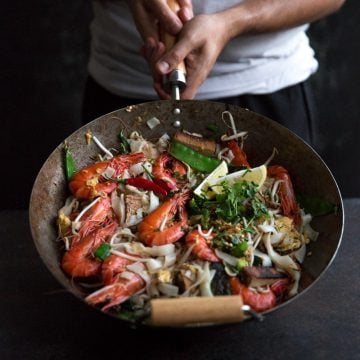 PRAWN AND TOFU PAD THAI
A sizzling wok of perfect rice noodles tossed with big juicy Yamba prawns, slices of charred tofu, crisp snow peas and the sweet, sour, salty, spicy flavours of the most beloved Asian takeaway dish - Pad Thai becomes a speedy weeknight dinner. Fresh and flavourful, you will want to make this every week!
Print Recipe
Rate / Comment
Ingredients
200

g

rice stick/glass noodles

3

tablespoons

peanut oil

60

g

crushed peanuts

6

garlic cloves

,

minced

1

teaspoon

red chilli flakes

2

fresh garlic chives

,

cut into 2cm long pieces

250

g

snow peas

1

cup

(

100

g

)

bean sprouts

200

g

tofu

,

sliced into long rectangles

14

large cooked yamba prawns with shell on

,

or 2 cups frozen peeled cooked prawns

4

eggs

,

lightly beaten

3

tablespoon

fish sauce

3

tablespoons

grated palm sugar

,

or rapadura sugar

2-3

teaspoons

tamarind puree

1

tablespoon

lemon juice

salt to taste

1

small bunch fresh coriander

,

leaves and stalks chopped fine

1

tablespoon

finely chopped chives

,

to serve

lemon wedges

,

to serve

chopped red chilli

,

to serve (optional)
Instructions
Place rice noodles in a large bowl. Pour over and cover completely with boiling water. Allow to soak for 3-4 minutes until noodles become an opaque white colour, tender yet firm. Drain. Refresh several times in cold water. Drain and set aside.

Heat one tablespoon peanut oil on medium in a large wok.  Add peanuts, garlic, chilli and garlic chives. Stir fry for a few seconds until fragrant.

Add the snow peas, tofu and prawns. Stir fry for a couple of minutes on high, tossing with the metal turner. If your wok is very hot, you might get a slight char on the snow peas and tofu. This will impart a wonderful smoky flavour to the dish.

Reduce heat to medium-low, push all ingredients to one side of the wok and add the egg to the other. Toss and break the egg up as it cooks. Cook only for a few seconds until done. Add the noodles, fish sauce, palm sugar, tamarind puree, lemon and salt. Toss to mix well. Add sprouts. If noodles are too dry, add 2-3 tablespoons of water to loosen them. Cook for another couple of minutes until heated through and steamy. It is vital that you have only cooked everything for 4-5 minutes on high since adding the snow peas as the snow peas should be glossy but still have a crunch.

Remove from heat and have a taste. It should taste salty, sour with only a bit of heat and sweetness.

Serve piping hot in noodle bowls topped with chives, lemon wedges and extra chilli if using.
Notes
Use spring onion instead of garlic chives if you can't find any.
Tamarind puree is essential to this dish. It can be found in Asian sections of supermarkets.
Did you make my recipe?
I'd love to hear how you went! Tag me on Instagram @cookrepublic