I work from mornings until about 3pm. Then I stop and whip up something quick and fresh for the boys knowing that they are on their way back from school, hungry and tired. It is a part of my day that I enjoy the most. That half an hour slot to create something exciting and very simple that would also provide a world of nourishment to the boys. Rivvy, my oldest adores mushrooms and gets super excited when I try out new mushroom recipes. He also loves Asian flavours (maybe because he was born in Singapore?) To that end, I have set out to re-create many Asian classics with mushroom as one of the main ingredients. And this beautiful, flavour-packed Quinoa Mushroom San Choy Bow is just one of those re-creations. It also fits my 30-minute time slot perfectly.
In recent years, I have made a conscious effort to replace each and every ingredient in my pantry with quality products. I have firmly embraced the mantra of buy less but buy good. One of the brands that started coming home with me every time I went to the local health foods market was Ceres Organics. They say that as a consumer, you pick up what appeals to you visually. I have always loved minimalism and simplicity (brown paper packaging, simple logos, transparent see through packs!).
Ceres Organics had a very honest, simplistic feel to them and they had an amazing range of products to choose from. The recipe developer and avid cook in me loved that. The fact that they are so committed to the connection between humans and food, that they champion ethically sourced and organic growing practices and actively give back was an added bonus. After years of using and loving them, when they contacted me to create a recipe using their beautiful white quinoa, I was thrilled to be a little part of their amazing food message.
Quinoa is a lifesaver in my kitchen. Regular readers know that a box of frozen cooked quinoa sits happily in a designated corner of my freezer for quick lunches and snacks. The Ceres Organics White Quinoa cooks really well. The seeds cook to a fluffy but firm perfection and are not stodgy. Coming back to the Mushroom San Choy Bow, the quinoa adds body and texture to the dish. And don't forget the extra protein! The flavours in this recipe are incredible. Salty, sour, spicy with a hint of sweet.
I wanted to keep the dish vegan but also hit that umami note. So, I have used a combination of lime juice and savoury yeast flakes to get that rich flavour. You could substitute lime juice with apple cider vinegar and that would work too. Rolled up in buttery lettuce leaves or crispy cos lettuce leaves, this fast cooking dish is a hit in our home. The boys love it alongside a cup of steaming miso soup. It is also great in their lunch boxes. I pack the mushroom quinoa mixture (minus the nuts) in a hot pack and give them lettuce leaves on the side.
This is such a quick cooking vegetarian option when you want to eat something light but full of nutrients. If you make an enjoy it, don't forget to comment/rate below and share with me on Instagram by tagging me @cookrepublic.
note - This recipe and post were created for Ceres Organics. All opinions and musings are my own.
Recipe
Hungry For More Recipes? Subscribe to my newsletter. Check out Facebook, Instagram and Pinterest to see everything I share! And if you love cooking and new cookbooks, join my free Cooking Club on Facebook!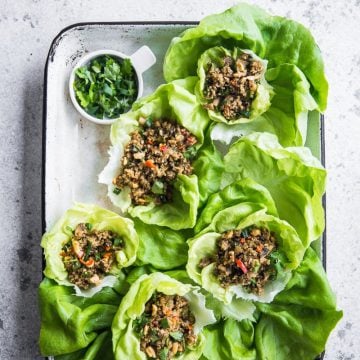 Ingredients
2

tablespoons

sesame oil

2

garlic cloves

,

minced

1

tablespoon

grated ginger

1

tablespoon

chopped red chilli

250

g

Swiss brown mushrooms

,

diced

1

tablespoon

tamari

1

tablespoon

coconut sugar

juice of 1 small lime

pinch

of salt

1

teaspoon

savoury yeast flakes

1

cup

(

190

g

) cooked Ceres Organics White Quinoa

¼

cup

roasted peanuts

,

crushed

¼

cup

fresh coriander leaved

,

chopped

¼

cup

spring onions

,

sliced

6

butter lettuce leaves

,

washed and pat dried
Instructions
Heat a medium wok on high. Add sesame oil, garlic, ginger and chilli. Sauté for a few seconds.

Reduce heat to medium. Add mushrooms. Sauté for a few minutes while stirring constantly. The mushrooms will sweat and release water. Continue cooking until all liquid is evaporated.

Add tamari, coconut sugar and lime juice. Increase heat to high and sauté until the mixture is quite dry and mushrooms are glazed.

Remove from heat and cool slightly. Add salt (if using), yeast flakes, cooked quinoa, peanuts, coriander and spring onions. Mix well.

Scoop mushroom quinoa mixture on to the prepared lettuce leaves and serve garnished with extra chilli.
Notes
You can use a mix of white and brown mushrooms. Button mushrooms, Swiss brown mushrooms and Portabello work best for this recipe as they are firm and plump.
Quinoa cooked with a 1 part quinoa and 1.5 part water ratio works best. It produces perfectly cooked and fluffy quinoa that is great for stirring through salads and recipes like this one. I always like to rinse the quinoa and add a bit of salt to the quinoa when I cook it. Follow my simple tips on How To Cook Quinoa for perfect fluffy quinoa every single time.
Did you make my recipe?
I'd love to hear how you went! Tag me on Instagram @cookrepublic
ONE YEAR AGO – AVOCADO SMOOTHIE WITH WATERCRESS AND LIME
THREE YEARS AGO – SHE IS GONE & FAVOURITES LIST
FOUR YEARS AGO – SAVOURY BUCKWHEAT OMELETTES
FIVE YEARS AGO – STICKY CHOCOLATE CUPCAKES
SIX YEARS AGO – LITTLE BROWN BREAD