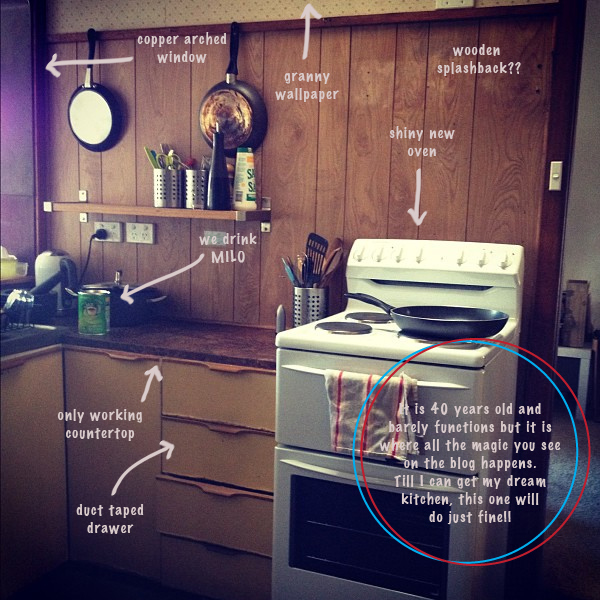 A few weeks ago my oven caught on fire, literally. Gone, departed, finished! I turned the switch off to stop the sparking and flames. I felt nothing. That night I ordered a replacement to fill the hole in my rather primitive kitchen – same model, nothing fancy. I felt nothing. The next day I started getting grumpy. I chalked it off to withdrawal from baking and cooking. After all, it had been 24 hours and I hadn't done either. The next day my chest started hurting and I was a tiny bit alarmed. I was alone at home and not getting any younger. Minor heart attack? Nahh, I thought as I went back to the kitchen and stared at the now dead oven just sitting there, covered in oil splatters and scratches, looking well, – dead! I had this terrible urge to punch something – anything! I am a very "hug everyone", "smile all the time" kind of a person, so this feeling was even more alarming than my chest pain. On the third day, I was walking around the house moping, sulking, procrastinating. The new oven would only get home the following week and meanwhile the old one just sat there being useless. At this point I was like an addict without the means to feed my addiction. Nothing to cook and bake with. In a desperate attempt to feel useful, I cranked up my slow cooker and chucked in a cherry cake and some potatoes to roast. Then as an after thought, I started cleaning my dead oven. Five minutes into cleaning it, I felt incredibly sad. Before I knew it, the tears came and I was glad to be alone at home because I wailed.
Just like that in three days, I had been through the three stages of grief without knowing it. Denial, anger and finally acceptance. I had used my old oven every single day since we bought our home nearly seven years ago. It was a tiny little thing but it fed hoardes. It kept us nourished and content. It saw us through family dinners, a wedding, birthday parties, annual barbecues, and Christmas celebrations. It was a friend and it had served us well. But just like spring, it was time for new beginnings. A new chapter with a new companion. The new oven is the exact same model as my old one and after 2 weeks of cooking and baking, it feels like I am spending time with my old friend. Like nothing has changed.
Don't look at that kitchen and feel sorry for me yet, I have created a cooking and photography workspace to compensate and here is what it looks like!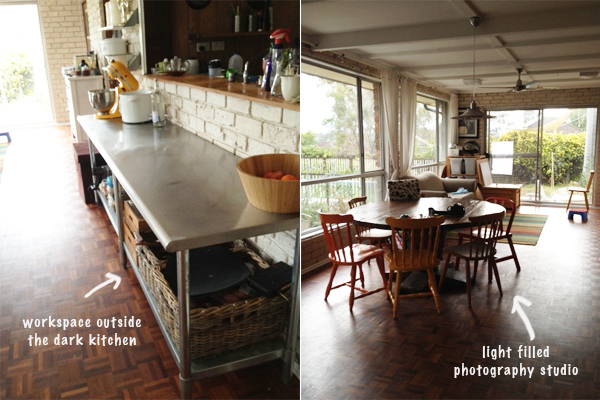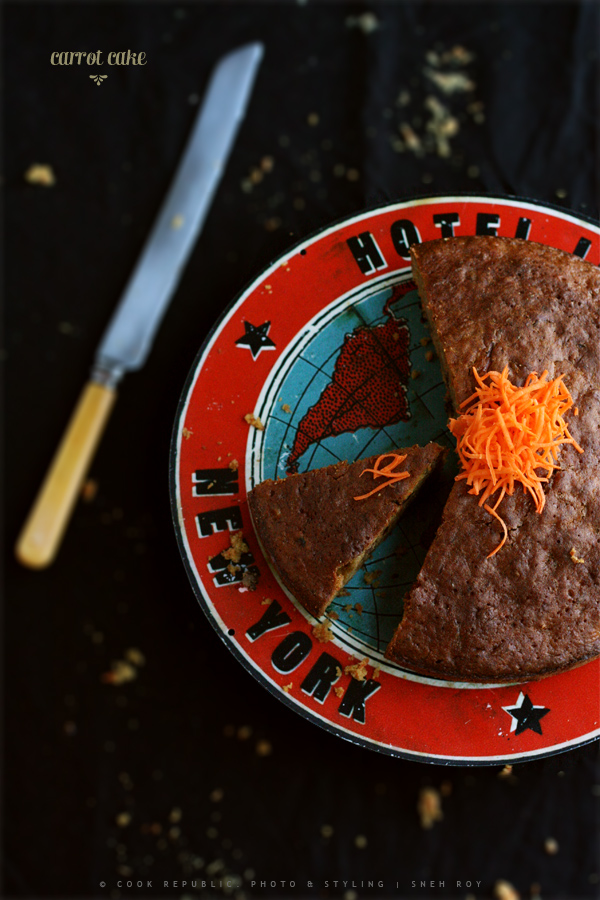 This carrot cake was the first thing I baked in my new oven. It is a family favourite. It is the classic carrot cake with a few healthy twists. It is unbelievably light, packed with flavour and super moist. When I am feeling incredibly festive, I frost it with some simple lemon infused cream cheese frosting. But for the most bit, we love it plain with a smattering of icing sugar.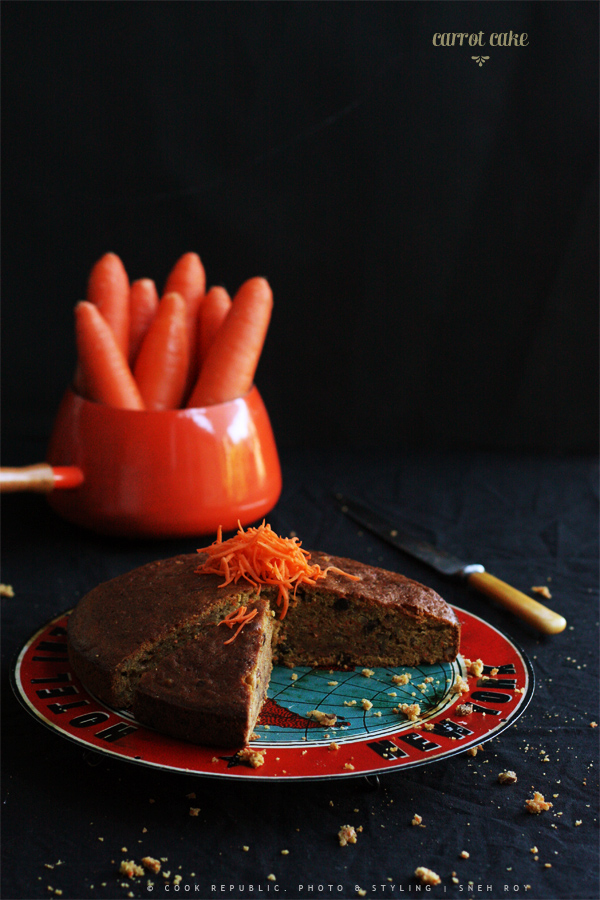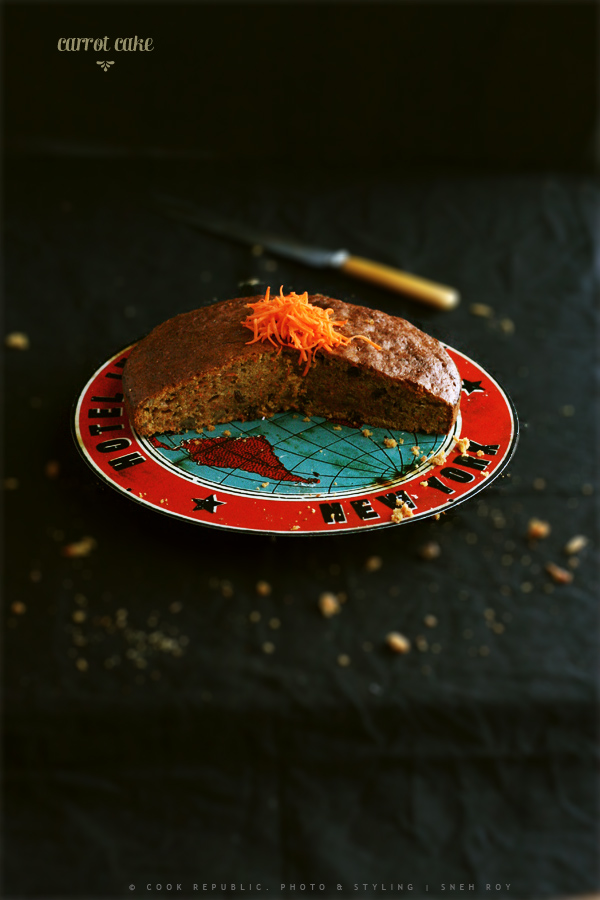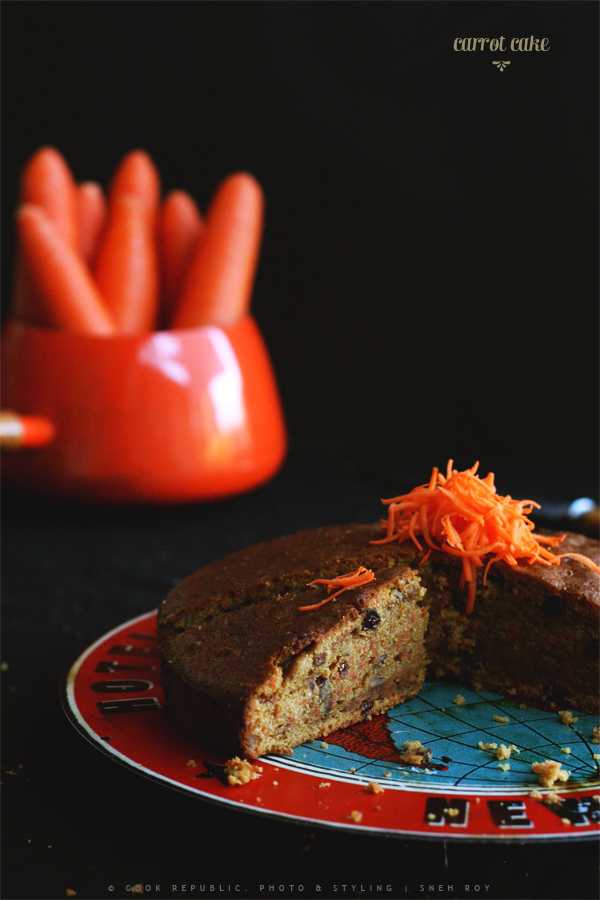 [print_this]
CARROT CAKE
A classic healthy carrot cake oomphed up with cardamom, rice bran oil and pecan nuts. A great afternoon treat!
Preparation Time – 15 Minutes
Cooking Time – 50 Minutes
Makes – To Serve 8
Ingredients
1 1/4 cups brown sugar
3/4 cup rice bran oil
3 eggs
1 1/2 cups plain flour
1 1/2 teaspoons baking powder
1 teaspoon bicarbonate of soda
1/2 teaspoon salt
1 teaspoon ground cardamom
1 teaspoon ground cinnamon
1/2 teaspoon ground nutmeg
1/2 cup toasted and chopped pecan nuts
1/2 cup sultanas
3 cups grated carrot
Method
Preheat oven to 180C (350F). Grease and line an 9 inch round springform tin with baking paper.
Place the sugar and oil in the bowl of an electric mixer and beat for 2 to 3 minutes. Add the eggs and beat for another few minutes. Sift flour, baking powder, bicarbonate of soda, salt, cinnamon, cardamom and nutmeg over the sugar mixture. Add carrot, pecan nuts and sultanas. Mix until well combined.
Pour cake batter into prepared tin. Bake in the preheated oven for 45 to 50 minutes until golden and cooked through when tested with a skewer. Remove from oven, cool in the tin for 10 minutes then turn onto a wire rack to cool completely.
Dust with icing sugar to serve.
[/print_this]