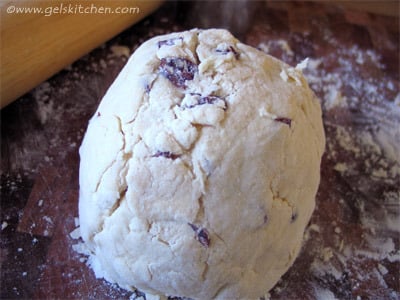 When I was living in Singapore, one of my favourite bakeries to visit was "Four Leaves". They had amazing cakes and a delicious array of baked buns and goodies. I surprise myself when I say this but I think Singapore had better bakeries and a mind boggling variety of freshly baked goodies than I have seen here in Australia. One would think otherwise, but it is most definitely true if you start counting "Kaya Buns", "Green Onion Scrolls", "Pineapple Tarts", "Pork Floss Buns", "Curry Doughnuts" [yummm!], "Rotiboys" [this calls for an entirely new blog entry], "Coconut & Raspberry Cupcakes", "Chicken Twists", "Cheese Volcanoes" ..... and the list is endless. I used to love the "Cranberry Scones" offered every weekend at Four Leaves. They were golden brown and crunchy on the outside, soft and doughy on the inside with the delicate sweetness of cranberry bursting red with the heat of baking. With no official recipe at hand, I tried out on a series of Sundays, these delicious scones and finally managed to figure out a recipe which came very very close.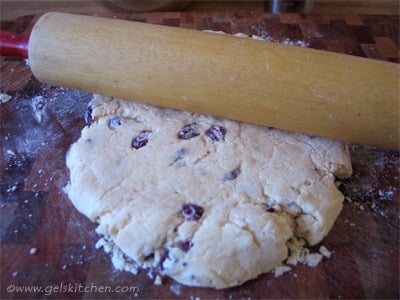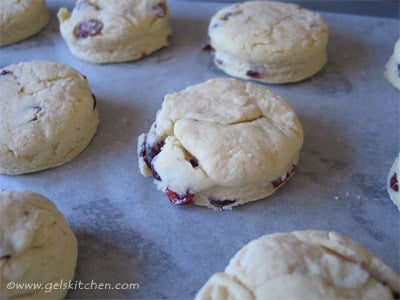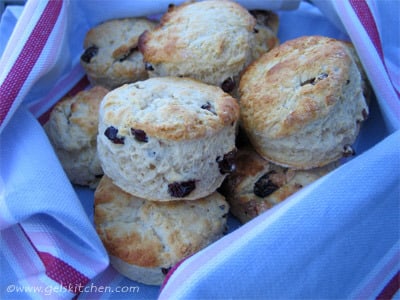 [print_this]
HOT CRANBERRY SCONES
Makes : 12/Preparation Time : 25 Minutes/Cooking Time : 15 minutes

Ingredients
2 1/2 cups self-raising flour
1/2 cup dried cranberries/craisins
1 tsp baking powder
1 tbsp sugar
a pinch of salt
40g chilled, unsalted butter
1 cup milk

Method
Preheat oven to 220C. Line a baking tray with baking paper. Sift the flour, baking powder and salt into a bowl. Rub in the butter lightly with your fingertips till the mixture resembles breadcrumbs. Add cranberries and sugar. Mix lightly. Make a well in the centre. Pour in the milk and mix with a flat-bladed knife, using a cutting action, rotating the bowl as you go until the dough comes together in lumps. At this point the dough should be wet and slightly sticky. With floured hands, gently lift the dough and place on a floured surface. With light pressure, pat the dough into a smooth ball. Do not knead.
Using a rolling pin, lightly roll the dough out to 2-3cm thick. Using a floured 6cm scone cutter, cut rounds and place them on the lined baking tray. Gather scraps of remaining dough and proceed to roll and cut again till all the dough is used up. Brush the tops of the rounds with milk and bake in the highest part of the oven for approximately 15 minutes until risen and golden. Wrap them in a clean tea-towel and serve warm with butter, jam and fresh whipped cream. Best eaten straight from the oven as they tend to dry out quickly.
Notes

Use a light hand while mixing or like muffins they will become tough and chewy. Never knead scones.
Scones have to be baked quickly and at a high temperature.
The addition of sugar reduces the floury, mealy taste.
If after adding milk, you feel that the dough is a tad dry, add more milk.
Scones freeze very well.
[/print_this]