The best Jam Drop Biscuit recipe you will ever need to bake the most perfect crumbly, melt-in-your-mouth, buttery biscuits laden with pools of warm jam! I can vouch for these being the best because I have baked batch after batch of too soft, too chewy, too crumbly, really hard biscuits to get these just perfect.
Jam Drop or Thumbprint Biscuits
You might know these gorgeous buttery shortbread-like jam-filled biscuits by different names, depending on where in the world you are. When I was little and growing up in India, these were jam biscuits to me. Growing up in Australia, my boys have always called these Jam Drops. There is something magical about them. An old-world charm. They feel like a jolly good treat from Enid Blyton's Magic Faraway Tree series, where jam-laden biscuits and cream buns would grace rickety old tables along with pots of teas in lands far away.
I recently bought a wonderful baking book aptly called Lazy Baking. This darling little cookbook written by Jessica Elliott Dennison. Jess started her career and her love affair with food in Jamie Oliver's marketing and product development team. She now runs a charming little seasonal eatery Elliott's. It has become a much-loved kitchen and workshop destination in Edinburgh. Her cookbook Lazy Baking is mainly sweet and savoury bakes served at Elliott's and include moody, inviting images of her humble kitchen often in the morning sun. It was in this cookbook that I saw a picture of Jam Drops and knew I had to make them!
How To Make The Best Jam Drop Biscuits
The first batch I baked was verbatim from the cookbook. It was lovely, delicious and easy to make. But I noticed how the biscuits were too pale even after baking for a longer time than the recipe stipulated and how they went soft the same evening. Despite being delicious enough to all disappear from the biscuit jar the following day (our youngest is aptly called Cookie Monster), they didn't taste or feel like the box of jam drop biscuits I used to buy from the deli close to Fagan Park where we used to picnic a lot when the kids were little.
So first, I omitted the almond meal which reduced the chewiness and added cornflour. These changes made the biscuits too hard and gnarly to look at. Not pleased, I pressed on with my endeavours. Eventually, one of the batches hit the sweet spot. A good amount of sweetness, crumbly butter cookie texture with a nice crunch and a golden hue on all the biscuits! I was super pleased and have baked a few batches in the last week alone.
I adopted this secret from my Naankhatai recipe, adding semolina to the dough for that beautiful texture. Using raw sugar gave them that golden hue. The biscuits got filled with my homemade Rhubarb Strawberry Balsamic Jam and sour cherry and raspberry jams from the pantry. I hope you make these delightful biscuits. Maybe even get the kids involved? And then have a little picnic armed with a jar of the best jam drop biscuits amongst other things.
Hungry For More Recipes?   Subscribe to my newsletter. Check out  Facebook, Instagram, and Pinterest to see everything I share! I also run a free Cooking Club on Facebook. Come and join as we learn new stuff every week!
Recipe
Hungry For More Recipes? Subscribe to my newsletter. Check out Facebook, Instagram and Pinterest to see everything I share! And if you love cooking and new cookbooks, join my free Cooking Club on Facebook!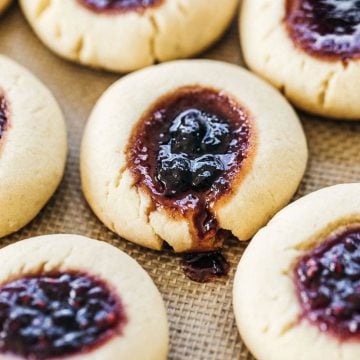 Ingredients
125

g

butter

,

softened at room temperature

125

g

raw sugar

1

egg

2

teaspoons

vanilla extract

½

teaspoon

baking powder

Pinch

of salt

300

g

plain flour

20

g

semolina

2-3

tablespoons

of your favourite jam
Instructions
Pre heat oven to 180°C (160°C fan-forced)

Add butter and sugar to the bowl of an electric mixer. Mix for a few minutes until creamy. Add egg and whisk until pale and fluffy.

Add vanilla, baking powder, salt, flour and semolina. Mix with a wooden spoon until the dough comes together. Use your hand to knead it into a smooth ball.

Divide the dough into 18 balls. Roll each ball in the palm of your hands, slightly flatten it and place it on a lined baking sheet. Place biscuits 2cm apart on the tray.

Using your thumb or forefinger, make indents on top of each biscuit. Using a small teaspoon, fill the indents with jam (about a half a teaspoon in each indent).

Bake for 15-20 minutes until biscuits are done and slightly golden. (I bake mine for 16-17 minutes, turn off the oven and leave them in for another minute or two).

Remove from the oven and cool completely on a wire rack. Store in an air-tight jar in a cool corner of your kitchen for up to 3 days or in the fridge for up to a week.
Notes
Sugar - Use granular sugar. Raw sugar works perfectly in this recipe as it has a slight golden tint that comes through in the biscuits. Semolina - Semolina adds a bit of texture and crunch to the cookies making them slightly crispy as otherwise they tend to soften over time. If you don't have semolina, just leave it out and substitute with extra flour.
Did you make my recipe?
I'd love to hear how you went! Tag me on Instagram @cookrepublic