A divinely delicious Ginger Mango Lassi made from the nectar of bright orange, ripe Kensington Pride mangoes. With ginger, honey and salt added for health benefits, this beautiful Mango Lassi makes the perfect dessert!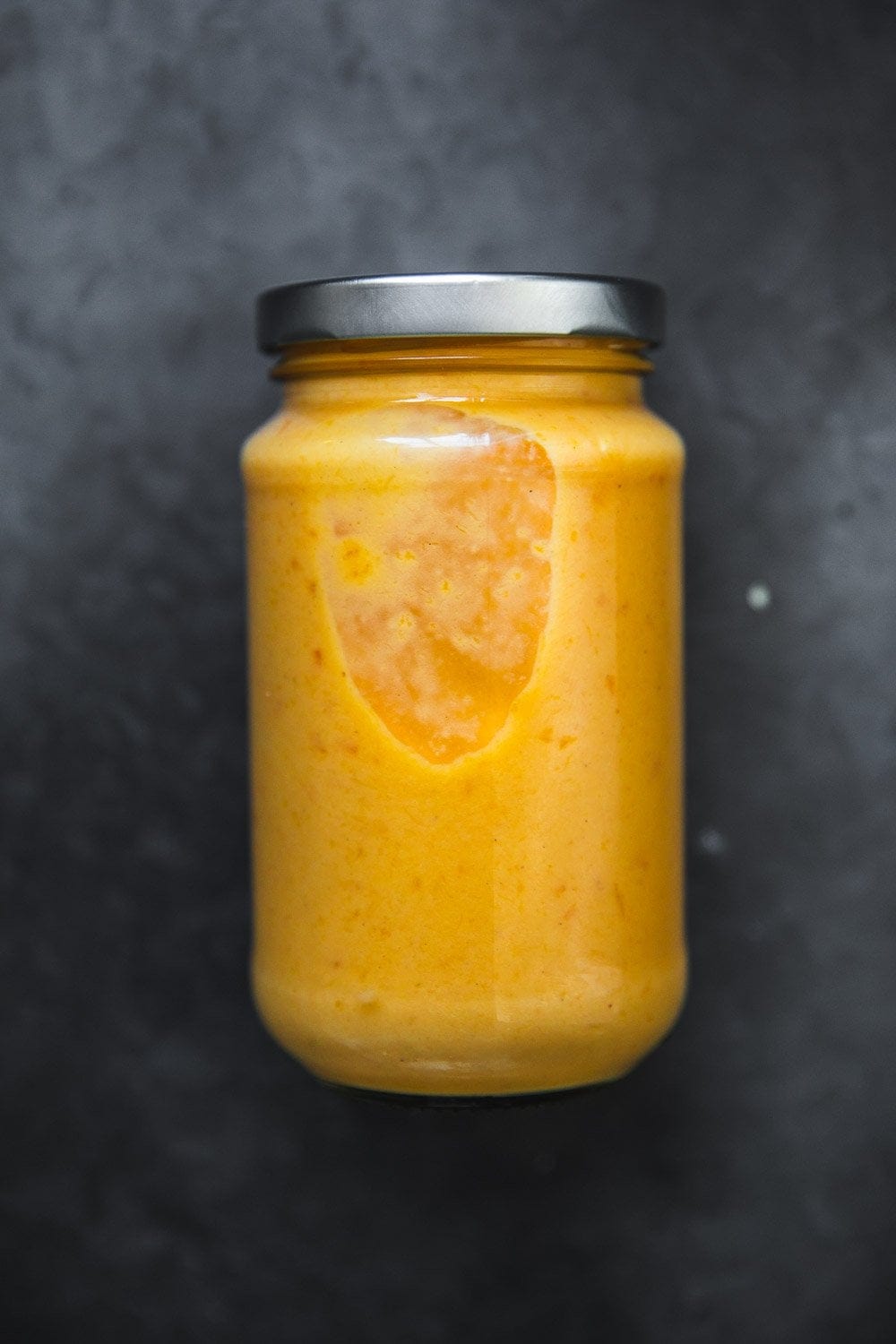 Choosing The Right Mango And The Relation Of Ginger In Aiding Digestion
Kensington Pride is the mango of choice for me when it comes to making lassi. Pick mangoes that have a deep orange hue and a strong perfume. These will also have orange flesh. These are the best tasting Kensington Prides. If the flesh of your mango is yellow, it is not ripe enough for a lassi.
Freshly grated ginger or dried ginger powder are often added to mango lassi. This is because mango contains more fructose than glucose and in large amounts, can cause gas. The ginger helps with the easing of the gas. An so, it is by habit that I often add fresh ginger to may mango smoothies and lassis. The mango and ginger combination is not only delicious but beneficial. The pinch of salt and honey are game-changers when it comes to elevating the taste of a mango. You must try it!
And finally, good mango lassi is thick and luscious and packed with mango flavour. For that reason, the ratio of mango to yoghurt is very important. More mango and less yoghurt. I often do 2:1. If I am using 2 cups of mango nectar, I only use a cup of yoghurt to get the perfect lassi.
How To Get Mango Nectar From A Mango
There are so many ways you can cut a mango. But if you just need the flesh for a smoothie or lassi, there is a very special (although messy) way of doing it. It is the simple process of extracting the nectar from a mango. Mango nectar (the pulp obtained from crushing the flesh and juices together) is a delicacy. A Sunday lunch special enjoyed over the hot months with a puri (puffed fried bread).
I have watched my grandma and my mum and all my aunties use this technique over the countless glorious summers in India. Groups of women would sit in a circle on the floor, crates of mangoes scattered all around, a couple of big steel buckets in the middle of this Mandala formation. They would cup the mango in their palm with their thumb pressed firmly on the stem knob at the top. Keeping their thumb pressed on the knob, they would gently rotate the mango on its axis in their palm, using the fingers of the other hand while pressing into the body of the mango. This motion would soften the mango, crushing the flesh under the skin.
They would continue this motion, pressing and turning till they eventually felt the seed inside dislodge and float freely in the nectar. Only then, they would rip the stem knob off, creating an opening and gently squeeze out all the nectar through that opening into a bucket. When all the nectar was out, they would tear the skin of the mango and rinse the inside in a large bowl filled with milk (which would later be used to either thin the nectar or make desserts).
The seed stripped of all the flesh would be discarded or planted to be grown into a tree. The aforementioned buckets of mango nectar would be sprinkled liberally with soonth (ginger powder) to aid in digestion. This is how I get the nectar for my smoothies/lassis. An easier method is to slice the stem part off, peel the skin of the whole mango and then squeeze the flesh into a bowl till you reach the seed. I used to get the boys to do this for me when they were little. They used to absolutely love the freedom of making a gigantic mess while helping mummy. Nothing better than letting kids get as close to food in its natural form!
Hungry For More Recipes?   Subscribe to my newsletter. Check out  Facebook, Instagram, and Pinterest to see everything I share! I also run a free Cooking Club on Facebook. Come and join as we learn new stuff every week!
Recipe
Hungry For More Recipes? Subscribe to my newsletter. Check out Facebook, Instagram and Pinterest to see everything I share! And if you love cooking and new cookbooks, join my free Cooking Club on Facebook!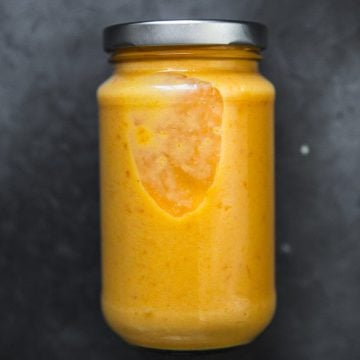 Ingredients
4

large mangoes

,

flesh only (2 cups)

1

cup

yoghurt

,

chilled

1

teaspoon

grated ginger

½

teaspoon

ground cardamom

¼

teaspoon

Himalayan pink salt

1

tablespoon

honey
Instructions
Place all ingredients in the jug of a blender and process until smooth.

Enjoy straight away or store in the fridge in lidded air-tight jars for up to 2 days.
Notes
Mango - If you don't have fresh mangoes on hand, use two cups of frozen mango flesh instead. Yoghurt - I find yoghurt with a sharp, sour tang makes the best lassi. I use Goat's Milk Yoghurt as it has a sharp salty taste and makes this lassi really delicious. Make It Vegan - Use plant-based yoghurt/coconut yoghurt to make this vegan.
Did you make my recipe?
I'd love to hear how you went! Tag me on Instagram @cookrepublic