Pecan and Maple have to be one of the world's best flavour combinations. And now it is in Banana Bread Form! This healthier, baked-with-spelt and very low unrefined natural sugar Pecan Maple Banana Bread rises high like the cafe versions and tastes amazing toasted!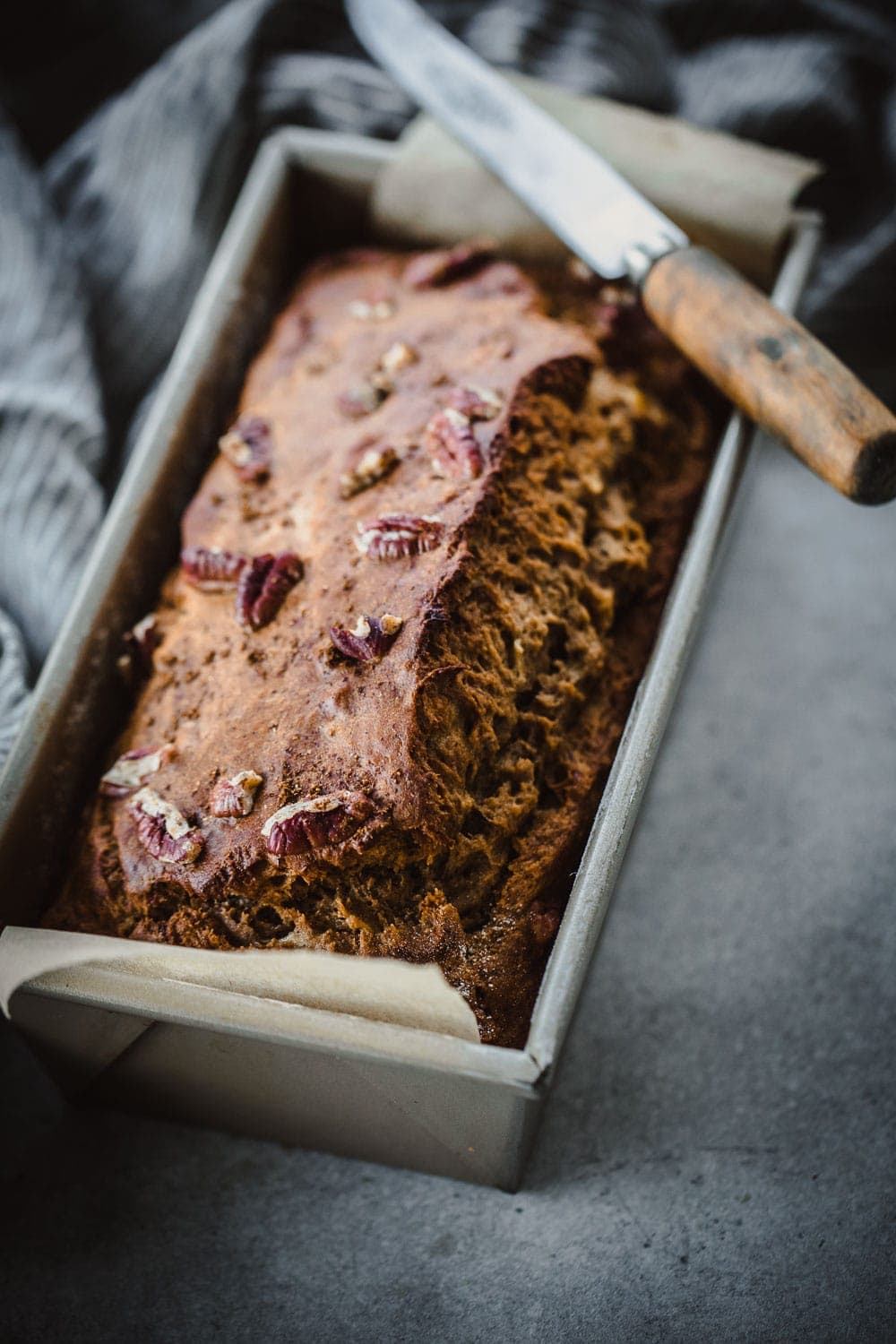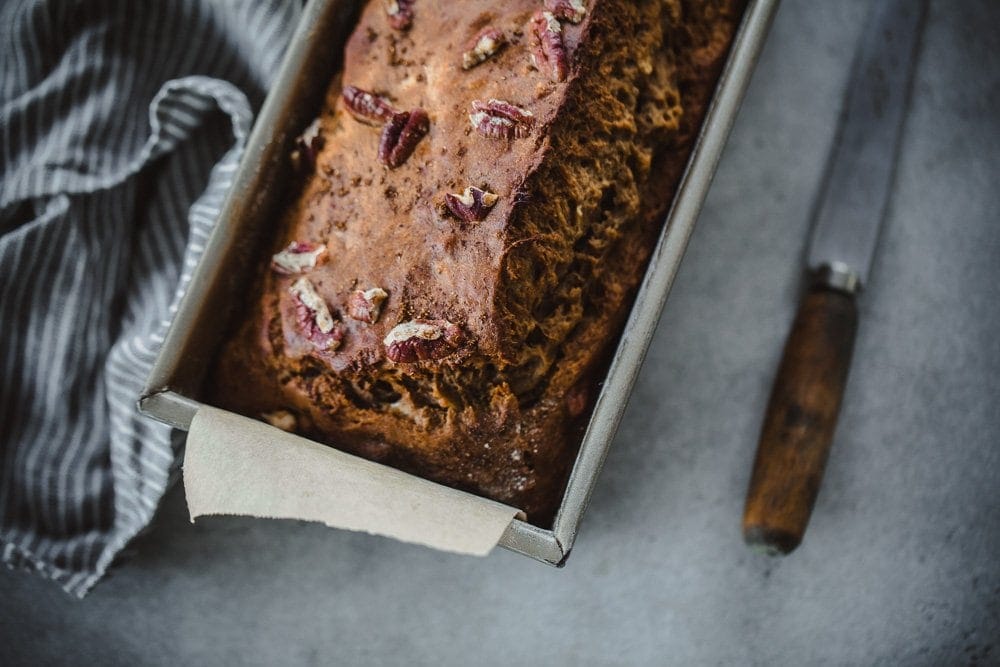 A Healthier Banana Bread With A Beautiful Texture And Flavour Combination
I call this my Fool-Proof Banana Bread. If you look at my recipe notes, you will see that you can substitute a whole range of ingredients depending on what you have at hand. If you use baking soda and the exact quantities and temperatures given in the recipe; you are guaranteed to have perfect banana bread every single time.
I always end up using walnuts in my banana bread but ever since Esther (my lovely friend who lives down my street) started dropping off the occasional warm banana bread, freshly baked and studded with pecans at my doorstep, I decided to give pecans a go in my bread too. The Pecan and maple syrup combination has been a favourite of mine for decades and something I incorporate quite a lot in my granola, muffin and breakfast recipes. And it worked like a dream in a banana bread recipe. For this recipe, I use spelt flour, organic maple syrup, rice bran oil and beautiful local pecans grown on Hickson Farms by Annabelle Hickson and her husband.
Baking A Banana Bread That Rises Like Cafe Versions
As someone who loves to cook and bake, you must've baked a thousand versions of banana bread over the years. It is one of the most basic and simple baking recipes and is made in millions of kitchens every single day. In fact, during the first set of worldwide lockdowns at the peak of the Covid pandemic in 2020, banana bread was not only the most googled recipe but also the most baked treat of the year.
The secret to baking a banana bread that rises well and has a high top is bicarbonate of soda. Baking soda and not baking powder is what will make your banana bread light, fluffy, airy with a perfectly risen top. Even if you use denser flours like spelt and wholemeal, bicarb of soda will make sure your bread rises well.
How To Get Rid Of The Metallic Baking Soda Taste In Banana Bread
But bicarbonate of soda comes with one problem. It is the metallic and slightly salty aftertaste you get when you are eating something baked with baking soda. With bread that looks so beautiful, you don't want to be riddled with a bad aftertaste. Baking soda needs an acid to neutralize its metallic taste. So by including an acidic element in the banana bread recipe when you are mixing the batter will remedy this problem.
Yes, you can add milk like most recipes call for but milk is only mildly acidic (mostly alkaline) and will not help neutralize the taste of bicarbonate of soda. Anything that has a pH of  4.6 or lower is considered acidic. Yoghurt, soy milk and rice milk are all acidic. So including these instead of milk, almond milk, coconut milk and buttermilk (all alkaline) will get rid of the metallic baking soda taste problem. It also makes the fluffiest, high-top banana bread, just like another of my favourites - coffee banana bread.
Of course, if you are only using baking powder instead of baking soda, you need not worry about any of this.
I hope you enjoy this beautiful banana bread. You can also bake it in muffin form (reduce baking time to 20 minutes and watch them). Happy baking!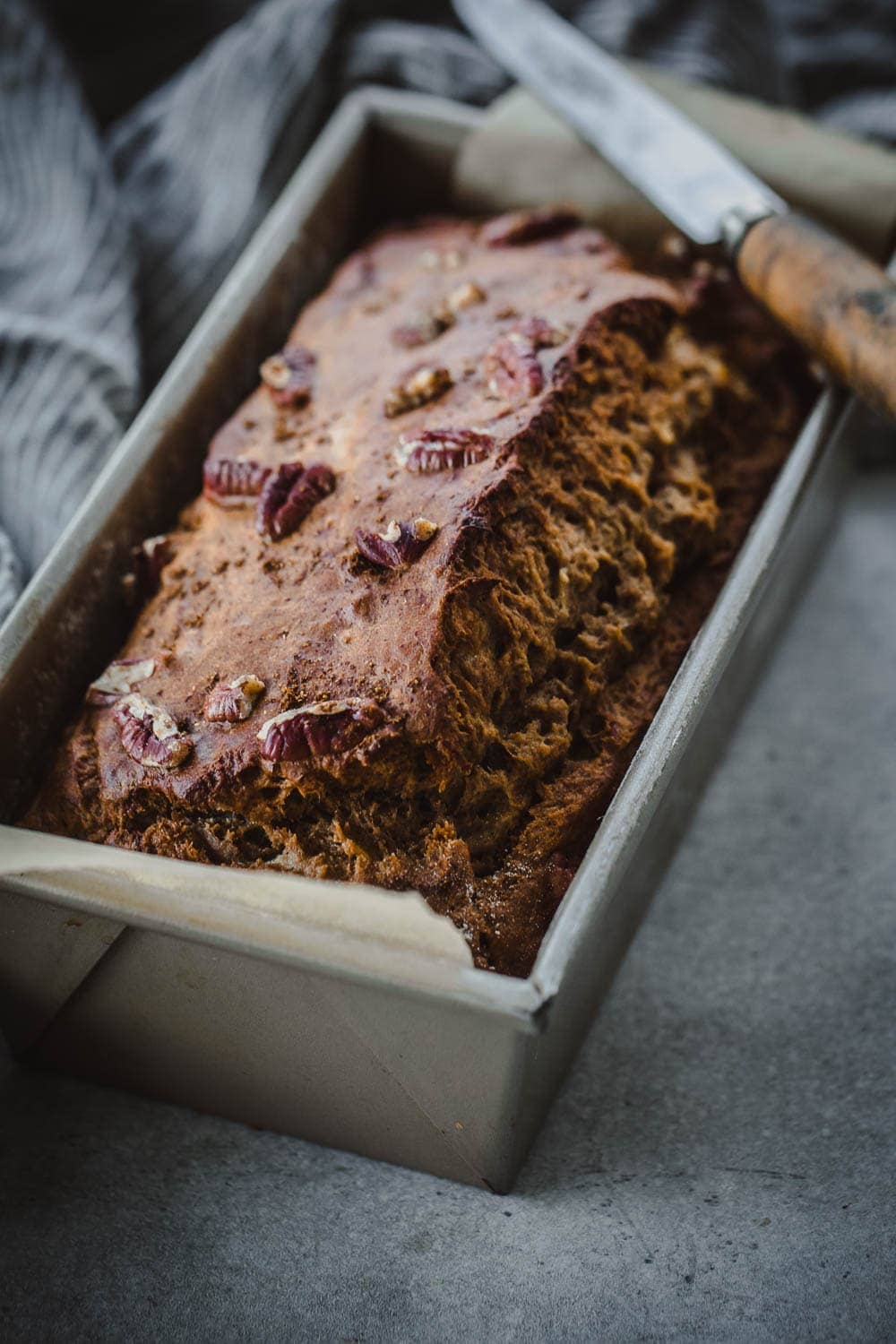 Hungry For More Recipes?   Subscribe to my newsletter. Check out  Facebook, Instagram, and Pinterest to see everything I share! I also run a free Cooking Club on Facebook. Come and join as we learn new stuff every week!
Recipe
Hungry For More Recipes? Subscribe to my newsletter. Check out Facebook, Instagram and Pinterest to see everything I share! And if you love cooking and new cookbooks, join my free Cooking Club on Facebook!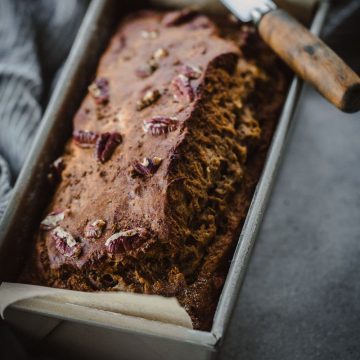 Ingredients
1/3

cup

(

70

ml

)

rice bran oil

¼

cup

(

80

ml

)

maple syrup

2

eggs

1

cup

mashed overripe bananas

,

approximately 3-4 medium bananas

Pinch

of salt

1

teaspoon

ground cinnamon

2

teaspoons

vanilla extract

1 ½

cups

(

230

g

)

spelt flour

1

teaspoon

bicarbonate of soda

1

tablespoon

yoghurt

¾

cups

(

80

g

)

toasted pecans

,

roughly chopped

Extra ground cinnamon

,

to sprinkle
Instructions
Pre heat oven to 190°C (170°C fan forced).

Line a loaf pan (22cm X 11cm X 7cm) with baking paper.

Add oil, maple syrup and eggs to the bowl of an electric mixer and process until pale and fluffy. Alternatively, you can whisk using a balloon whisk until pale and creamy.

Add mashed bananas, salt, cinnamon and vanilla extract. Mix well by hand using a wooden/silicone spoon.

Add flour to the bowl of wet ingredients. Mix bicarbonate of soda with yoghurt in a little bowl. Add to the flour in the big bowl. Mix gently with a wooden spoon until just combined. Add toasted pecans reserving a few for the top. Fold them gently into the batter until just combined.

Spoon the batter into the prepared pan. Smooth the top with a wooden spoon. Scatter the remaining pecans over the batter. Sprinkle with extra ground cinnamon.

Bake in the pre-heated oven for 45-50 minutes until golden, risen well and cooked through the middle when tested with a skewer. Remove from oven and let the loaf cool in the pan for 5-10 minutes before carefully dislodging it and turning it onto a wire rack to cool completely.

Slice and enjoy. Bread will keep fresh in the fridge for up to a week. Sliced banana bread can also be frozen in individual freezer-safe bags for up to 3 months. To reheat, toast a couple of times from frozen or air fry for a few minutes at 180°C. Alternatively, thaw for an hour on your kitchen bench at room temperature before toasting.
Notes
Batter Consistency - The banana bread batter shouldn't be tough and stodgy, nor should it be too loose and runny like pancake batter. It should be like a cake batter. My recipe will never give you dry and tough batter but your batter could possibly be too soft depending on the bananas being used. In that case, add an extra tablespoon or two of flour till you get a good consistency in the batter. Oil – I like to use rice bran oil as it has a very neutral taste and renders well to baking. I have also used virgin coconut oil, butter, light olive oil, macadamia oil and grapeseed oil in the past with fantastic results. I keep the quantities of the oil/fat same as the one in the recipe above. Sweetener – I find that maple syrup not only gives the best tasting banana bread with slight caramel tones but also raises it better than honey. I have used Eucalyptus honey and Manuka honey in the past. The bread actually tastes divine with these two honey variations, very more-ish and floral. When using honey, the bread doesn't rise as high as the maple version. Flour – Spelt flour adds robust quality to this banana bread and that toasts really well. You can substitute with plain or wholemeal flour. Bicarbonate Of Soda – It is important to use bicarb of soda and not baking powder. This is the key to that incredible rise of the banana bread that everyone loves. Yoghurt - You can also use soy milk or rice milk instead of yoghurt. All of these ingredients are acidic and help neutralize the metallic taste of bicarbonate of soda in the recipe. Make It Vegan – Use two flax eggs instead of regular eggs. One flax egg = 1 tablespoon flaxseed meal + 3 tablespoons water. Use soy/rice milk instead of yoghurt.
Did you make my recipe?
I'd love to hear how you went! Tag me on Instagram @cookrepublic