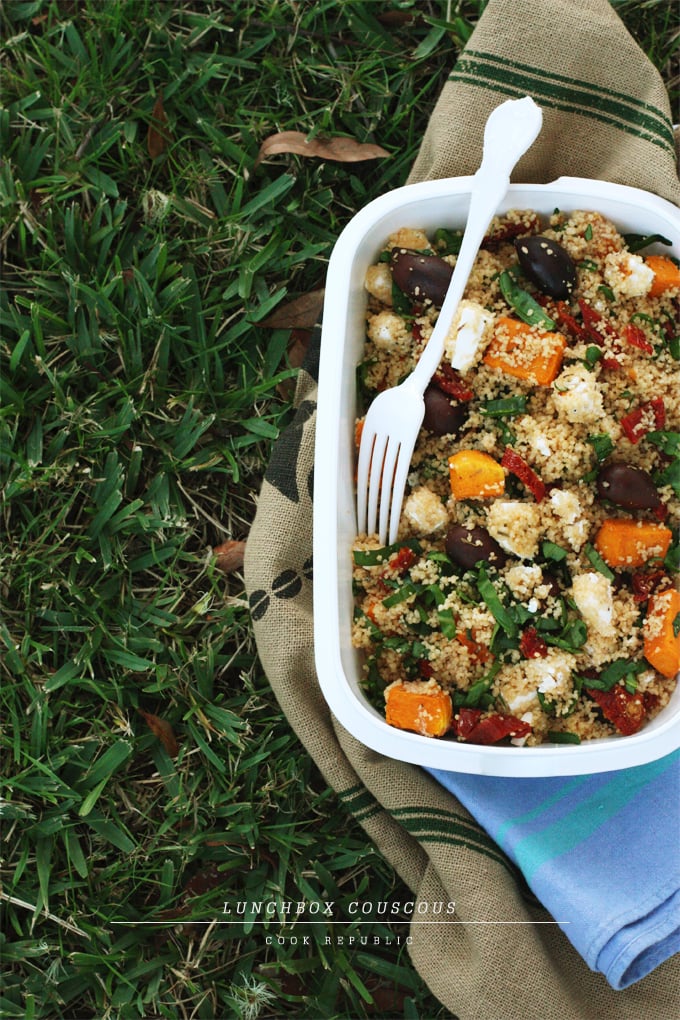 They put out a jar of biscuits at coffee break on the two nights that I am at college. Pure evil! I think I might have survived my first month back at college due to that jar. Last night though, I tried to knock some sense in my noggin' and I managed to convince myself to stay away from that dratted jar for the rest of the year. I am good at self discipline, so that should be a piece of cake or maybe a biscuit?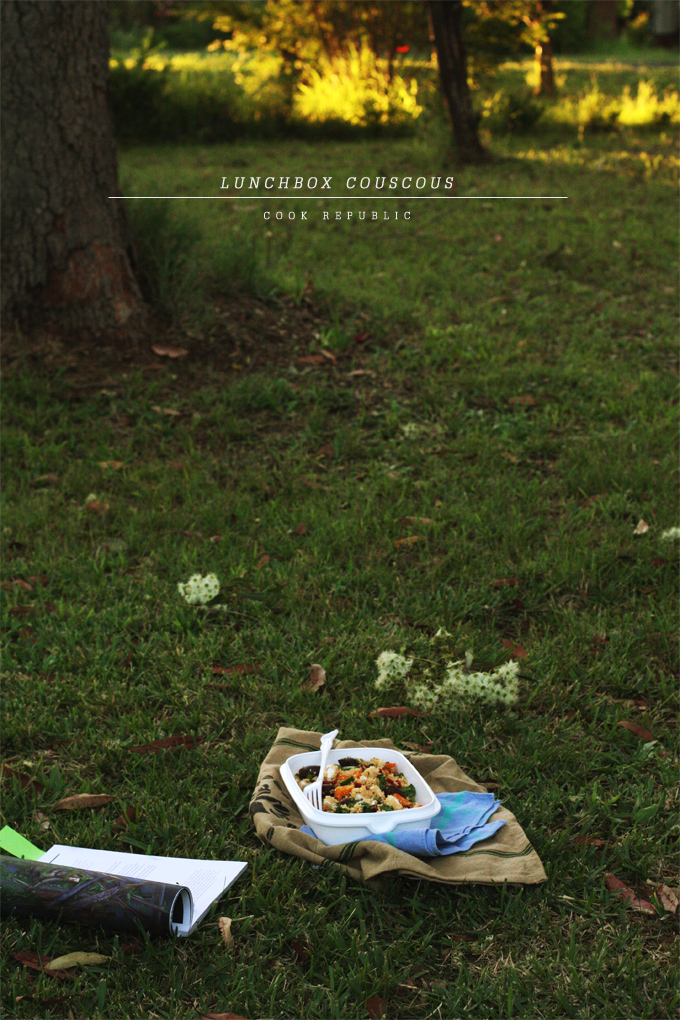 Not all my college food breaks are biscuit ridden. Amidst wholesome muffins, museli bars, fruit and nut powerballs, a healthy cookie, lots of apples, a smoothie or two and a ritualistic cup of coffee; I do alright. We have a Coles close to college that sells local handmade food (yes, I was impressed!). The farmer's sandwich I bought once was good but what really won my heart was a sun dried tomato and spinach couscous box that was out of this world. While I devoured most of it on my train ride back home, I kept the rest to deconstruct at home. That weekend I managed to recreate perfectly the textures and fresh flavours of the nutrient packed salad. To my absolutel delight, I found that it tasted as beautiful cold as it did warmed up. Jackpot!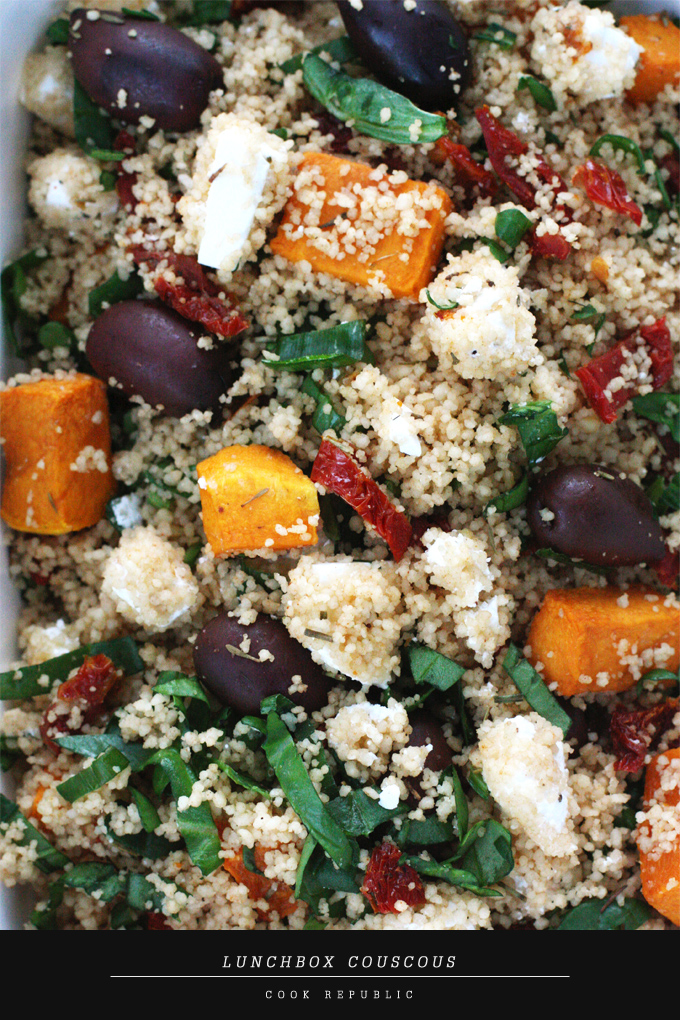 I call it Lunchbox Couscous because I have packed it with way too many ingredients to give it an ingredient-driven name and because it has become a lunch favourite. On those rare days when I am working alone at home and the weather is gorgeous, I like to take my lunch out in the garden and work under the shade of our giant gum tree. On some weekends, I cook a huge batch. I then pack it in four lunchboxes and shove it in the fridge for the rest of the week. Everyone is welcome to it. It doesn't last past Tuesday.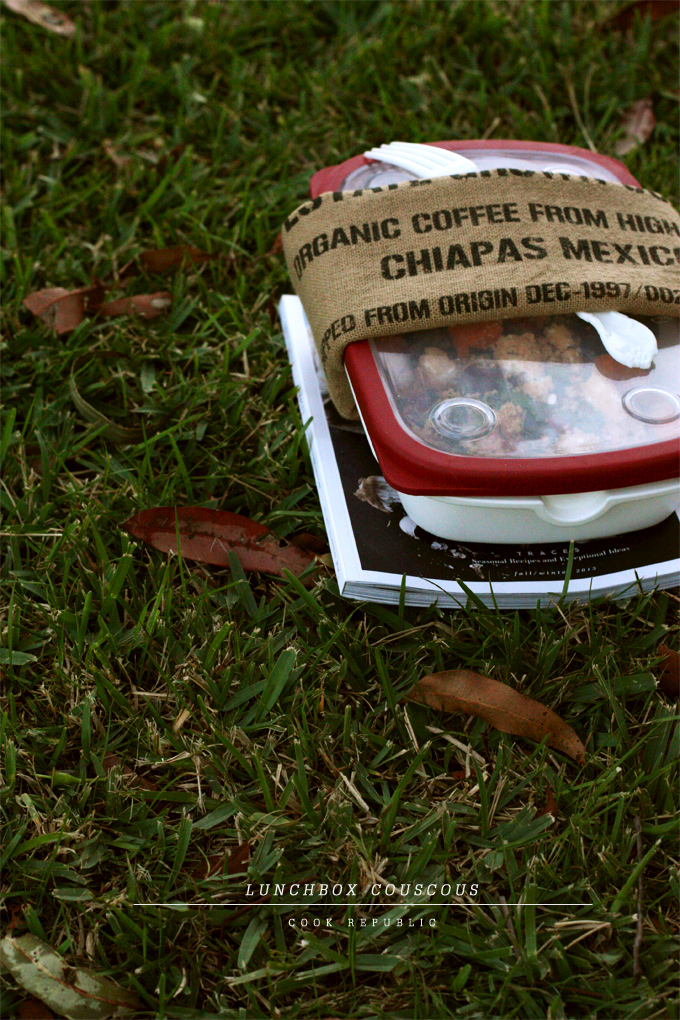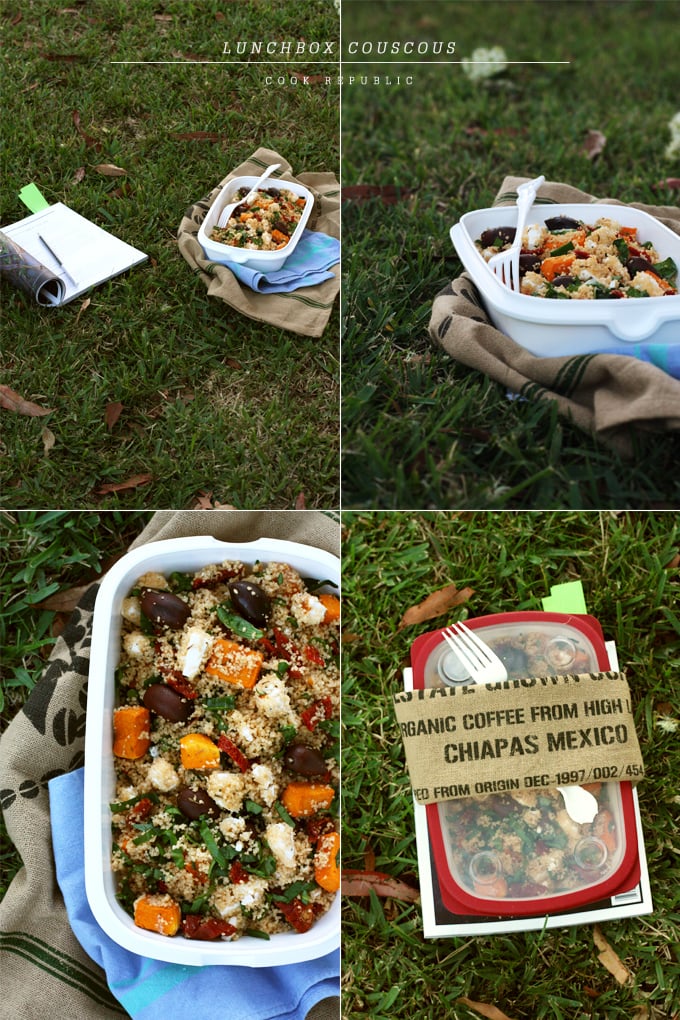 [print_this]
LUNCHBOX COUSCOUS
A beautiful couscous dish packed with roasted pumpkin, spinach, sun-dried tomatoes, feta cheese, herbs and spices. Perfect for the lunch box and tastes as good hot as cold.
Makes – To serve 6
Ingredients
2 cups couscous (dry)
2 cups water
2 teaspoons salt
1 teaspoon sweet paprika
2 tablespoons vinegar
1 tablespoon butter
1 teaspoon thyme (dried)
1 teaspoon rosemary (dried)
1 teaspoon garlic granules
juice of half a lime
2 cups spinach leaves, chopped
1/2 cup spring onion, chopped
1 cup sun-dried tomatoes, chopped
1 cup goat's milk feta cheese, cubed
1/2 cup whole black olives
1 cup roasted pumpkin, cubed
a dash of olive oil
Method
Bring water, salt, paprika, thyme, rosemary, garlic granules and butter to a boil in a large saucepan. Remove from heat. Add the couscous and vinegar and set aside for 30 minutes until completely cooled. Fluff up the couscous gently with a fork.
Add lime juice, olive oil, pumpkin, sun-dried tomatoes, olives, feta cheese, spinach and spring onions. Toss gently until mixed evenly.
Pack in lunch containers and store in the fridge for upto a week.
My Notes
Garlic granules can be found in the dried herb section of the supermarket.
You can add pine nuts, pepitas, sunflower seeds, cranberries, caramelised onion, steamed broccoli or even slices of pan fried chorizo for more options.
[/print_this]