A lighter version of the famous Chinese Cashew Chicken, this recipe has much less oil/salt but doesn't compromise on flavour by the clever use of ingredients. Packed with veggies, this Cashew Chicken is a great weeknight meal for the whole family.
Making Restaurant Style Dishes Lighter With Clever Cooking
We rarely eat out mainly because I cook a lot and particularly because I love having control over what I put in my dish. It is no secret that home cooking if done right is healthier. And through experimentation and clever cooking, you might be able to create dishes that taste as good or better. Chinese Cashew Chicken used to be a favourite dish to order at the restaurant years ago when I used to eat meat (I stopped about six years ago). And I have enjoyed cooking it at home for the boys, using recipes from other blogs and trying to nail that authentic flavour.
Over the years, I have made this dish lighter via a few key changes
I use chicken breast most of the time occasionally using chicken thigh. Chicken breast can be dry but by marinating it, coating it with cornflour and keeping the cooking time very short, you can ensure that it isn't.
I use a fraction of the oil usually used in stir-fries.
I use fewer sauces to flavour this dish. Oyster sauce, dark soy sauce and hoisin sauce are traditionally used in Chinese Cashew Chicken but have a super high sodium and sugar content. My version uses them sparingly.
Instead of flavouring with sauces, I increase the ginger and garlic content of the recipe to draw out the flavour of the chicken and veggies.
I also add broccoli, carrot and snow peas in addition to red capsicum. Not only does it add bulk to the dish but keeps it light and fresh tasting.
I hope you will try my version of this light Chinese Cashew Chicken. It is excellent for lockdown lunches as it can be made ahead, takes barely 10 minutes to cook, can be eaten with a bit of steamed rice or noodles and is absolutely delicious.
Hungry For More Recipes? Subscribe to my newsletter. Check out Facebook, Instagram and Pinterest to see everything I share! And if you love cooking and new cookbooks, join my free Cooking Club on Facebook!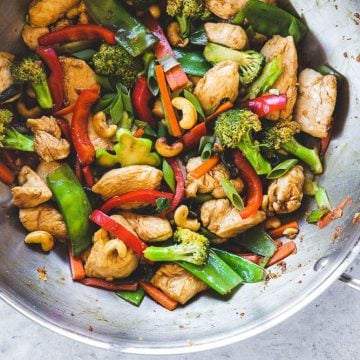 Ingredients
For the chicken
500

g

chicken breast

,

cut into 1-inch pieces

6

garlic cloves

,

minced

1

tablespoon

ginger

,

grated

1

teaspoon

cornflour

pinch of salt and pepper

1

tablespoon

Shaoxing wine

1

tablespoon

peanut oil

¾

cup

raw cashew nuts

,

unsalted
For the veggies
2

cups

broccoli florets

1

cup

red capsicum

,

cut into strips

15

snow peas

,

trimmed

1

small carrot

,

peeled and julienned

4

spring onions

,

sliced (white and green)
For the sauce
2

tablespoons

light soy sauce

1

tablespoon

oyster sauce

1

tablespoon

white vinegar

1

teaspoons

sugar

1/8

teaspoon

ground white pepper

2

teaspoons

cornflour

1

cup

water
Instructions
Add chicken, garlic, ginger, Shaoxing wine, salt, pepper and cornflour to a bowl. Mix well. Set aside.

Prepare the sauce by mixing soy sauce, oyster sauce, white vinegar, sugar and white pepper in a small bowl. Set aside.

Mix cornflour and a cup of water in a small bowl until smooth and lump free. Set aside.

Heat a tablespoon of oil on high in a large wok. Add marinated chicken and stir fry for 2 minutes until chicken is about 80% cooked. Add the cashew nuts and cook for a few seconds. Add broccoli, capsicum, carrot, snow peas and spring onion whites. Stir-fry for a minute until veggies are glazed.

Add the sauce, mix well and continue cooking for a few seconds.

Add the cornflour mix and spring onion greens. Mix well. Cook for a minute until sauce thickens, chicken is completely cooked and everything is warmed through.

Remove from heat. Serve hot with steamed rice. The Cashew Chicken keeps well in the fridge in an air-tight container for up to 2 days.
Did you make my recipe?
I'd love to hear how you went! Tag me on Instagram @cookrepublic