The most delicious hummus you have ever tasted, this crowd-pleasing Caramelized Cauliflower Hummus is made with a new pan caramelization technique. The roasted garlic infused oil and the sticky, jammy, golden cauliflower elevate this to new heights!
Pan Caramelized Cauliflower - A New Technique
Is it acceptable to say that I don't trust oven-roasted cauliflower? That even though I regularly roast cauliflower for amazing dishes like this one and this one, I can't be sure that a new head of cauliflower will behave and stick to my trusty old timings and temperature. Perhaps, it has something to do with the composition of cauliflower, how fresh it is and how much water it holds?
Besides, oven-roasting cauliflower only really works when you have a decent amount of cauliflower to roast. But if you want to perfectly caramelize cauliflower till it is tender and sticky and almost like cauliflower jam (this should totally exist!), then you will love my Pan Caramelizing technique. What's more, I trust this style of roasting cauliflower because it gives me absolute control over how much it cooks. The combination of high heat and water creates cauliflower bits that are juicy and tender.
The idea is to flash fry cauliflower florets in a pan with a bit of oil on high heat till it starts charring (not unlike sealing in a meat recipe). You then deglaze the pan with water, reduce heat, cover and cook until water is absorbed. These two steps are then repeated a couple of times till the alternating dance of pan-frying on high and slow simmering on low creates the most tender, golden, caramelized cauliflower bits that cut like butter.
A Caramelized Cauliflower Hummus Is The Life Of The Party
I like to call this Party Hummus! And rightfully so. No one can resist this - no one! You would have to be a forlorn, cauliflower-hating soul to actively dislike this hummus. Even so, the hummus alone is mega scoop worthy! The pan caramelizing technique results in cauliflower that has caramel tones and develops a deep sweetness which is absolutely delicious. These golden, tender, plump florets are roughly mashed up with a fork and topped over silky smooth chickpea hummus that is made with regular pantry ingredients and three cloves of garlic that have been pan-fried slowly until golden with a bit of good quality olive oil.
The garlic, the garlic-infused oil, the lemon and of course the tahini are all key to creating this winning dip. I make this or this hummus every week and scoop it in single-serve hummus pots. Believe you me, when you are craving a snack or are ravenous after a long walk, nothing beats pulling out a little tub of your own hummus perfectly garnished and digging into it with carrot sticks or crackers!
Recipe
Hungry For More Recipes? Subscribe to my newsletter. Check out Facebook, Instagram and Pinterest to see everything I share! And if you love cooking and new cookbooks, join my free Cooking Club on Facebook!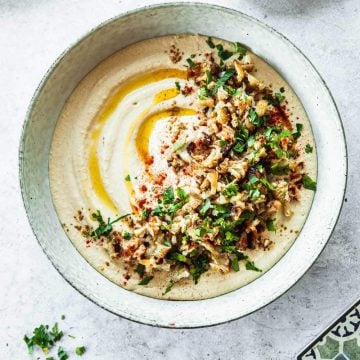 Ingredients
300

g

cauliflower florets

,

cut into small pieces

1

tablespoon

olive oil

3

garlic cloves

1

tablespoon

olive oil

1

X 400g can chickpeas

,

rinsed and drained

1/3

cup

tahini

,

hulled and runny

3

tablespoons

lemon juice

1

teaspoon

sea salt flakes

,

or to taste

1 ½

teaspoon

ground cumin

½

cup

warm water

Smoked paprika, ground cumin, finely chopped parsley leaves, extra virgin olive oil – to serve
Instructions
Heat a tablespoon of oil on medium heat in a large heavy-bottomed frying pan. Add cauliflower florets. Toss and cook for 4-5 minutes until the florets start turning golden. Reduce heat to medium-low, add half a cup of water. Cover and cook for 6-8 minutes until the water is absorbed. Remove the lid, increase heat to medium-high and cook the cauliflower, tossing constantly until it is even more caramelized. Repeat this process again by adding a quarter cup water, reducing heat to medium-low, covering and cooking the cauliflower until water is absorbed and then removing the lid and pan-frying the cauliflower on higher heat until golden, caramelized and tender.

When the cauliflower is done (test it by cutting into the stalk of a floret with a spoon/fork, if it cuts like butter the cauliflower is done) remove from heat and cool completely. Roughly mash the cauliflower with a fork into tiny bite sized pieces.

Heat a tablespoon of oil in a small frying pan. Add garlic cloves and cook them on medium-low heat, tossing constantly until they are golden all over (3 mins approximately). Remove from heat and cool completely.

Add chickpeas, tahini, lemon juice, salt, cumin, warm water, roasted garlic with oil to the bowl of a small processor. Process until smooth.

Spoon the hummus into a large, shallow bowl. Using the back of a spoon, create indents in a swirling pattern. Add caramelized cauliflower to one half of the bowl.

Drizzle the hummus with extra virgin olive oil. Sprinkle a pinch of smoked paprika and ground cumin. Garnish with chopped parsley. Serve with flatbreads for scooping or store in lidded, air-tight, glass containers in the fridge for up to 3 days.
Did you make my recipe?
I'd love to hear how you went! Tag me on Instagram @cookrepublic