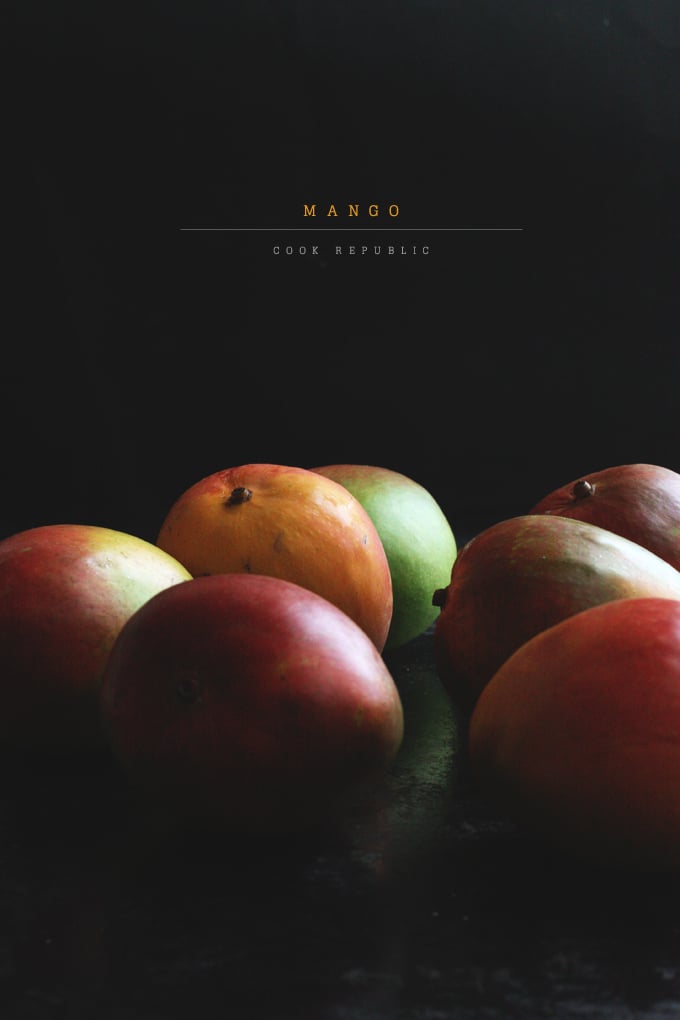 Mango is my favourite fruit. Always has been. We may have enjoyed the very last few batches of the Aussie mangoes as summer almost comes to a close. They seem to be disappearing from the farmer's markets, already replaced with autumnal produce. Although short-lived, the Aussie mango season is bountiful in its golden juicy fruit. Out of all the different kinds of mangoes that make an appearance, we love the R2E2 the most. Sounding more like a cybertronic buffoon from Star Wars, this mango is an Aussie favourite with fruit as large as a baby's head (seriously!!) and sweet oh so sweet flesh with a distinct tang. The skin has a deep blush complimenting green and gold tones, is the third most popular variety grown in Australia and highly sought after for its longer shelf life.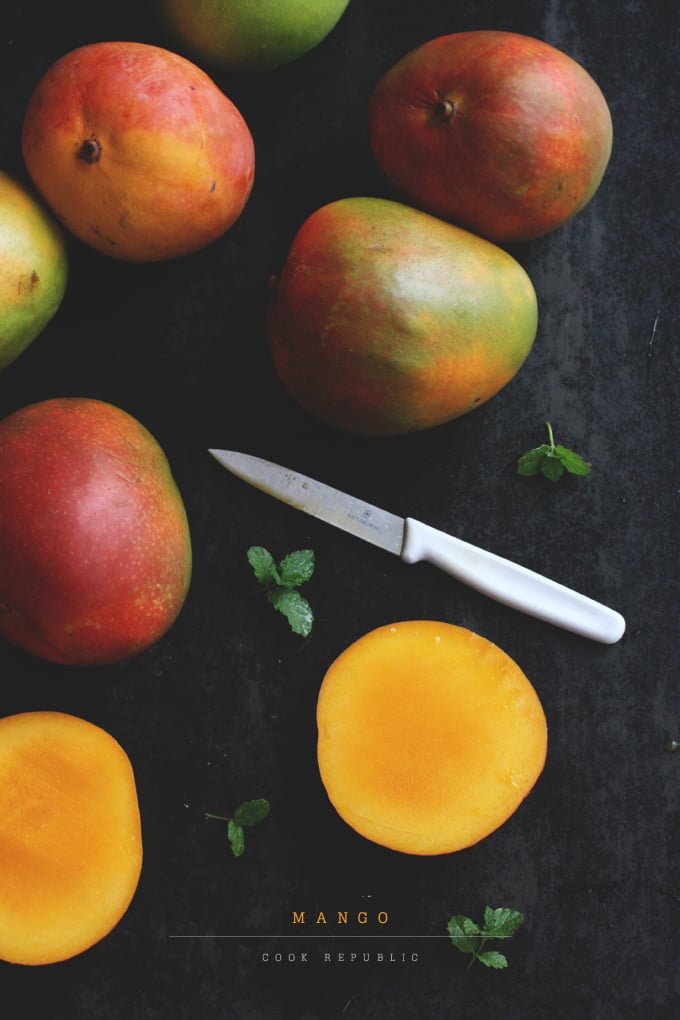 I have made a dairy free version of the traditional rice pudding using coconut milk and water. It is low in sugar and has a beautiful texture that offsets cubes of juicy mango and tantalising flakes of toasted coconut. I adore the mango and toasted coconut combination and found it works really well here. I have used Thai jasmine rice because I find arborio rice fiddly to cook in a pudding. It almost never cooks in the time a recipe states and still has a bite to eat. Thai jasmine rice cooks faster and renders a creamier, softer pudding. I find that pre-soaking the rice for an hour or so delivers an even better result and shorter cooking time.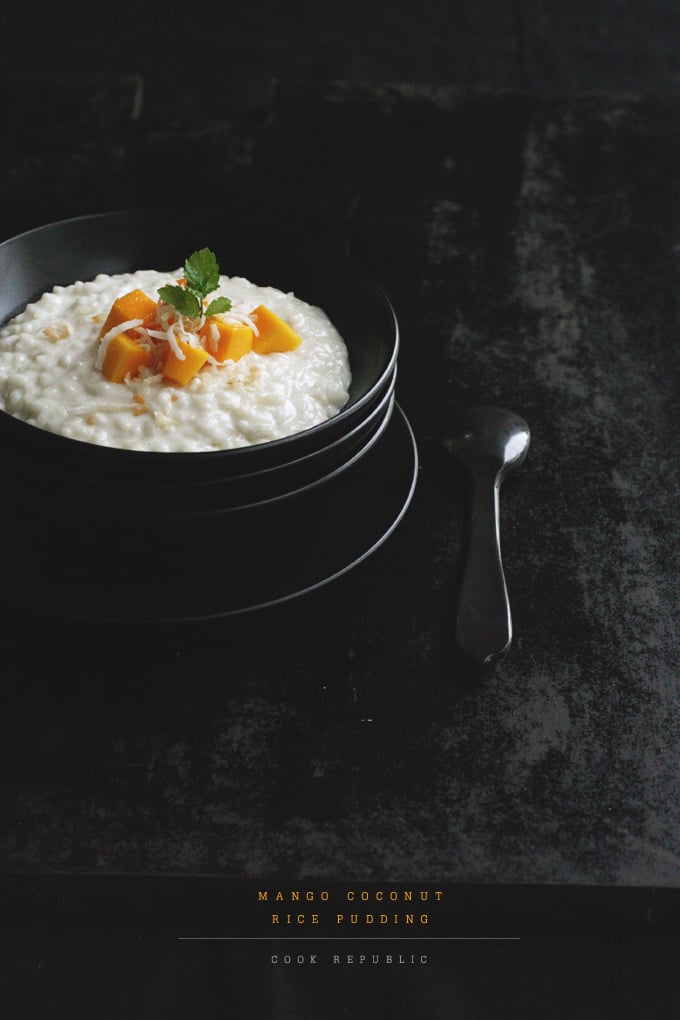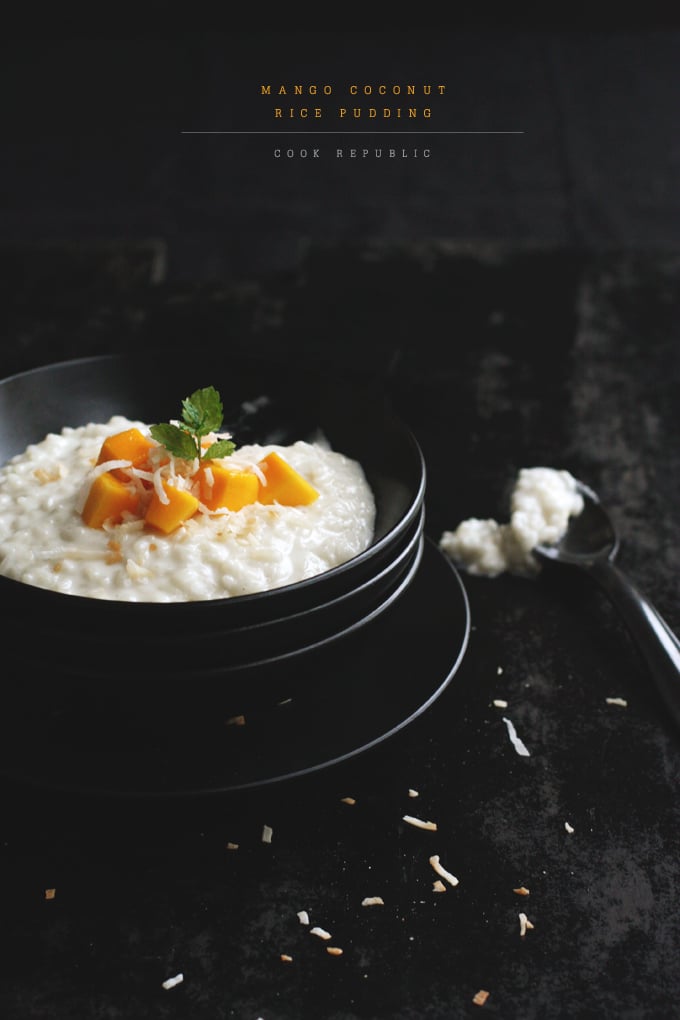 The secret to a good rice pudding is time and love. I don't believe in 20 and 30 minute recipes. They do not make a good rice pudding. Like a good bowl of porridge, I like to take my time slow-cooking rice pudding. I like to stir with a long wooden spoon as the rice gets creamier and creamier. While I am doing that, I escape somewhere entirely different in my mind. I daydream. I glaze over. I feel my other senses taking over and those moments of calm are why I love my rice pudding so much!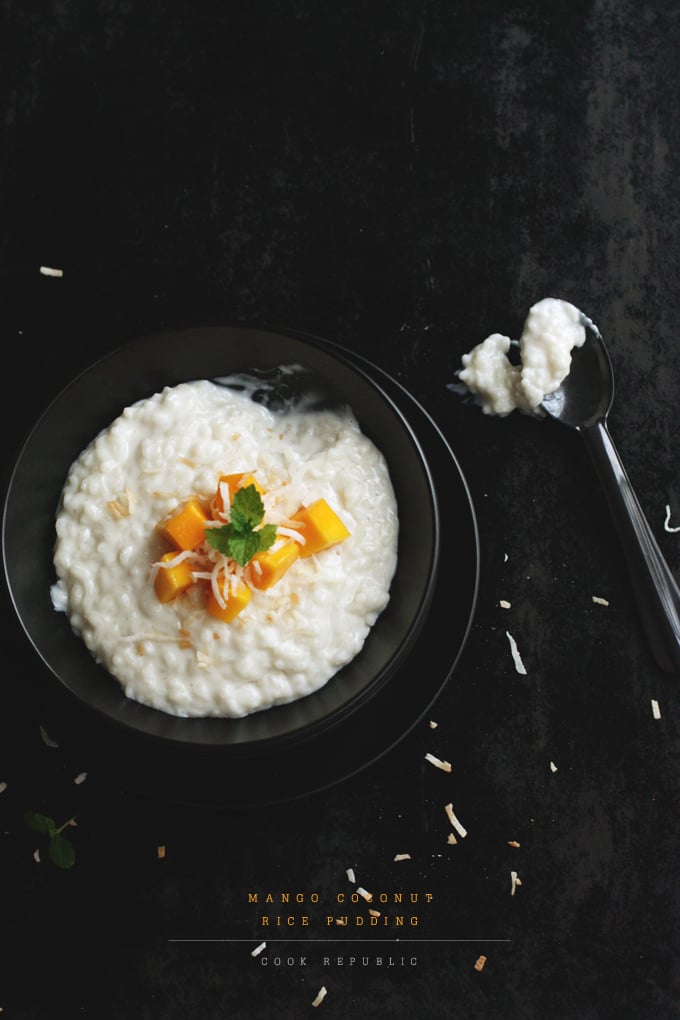 [print_this]
MANGO COCONUT RICE PUDDING
A luscious, creamy dairy-free dessert non-traditionally made with coconut milk and topped with cubes of sweet, juicy mangoes and toasted coconut flakes.
Makes - To Serve 2
Ingredients
3/4 cup Thai jasmine rice (or arborio rice)
400ml can coconut milk
1/2 cup water
1 tablespoon vanilla extract
1/2 cup raw sugar
a pinch of salt
cubes of ripe mango, to serve
toasted coconut, to serve
mint leaves, to serve
Method
Place rice, coconut milk, water, vanilla extract, salt and sugar in a heavy bottomed saucepan on medium-low heat. Cook, stirring contantly for 20 minutes until it comes to a boil. Reduce heat to low and simmer uncovered for 40 to 60 minutes. Stir frequently to avoid sticking.
The rice should be soft and cooked at this point. Remove from heat and allow to cool completely before chilling in the fridge for a couple of hours. Can also be enjoyed warm.
Top with mango cubes, toasted coconut flakes and fresh mint leaves.
My Notes
To toast coconut flakes, heat a frying pan and dry roast store bought coconut flakes for a few seconds until they are browned around the edges.
If using arborio rice, I find pre-soaking them in water before cooking for about an hour helps the cooking process. Arborio rice needs a longer cooking time.
If during the cooking process, you feel that the liquid has soaked up and the pudding hasn't cooked, add more water to get the consistency you like. Different brands of rice cook differently. Some soak up more liquid than others.
This is a dairy free version of the pudding. If you would like it creamier and are not lactose intolerant, replace water with light milk/cream.
[/print_this]