Naankhatai is an Indian shortbread made with ghee and flavoured with some ground cardamom. It is a melt-in-your-mouth, buttery, sweet treat sold at sweet shops and grocery stores in India. My recipe is a four-decade-old mum's Naankhatai recipe that I have grown up with. And it is absolutely delicious!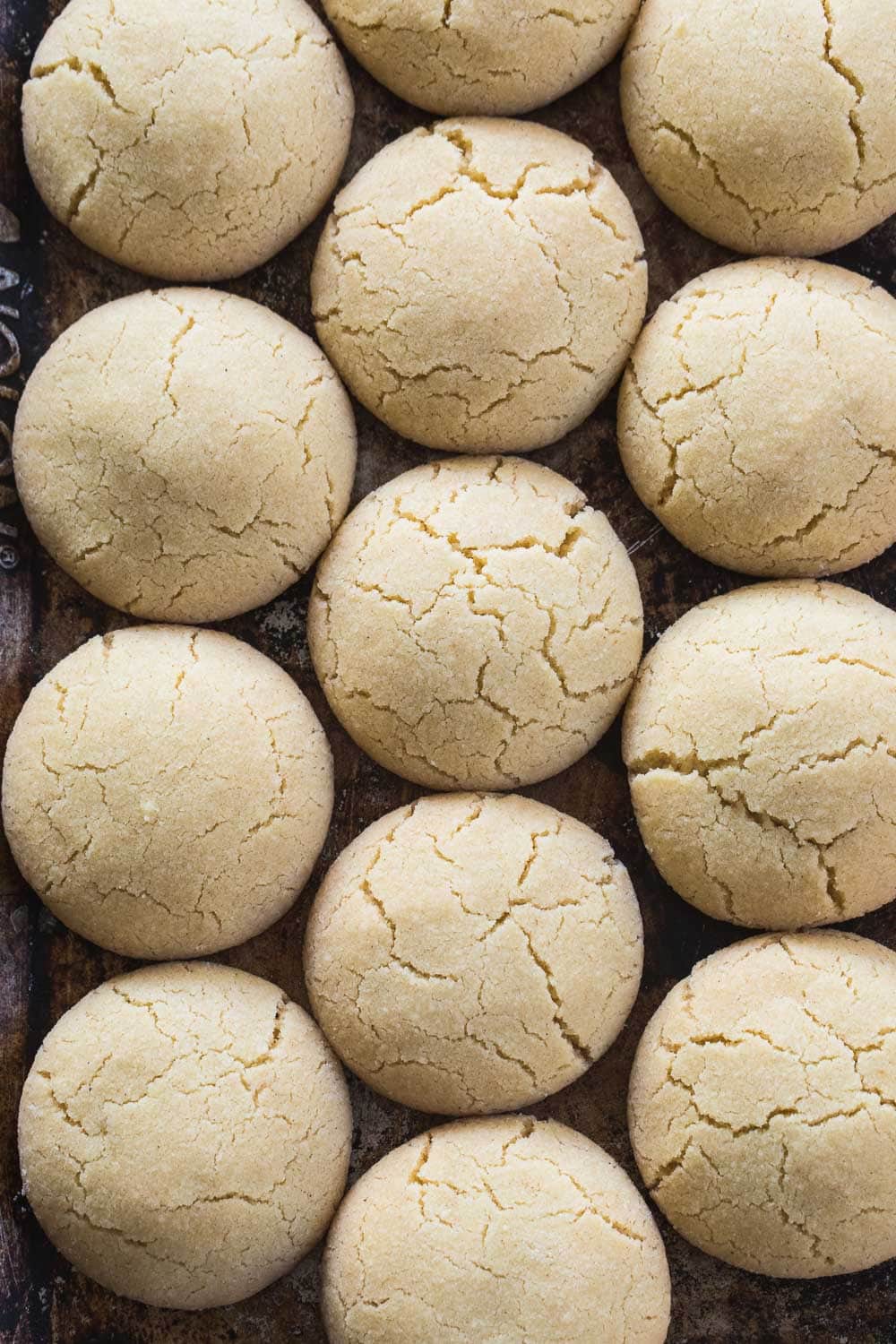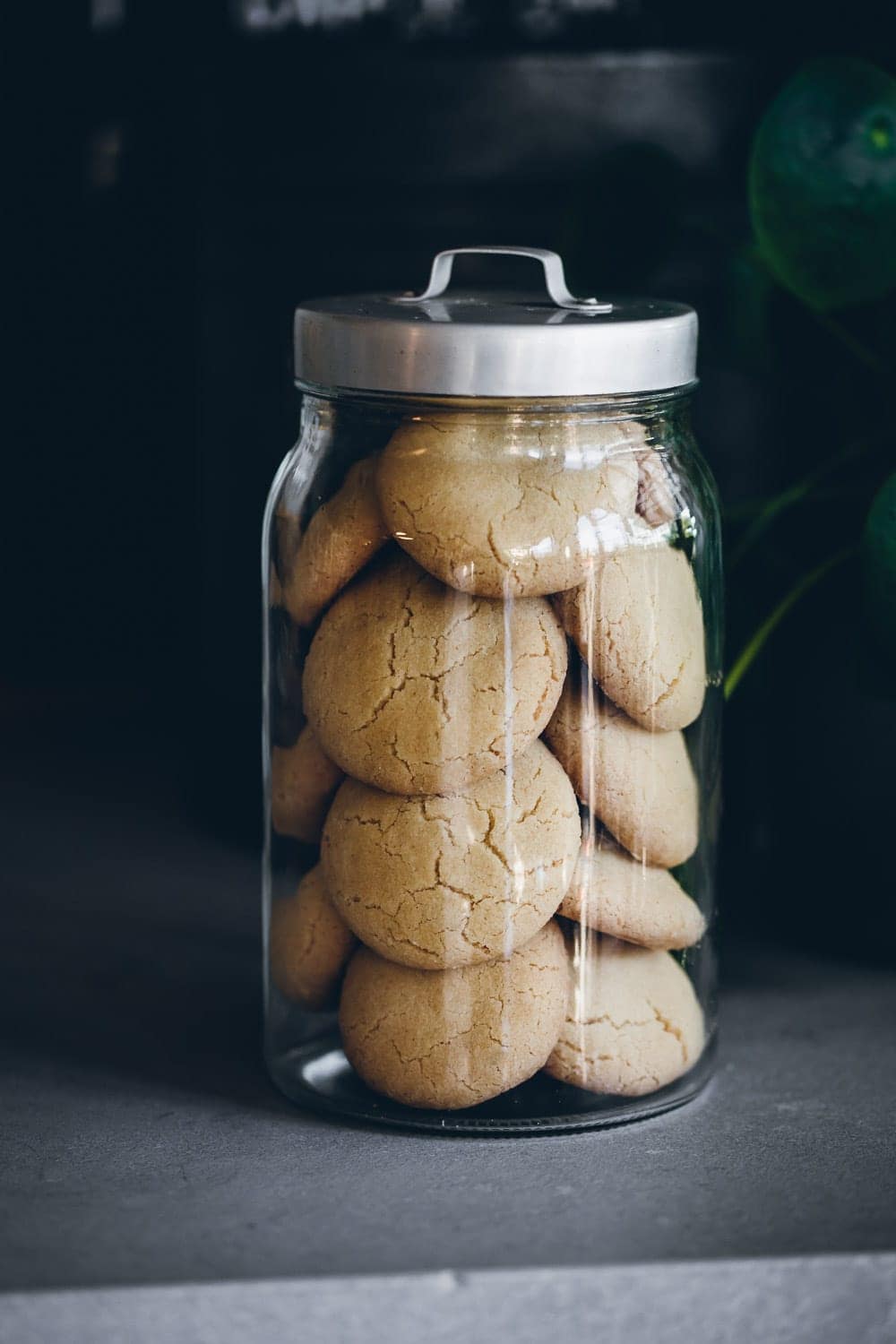 The Story Of My Naankhatai
Naankhatai is a divine shortbread very famous in India and Pakistan. It is derived from the Persian word naan meaning bread and khatai from a Dari Persian word meaning biscuit. Biscuits were a staple in my childhood home. Mum had a deep-seated fondness for all baked things and had a pantry meticulously stocked with biscuits (sweet and savoury) of all kinds. My favourite was her Naankhatai - a melt-in-your-mouth, decadent, buttery shortbread made with homemade ghee, a touch of semolina for that beautiful crunch and the delicate flavour of cardamom. One was never enough!
The most astonishing thing in all this was the fact that we didn't have a proper oven at home. No one did in India back in the seventies and eighties. My mum had a round oven that looked like a porthole in an ancient submarine, burnished steel contraption with a peek-a-boo glass top. It was only slightly bigger than a standard round cake tin and it was a dedicated cake oven for the butter cakes my mum would bake from home churned butter. Oh dear God!
As you must've guessed; this oven was not suitable for anything other than an eight-inch round cake. My mum's naankhatai was baked at the local bakery, late in the evening when the daily rush had died down and the industrial oven was offered to whoever wanted to bake their homemade treats. I must remind you, that this being an industrial oven; one couldn't just turn up with a batch of 15 biscuits. That would be absolutely ridiculous! So, my mum would make a few hundred and load them up layer by layer in a huge aluminium tin. And I was her helper. We would carry the tin to the local bakery by auto-rickshaw and unload the naankhatai on the giant baking trays. We would sit on a bench outside the bakery, inhaling the irresistible aromas of baking wafting through the half-closed roller doors.
When the naankhatais were baked and cooled, we would load them up in the same huge tin, layer by layer and bring them home. Our next job was to police my younger brother who could never stop at one or ten naankhatais.
Using The Right Ghee For Naankhatai - Indian Shortbread
Good ghee is golden, soft, grainy with a rich fragrant nutty aroma. The graininess is obtained when a sour element is introduced during the ghee-making process. When you make ghee at home from cream collected from milk over a period of two weeks, the cream is soured and churning that into butter and simmering that butter to obtain ghee makes the best kind of grainy ghee.
I feel so fortunate to have learned this art of making ghee from watching my mum go the whole nine yards over the years. But my process is to facilitate the times we live in and I remedy the sour element in my homemade ghee by introducing cremé fraíche. And when I don't have the time to make my own ghee, I absolutely love using Pepe Saya ghee. It has that truly authentic grainy, homemade ghee quality to it.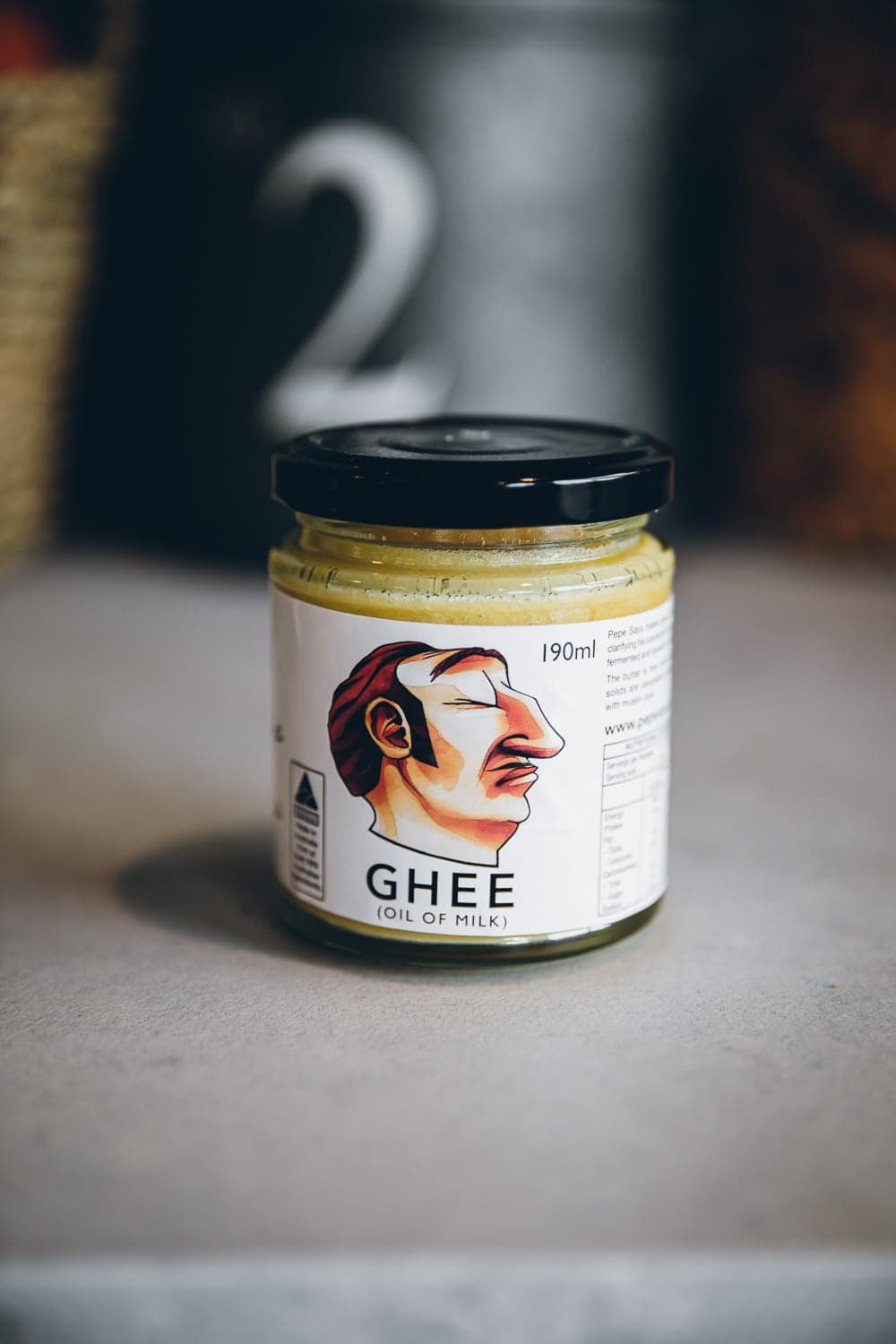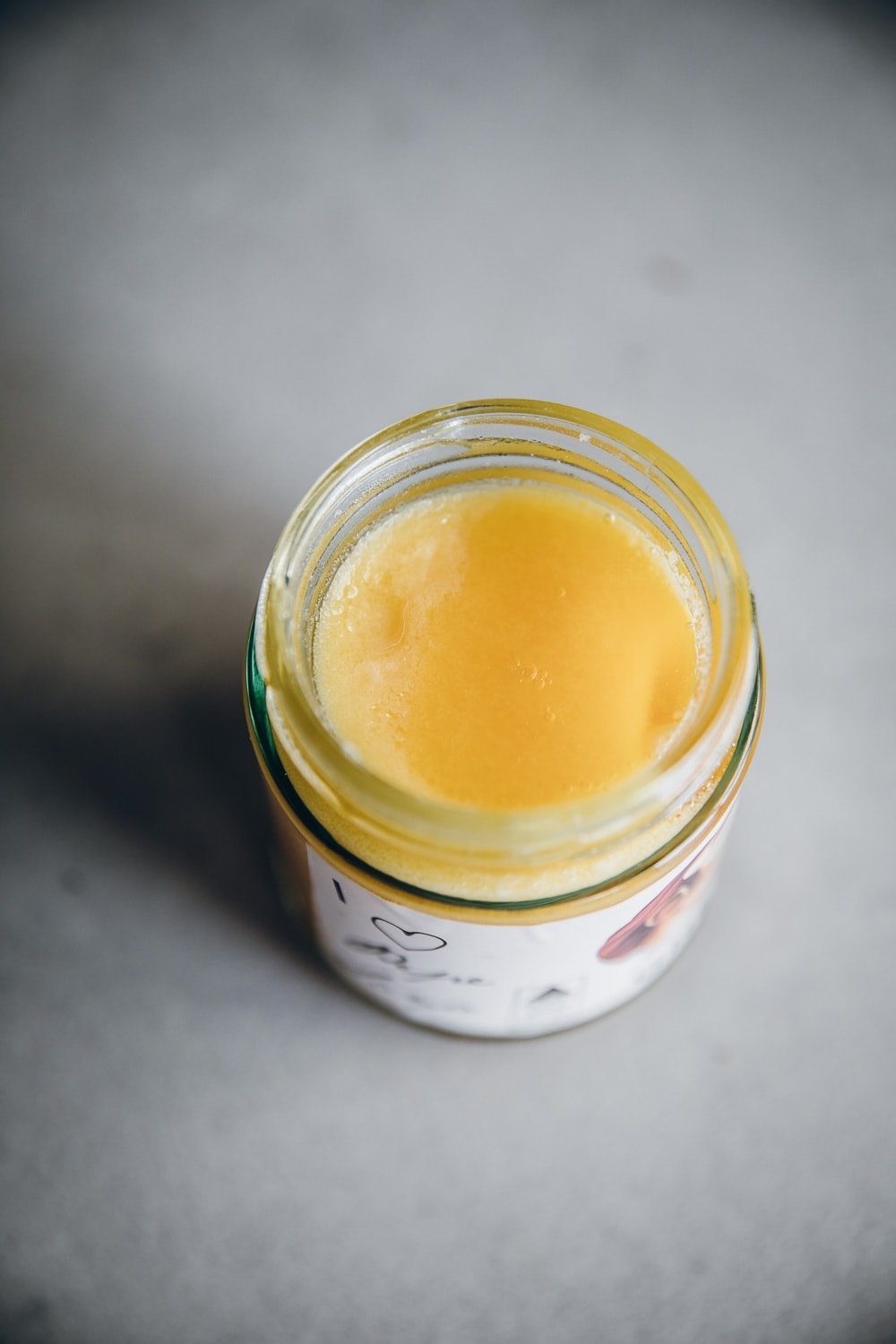 Tips On Making A Great Naankhatai
When my mum sent me her handwritten recipes a few weeks ago, I had to bake several batches to adjust the recipe to a home oven. After a few batches which were all delicious (except the first one that was a flooping flop!), I finally hit the motherload with the perfect naankhatai - the same texture, taste and aroma of my childhood. So, I baked it a few more times to be absolutely sure and I am excited to share the recipe with you today. A few pointers
I have shared ingredient quantities in grams, this avoids potential flops if you are in different countries and used to different cup measurements.
Sifting the flour is important to getting light, crispy naankhatais
The semolina adds a wonderful crunch and lightness to the shortbread dough. Don't skip it.
Powdered sugar is icing sugar, not icing mixture (which has a thickener mixed with the sugar). Use icing sugar or powdered sugar. I use raw sugar and blitz it a couple of times in my food processor/blender to make powdered raw sugar. It is slightly brown and adds a wonderful caramel note to the naankhatai.
The ghee should be softened and only partially melted. This is done by microwaving solid ghee for 35-40 seconds. You should be able to feel the graininess and semi-solid liquid. And it shouldn't be hot.
The dough should be soft, pliable with a tendency to crumble (see picture).
Use clenching and rolling motion to shape the dough balls rather than just rolling. When you roll the naankhatai, don't flatten it. Let the base be flat but the top is a round dome. This helps the naankhatai hold its beautiful shape.
Baking on a silicon mat helps the biscuits get a grip without spreading and flopping into larger shapes.
Pre-heating the oven is a must.
If you are in a warm climate and your naankhatai dough is too soft (it will look shiny and wet if it is too soft), place it in the fridge for 5-10 minutes to dry and firm up a bit.
Recipe
Hungry For More Recipes? Subscribe to my newsletter. Check out Facebook, Instagram and Pinterest to see everything I share! And if you love cooking and new cookbooks, join my free Cooking Club on Facebook!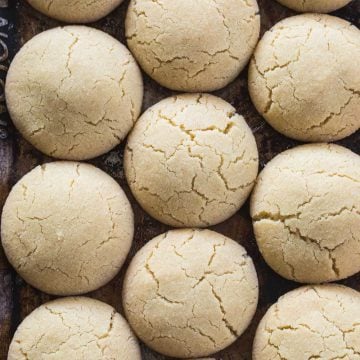 Ingredients
195

g

plain flour

,

sifted

20

g

semolina

½

teaspoon

baking powder

1

teaspoon

ground cardamom

Pinch

of salt

85

g

powdered sugar *

125

g

semi-melted ghee **
Instructions
Pre-heat oven to 180°C (160°C fan-forced). Line a large baking tray with baking paper.

Sift flour into a medium bowl. Add semolina, baking powder, cardamom, salt and sugar. Mix gently.

Add the melted ghee and mix with a wooden spoon. Gently gather the mixture with your hand and knead into a soft dough.

Take a tablespoon of the dough and roll it into a ball (flat at the bottom and rounded on top) about 2 cm high. Place on the prepared baking tray. Repeat with the rest of the dough, placing the dough balls 5-6cm apart.

Bake in the pre-heated oven for 18-20 minutes until cooked and a shade darker.

Remove from the oven and cool completely before storing in an air-tight glass jar.
Notes
Make sure your ghee is not completely liquid. I like to place solid ghee in the microwave for 30-40 seconds to get softened-partially melted ghee.
* Powdered sugar is icing sugar, not icing mixture (which has a thickener mixed with the sugar). Use icing sugar or powdered sugar. I use raw sugar and blitz it a couple of times in my food processor/blender to make powdered raw sugar. It is slightly brown and adds a wonderful caramel note to the naankhatai.
** Ghee can be replaced by butter. Follow the same partially-melted method for butter as well.
The dough should be pliable, just firm enough and prone to slight crumbling (see pictures). This is the perfect dough consistency for this shortbread.
Baking on a silicon mat provides the shortbread with more grip as they bake preventing them from spreading out, allowing for nice high cookies.
Did you make my recipe?
I'd love to hear how you went! Tag me on Instagram @cookrepublic