A hearty, lusciously thick, delicious soup ready in just 10 minutes. This Indo-Chinese Chicken Sweetcorn Egg Drop Soup has saved my life on more occasions than I can remember. It is a staple after-school snack during winter and so easy, even the boys can put it together themselves. Make it today!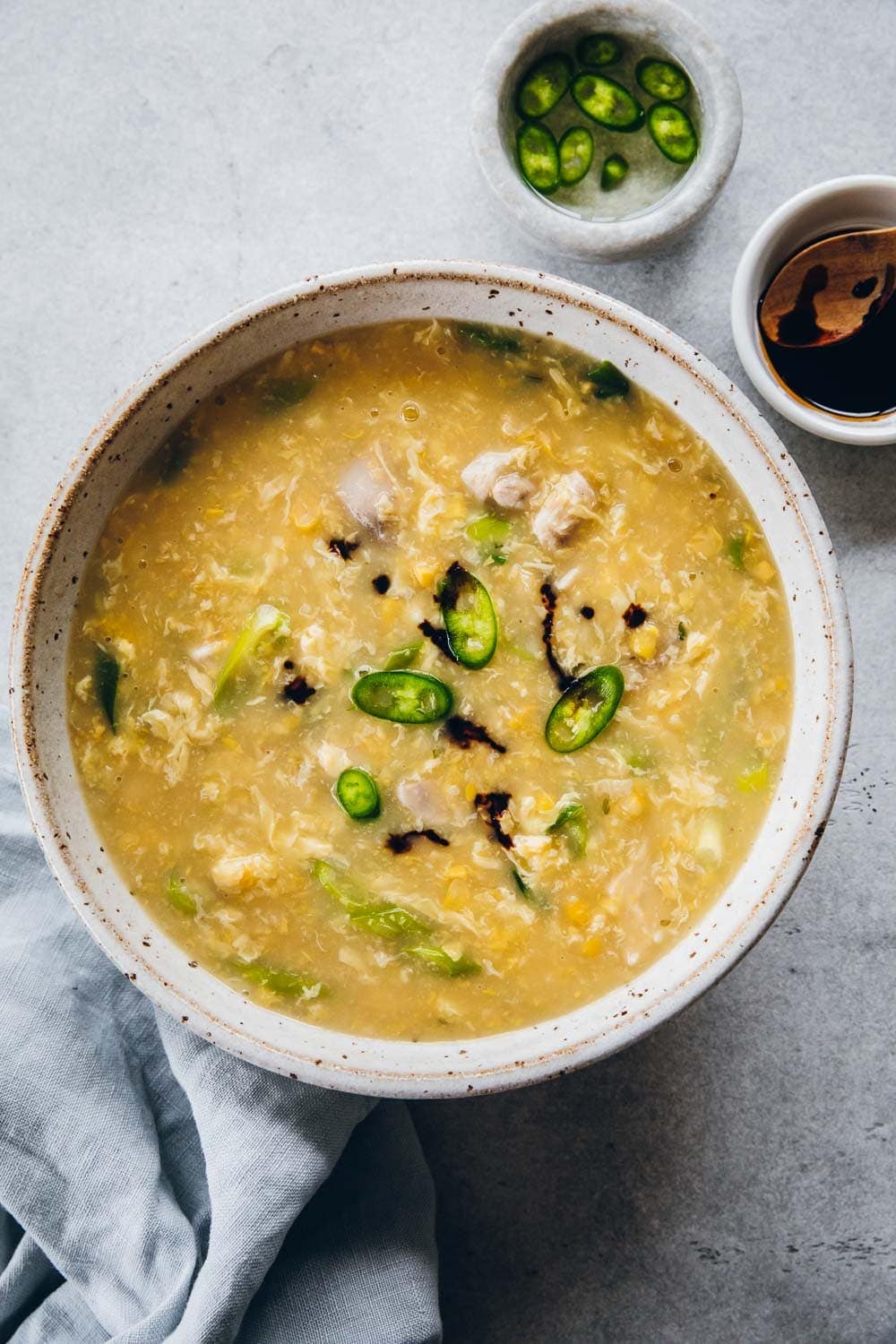 The Magic Of Indo-Chinese Cuisine
If you are a regular follower of my blog, you will know by now how much I adore Indo-Chinese cuisine. In the past, I have shared many recipes from my years growing up in Mumbai and eating at roadside Indo-Chinese stalls. A fusion cuisine that was a result of the Chinese Hakka community adopting some Indian ingredients to spice up their everyday Chinese dishes.
While studying at University in Mumbai, Nick and I used to be forever trying out new local eateries for an exciting hot meal after a hard day of studying and working on assignments. Indo-Chinese shacks were our favourite. Our meal always started with a thick, hot soup. The reason being, it was Mumbai and the city was forever in the grips of the monsoon. When it rained, it poured and it flooded. Umbrellas reduced to bare skeletons and clothes and shoes soaked, a hot soup on our journey home was like the nectar of Gods.
The soup menu was always exciting - Manchow Soup, Hot And Sour Soup, Chicken Sweetcorn Soup, Lung Fung Soup, Talumein Soup, American Chopsuey! All soups were luscious and thickened with cornflour. But my favourites were the Egg Drop Soups.
Everyone Loves A Good Egg Drop Soup
What is an Egg Drop Soup? It is probably the most fun way to add extra protein, viscosity and texture to an already delicious soup. It is an old Chinese technique of adding whisked eggs in a thin stream to a hot, still simmering soup to create millions of tiny egg ribbon confetti. It not only looks super pretty, but the mouthfeel is just beautiful with delicate silky strands of egg melting in your mouth.
This Chicken Sweetcorn Egg Drop Soup is one of the easiest soups you will make. It basically involves adding all ingredients to a pot and bringing them to a boil. You then thicken the soup with cornflour and drizzle whisked egg to get the silky strands. Done! This soup is the only reason I have a steady supply of creamed corn cans in my pantry. The soup is a good recipe for meal prep days. You can make it and store it in glass jars for the fridge. It keeps well in the fridge for up to 3 days. If you want a vegetarian version, just skip the chicken and replace the chicken stock with veg stock.
The stalls in India always serve it with some dark soy sauce and some green chilli slices swimming in white vinegar. If you make this soup, you must make have it with these two simple condiments. It is what makes this soup uniquely Indo-Chinese. You only need a couple of drops of the dark soy sauce, a couple of drops of white vinegar and some chilli slices to top your soup. As you stir it, the soup will become dark and stormy and taste absolutely divine. Enjoy!
Recipe
Hungry For More Recipes? Subscribe to my newsletter. Check out Facebook, Instagram and Pinterest to see everything I share! And if you love cooking and new cookbooks, join my free Cooking Club on Facebook!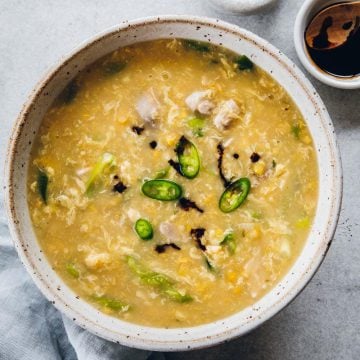 Ingredients
1

X 400g can creamed corn

400

ml

chicken stock

300

g

boneless chicken thigh

,

cut into bite-sized pieces

1

teaspoon

grated ginger

½

teaspoon

sea salt flakes

,

or to taste

¼

teaspoon

ground white pepper

3

spring onions

,

sliced thinly (green only)

2

teaspoons

cornflour mixed in ¼ cup water

1

large egg

,

whisked

Dark soy sauce

,

green chilli slices in white vinegar – to serve
Instructions
Add creamed corn, chicken stock, boneless chicken, ginger, salt and pepper to a medium saucepan on high. Bring to a rolling boil (approximately 5 minutes).

Reduce heat to medium. Add the spring onion and cook for 2 minutes.

Add the cornflour mixture and mix well. Continue to cook on medium heat for 3-4 minutes until the soup has thickened and coats the back of a spoon.

While the soup is gently bubbling, give it a quick stir to create a gentle whirlpool. Slowly drizzle the whisked egg in the center of the whirlpool in a thin stream. Remove from heat and stir very gently to distribute the egg ribbons evenly.

Serve hot with a few drops of dark soy sauce and vinegar-soaked green chillies.
Notes
Condiments - The two simple condiments are what really makes this soup extra delicious - A few drops of soy sauce and a few drops of vinegar along with a couple of slices of green chillies that are soaking in it. Make It Vegetarian - Simply skip the chicken and substitute chicken stock with veg stock. Consistency - This is a really thick soup, but it can be easily thinned by adding 100-200ml extra stock. Canned Corn Replacement - If you can't find canned creamed corn, boil some fresh corn (1-2 cobs) with a teaspoon of sugar and pinch of salt in a pot of water. Cool, remove the kernels in a blender, add a cup of the cooled boiling water and blend to get a coarse mixture. Use this instead of the canned creamed corn.
Did you make my recipe?
I'd love to hear how you went! Tag me on Instagram @cookrepublic