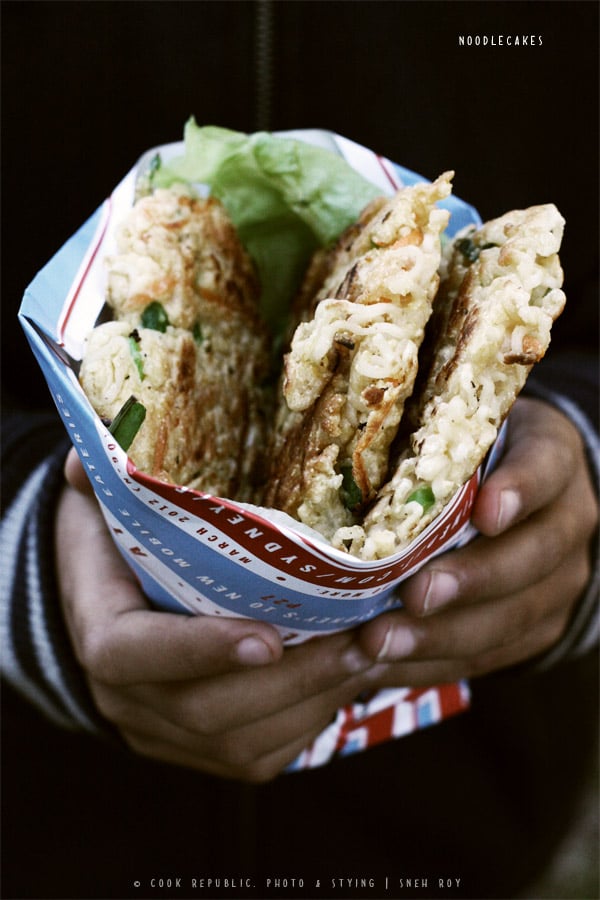 When there is a choice - noodles or pancakes; why pick just one? Introducing, Noodlecakes! I know that sounded like a pitch for an advertisement on telly or *inserts deep male voice* the opening line of a new blockbuster trailer. But it is neither! It is merely a compromise we reached one afternoon when one of my offsprings wanted noodles for a snack and the other wanted pancakes. Although I do have a feeling, the one craving noodles won this round!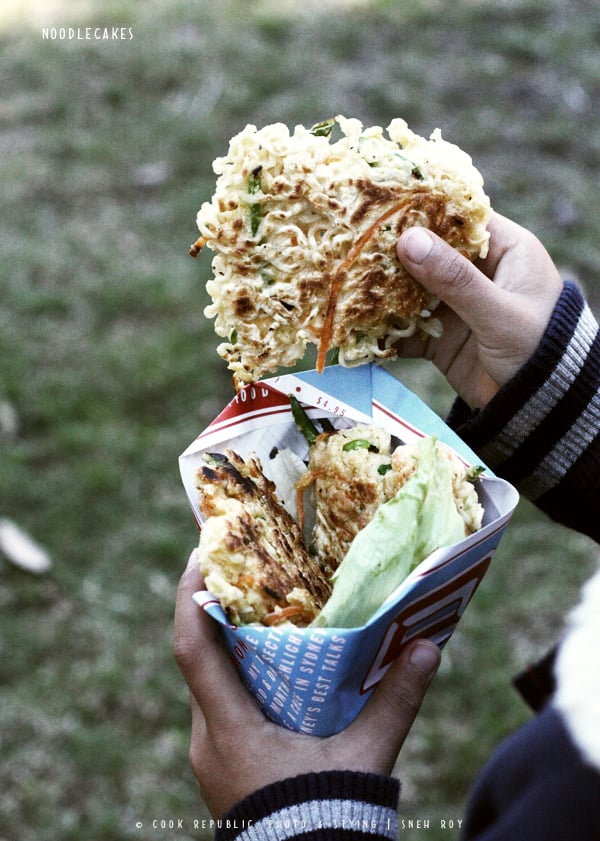 Cook noodles, drain them, mix them with some crunchy veggies cut in strips, add flour and eggs and seasoning. Pan fry. Voila!! Nothing to it but a quick, healthy and fun afternoon snack. Rivs was very excited to hand model for this recipe both in the dying light the night I made this and the following morning before breakfast. He was professional, patient and a sheer delight to work with. If anyone wants to work with a new and upcoming hand model, you know where to find him! He even eats the subject after so there is no clean up required.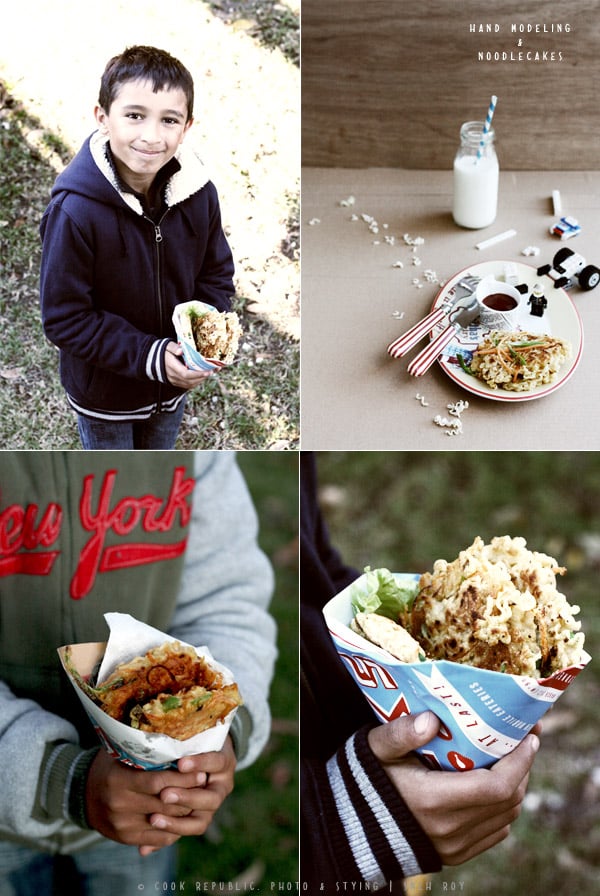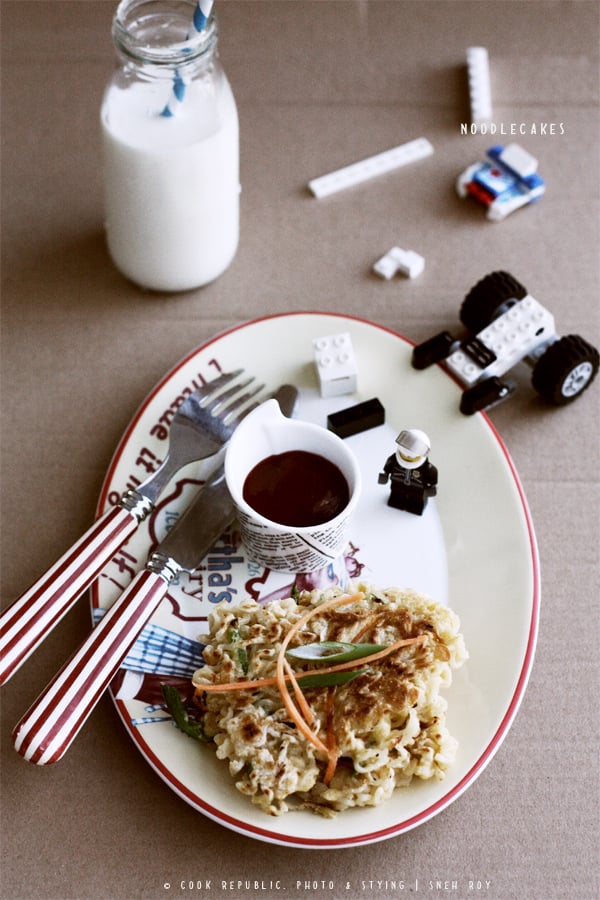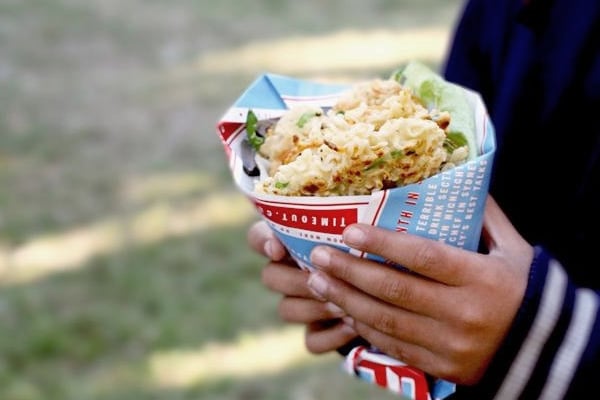 Hungry For More Recipes? Subscribe to my newsletter. Check out Facebook, Instagram and Pinterest to see everything I share! And if you love cooking and new cookbooks, join my free Cooking Club on Facebook!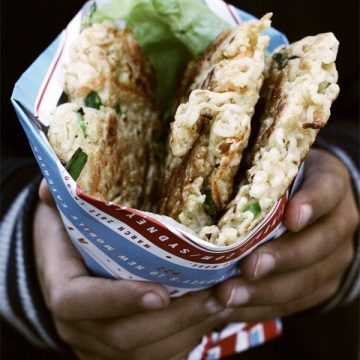 NOODLECAKES
When there is a choice - noodles or pancakes; why pick just one? Introducing, Noodlecakes!
Print Recipe
Rate / Comment
Ingredients
1

medium carrot

,

peeled and julienned

4

snow peas

,

trimmed and julienned

1

spring onion

,

trimmed and thinly sliced

1

packet instant noodles

,

cooked and drained

1

teaspoon

ginger paste

3/4

cup

self-raising flour

1/4

cup

polenta

1/4

cup

water

1

egg

,

lightly beaten

salt and pepper to taste

oil for frying
Instructions
Place flour, polenta, salt and pepper in a large bowl. Add the carrots, snow peas and spring onions. Toss to mix well. Add the cooked noodles, ginger paste, egg and water. Mix to get a stiff and sticky loose-dough like mixture.

Heat 2 tablespoons of oil in a frying pan over medium-high heat. Using a large spoon or your fingers, scoop the noodle mixture onto the pan in rough 8 centimeter flat circular shapes.

Cook for a minute or two before gently flipping over and cooking the other side. Each side needs to be cooked for at least 2 to 3 minutes until golden and crunchy on the outside and cooked through the middle.

Repeat with the remaining noodle mixture. Serve warm with ketchup or soy sauce. Alternatively, wrap in paper towel and pack for lunch.
Notes
To cook the noodles, add a packet of instant noodles (minus the flavouring) to a saucepan. Cover noodles with water and bring to a boil. Remove from heat, drain hot water and refresh with cold water several times to stop them from cooking more. Drain all water and set aside.
You can add any seasonal veggies you can find as long as they are firm and retain their crunch after slight cooking.
Try cooking this batter in a waffle maker.
Serve these in newspaper cones at your next Street Food Themed Party.
Did you make my recipe?
I'd love to hear how you went! Tag me on Instagram @cookrepublic