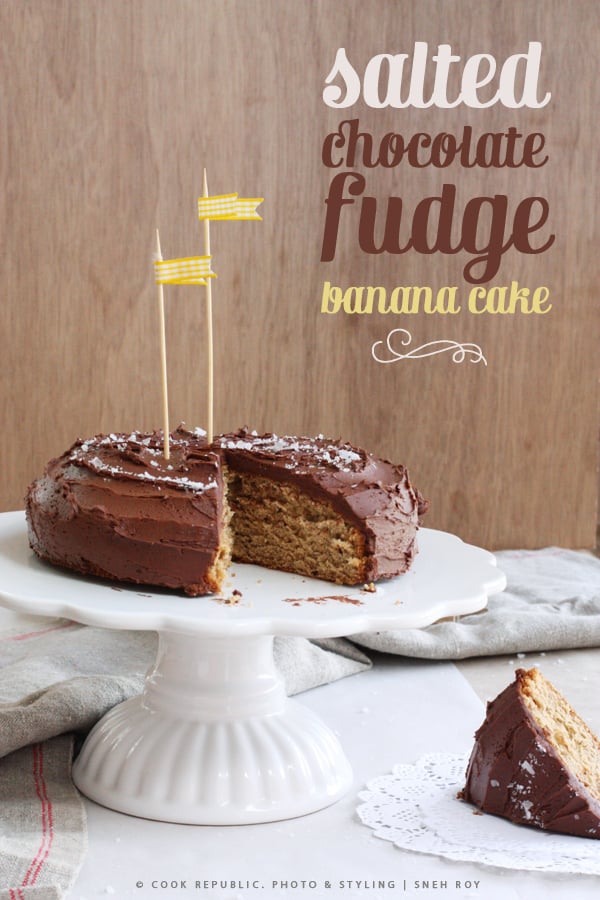 The winter 2012 issue of Donna Hay magazine is a baker's dream. Amongst extremely creative and simple desserts and bakes is a section on Banana Breads. There is a base recipe and there are a gazillion delightful variations. Now we all know that no matter how many times we bake banana bread, we never remember where we last baked it from and end up trying a new recipe. That in itself might not be a bad thing because all banana bread recipes always work well. Unless it is a particularly bad one. But I haven't come across any.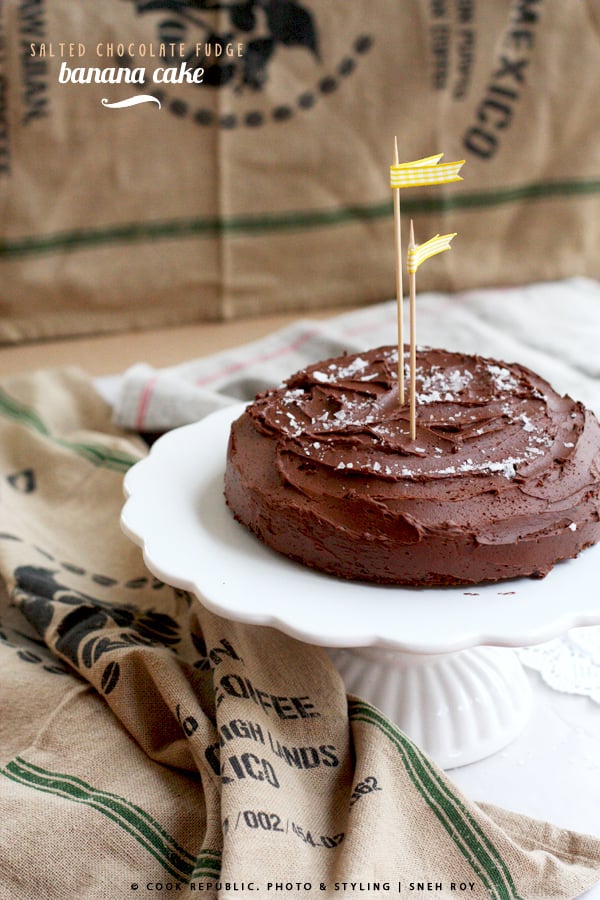 I tweaked the base recipe and it made a gorgeous banana cake. Actually it made 2 large banana cakes. (See My Notes to find out what I did with the cakes and what you could do). The cakes are delightfully moist yet firm, so icing them is a dream. The cake also has a lovely caramel colour and flavour from the golden syrup. The icing itself is super easy to make and has no added sugar, just plain good old dark chocolate. It is fudgy, dense, creamy and very easy to work with. The sea salt flakes make the cake in my opinion. The hit of saltiness when you bite into the thick layer of icing is to die for. Salt - check! Chocolate - check! Caramel - check! Fuss free - check! I think this is going to be my favourite to bake for special ocassions. It is like dressing a pauper up in bling and watching everyone fawn over him.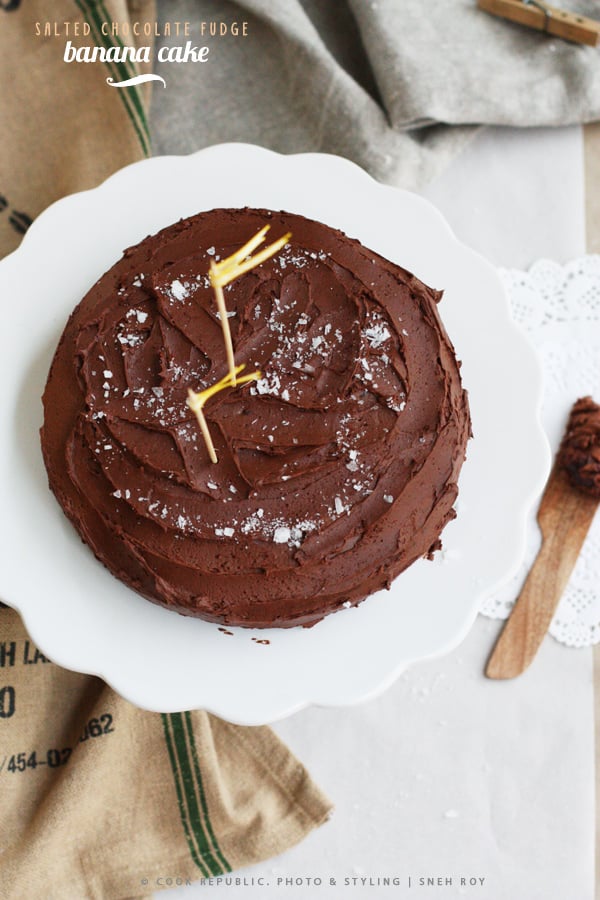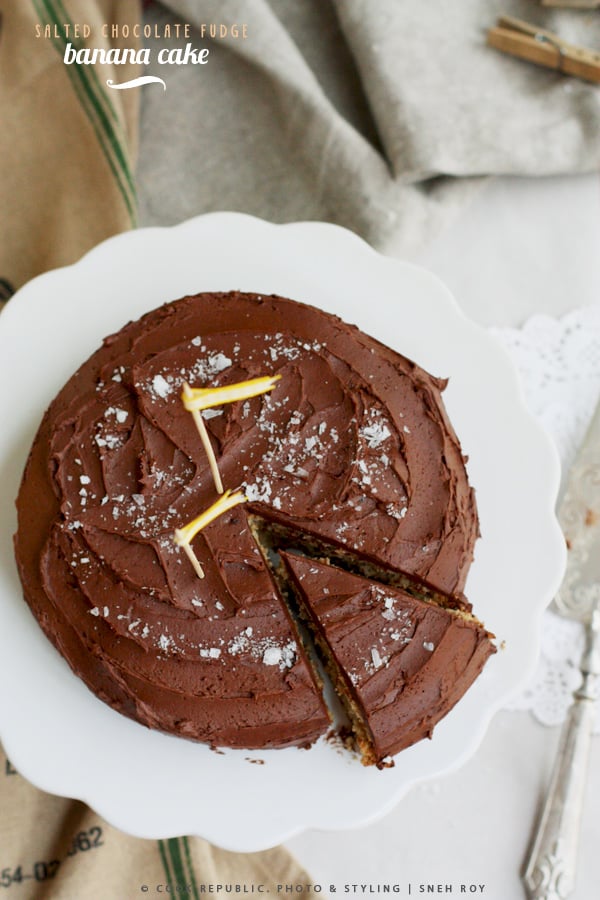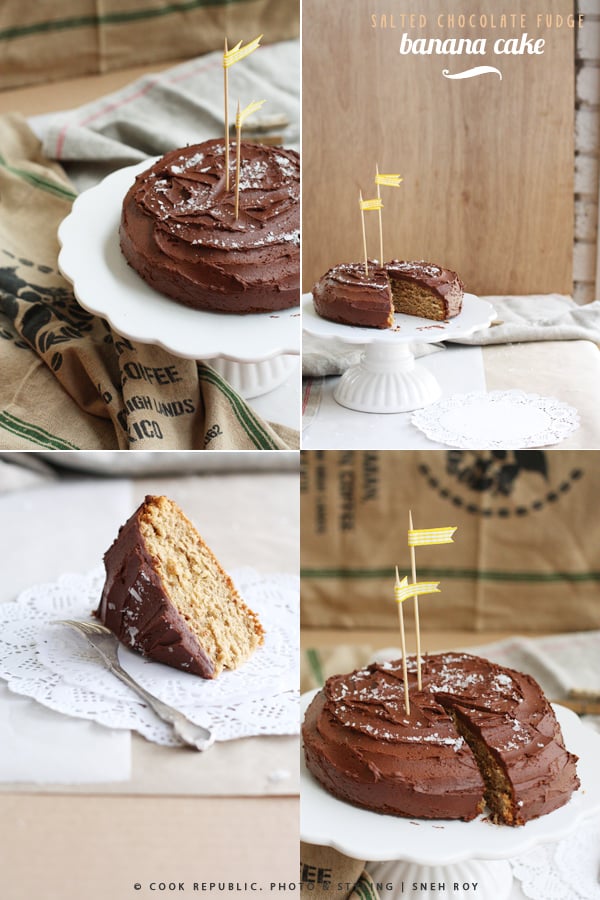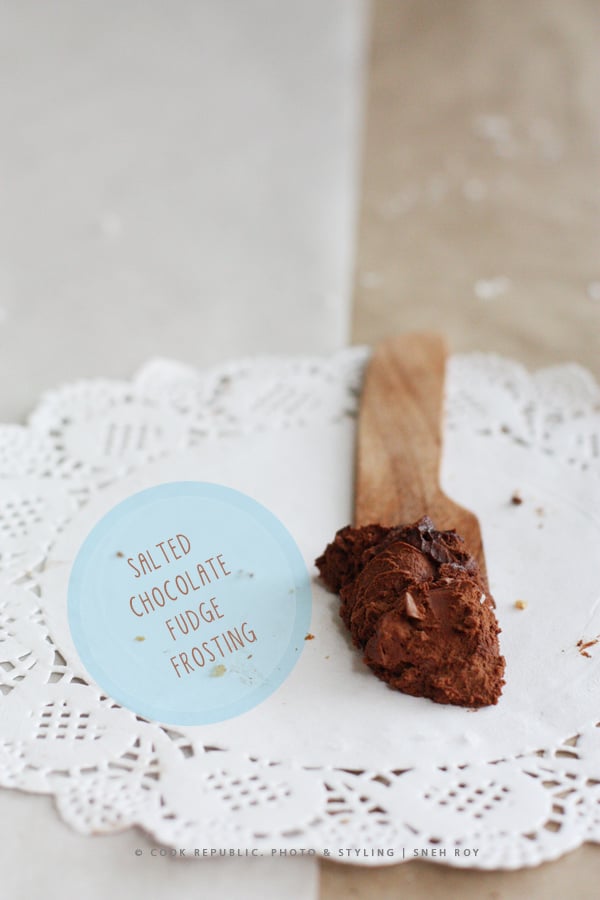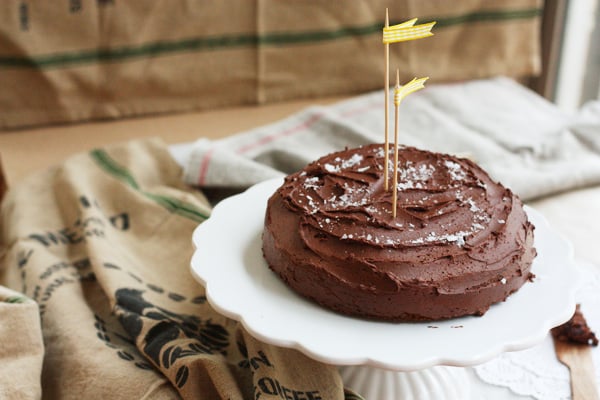 [print_this]
SALTED CHOCOLATE FUDGE BANANA CAKE
recipe adapted from Donna Hay Magazine Winter Issue 63 and Donna Hay Simple Essentials Chocolate Cookbook.
A banana cake with a caramel kick gets dressed up in gorgeous salted chocolate fudge frosting that will weaken your knees.
Preparation Time - 30 Minutes
Cooking Time - 70 Minutes
Makes - 2 cakes to serve 16 or 20 people
Ingredients
For the Cake
250g butter, softened
350g brown sugar
1 tablespoon vanilla extract
4 eggs
4 large ripe bananas, mashed
500g plain flour, sifted
2 teaspoons baking powder
1 teaspoon bicarbonate of soda
1 teaspoon ground cinnamon
1 teaspoon mixed spice
60ml milk (approximately 1/4 cup)
230g golden syrup (approximately 2/3 cup)
1/2 teaspoon salt
For The Frosting
250g dark couverture chocolate
125ml pouring cream
70g butter
sea salt flakes to garnish
Method
To Make The Cake
Preheat oven to 160C (325F). Line two 8 inch round springforl tins with baking paper. Place butter, sugar and vanilla in the bowl of an electric mixer and beat on low speed until light and fluffy for about 6 to 8 minutes.
Add the eggs, cinnamon, mixed spice and beat for a minute until combined.
Add the flour, salt, baking powder, bicarbonate of soda, bananas, milk and golden syrup. Beat for a minute until well combined.
Spoon batter into prepared cake tins. Bake each cake in the pre-heated oven for 60 minutes until cooked through when tested with a skewer and golden on top. Cool in the cake tin completely before turning out on to a wire rack.
To Make The Frosting
Place chocolate, cream and butter in a heavy bottomed saucepan. On low heat, warm the mixture till it starts melting (a minute or two). Stir constantly and remove from heat as it keeps melting and mixing. If not melted, heat again for a few seconds and stir. Remove when mixture is melted and glossy from all the stirring. The whole process usually takes only 3 to 4 minutes.
Cool completely. Place in the fridge for 15 minutes. Remove from fridge and beat with an electric mixer until light, fluffy and slightly lighter in colour.
To Assemble The Cake
Frost the cooled cake with fudge icing. Use uneven flicks to get a gorgeous icing all around. Sprinkle with sea salt flakes and serve.
My Notes
I baked one cake plain and iced only that cake later. For the other cake, I scattered some chocolate chips on top before baking and froze the baked cake for later.
You can also stack both cakes one on top of the other, sandwiched with the frosting and held together by cake dowels. You can then frost tall double cake with the fudge icing and serve it at a party. It instantly becomes festive and sophisticated with its unusual height. The icing recipe is enough to ice both cakes.
[/print_this]