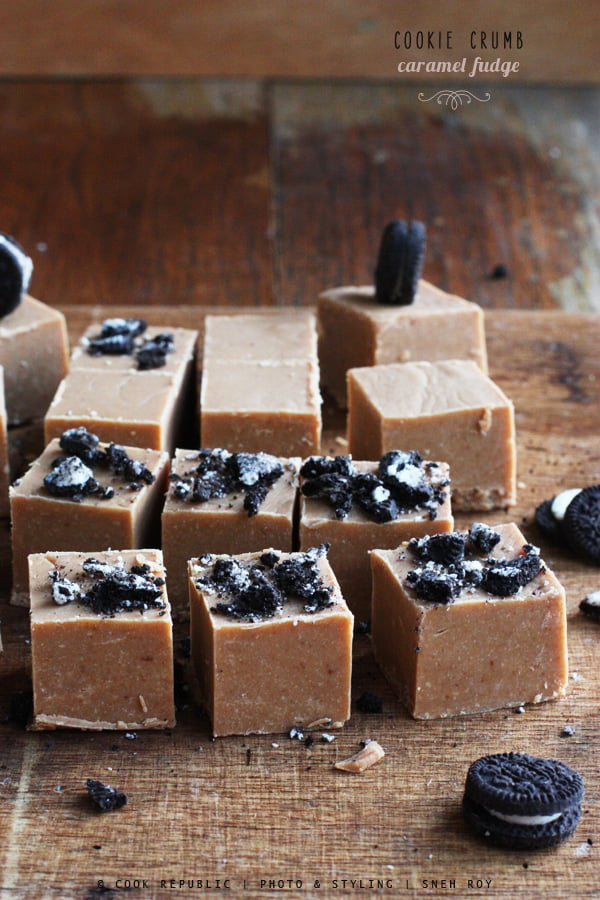 Fudge evokes a memory of a cobbled pathway squirreling down an alley and tucking into a candy shop with a worn out wrought iron sign hanging above its weathered door. "The Candy Shop" it says. Inside what appears to be a magical shop of big old English glass jars stuffed with colourful lollies and toffees crammed in every inch of space is a big glass canister on the countertop. It is filled to the brim with even golden cubes and as the tiny old lady with bird like features and comical round spectacles pops off the lid and reaches in, the smell of caramel takes over every other smell in the crammed space. "Granny's Fudge" the hand written scrawl on the glass jar says. And the recipe today might just be that!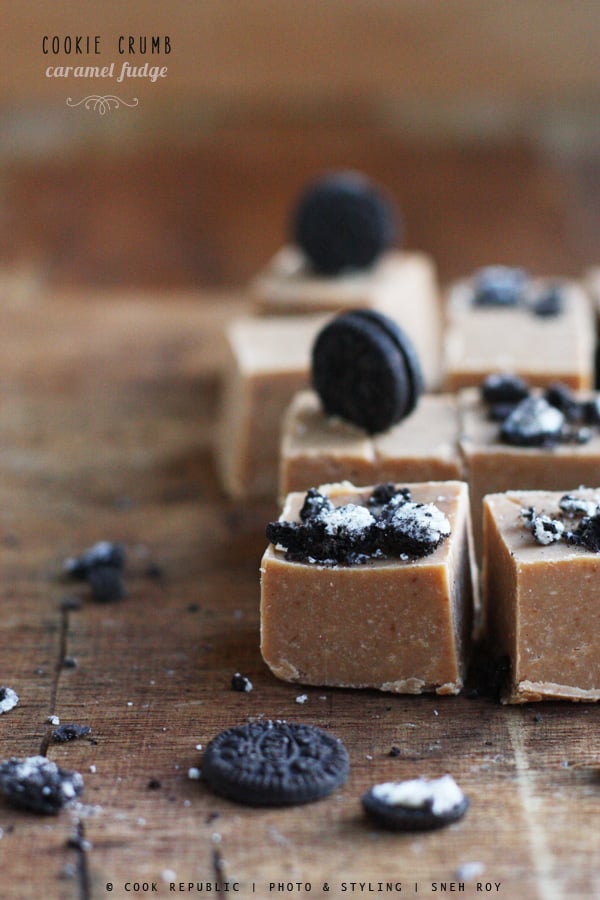 This one is buttery.
This one is not too sweet.
This one causes great divides.
On who gets the last piece.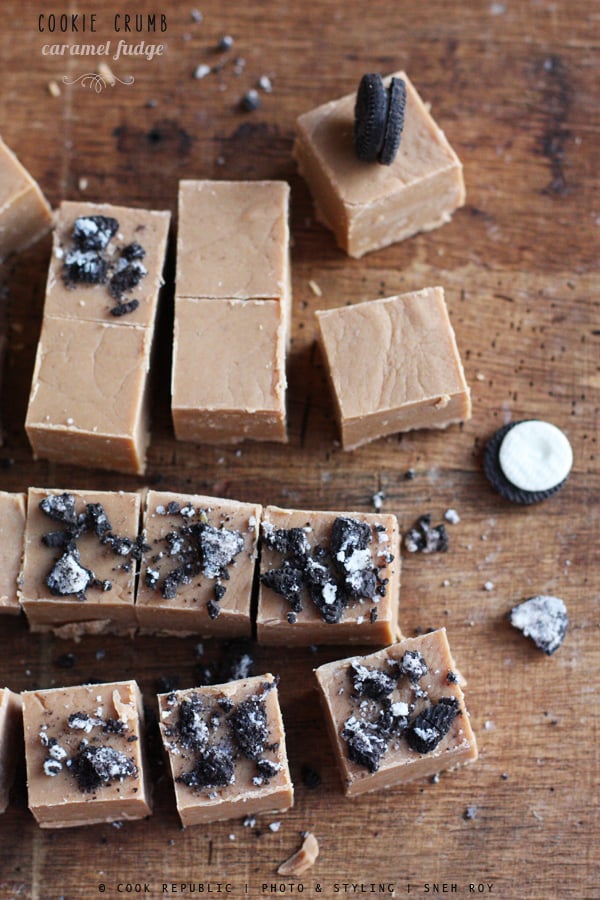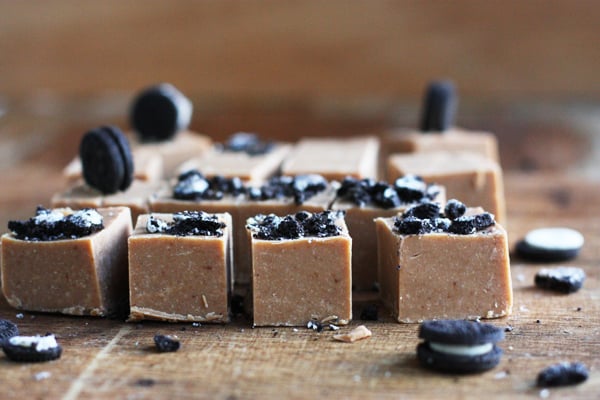 [print_this]
COOKIE CRUMB CARAMEL MICROWAVE FUDGE
A beautiful, quick caramel fudge cooked in the microwave and made extra special with a topping of crumbled Oreos.
Preparation Time - 10 Minutes
Cooking Time - 15 Minutes
Makes - 20 squares
Ingredients
1 x 395g can sweetened condensed milk
1 cup firmly packed light brown sugar
125g butter, roughly chopped
2 tablespoons liquid glucose
1 tablespoon golden syrup
200g white chocolate, roughly chopped
1 tablespoon cream
1/2 cup cookies, crushed and crumbed (I used mini Oreos)
Method
Grease a standard 8 inch square cake pan. Line with baking paper, allowing a 2 centimeter overhang on all ends.
Place condensed milk, sugar, butter, glucose and golden syrup in a large microwave safe bowl. Microwave uncovered at 70% power capacity (medium to high) for approximately 8 minutes, stirring with a heat safe balloon whisk every 2 minutes.
Microwave uncovered at 70% power capacity for another 6 minutes, stirring every 2 minutes with a wooden spoon until mixture is thick, smooth and golden.
Remove from microwave. Stand for 2 minutes until bubbles have simmered down. Add white chocolate. Stir until it melts and the mixture is smooth. Add the cream and stir once again. (If at this point the mixture has started to go brown and curdle, add more cream and whisk until it becomes smooth again).
Pour mixture into prepared pan. Smooth surface, sprinkle cookie crumbs onto the surface and press down gently with a spoon. Stand at room temperature for a couple of hours until firm. If weather is hot, you might need to refrigerate it. Lift onto a board using the baking paper. Cut into squares.
My Notes
You can make variations to this fudge quite easily. If making for adults only, add a dash of your favourite liqueur to the fudge at the time of adding white chocolate. You can layer the fudge with a chocolate ganache and also add nuts or citrus peel.
Don't let the kids handle the fudge during the cooking process. The caramel gets quite hot and is not safe for kids.
[/print_this]